Malls of Singapore: Level Up Your Rock Climbing And Bouldering Skills Here
We're on a mission to uncover what makes shopping malls in Singapore truly one-of-a-kind. Forget the typical weekend bargain hunting run, these places are packed with exciting experiences that'll keep you coming back for more.
Did you know that some of Singapore's malls are not just shopping havens but also playgrounds for adventure seekers? Prepare to conquer your fear of heights and break a sweat at these rock-climbing and bouldering spots.
Bouldering VS rock climbing – what's the difference?
Rock climbing typically involves free climbing with ropes and specialised equipment used to protect climbers from falls. On the other hand, bouldering is all about climbing without ropes, whether on natural rock formations or indoor walls (like the ones at these shopping malls).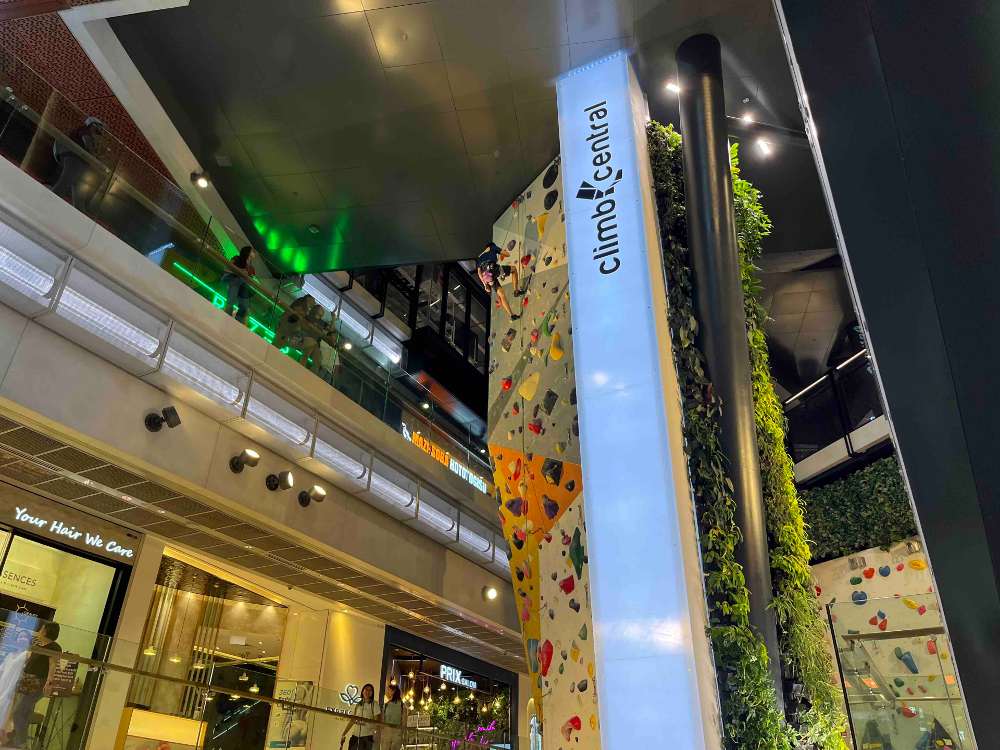 IMAGE: NICHOLAS YONG
1. FUNAN MALL
Climb Central
Funan Mall at City Hall isn't your typical IT and fashion hub; it's also a playground for adventure enthusiasts. Right in the heart of the mall, Climb Central boasts a towering climbing wall that extends from B2 to the 1st floor. Regardless of your experience level, Climb Central offers various routes tailored to your skills. If you're new to Climb Central, don't fret; they offer safety briefings every 30 minutes, ensuring you're well-prepared for your first ascent. The best part: there's no time limit, so climb to your heart's content!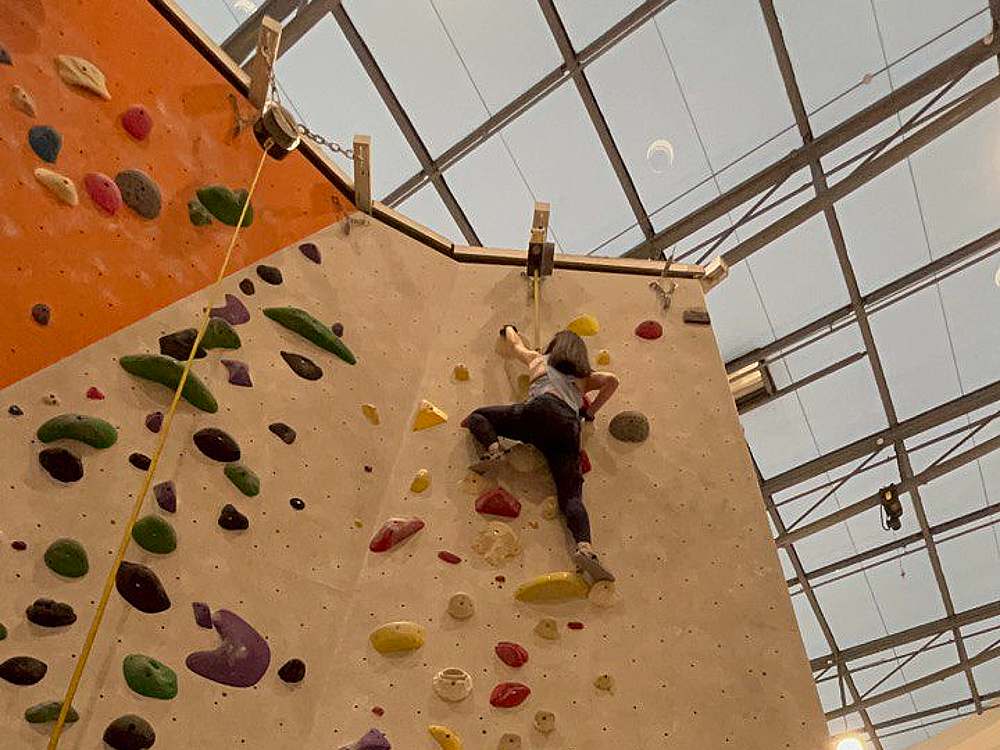 IMAGE: GWEN TAY
2. KALLANG WAVE MALL
Climb Central
As you'd expect from the Singapore Sports Hub, Kallang Wave Mall features the tallest indoor air-conditioned rock face in the country. With 45 climbing lanes, lead climbing options, and a 4m high bouldering wall, this spot is a climber's paradise. Don't worry if you're a newbie; Climb Central's friendly crew is ready to assist.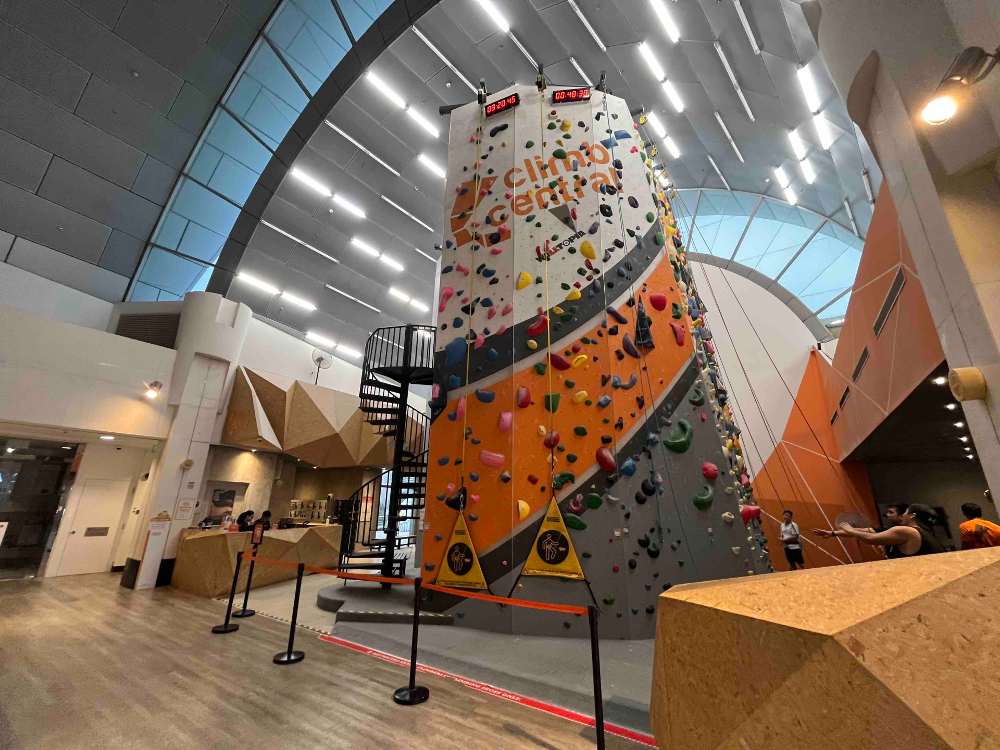 IMAGE: NICHOLAS YONG
3. NOVENA SQUARE
Climb Central
Conveniently located in the heart of the Central area, Novena's Climb Central is the perfect spot for an after-work or weekend climbing session with family and friends. Plus, if you sign up for Climb Central's Orange Pass membership at $129.60 per month, you'll enjoy unlimited priority entry to all of Climb Central's locations.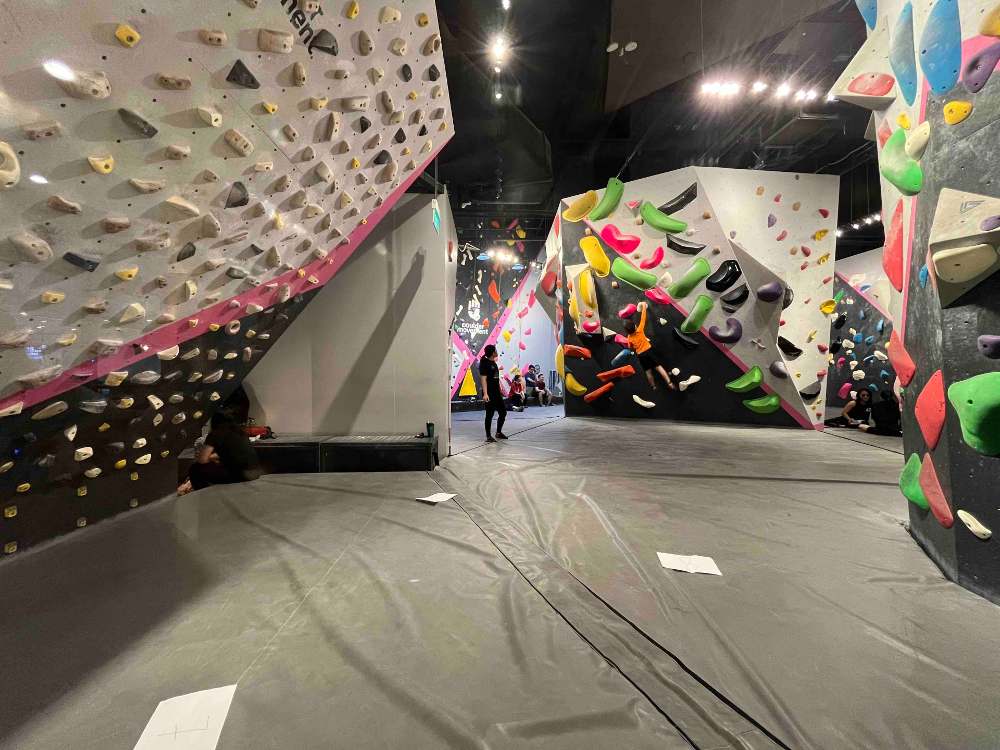 IMAGE: NICHOLAS YONG
4. BUGIS+
Boulder Movement
After a shopping spree at Bugis+, head to the 5th floor and discover Boulder Movement. This gym features an island boulder, a 4-sided arête (a word that usually refers to a sharp mountain ridge), and competition-style climbs across the comp wall, so there's no shortage of challenges. A single-entry pass costs $30, and you'll receive complimentary rental of climbing shoes on your first visit. Boulder Movement also offers classes and coaching, making it the perfect place to level up your climbing skills.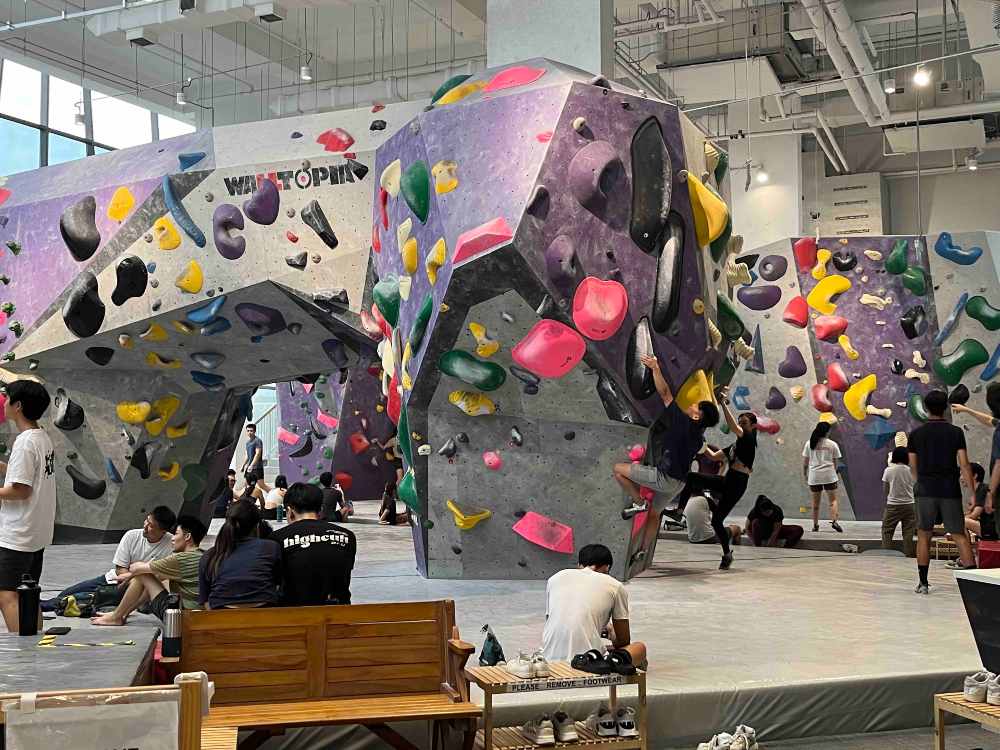 IMAGE: NICHOLAS YONG
5. APERIA MALL
boulder+
Aperia Mall in Kallang is home to a massive Thai supermarket, and boulder+ on the 3rd floor. This gym spans two levels and offers a mix of challenging bouldering grades and beginner-friendly lower-level routes. Be sure to visit the gym's 60° overhang wall, where you'll learn to engage your feet and core effectively. An all-day pass costs $28, and you can even re-enter on the same day if you fancy a Thai milk tea break at the supermarket. Courses and private coaching sessions are available here too.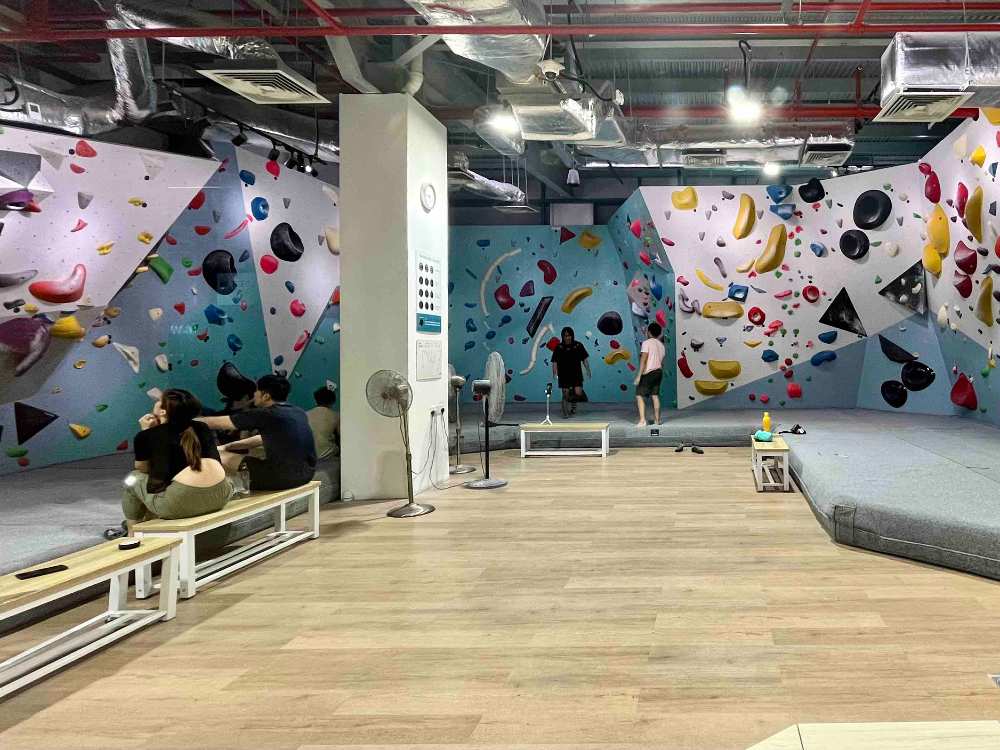 IMAGE: NICHOLAS YONG
6. PARAGON SHOPPING CENTRE
Boulder World
Paragon Mall along Orchard Road is famous for luxury shopping, but it also has something special for climbers – Boulder World. Make your way to the 5th floor and follow the escalator sign leading you to this bouldering paradise. If you're new to the sport, you can sign up for a try-out ($35 for adults, $30 for kids), which includes shoe rentals and an instructor. Boulder World also offers classes, making it the perfect place to kick-start your climbing journey.
For the latest updates on Wonderwall.sg, be sure to follow us on TikTok, Telegram, Instagram, and Facebook. If you have a story idea for us, email us at [email protected].