National Monuments Of Singapore: Parliament House Block C
What is a National Monument? Who gazettes them? How many national monuments are there in Singapore? To date, the Preservation of Sites and Monuments, a division of National Heritage Board, has identified and gazetted 75 buildings, structures and sites of national significance as an integral part of Singapore's built heritage.
And we're here to tell you all about them - one National Monument at a time!
Here they all are on a Google Map we specially created. Every Wonderwall.sg logo, or "W", indicates a spot where a National Monument of Singapore is located:
You've probably passed by or stepped into more than a few of them without realising they were National Monuments: Al-Abrar Mosque, Asian Civilisations Museum (ACM), the Civilian War Memorial, Saint Andrew's Cathedral, the Esplanade Park Memorials, Fort Siloso on Sentosa - no need to plan an itinerary for friends visiting from overseas; just show them this article ✌️
In this edition, we throw the spotlight on a lao jiao building, aka Parliament House Block C (formerly the Attorney-General's Chambers), dating all the way back to 1839.
📍 Location
National Monument #32 is located right beside The Arts House, with the nearest MRT stations being City Hall MRT or Raffles Place MRT.
📅 Significant dates
Date built:
1839: Court House Annexe (part of The Arts House today)
1976: Renovated to accommodate the Former Attorney-General's Chambers
1991: Restored to form part of the Parliament House Complex today
Milestones:
1839: Court House Annexe
1991: Parliament House Block C
Date gazetted: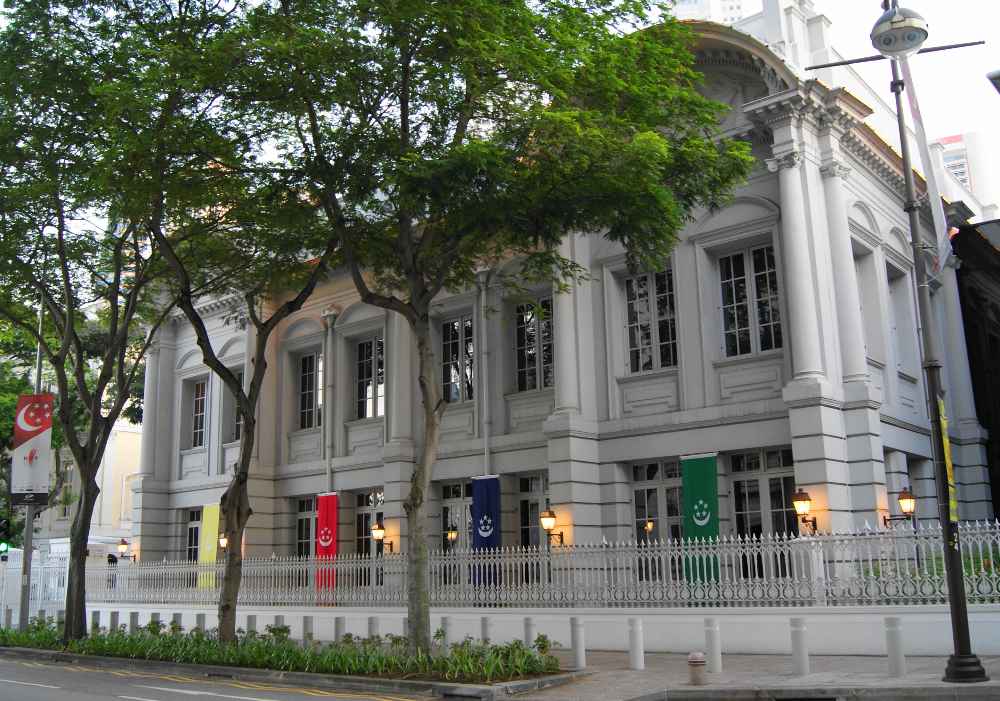 IMAGE: WIKIMEDIA COMMONS/@SMUCONLAW
📜 History
Unfortunately, nobody knows for sure when the original building was constructed. What is on record, however, is that in 1906, it underwent major construction and renovation – the resulting façade remains until this day.
Fun fact about Parliament House: The façade shown in the Google Maps street view above is the building's true front, which is unfortunately blocked by The Arts House nearby.
From the late 1960s until 1976, the building was occupied by the Public Works Department, the department responsible for the construction and upkeep of public infrastructure in Singapore. In 1976, the building was renovated to accommodate the chambers of the Attorney-General, the chief legal advisor to the Singapore Government and its public prosecutor.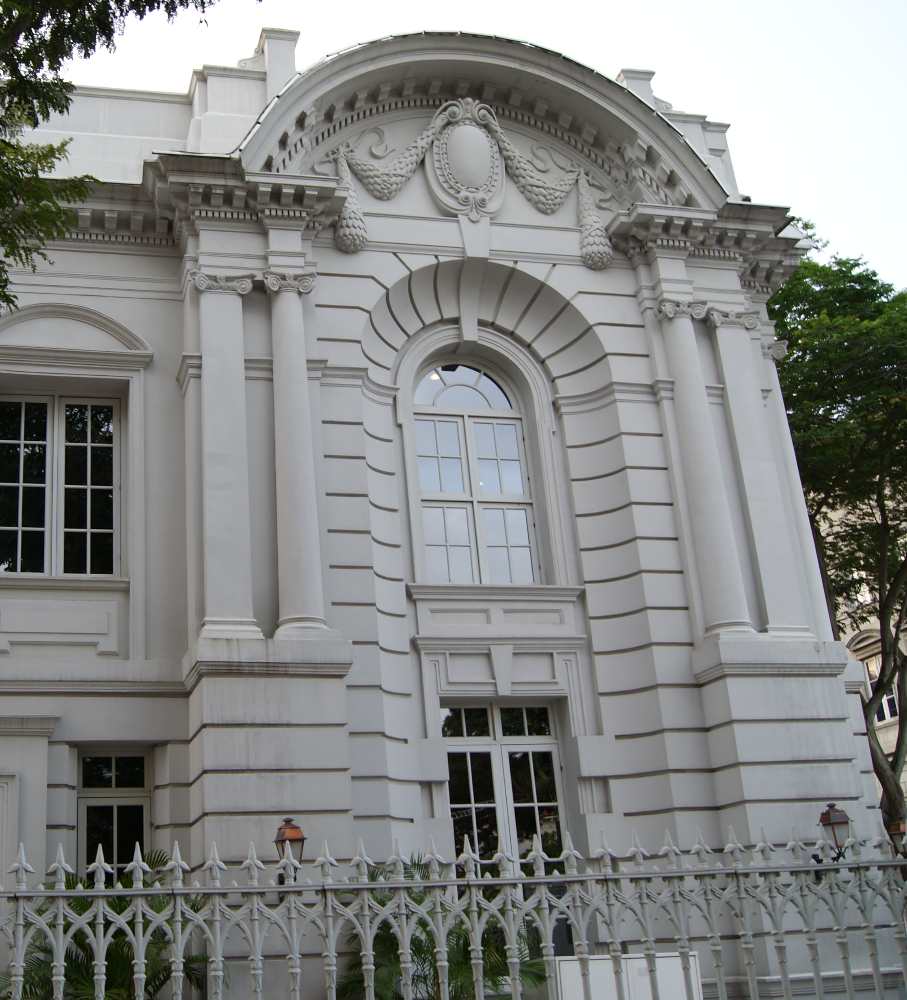 IMAGE: WIKIMEDIA COMMONS/@SMUCONLAW
📐 Design and architecture
In an attempt to make the structure conform to the architectural styles of its neighbours, a rusticated base (a type of masonry treatment in which the blocks making up a wall are articulated by exaggerated joints rather than being flush with each other) was added to the Former Attorney-General's Chambers.
Certain architectural features were also borrowed from the nearby Victoria Theatre and Victoria Concert Hall, which were largely influenced by the Neoclassical style. The building features curved pediments on the corner extensions, which are adorned with stucco cartouches (a decorative frame surrounding an image or an inscription) in the form of oval shield motifs, and festoons (carved ornamental motifs) in the shape of mouldings of leaves and ribbons.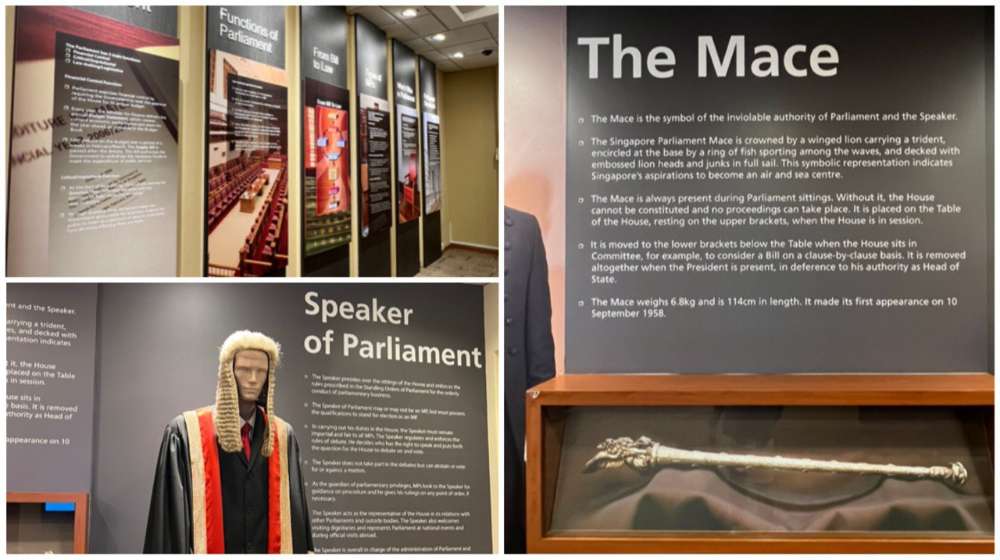 Only timed guided tours are available for the Parliament House Complex, but you can always enter the nearby Parliament Visitor Centre during its opening hours. | IMAGES: NG KAI
🕖 Opening hours

Parliament Visitor Centre: 10am to 9pm, Mondays to Fridays (closed on public holidays).
🎟️ Admission
Parliament Visitor Centre: Entry is free, with walk-in visitors welcome. Or embark on a virtual tour of Parliament House here.
For the latest updates on Wonderwall.sg, be sure to follow us on TikTok, Telegram, Instagram, and Facebook. If you have a story idea for us, email us at [email protected].