i Light Singapore 2023 Illuminates Marina Bay With Blue-tifully Brilliant Art
Asia's leading sustainable light art festival, i Light Singapore 2023, is here, and with it, 'A New Wave' of installations that pay homage to nature's blue spaces, such as rivers and oceans.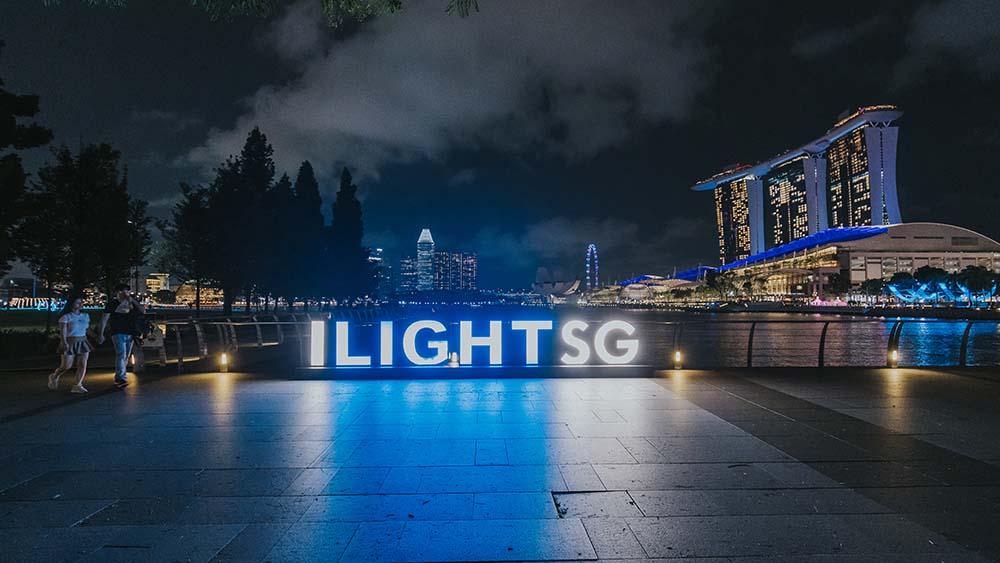 IMAGE: I LIGHT SINGAPORE 2023
If you've been to past editions of the festival, you'll know that it's about so much more than just aesthetics. This year's edition, which opens today (1 June), invites festival goers to consider their water usage, as well as the importance of preserving marine ecosystems. A timely theme, considering that the event overlaps with World Environment Day on 5 June. And that The Little Mermaid has gotten all of us humming 'Under the Sea.'
Here are a few of our favourites: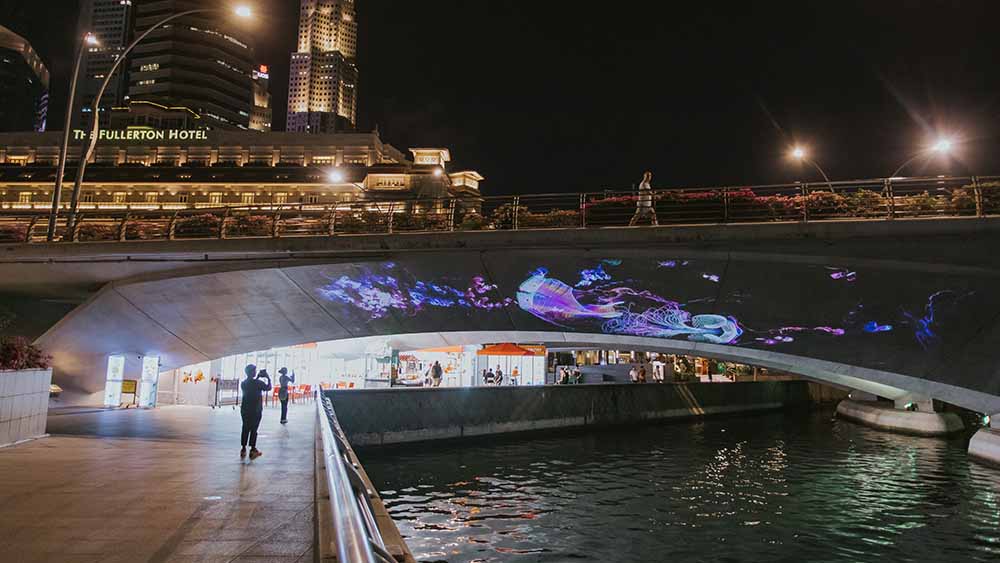 IMAGE: I LIGHT SINGAPORE 2023

Aquatics, located under Esplanade Bridge, near Merlion Park
Artist: Philipp Artus (Germany)

The Merlion might dwell above land, but this installation - reminiscent of bioluminescent jellyfish and algae - recalls the deepest recesses of its underwater abode.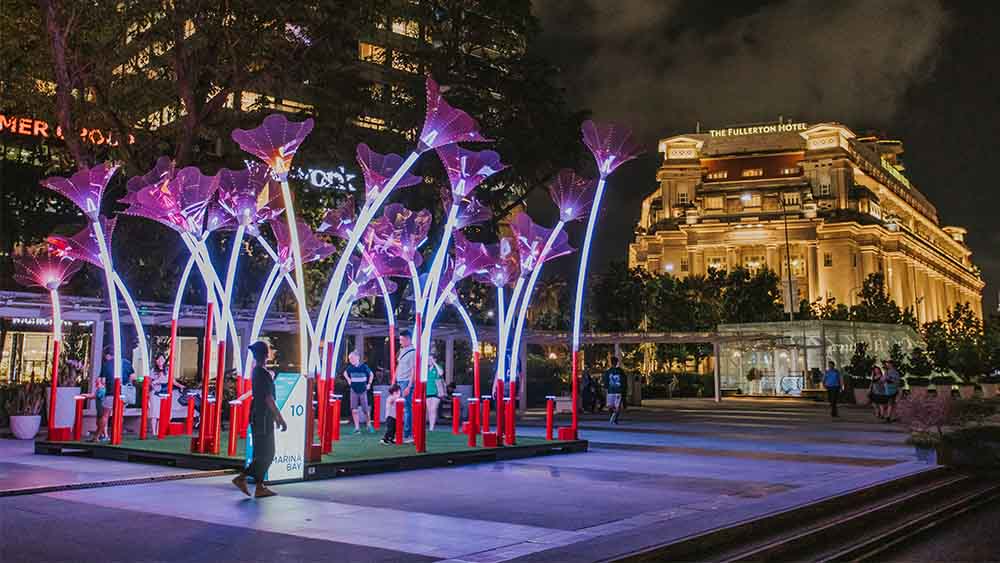 IMAGE: I LIGHT SINGAPORE 2023

Trumpet Flowers, located at Clifford Square
Artists: Amigo & Amigo (Australia)
While this installation gave us LACMA vibes, it was actually inspired by gramophones - press the buttons beneath the stems to activate a symphony of jazzy tunes.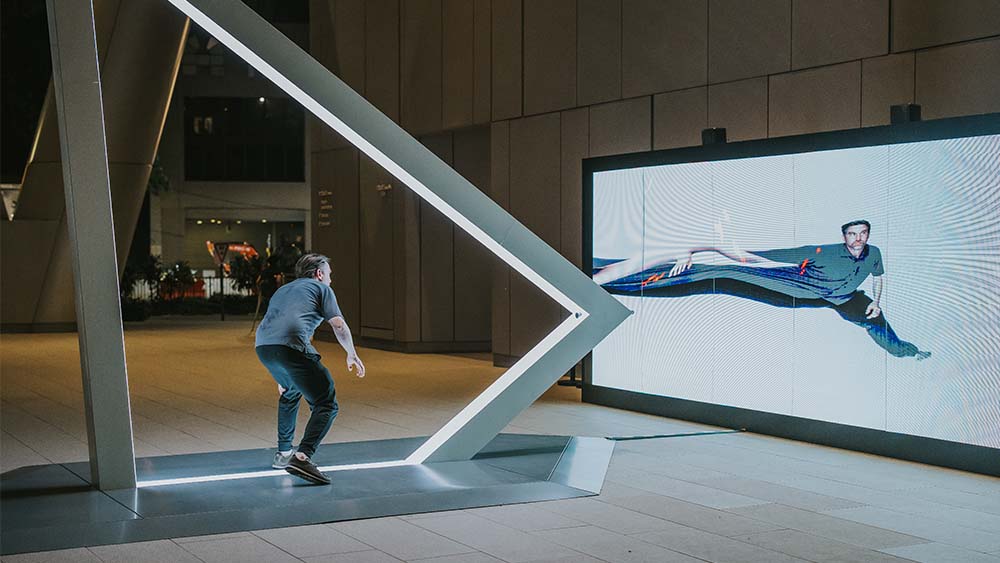 IMAGE: I LIGHT SINGAPORE 2023

Résonances, located at Open Plaza, OUE Bayfront
Artists: Louis-Philippe Rondeau in collaboration with ELEKTRA (Canada)
At first glance, this installation looks a little austere, but it's actually a lot of fun. To 'play' with it, run between the illuminated beams to see your image projected on the screen in front of you.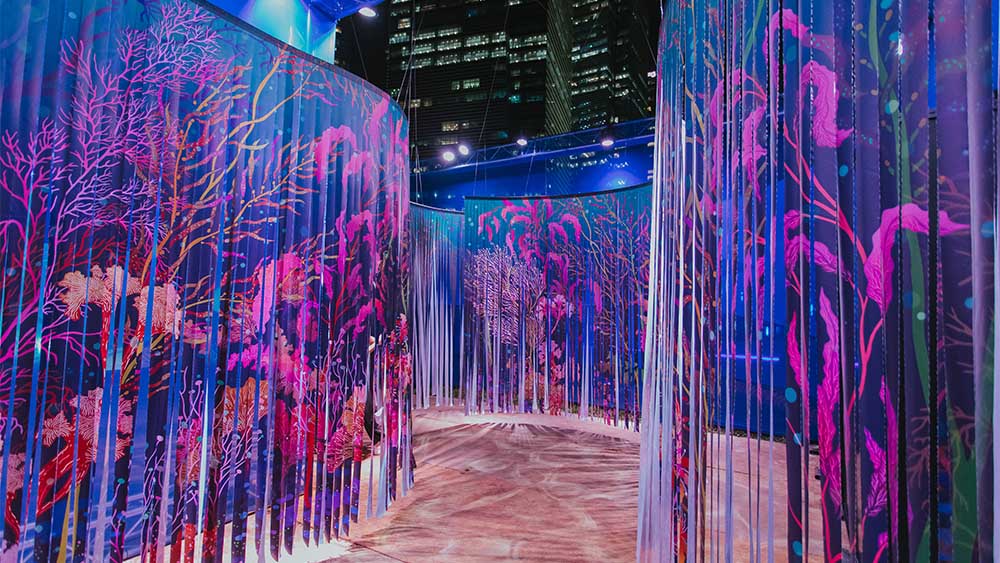 IMAGE: I LIGHT SINGAPORE 2023

Lightwave: Turning the Tide, located in The Promontory at Marina Bay
Presented by Alibaba Cloud

A short stroll through this glowing azure box (also pictured at the top) asks us to imagine a future where humankind has utterly destroyed our seas.
IMAGE: I LIGHT SINGAPORE 2023

Light Anemones, located at The apex at The Promontory at Marina Bay
Artist: Malte Kebbel, Studio Kebbel (Germany)

True to its name, this neon-tinged light sculpture evokes the mysteries of the deep sea.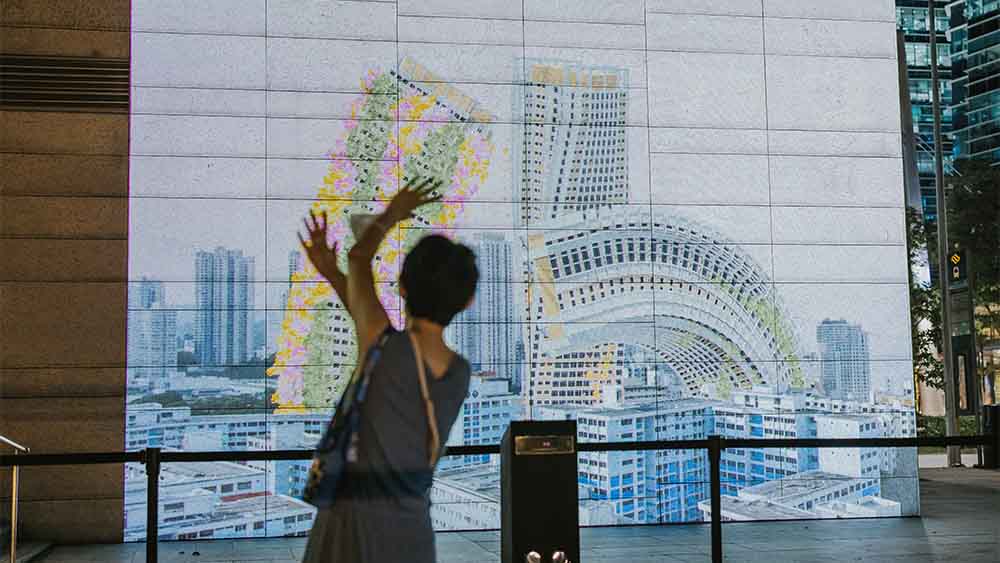 IMAGE: I LIGHT SINGAPORE 2023

Block Party, located at entrance of Marina Bay Link Mall
Artists: Jeremy Lin, Jedy Chen, Dexter Hong, Plug & Play (Singapore)
As a reminder of the power we wield over our surroundings, HDBs come to life in this interactive installation, where buildings 'dance' in tandem with our movements.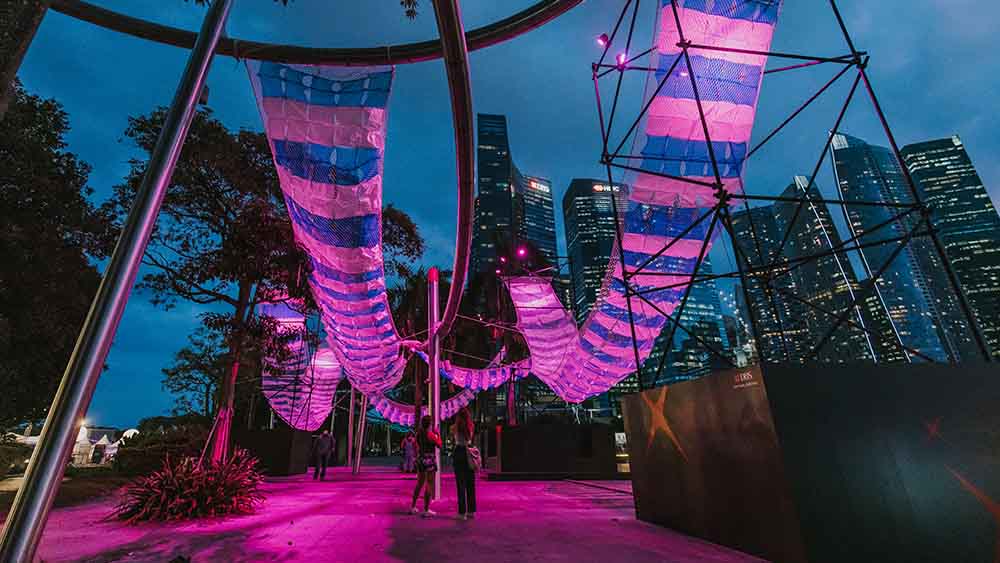 IMAGE: I LIGHT SINGAPORE 2023

Blumiwave, located at Mist Walk
Artist: DP Design (Singapore)
This hanging installation was inspired by blue energy (commonly known as marine energy), and uses 'ugly' materials to show how mundane objects can affect wonder.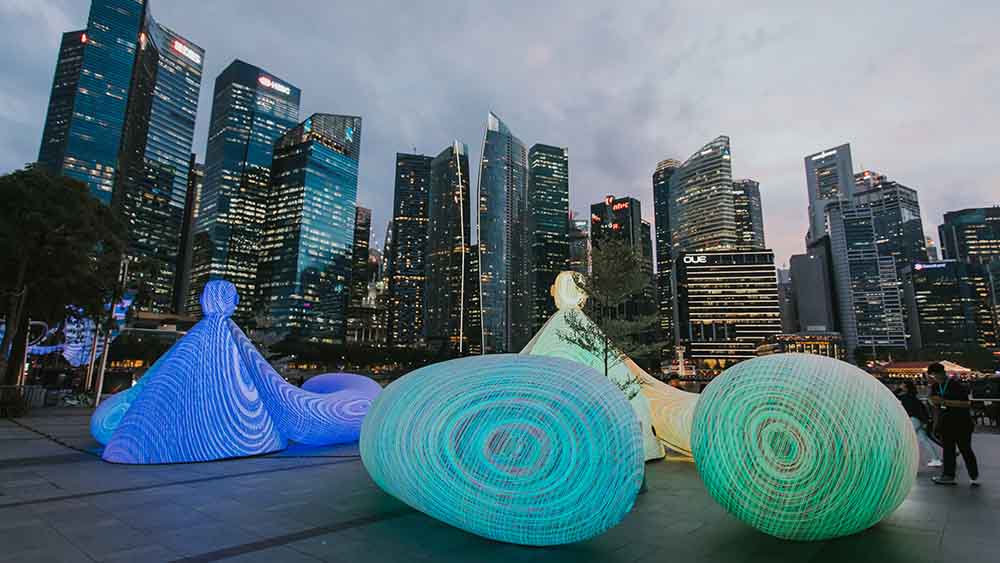 IMAGE: I LIGHT SINGAPORE 2023

Tree Man, located at Event Square
Artist: ENESS (Australia)
At first glance, this looks more like balls of yarn than a tree, but it succeeds in its effort to depict the nurture required to meaningfully connect with our environment.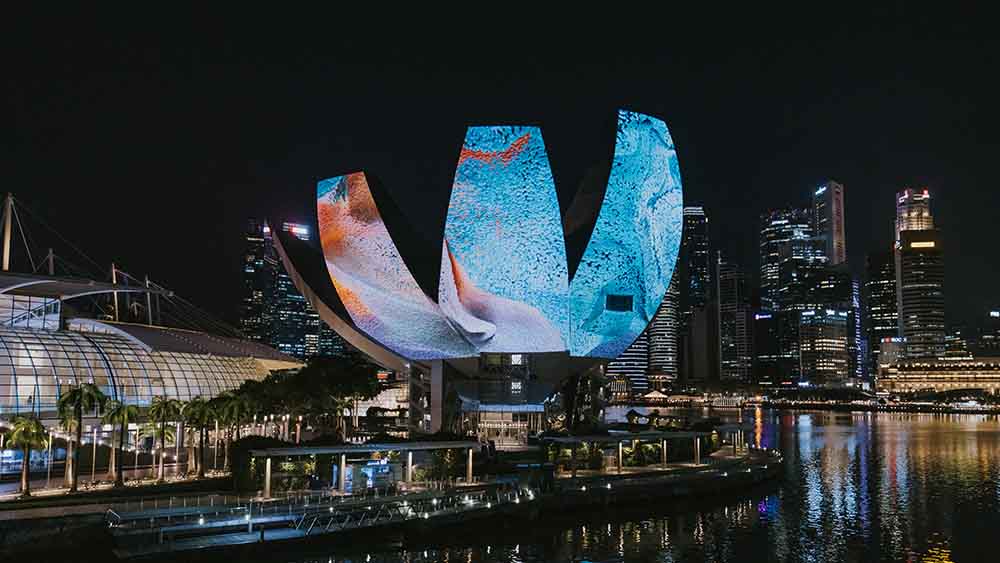 IMAGE: I LIGHT SINGAPORE 2023

Glacier Dreams, located on facade of ArtScience Museum
Artist: Refik Anadol, Refik Anadol Studio (USA) and Julius Baer
Every year, we look forward to seeing art projected onto the facade of the ArtScience Museum, and this edition of the installation - inspired by the beauty and vulnerability of glaciers - is both mesmerising and elegiac.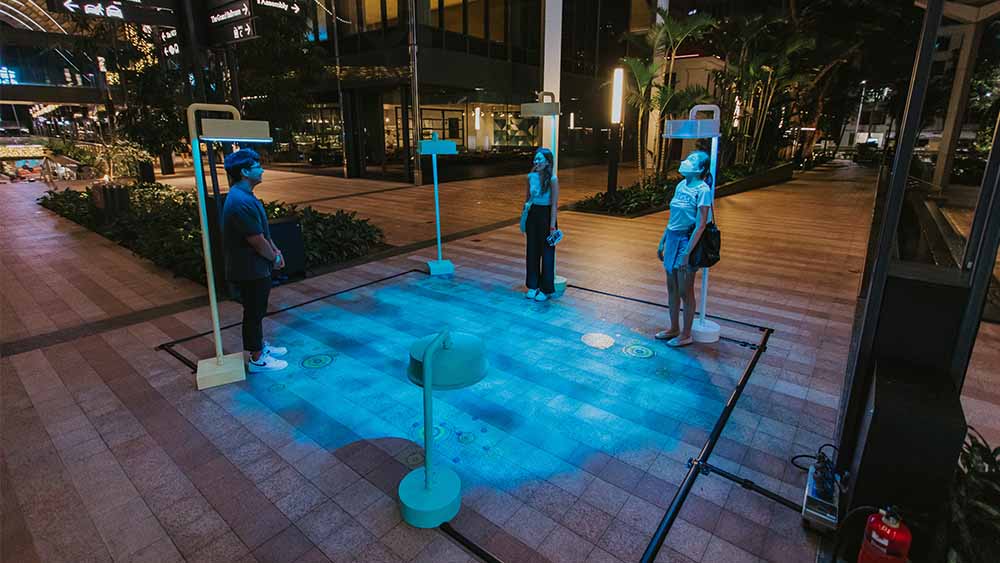 IMAGE: I LIGHT SINGAPORE 2023

Show III, located in South Beach main entrance
Artists: Chen Jia Wen, Lai Ling Ling, Nanyang Academy of Fine Arts (Singapore) and James Cook University (Singapore)
While previous editions took place at Marina Bay, this year's has expanded to two new locations: South Beach and Millennia Walk. We were especially tickled by this installation in South Beach, which was inspired by 'shower thoughts'.
In total, there are 14 installations to explore, which you can find on the map below: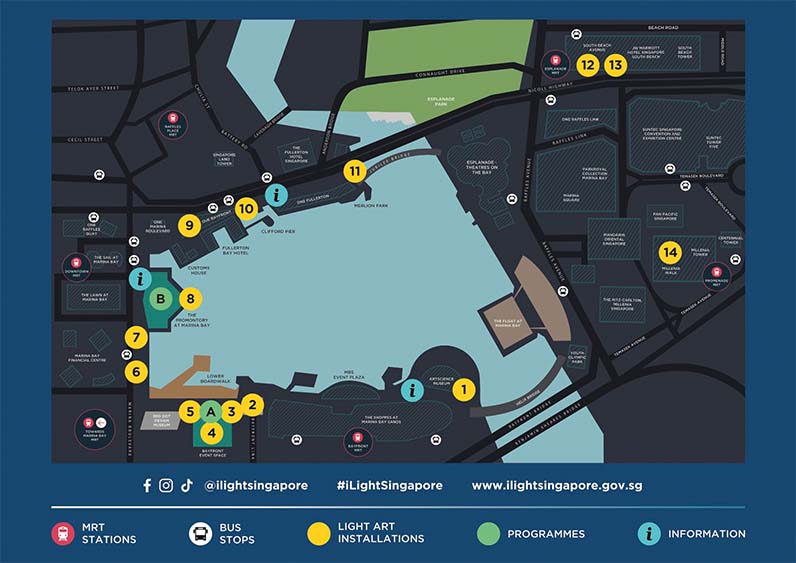 And sure, it's a lot of walking, so remember to stop by GastroBeats to grab a bite!
i Light Singapore 2023 will be held from 1 to 25 June 2023, 7.30pm to 11.00pm daily with extended hours to 12.00am on Fridays and Saturdays. Admission is free, while charges apply for certain programmes. See the full lineup of installations and find out more about i Light Singapore 2023 here