World Meteorological Day: Weather The Weather With Singapore's Met Service
There's an old poem that goes:
Whether the weather be fine,
Or whether the weather be not,
Whether the weather be cold,
Or whether the weather be hot,
We'll weather the weather,
Whatever the weather,
Whether we like it or not!
It could read as a clarion call to get up and get on with life, but today, we're being a lot more literal.
It's World Meteorological Day (23 March), a day that commemorates the coming into force of the Convention establishing the World Meteorological Organization on 23 March 1950. And what better way to pay tribute to it than by turning the spotlight on Meteorological Service Singapore (MSS).
Here are some fun facts about our Met Service: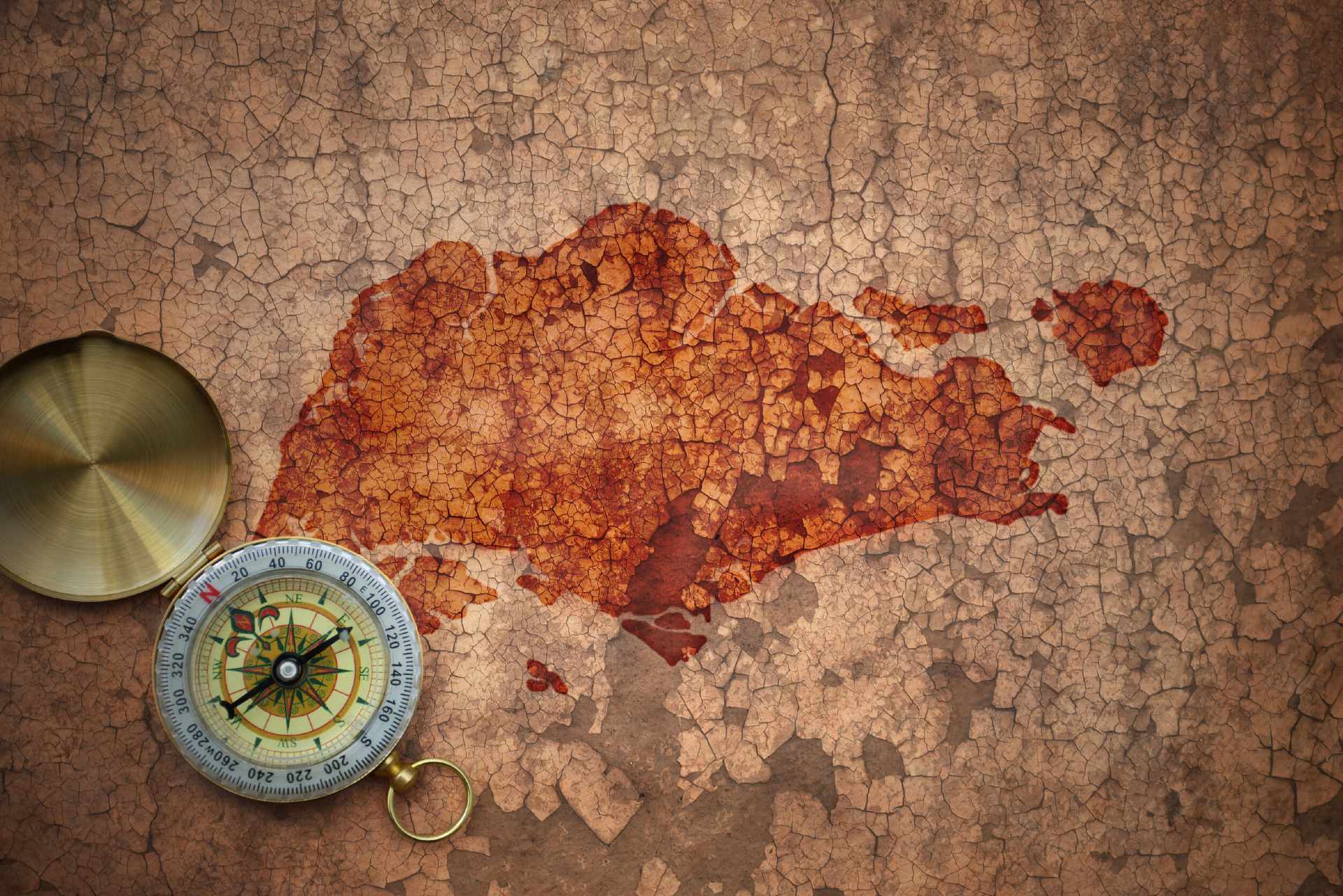 Singapore's first weather records
Our Little Red Dot might be celebrating its 57th birthday this year, but our weather records go back more than one and a half centuries. In fact, according to the Met Service, 1869 marks the start of Singapore's rainfall record.
Since then, Singapore experienced its highest monthly total rainfall in Dec 2006 (996.3mm) as recorded at Buangkok Station, and its driest month in 2014 - only 0.2mm of rain was recorded at Changi Climate Station in February that year.
For more of the craziest extreme weather recorded in Singapore, click here.
---
Singapore's first meteorological station
It wasn't until 1929 that a full-scale meteorological station - Singapore's first - was set up at Mount Faber. That year marked the start of Singapore's temperature records.
Since then, some of us experienced the hottest day ever on 17 Apr 1983 (it was a sweltering 37°C) and the coolest on Valentine's Day 1989 (a crisp 19°C; jilted lovers islandwide must have had extra-cold hearts).
---
The Met Service today
Not many know this, but MSS - which became part of the National Environment Agency under the Ministry of the Environment and Water Resources in 2002 - is located at level 4 of Terminal 2 at Changi Airport.
Today, the MSS comprises a network of meteorological observing stations, both manned and automated. While Changi, Seletar, Sembawang, Tengah, and Paya Lebar are the locations of five manned stations, there is also an Upper Air Observatory located at Upper Paya Lebar as well as 60 automatic weather stations dotted across our island.
You can learn how the MSS observes the weather - from how it measures rainfall and surface winds to its sophisticated meteorological radar and satellite systems - here.
---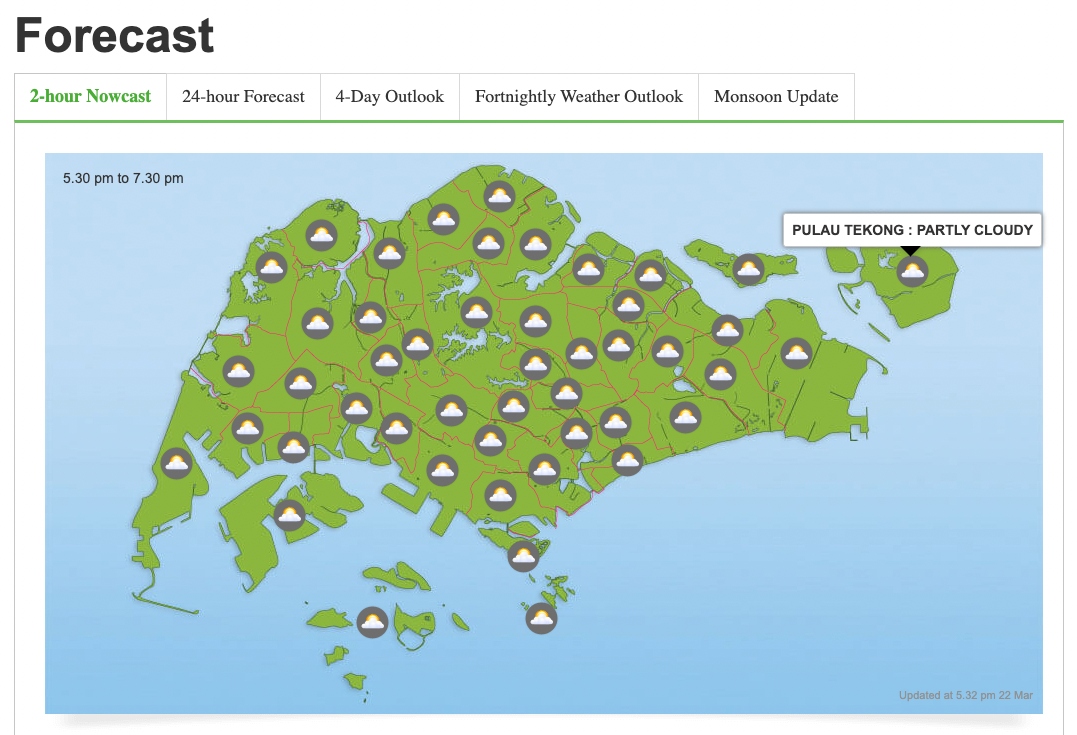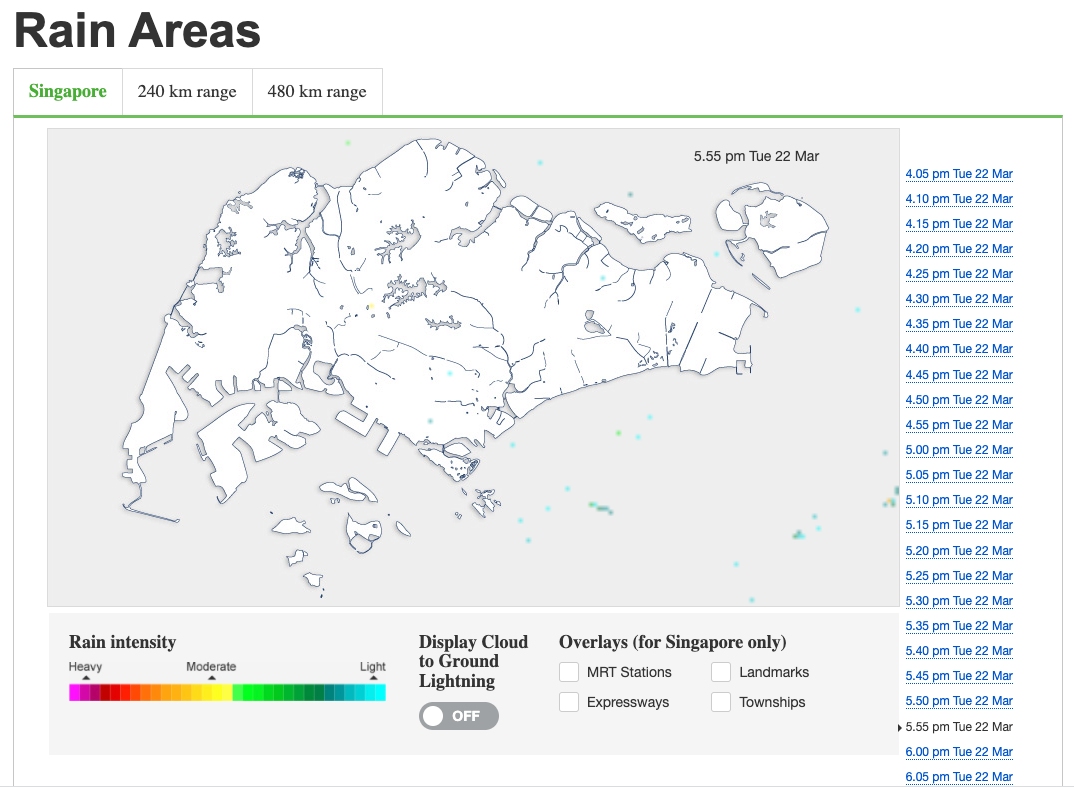 What's the weather ah? Going to rain anot?
Whatever your reason - planning for a wedding, an outdoor shoot or a company cohesion event or wondering if it's going to be a really challenging week in BMT - the MSS provides a most helpful weather forecast that includes:
a 2-hour forecast for town centres;
a 24-hour forecast for the north, south, east, west and central Singapore;
a 4-day outlook for Singapore in general; and
a fortnightly weather outlook.
You can get these forecasts at their website or by downloading the National Environment Agency's myENV app (see next point).
If rain is your concern - although nothing's gonna stop you from getting to and spending time with bae - then refer to this almost real-time representation of rainy spots in Singapore and its environs.
---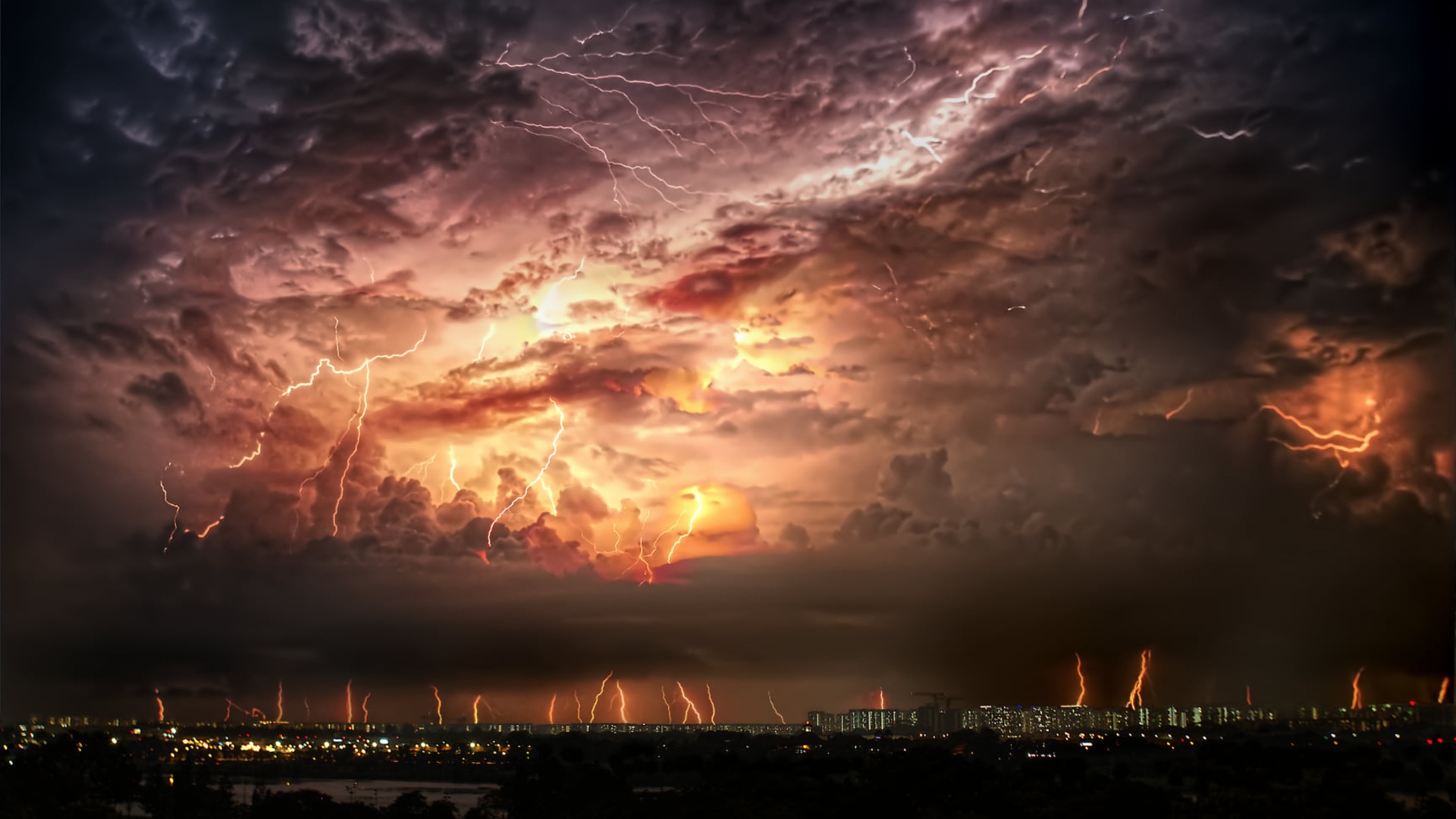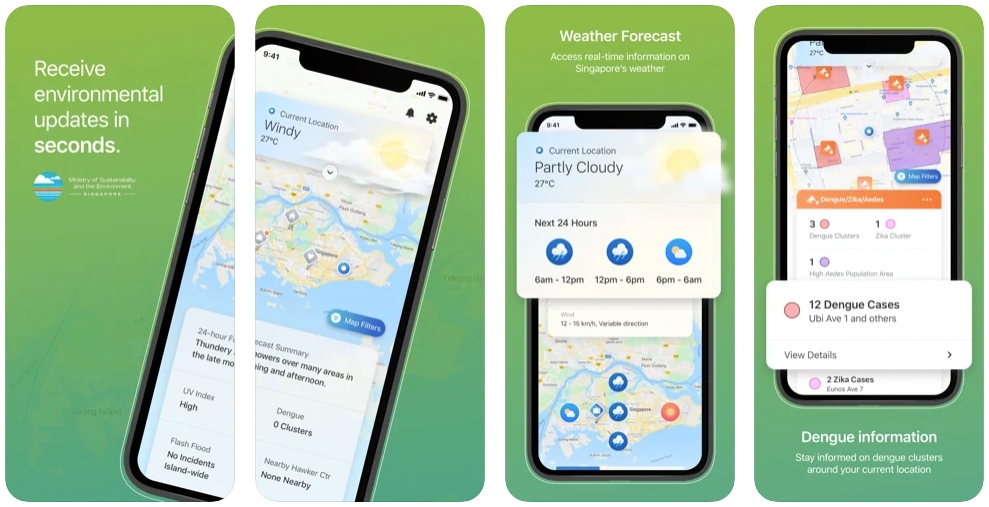 Lightning lai lo!
If you enjoy looking at, chasing, and photographing lightning storms in Singapore like business manager Paul Lee, do what the expert does: download the myENV app, a one-stop platform by the National Environment Agency.
In the app: information provided by the Ministry of Sustainability and the Environment that covers, among other things, air quality, dengue hot spots, recycling, and <thunder roll> lightning activity near your location.
The MSS also provides a Lightning Information Service. Both this website and the myENV app show the locations and type of lightning (whether it's cloud-to-cloud or cloud-to-ground lightning) detected by the Met Service's lightning detection sensors. And, if you choose to be notified, they will alert you when lightning is detected within 6-8km of your location.
---
There's a hotline
If you need weather info fast and hands-free, call the NEA's Weather Information Hotline (an automated telephone service) at 6542 7788.
For the latest updates on Wonderwall.sg, be sure to follow us on TikTok, Telegram, Instagram, and Facebook. If you have a story idea for us, email us at [email protected].