Here's How To Make Your Own Hair Bow Clip
As far as hair accessories go, the classic bow will always be "in" – especially if you have little girls. The good news is, hair bows are ridiculously easy to make, so it's a win even for the less crafty folks. A simple way to dress up loose tresses or any updo, handmade hair bows make lovely gifts too. Kim Soon House of Ribbons and Spotlight are good places to look for the ribbons of your choice. Take your pick, from colourful velvet and satin to silk and cotton, and get started on making the perfect DIY hair bow. Good luck stopping at just one!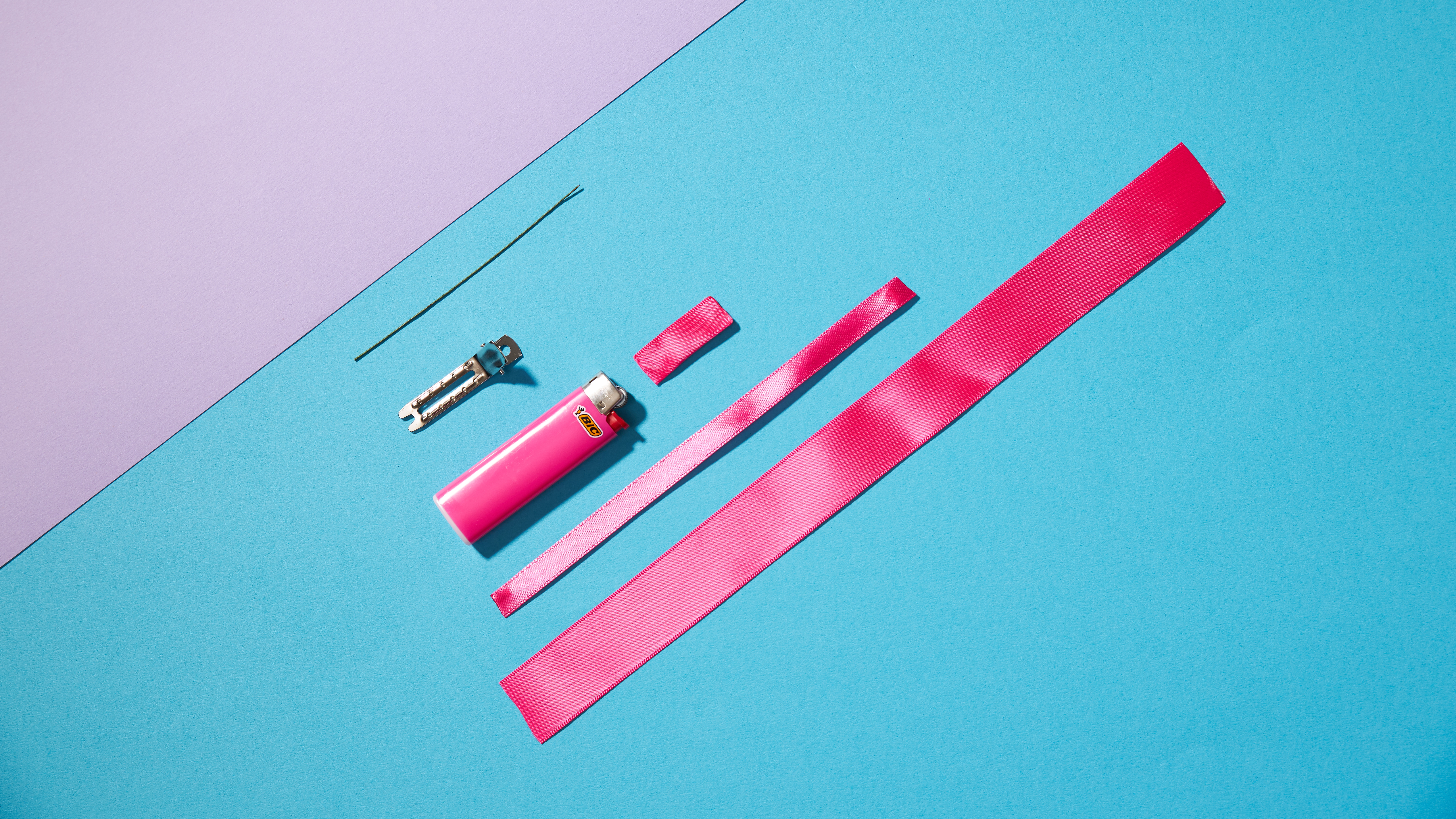 You'll need:
· Ribbon
· Alligator hair clip
· Thin piece of wire (we used floral wire)
· Hot glue gun
· Sharp scissors
· Lighter
1. Start with a long piece of ribbon.
Depending on what size you want your hair bow to be, the longer the ribbon, the bigger the bow. Place the ribbon down horizontally in front of you, then crisscross the ends.
2.Pinch and secure with wire.
Bring the crisscross section up to the middle section of the ribbon. Pinch the middle tightly (to create the folds) and tie a small piece of wire around it. Next, trim the ends of the bow at an angle and quickly run a lighter flame along the ends to keep them from fraying.
3. Cover the middle with ribbon.
To cover up the wired section, put a dot of hot glue in the middle of the backside of the bow. Wrap a short piece of ribbon (approximately 4 cm) around the wired section, then hot glue it to the back. Trim away any excess ribbon.
4. Cover the hair clip with ribbon.
This step is optional, but we recommend lining the hair clip for aesthetic reasons and more comfortable wearing. First, measure enough ribbon to cover the clip. Use a hot glue gun to line the clip completely (inside, top, underside, and handle) with ribbon.
5. Attach hair bow onto the clip
Finally, hot glue the bow onto the hair clip. Done! Add your DIY hair bow to any hairstyle for an effortless, pretty look.
Kim Soon House of Ribbons, 36 Arab St, Singapore 199735
Find out more here
Spotlight at Plaza Singapura, Level 5, 68 Orchard Rd, Singapore 238839 and Spotlight at Westgate, Level 3, 3 Gateway Drive, Singapore 608532
Find out more here
For the latest updates on Wonderwall.sg, be sure to follow us on TikTok, Telegram, Instagram, and Facebook. If you have a story idea for us, email us at [email protected].