Keep Your Kids Entertained With A 'Busy Bag'
Among common parenting nightmares, dealing with a screaming kid in a restaurant (and receiving judgemental looks from the next table) is about as bad as having to change an explosive #2 diaper on a plane. It's challenging.
Most young kids can't help feeling bored in waiting situations. Sitting through a two-hour steamboat session isn't really a young child's idea of fun. But before plopping a screen in front of them, have you tried handing them a 'busy bag'?
A busy bag is a portable bag with items to keep your kid entertained during said waiting situations, and it is a lifesaver. Prepare your busy bag now and say hello to more peaceful outings.
You'll need:
· A pouch (a clear toiletry bag works well as it allows you to see what's inside; its size also makes it easy to bring on-the-go)
· An assortment of favourite things (see recommendations below)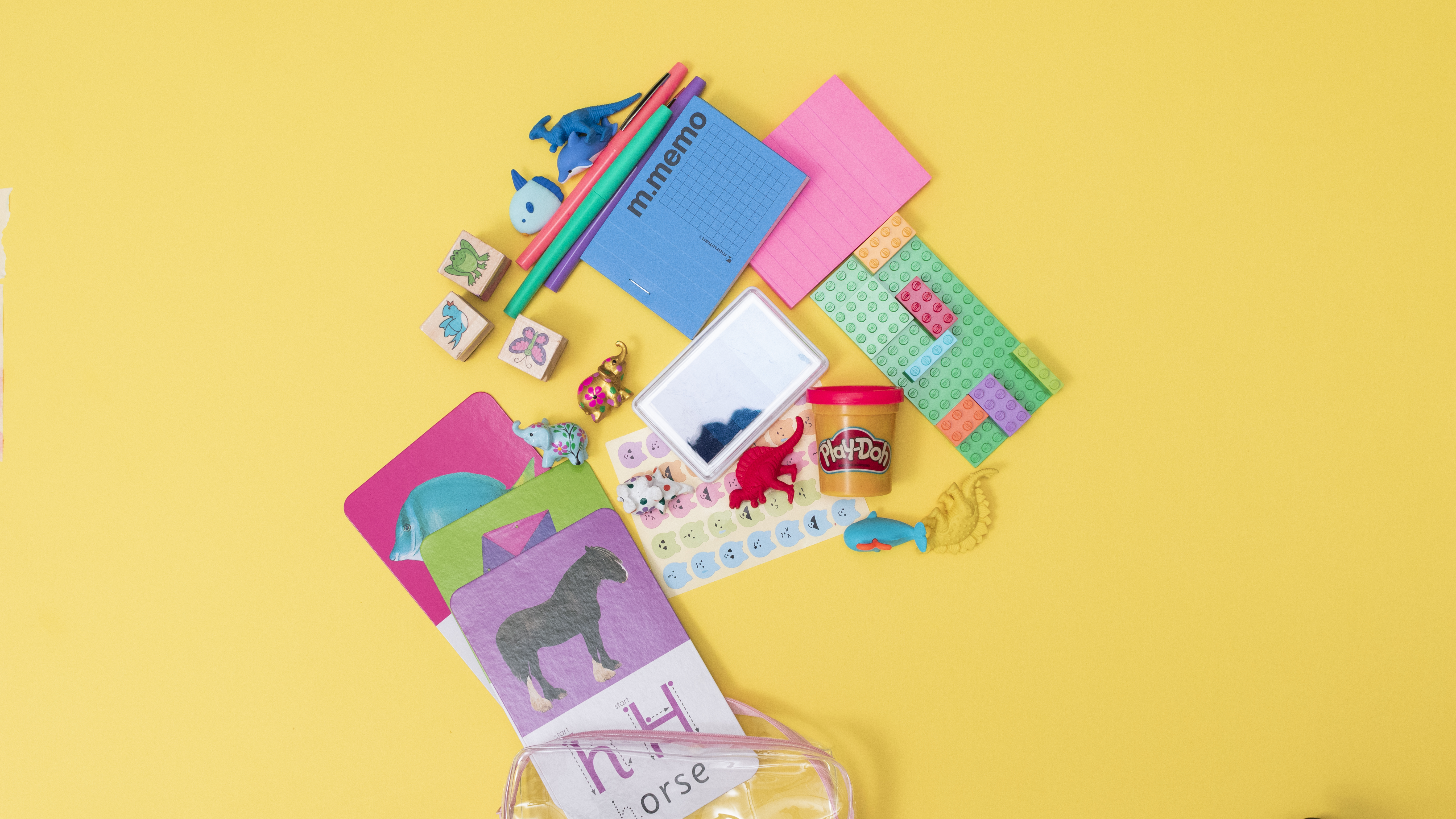 Ideas for what to include:

Animal figurines are great for storytelling, imaginative play or simple counting activities. We included an assortment, including animal erasers from Daiso that can be taken apart and reassembled – perfect for curious kids who like to take apart and 'fix' things.
Notepad and markers or colouring pencils can keep kids occupied as they wait for their food to arrive. You can pretend to "order" dishes and have your kiddo take down your order or engage in a game of tic-tac-toe. Colouring books featuring their favourite cartoons are nice to include as well.
Stamps with fun designs encourage screen-free fun, hand-eye coordination and creativity. Kids can 'chop' and colour in the pictures. We've also witnessed kids using stamps in their role play as teachers, marking pretend-homework with ticks and a chop. Hey, whatever keeps them entertained, eh?
Stickers because who doesn't like stickers? Just make sure they don't stick them on the walls or table.
Plastic bricks such as Lego to keep little hands busy building. Don't be surprised if even the adults try their hand at making mini Lego creations. Tip: To prevent individual bricks from scattering, include a base plate to attach them to.
Playdough offers plenty of tactile fun: There's squeezing, flattening, rolling, and moulding – all of which encourage children's fine motor skills and imagination. The possibilities for creations are endless, from mini playdough cookies and sweets to dinosaurs and snails.
Toy cars or trucks or anything with wheels if that's what your kid likes – but remind them to keep their vehicle on the table. You can also encourage them to design a race car track on their notepad for added fun (while keeping the wheel action contained).
Flashcards, for the obligatory educational activity because we're Singaporean parents after all. With laminated flashcards, kids can trace the letters or numbers with an erasable marker.
For the latest updates on Wonderwall.sg, be sure to follow us on TikTok, Telegram, Instagram, and Facebook. If you have a story idea for us, email us at [email protected].