Thosai 10 Ways: Instant Multigrain Thosai With Tomato Thokku
"Thosai 10 Ways" is a Wonderwall.sg series helmed by MasterChef Singapore Season 2 contestant Vasunthara Ramasamy aka Vasun, an amateur baker and cook, and the blogger behind Monsoon Table.
Though all pearl millet varieties such as ragi, jowar, bajra originate in tropical western Africa, they showed up in India sometime prior to 2000 BCE and are very widely used in many regional Indian cuisines.
In South India, they are most often used to make variations of steamed idli and thosai. Many commercially available thosai and idli batters have also started to offer millet thosai batters as there is a higher demand for wholegrains and healthier alternatives these days.
All the whole grain flours used in my recipe can be purchased at Indian grocers or in specialty food stores and are gluten-free.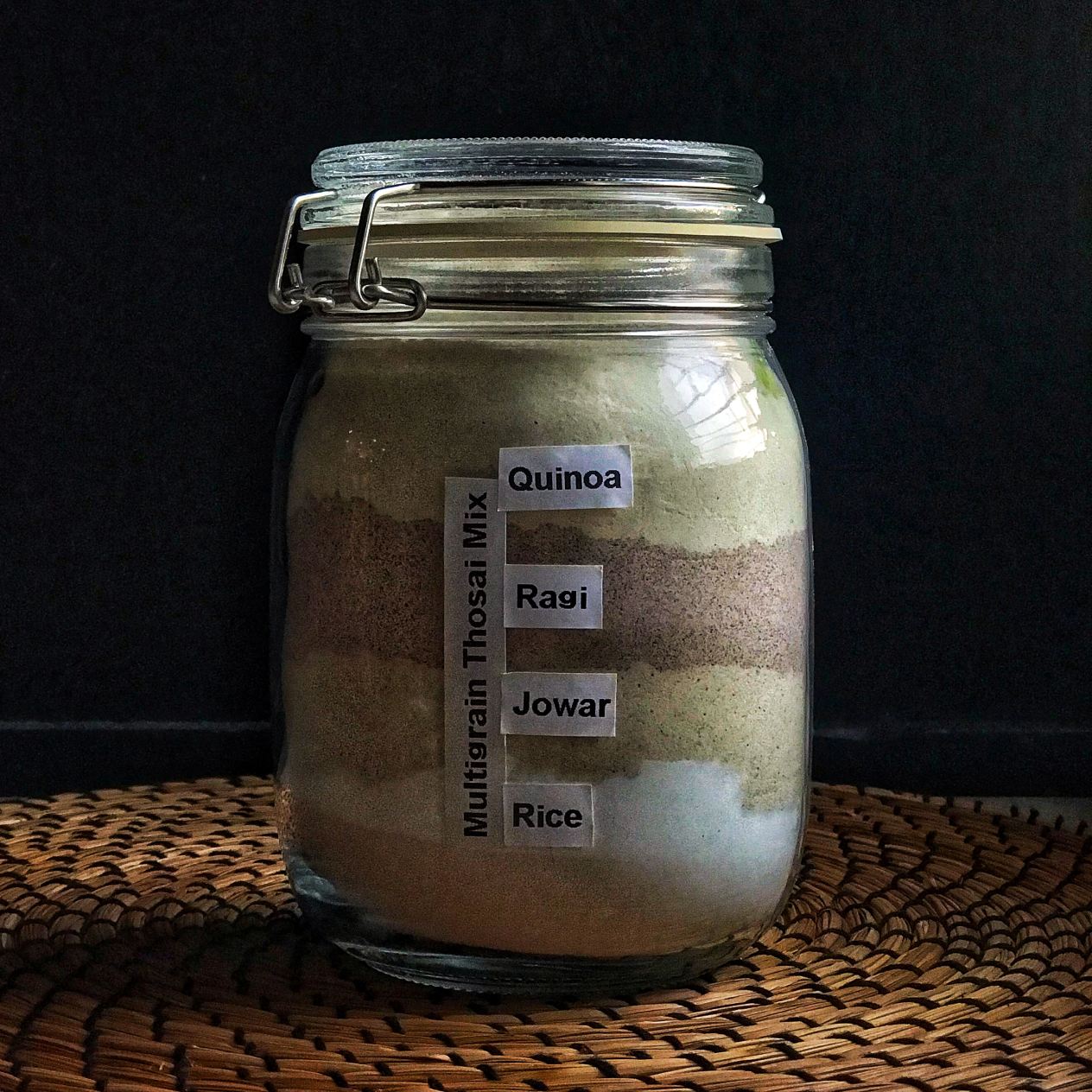 I have experimented with a few different ratios and whole grain flours to come up with this recipe. Whole grain flours tend to be heavier and denser when cooked but their flavours more than compensate for that.
I have added onion and fresh coriander to add balance to the earthy flavours from the whole grain flours. The natural yoghurt adds a tinge of sourness that is lacking in an instant thosai and a tiny pinch of baking soda reacts with the acidic yoghurt to create some much needed lightness and crispness when cooked.
When the batter hits the hot pan, the heat reacts with the baking soda and creates the tiny bubbles that are characteristic of a traditionally fermented thosai. In short, this instant multigrain thosai has complexity in flavour from the whole grain flours and a crisp lightness from the reaction between the yoghurt and baking soda even without fermentation.
That isn't to say this instant version is as complex tasting as a naturally fermented one but, in a cinch, when one is in a hurry for a wholesome meal, this variation is an excellent option.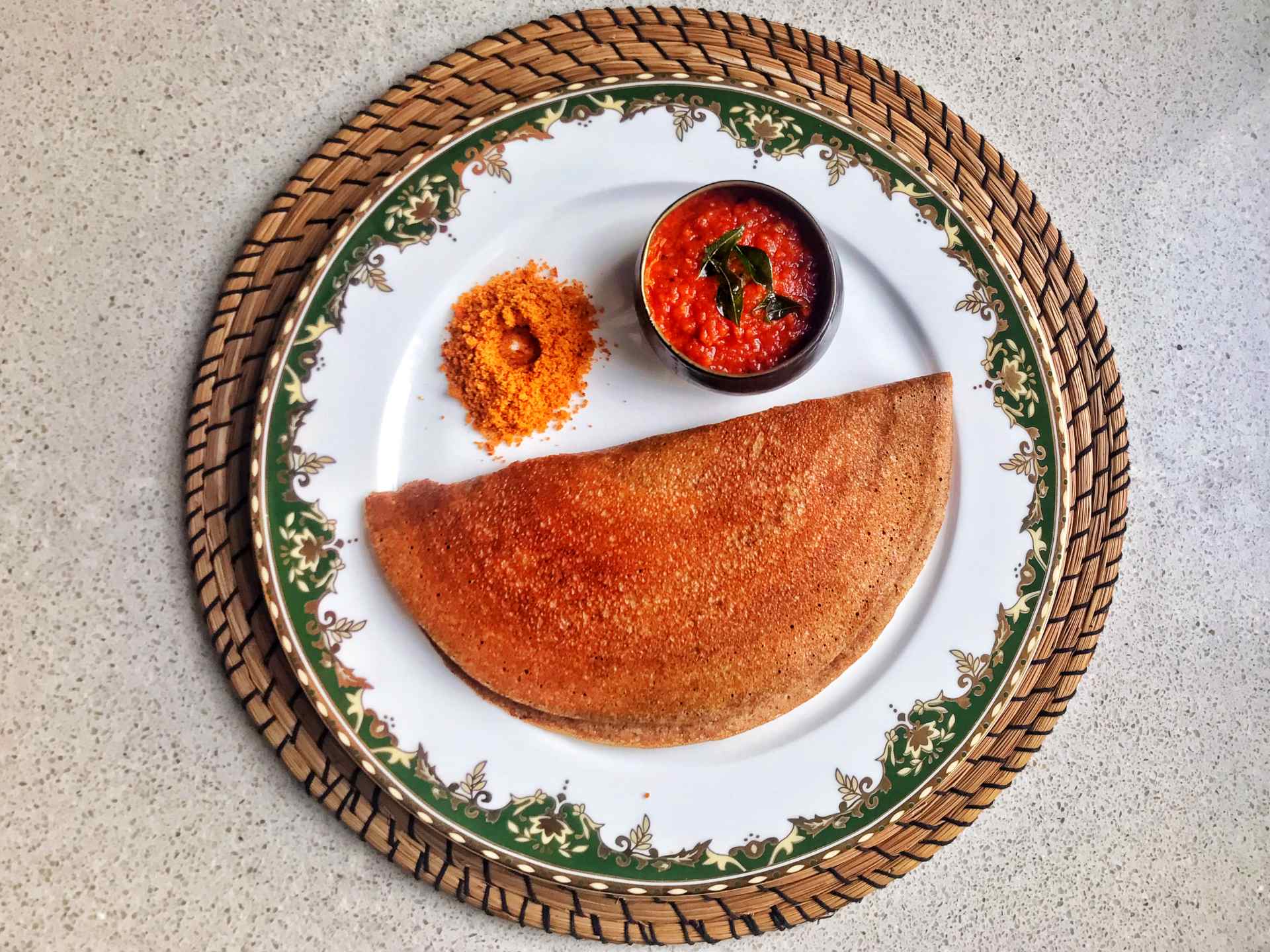 Instant Multigrain Thosai
Ingredients

Instant Multigrain Thosai
100g red onion, roughly chopped
10-15g/ about 2 heaped tablespoons Coriander leaves & stems, chopped
85g / ½ cup Ragi (Finger Millet) flour
70g / ½ cup White quinoa flour or Sorghum flour
35g / ¼ cup Jowar (Sorghum) flour
30g / ¼ cup White rice flour
60g / ¼ cup Natural yoghurt
½ tsp cumin
¾ tsp fine sea salt
¾ - 1 cup water
⅛ tsp baking soda
Cold pressed gingelly or peanut oil
Method
1. In a blender, add all ingredients except the water, baking soda and oil and blend till the mixture is smooth. Add ½ cup water if the mixture is too thick.
2. Pour ground batter in a medium bowl. The batter needs to be of a loose pouring consistency.
3. Two minutes before you're about to cook, add baking soda to batter and mix to uniformly incorporate into batter.
4. Heat a flat pan or skillet over medium high heat, grease it lightly and pour a ladleful of the batter and swirl and make thosai as you normally would.
5. Drizzle some gingelly or peanut oil around the edges of your thosai.
6. If the thosai turns out too thick, add more water until you have reached a pourable consistency that is easy to swirl on the pan.
7. Remove cooked thosai from the pan and enjoy it while it is hot.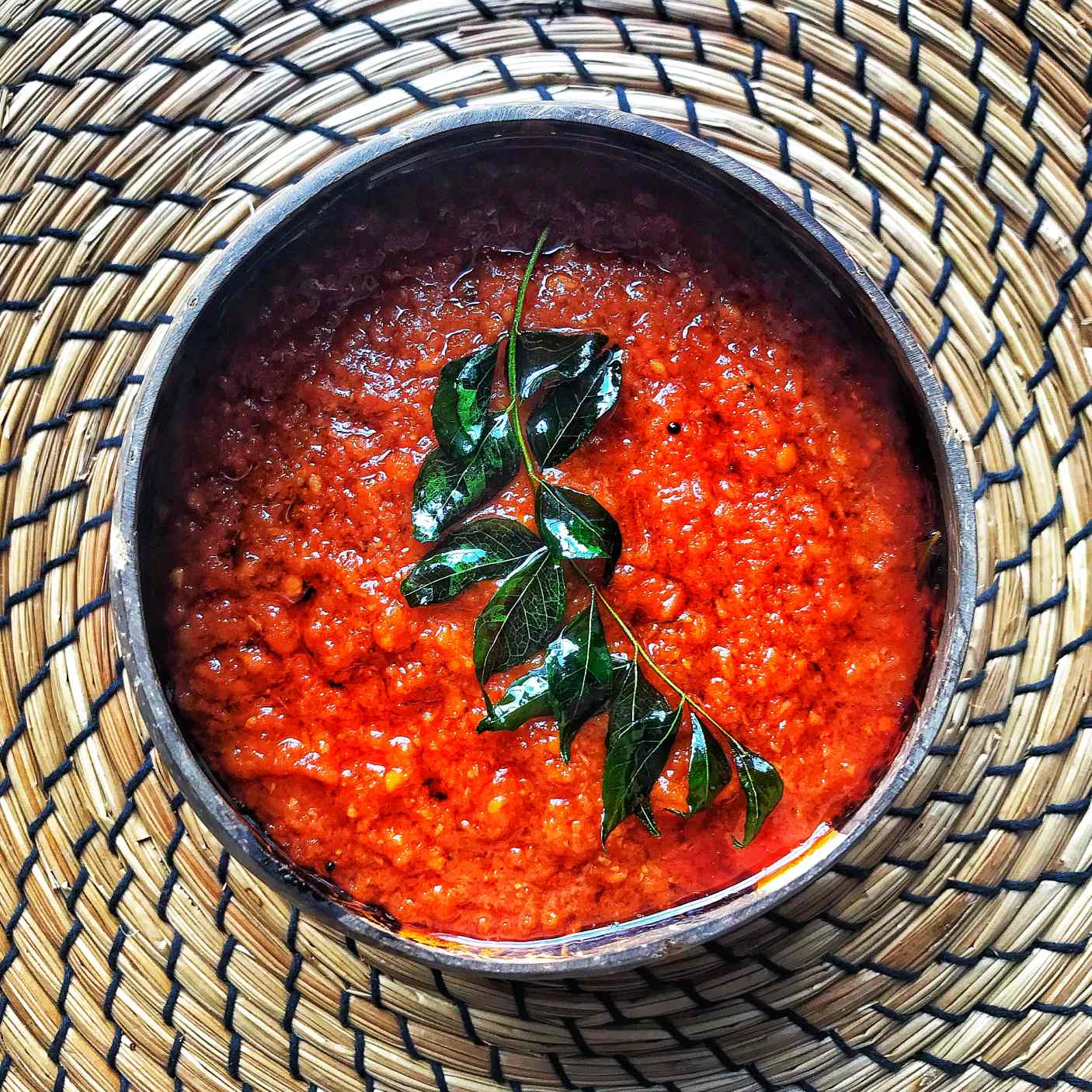 This Tomato Thokku (above) is a favourite among all my Thosai Masterclass students. As this dish is cooked out and mustard, cumin and fenugreek are added, it is considered a thokku, a type of pickle, and can be kept for at a week in the refrigerator. This Tomato Thokku goes with any thosai or idli. The key to making it is to use very ripe tomatoes which smell wonderful and full of natural umami goodness.
Tomato Thokku
Ingredients

600-650g very ripe tomatoes, chopped
½ tsp tamarind paste
3 large garlic cloves
1 tsp salt
½ cup water
¼ cup gingelly oil
¼ tsp mustard seeds
½ tsp asafoetida
1 tsp chilli powder
½ tsp turmeric powder
½ tsp jaggery/ brown sugar (optional)
½ tsp mustard seeds
1 tsp cumin seeds
½ tsp fenugreek seeds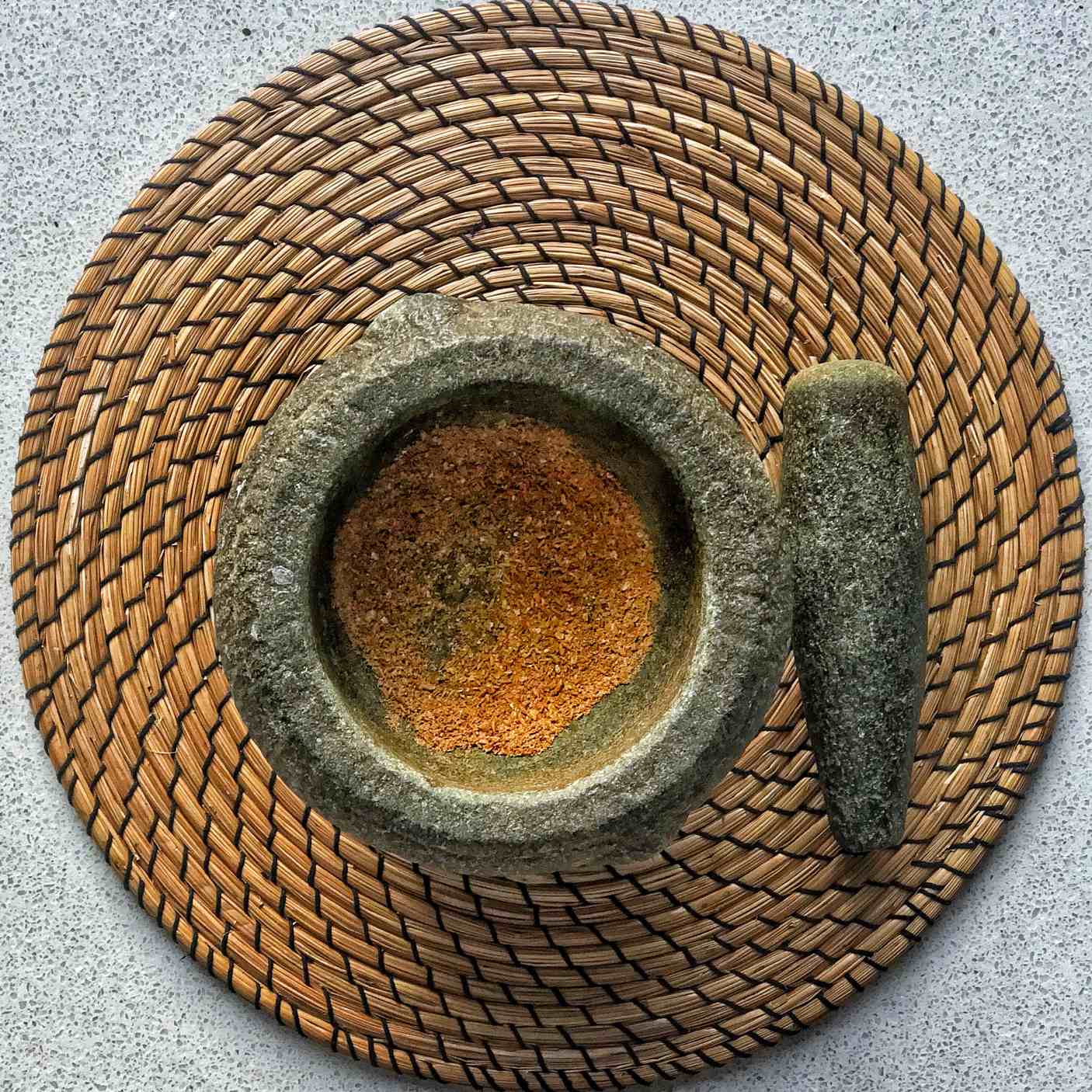 Method
1. In a medium saucepan, add tomatoes, tamarind, garlic, salt and water. Boil uncovered until tomatoes are mushy. Blend till smooth.
2. In a pan, heat gingelly oil. Once oil is hot, add mustard seeds. When they stop spluttering, add asafoetida, blended tomato mix, chilli powder, turmeric powder and jaggery. Bring to a boil and cook till mixture thickens, darkens and oil starts to surface. Once it's thickened, turn off the flame.
3. In another pan on medium-low heat, dry roast mustard, cumin and fenugreek seeds until mustard seeds start to pop and fenugreek becomes slightly browned. Remove and cool.
4. Once cooled, grind to a coarse powder and stir into cooked tomato mixture. Check for seasoning. Serve. This chutney can be kept for a week in the fridge.
---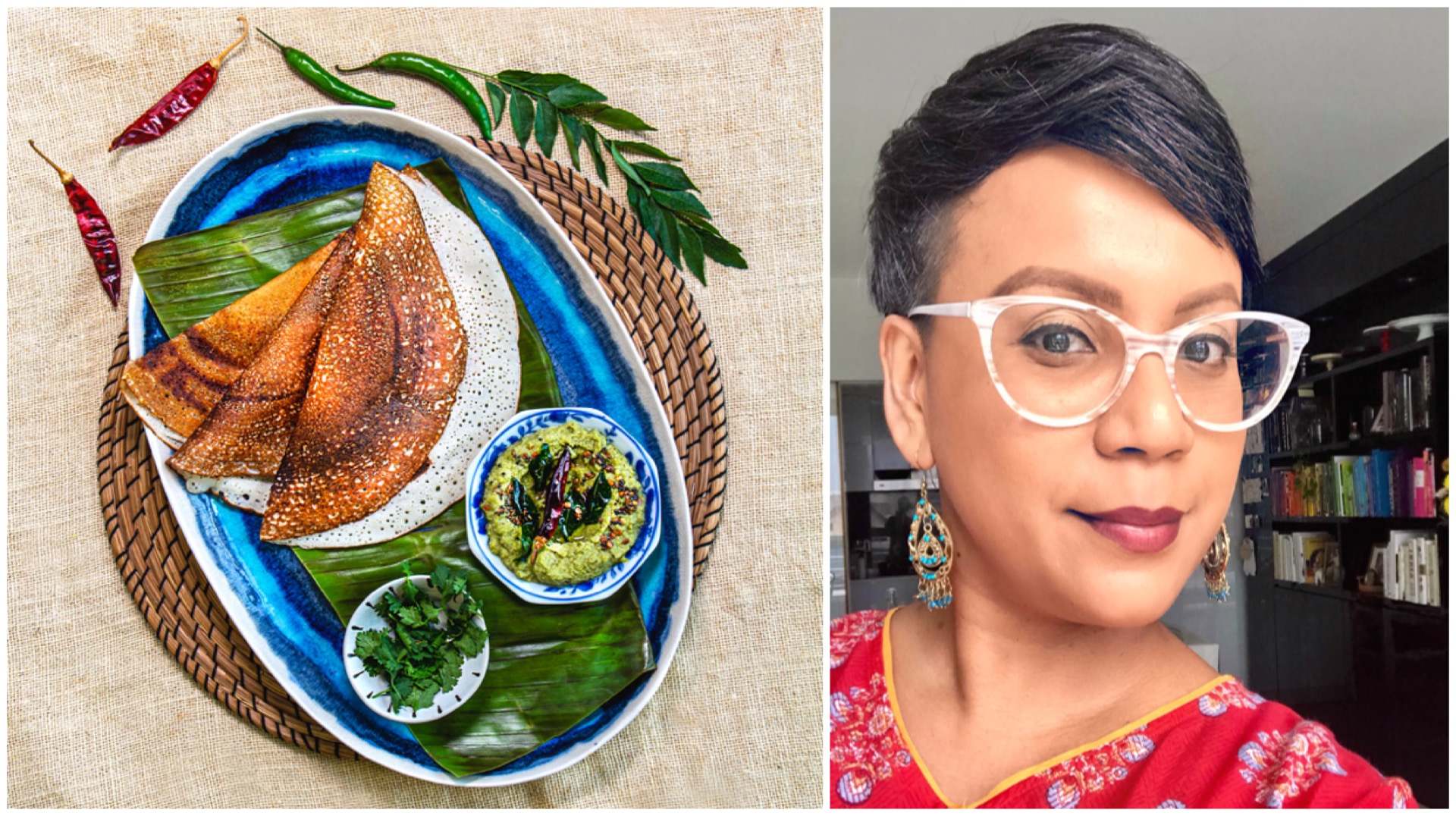 Vasun's thosai masterclass
Want to learn more? Vasun teaches the art of making thosai from scratch at her home. She's inspired by the nostalgia of her grandma's kitchen and the exacting science of thosai fermentation.
Thosai masterclass partipants will learn the basic science of thosai, how to soak and grind the batter from scratch, master the art of swirling and cooking thosais.
At the end of the 4-hour $180 class, they also get to enjoy a tiffin meal with two chutneys and gunpowder podi, bring home all the food and successfully ferment their first batch of thosai.
For now, the thosai masterclass is for a maximum of two partipants, and held every Wednesday and Sunday.
For enquiries or to book a class with Vasun, email [email protected] or drop her a DM via Instagram @vasunthara.r
For the latest updates on Wonderwall.sg, be sure to follow us on Facebook, Instagram and Telegram. If you have a story idea for us, email us at [email protected].