At This Contemporary Wood-Fired Filipino Joint, Home Is Where The Pugon Is
When you sing praises of Chef Kurt Sombero's delicious yam ice cream dessert, he deadpans: "Yeah, we got that from Lucky Plaza." Needless to say, he's kidding. The man's sense of humour is as dry as the logs he uses in the traditional pugon (a wood-fired brick oven) which takes centrestage at Kubô, a contemporary Filipino joint located at The Pier at Robertson. Fun fact: the pugon goes through about 1 tonne of ironbark wood every fortnight.
A native of South Cotabato, Mindanao (the second largest island in the Philippines), Kurt – who has worked with André Chang at Restaurant André and Dave Pynt at Burnt Ends in Singapore, and Cyrille Soenen at Impressions Restaurant in Manila – is a man of contrasts: while he is cognizant of his heritage and culture, he is also intentional when it comes to giving the flavours and experiences that he grew up with, an exciting and contemporary twist.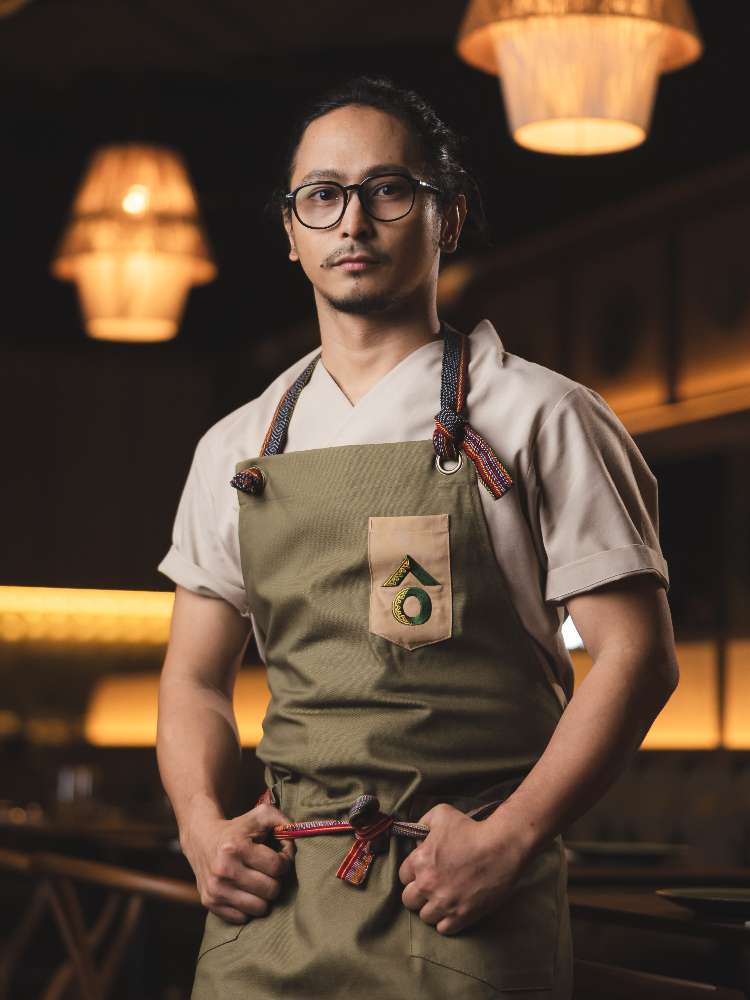 Chef Kurt is from South Cotabato, Mindanao, the second largest island in the Philippines. | IMAGE: KUBÔ
"We're trying to be in a moment and not trying to be authentic. We're a contemporary restaurant that brings back certain memories, and trying to build classic new nostalgia," explains Kurt. "You might never have had an experience of Filipino food, but when you dine here, it will bring you to a time and space – it brings you back home."
Incidentally, "Kubô" is short for "bahay kubô" or a nipa hut (a kind of stilt house in the Philippines).
"What we're trying to do here is to relive that life from the perspective of a chef who has had exposure in Singapore for a while now, and cooking with ingredients that aren't traditional," Kurt adds. "This restaurant represents a culture, and what it could be, not what it was. So, we're trying to move forward by taking 10 steps back in terms of how we cook."
With a twinkle in his eye and more expressionless wisecracks on his lips, the laid-back 30-plus-year-old brings us through the inner workings of Kubô's energy-efficient kitchen, debunks myths about Filipino cuisine, and waxes lyrical about… McSpicy?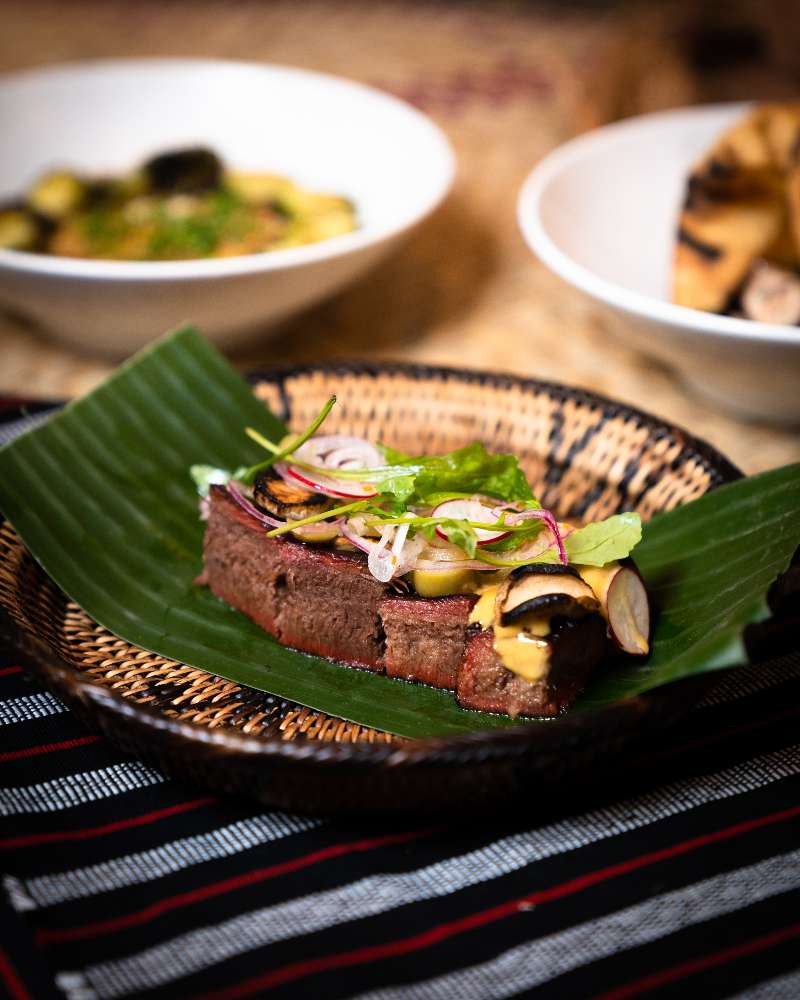 Smoked Beef Tongue – smoked low and slow with maple and gluten-free soy, grilled and served with smoked mushroom and tare aioli. | IMAGE: KUBÔ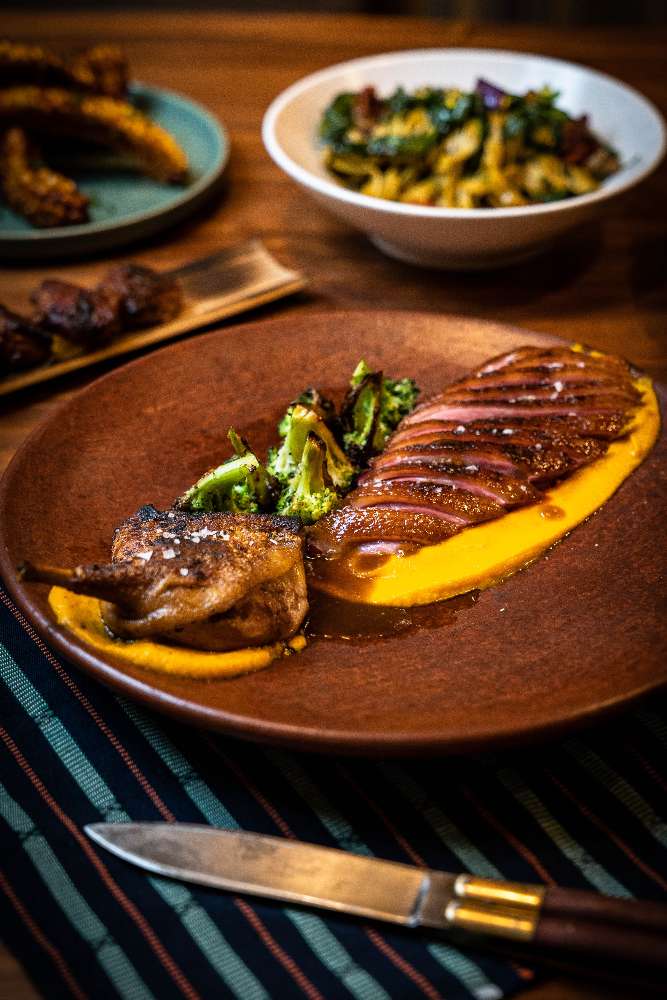 House-aged Duck – house-aged duck breast grilled and served with duck leg confit and carrot purée. | IMAGE: KUBÔ
Do you remember your first experience cooking? And how did that impact your decision to become a chef?
I remember it precisely, and I can still smell and feel it. When I was a kid, my grandmother Josefa cooked with wood-fire, so we're actually just stealing her idea! <laughs> No, I'm just standing on the shoulders of the people that I've cooked and learned from. I glorify their presence in me by making sure that I take what they taught me the best, and present it to people who can glorify and appreciate their craft.
I still remember helping my grandmother pluck some stuff, and cutting up some squash – all the stuff that I thought, as a kid, I was not going to enjoy. But later on in my life, I realised the only thing that I was really enamoured with was spending time in the kitchen – that's where time didn't matter, and I just enjoyed the labour of love, and seeing people get the sustenance that they needed, and the fact that I was part of that. You're bringing smiles to people's faces – it's like being a magician, right?
So for me, seeing my grandmother provide that to other people, and being part of it, was enough for me to decide that, yeah, this is what I'm gonna do.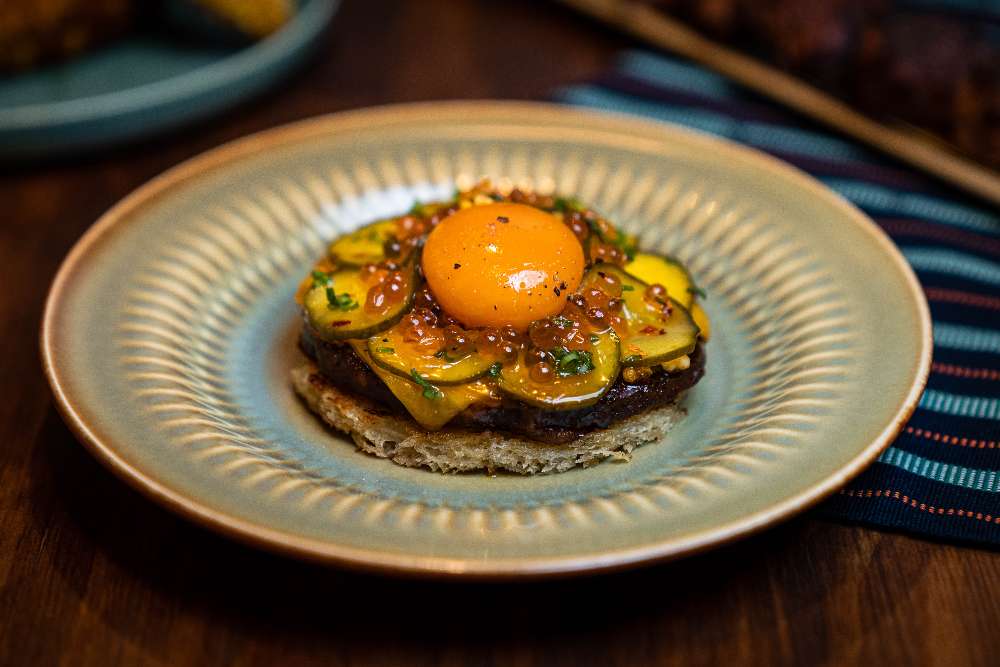 Pork Longganissa. | IMAGE: KUBÔ
We notice a couple of new items on the menu – tell us about the Longganissa.
The Longganissa is an all-day breakfast thing in the Philippines, so it's our take on that, which is basically a tartine, an open-faced sandwich. In our version, we have a bit of home-made bread that we grill. And we top that with eggplant, and then a pork patty that's done hamonado style [which involves marinating and cooking the meat in pineapple juice]. And then we top that with some smoked cheese, homemade pickles and then some cured eggs and, some hidden rice crispies for texture.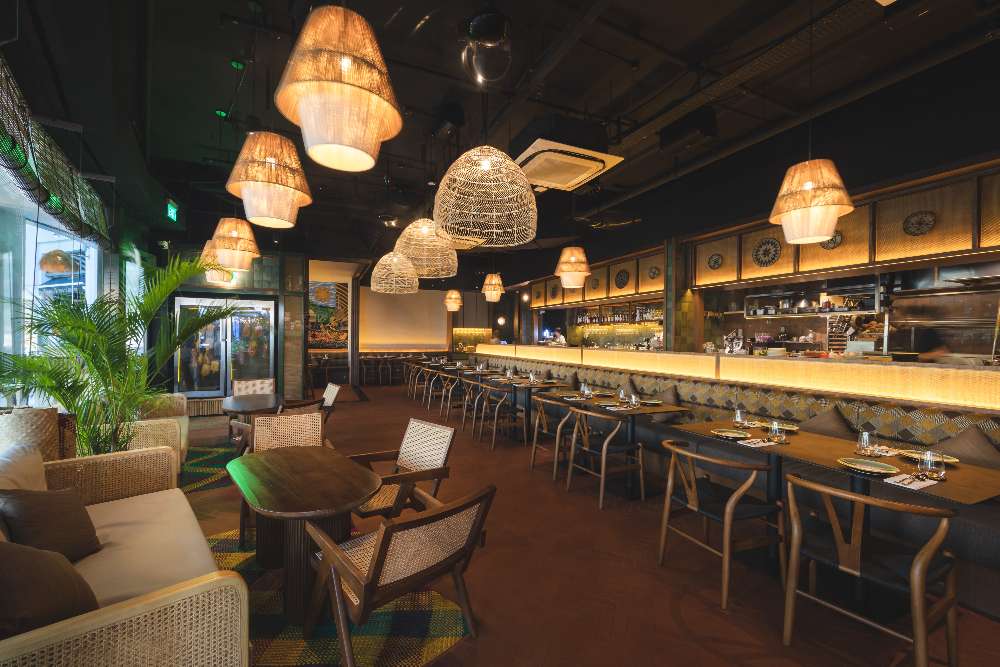 The open-concept kitchen gives you a full view of the culinary action, and a fragrant preview of what's to come. | IMAGE: KUBÔ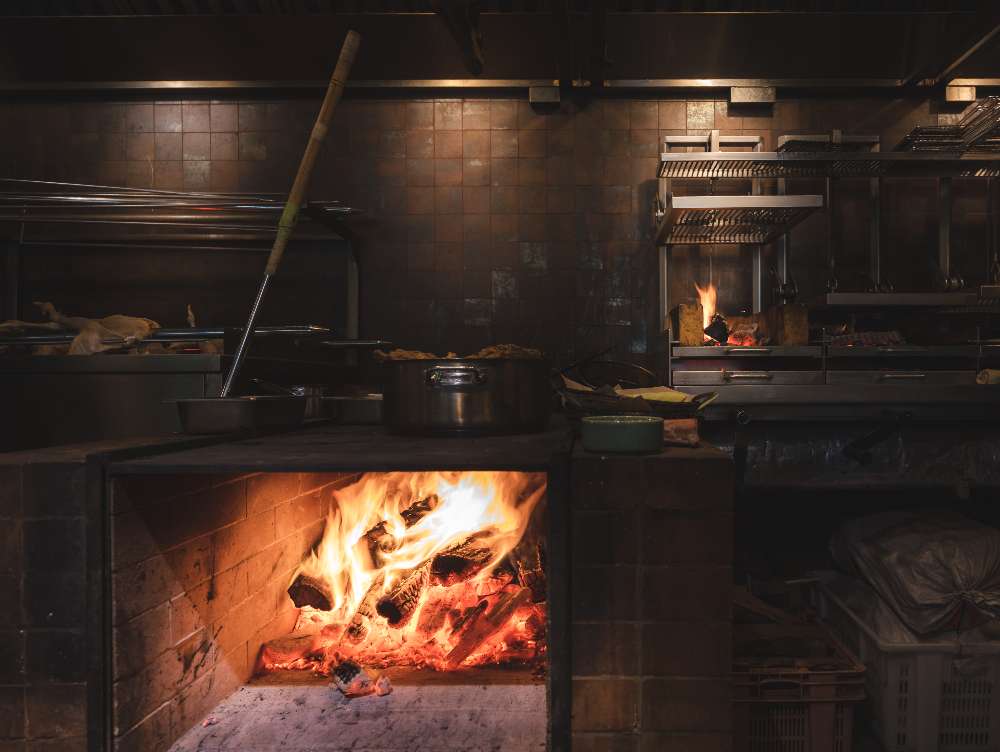 The pugon maximises the energy of fire and steam. | IMAGE: KUBÔ
How much does sustainability play a part in your kitchen?
That word is getting thrown around and taken too lightly lately, but it's one of our core [principles], it's basically respecting ingredients and our process. We custom-built a couple of contraptions in our kitchen that maximise the energy of fire. We have a pugon, which can go up to about 500°C. We use that energy from the start to actually prep stuff. On top, it's a cast iron, so we actually cook on it and do a lot of steaming, and the steam goes in all day, and that's part of our process. That energy of fire and steam – I don't see that a lot [in other barbecue restaurants].
All the smoke that it emits is because we use fresh wood – no charcoal in this restaurant. The smoke travels through a tunnel and it goes to a smoker, so we're using that energy as well. We also scoop out the coals and put them in our elevation grill, so we can go up and down, and control the energy on how hot or how soft we actually cook.
Our menu – from snacks, appetisers, mains up until dessert and some of our cocktails – passes through that contraption that we built to maximise the energy of fire. So, we either start with steaming and end up very hot on the grill, or we start with smoking – it's just a plethora of techniques and processes that we put in for us to be able to put out something with the cooking restrictions that we have.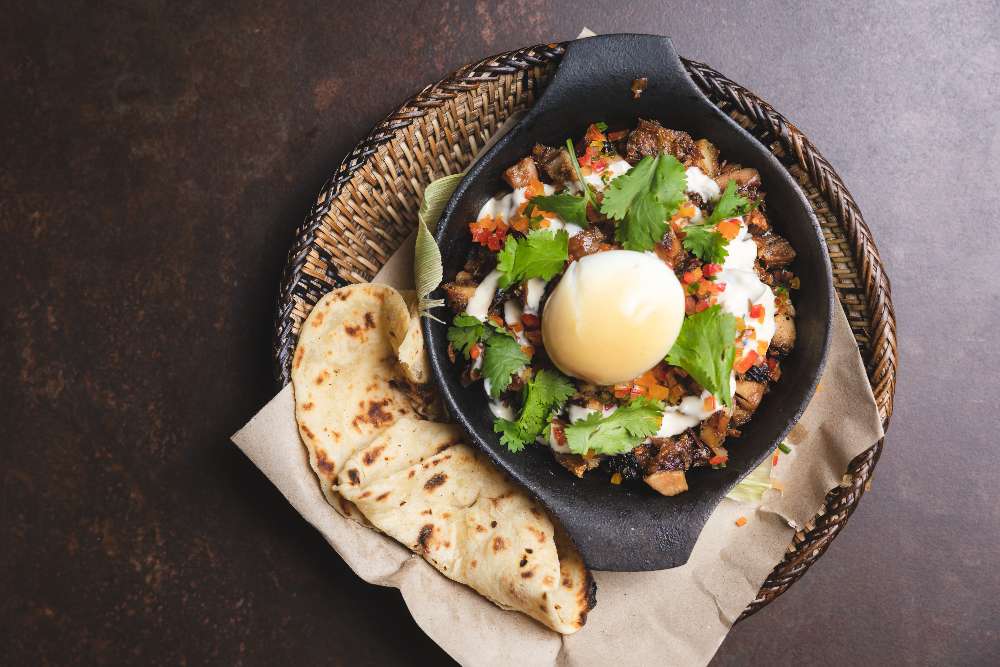 Sisig – smoked pork cheek, hand-chopped and caramelised, seasoned in pepper and salted egg sauce, and served with 4 pcs of house-made flatbread. | IMAGE: KUBÔ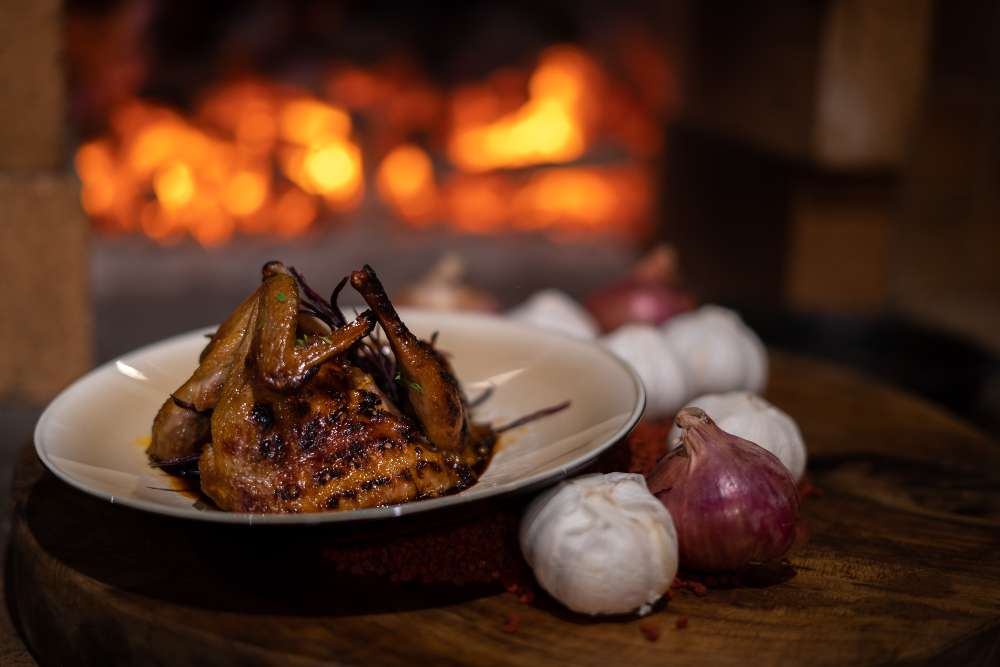 Quail Adobo – Australian quail, brined for 36hrs, roasted and served with mashed potatoes and shoestring fries. | IMAGE: KUBÔ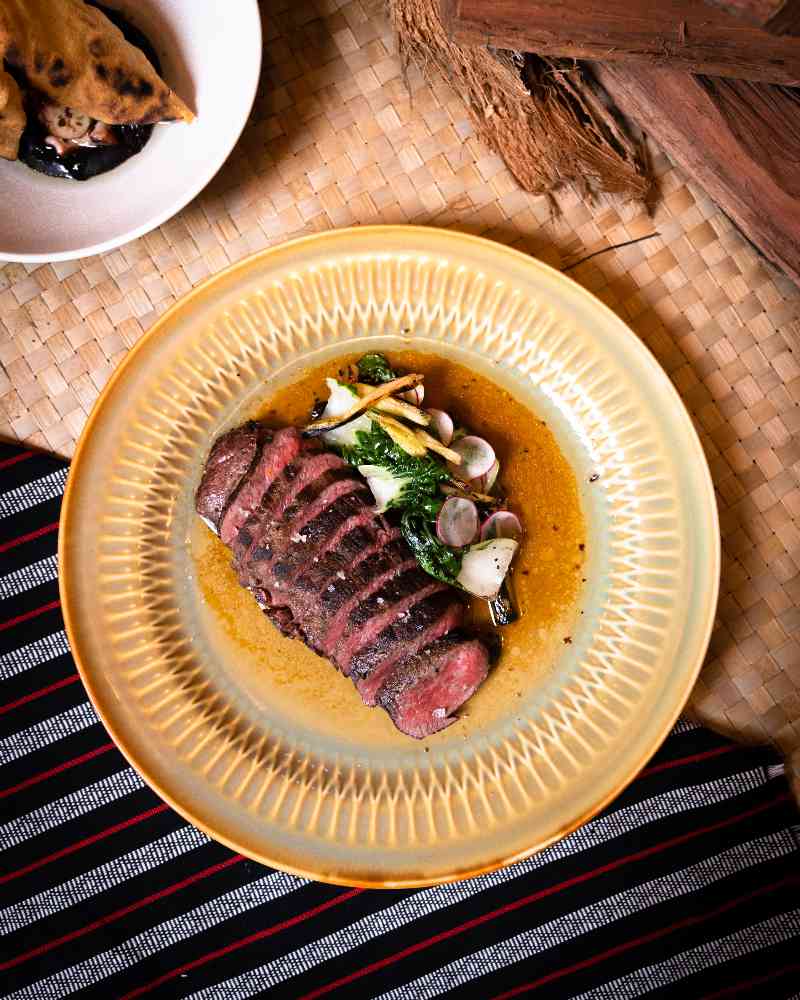 Bistek – 250g of roasted secondary beef cut, seasoned with calamansi and soy sauce. | IMAGE: KUBÔ
How does your menu play a part in showcasing and extending Filipino culture to diners?
Where I'm from in Mindanao, and up to the north, the adobo is very different. I usually put it in the perspective of Singapore – let's say, bak kut teh. On this one island, you've got three versions, right? You multiply that in the Philippines which has 7,000-plus islands – we get 21,000 versions of adobo. That's how diverse and beautiful it is. And it actually relates to certain parts of Asia, like we have turmeric rice in Mindanao, Java has turmeric rice, Bali has turmeric rice, Malaysia has turmeric rice.
And culturally, if you go to the northern part of the Philippines, in the highest mountain, there's a tribe called the Igorot, and they have very beautiful red weaving patterns. And it's the same as what you have in Taiwan.
So that's how relatable Filipino food and culture is to the rest of Southeast Asia. The underlying message that we want to put out is that Philippines is just a country, and we're actually related in terms of our culture. In Singapore, people think that Filipino food is very different from the rest of Southeast Asia, but it's actually connected because the ingredients that we use are the same. It's just a matter of small tweaks.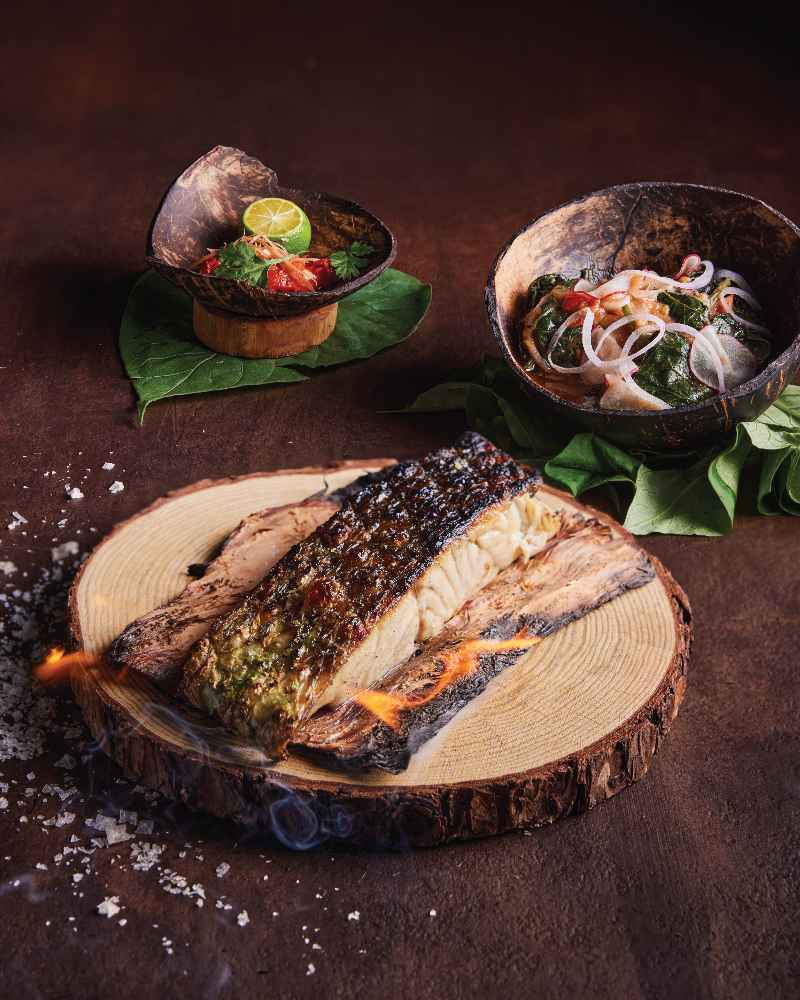 Barramundi – Slightly cured barramundi fillet, grilled and served with tangy roasted tomatoes and sweet potato leaves. | IMAGE: KUBÔ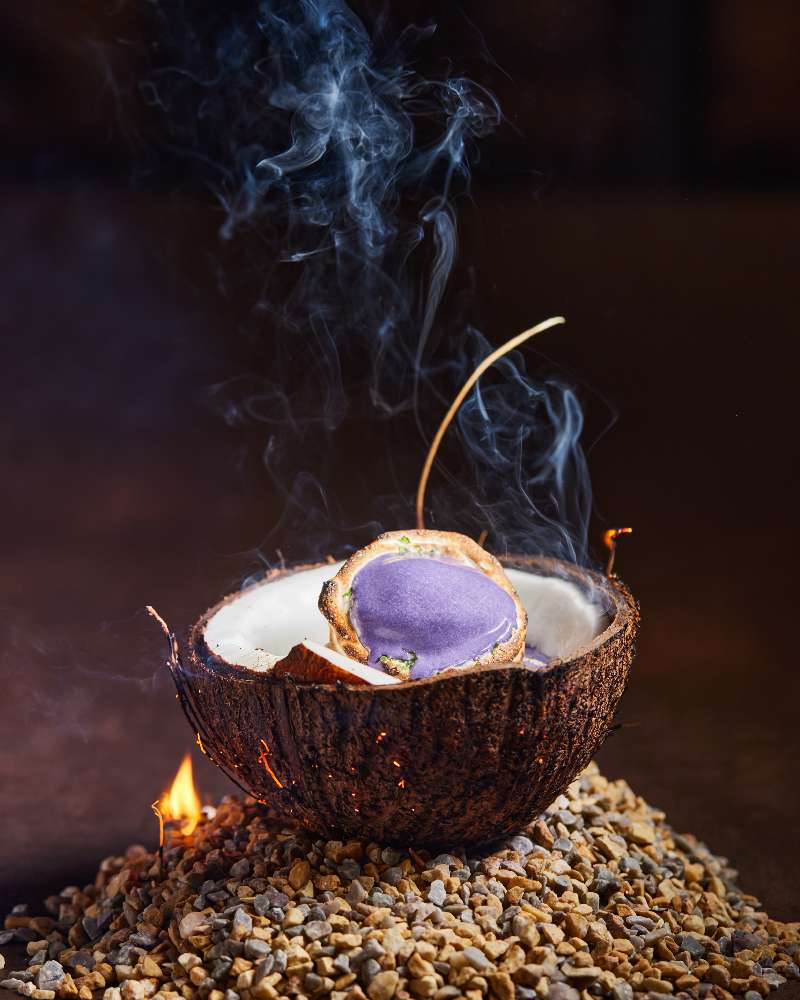 Halo-halo – Purple yam ice cream with coconut jam, coconutty corn custard topped with a torched meringue. | IMAGE: KUBÔ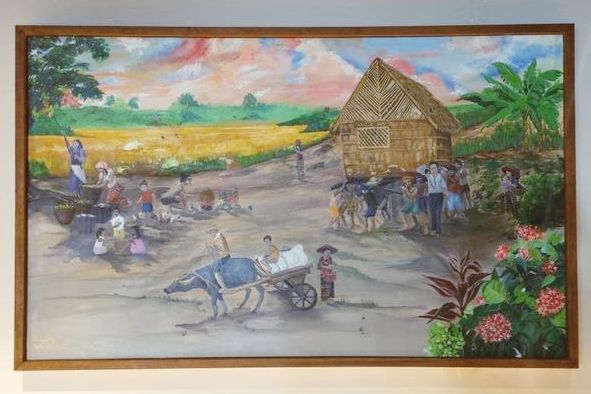 A painting in the restaurant that depicts villagers helping a fellow man move his kubô (nipa hut). | IMAGE: Chef Kurt
What's been the biggest highlight of running Kubô since it opened in July 2022?
The people. The biggest highlight for me is to have a plethora of people whom I can talk to and get the chance to know – not just the guests, but the people who work around me. It takes a village to raise a child, right? And we actually have a depiction in our restaurant of what Kubô represents too – a village.
Before, when land titles didn't really exist, when you wanted to be in a safer space, you would gather all the people that you trusted and loved, and they would carry your kubô to a location that was safer or where you wanted to be. So, it actually takes a village to go forward and be a better space.
What are your favourite local dishes in Singapore?
There're a few, for sure. I don't have a go-to, but usually stingray – I love that! And some days I love a bak kut teh. Mee pok, for sure. I love mee pok dry.
What is something you enjoy that is furthest away from being prepared by a wood fire?
Double McSpicy! And how you eat that is to separate the patty: You enjoy the burger first, and then you just enjoy the patty alone. I know how to eat it!
For the latest updates on Wonderwall.sg, be sure to follow us on TikTok, Telegram, Instagram, and Facebook. If you have a story idea for us, email us at [email protected].