Heighten The Huat: Decadent Dine-In Options For CNY Reunion Dinner
We don't know about you, but the past two years have given us an appreciation for staying home, especially during the festive season.
Why jostle with the rest of the country just to have a meal when you can enjoy a feast at home, away from the maddening crowds?
These restaurants have created easy-to-appreciate menus that don't veer too far from all the symbolic traditions you want during the Lunar New Year. Yu sheng, pen cai, whole roasted meats… everyone in your family will approve.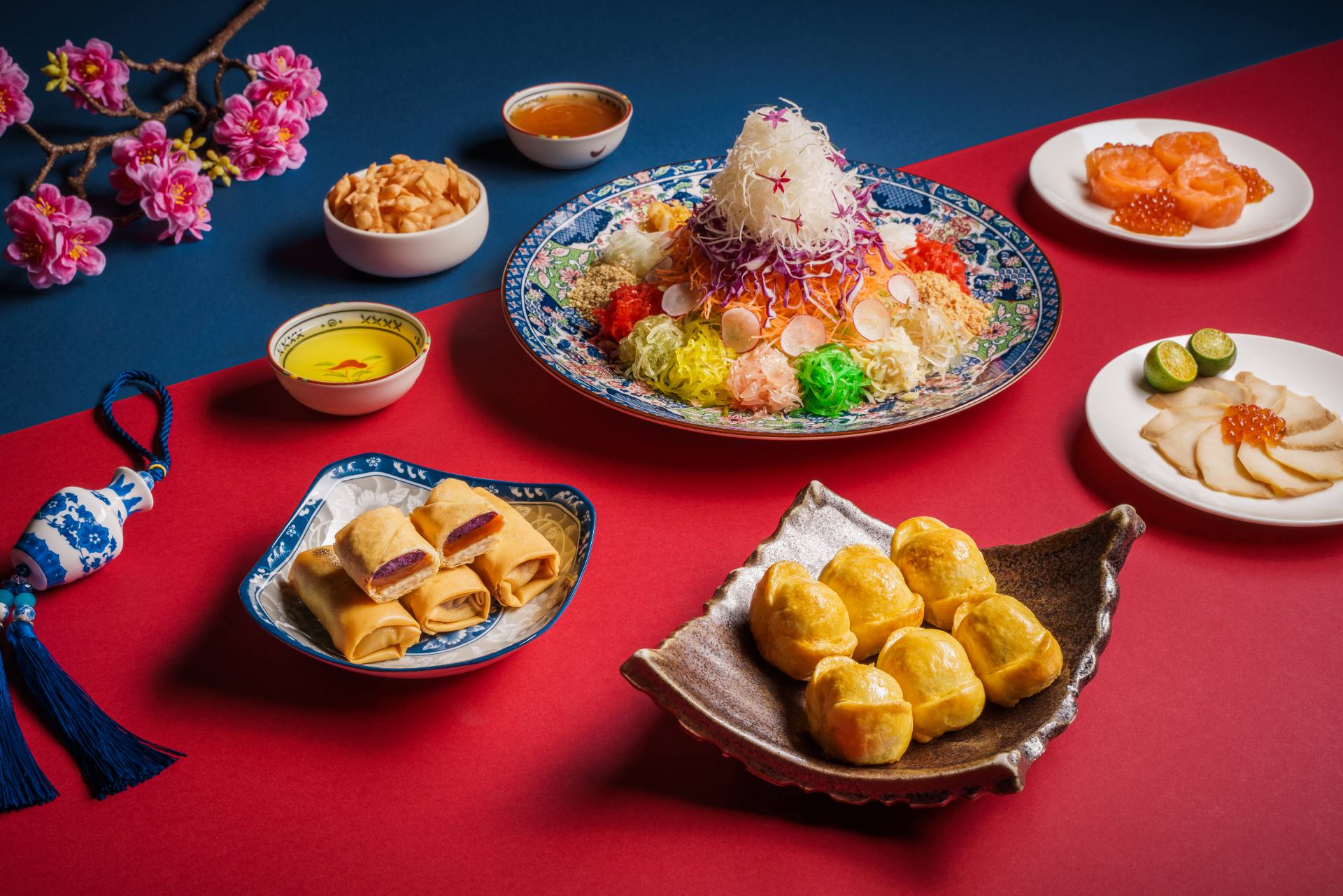 Shisen Hanten
We love a compact menu. It deters us from over-ordering and keeps us focused on the good stuff.
Such is the case at this upscale Sichuan restaurant where the CNY takeaway options kick off with Fortune Abalone and Salmon Yu Sheng (from $78, feeds up to six people), to be followed by the heaving Baby Abalone Abundance Fortune Pot ($488, feeds up to six people). The latter brims with fresh scallops, sea cucumber, prawns and a host of other delicacies designed to enhance your huat throughout the year.
Less lavish, though no less delicious options include Hokkaido Steamed Pumpkin Cake ($38) and Four Treasures Mini Nian Gao ($36 for four).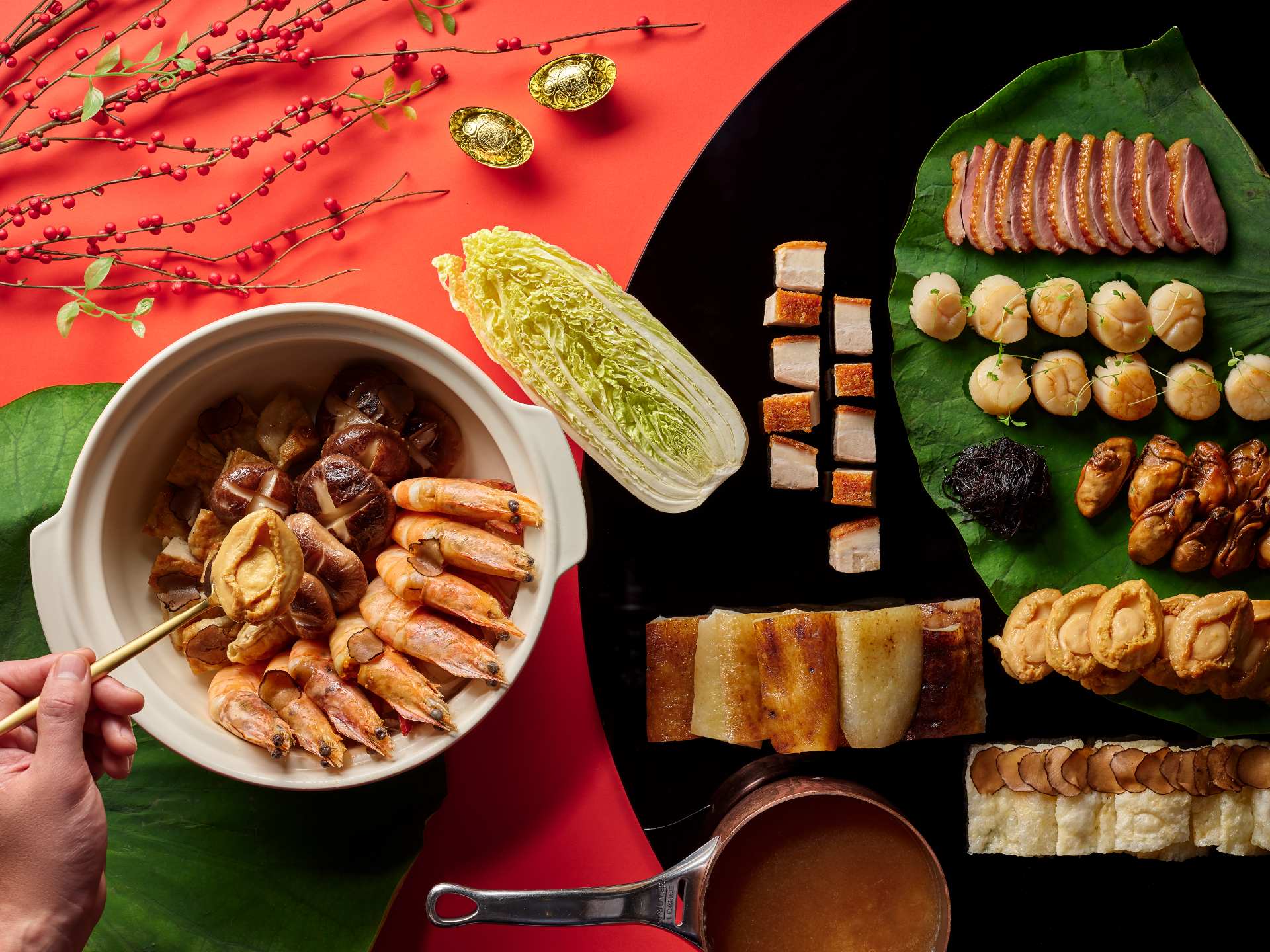 Sofitel Singapore City Centre
There are takeaways of all sizes at Sofitel Singapore City Centre, where Executive Chinese Chef Andrew Chong and his team have prepared yu sheng with Atlantic smoked salmon ($128) or 10-head abalone ($188), or even a vegetarian one ($98).
The Magnifique Pen Cai too comes in various degrees of magnificence, with one that feeds up to eight ($338) and another up to 10 ($528). Regardless of size, the abundant pots are filled with the likes of fried oysters, Hokkaido scallops, flower mushrooms, fish maw, roasted pork and French duck breast all set on a bed of truffle-braised cabbage and black moss.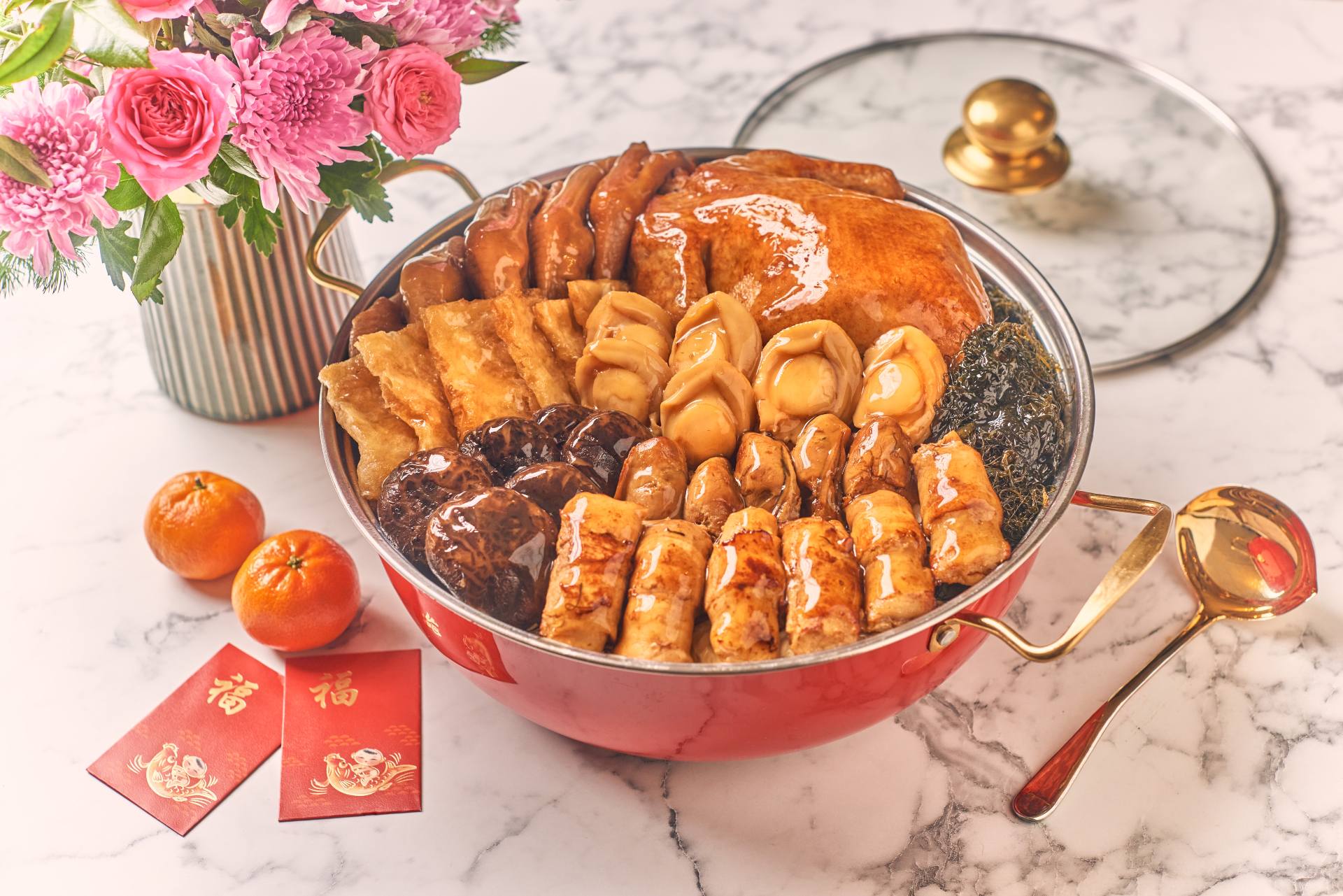 Min Jiang
Aside from pots overflowing with seafood, Min Jiang has an over-the-top Braised Spring Chicken with Iberico Pork Rolls and Abalone in a Pot ($361.66, feeds up to six people).
Among the list of stellar ingredients is traditional goose web, which is seldom use as preparing it is a long, challenging process. Here, the goose webs are deep-fried and braised with chicken, Chinese Jinhua ham, ginger and spring onions for two hours till their proteins break down to make them nice and tender. They are then combined with a deep-fried spring chicken which is steamed with aromatics.
Grilled and braised Iberico pork belly rolls, whole abalone, dried oysters, shiitake mushrooms and fried fish maw also go into this decadent mix that is sure to stretch your bellies.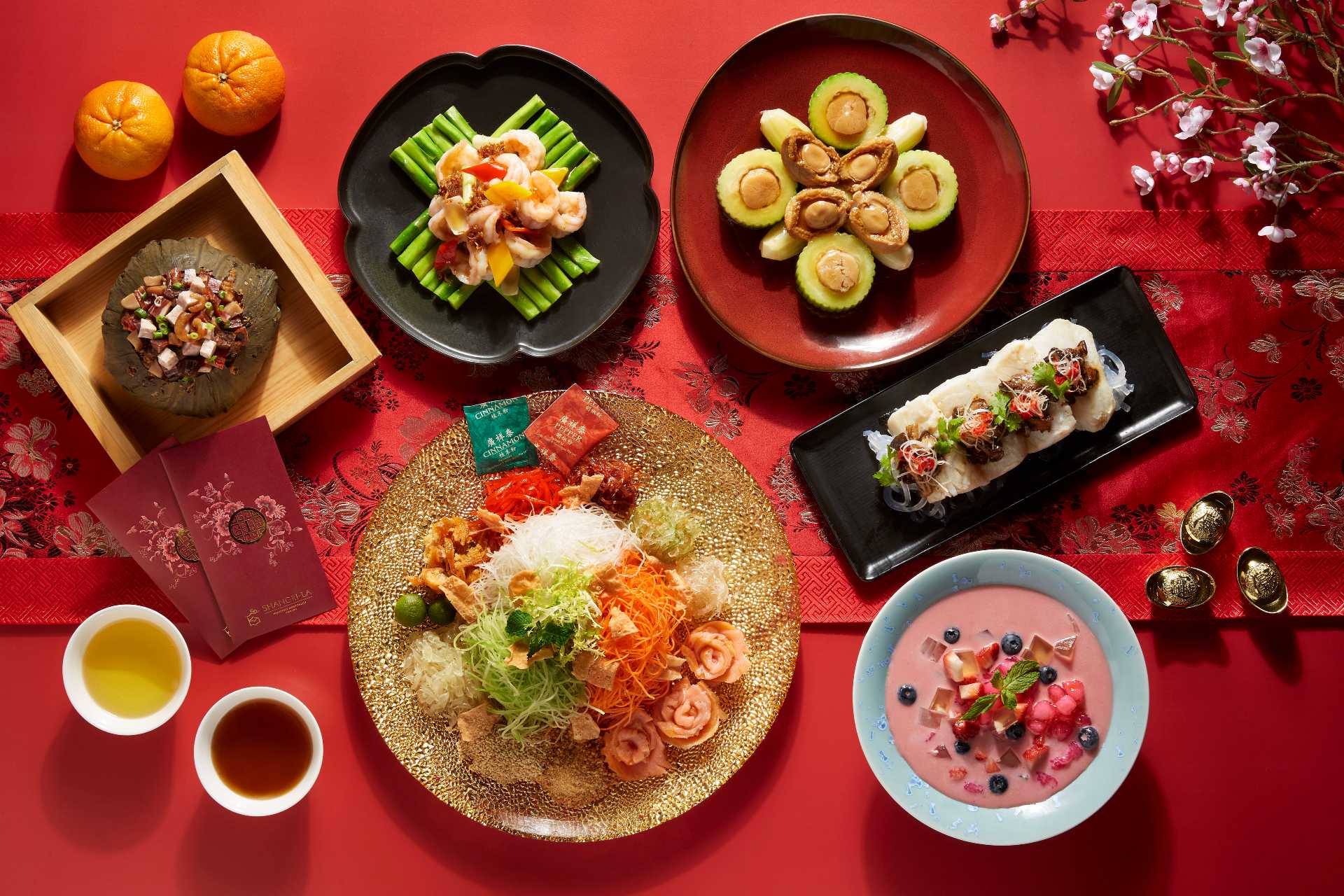 Shang Palace
A decadent eight-course reunion dinner ($628, feeds five) is a 48-hour pre-order away from Shang Palace. The menu includes braised bird's nest soup with shredded chicken, bamboo fungus and fish maw, as well as wok-fried king prawns with green veggies, lily bulbs and shrimp XO chilli sauce.
Naturally, there are braised whole abalones served with a melon ring filled with conpoy; braised chicken with eight treasures wrapped in lotus leaf; steamed cod fillet with crystal noodles and black truffle mushroom sauce; and yu sheng with Norwegian smoked salmon.
Dessert comes in the form of chilled strawberry cream with water chestnut and coconut.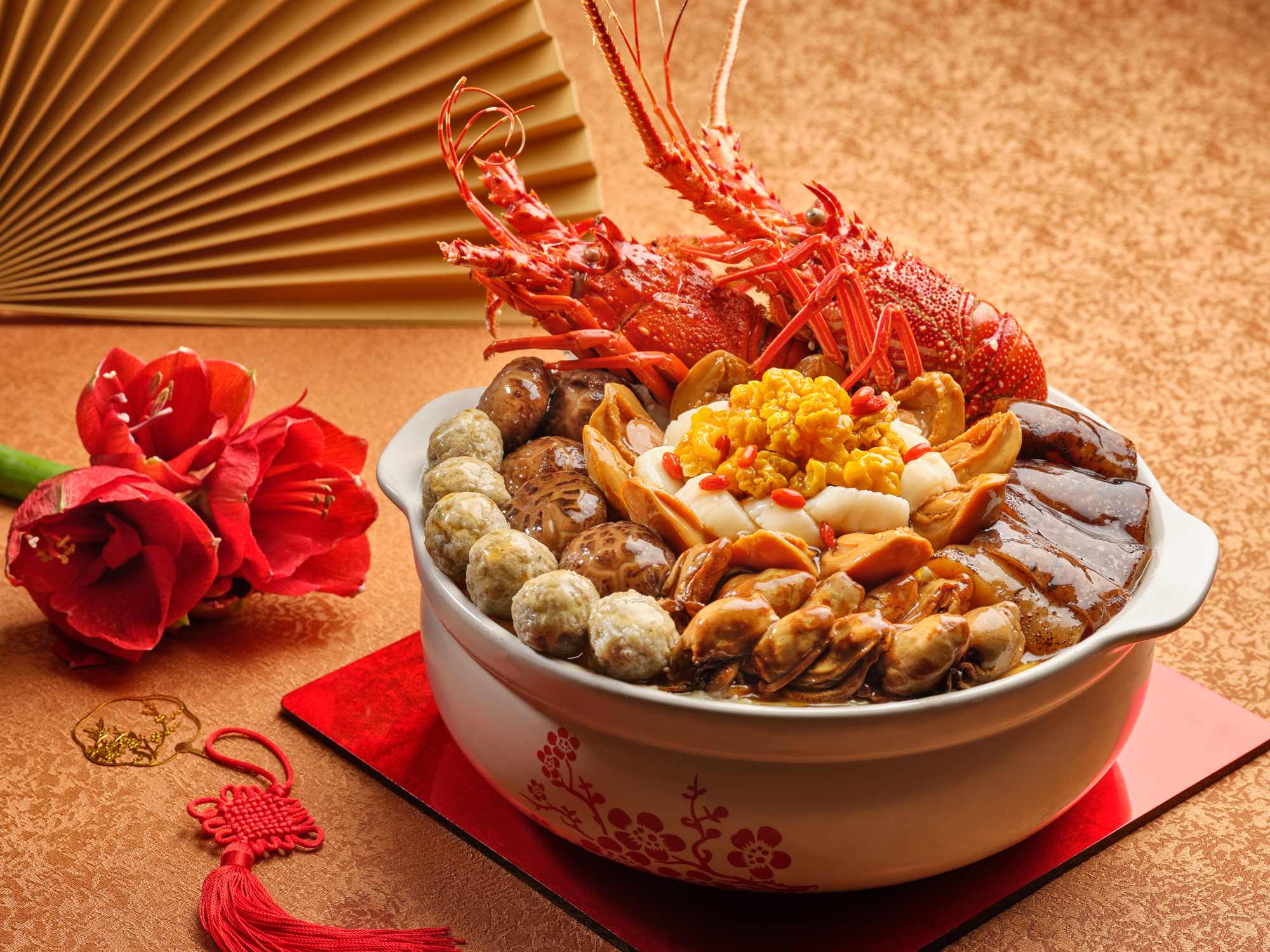 Hai Tien Lo
Why not a CNY set that comes complete with a bottle of wine to go with the feast? Hai Tien Lo's Superior Treasure Set (from $789.66 for six people) includes a bottle of Xanadu Exmoor Shiraz to match the Fortune Yusheng that comes with a whole abalone and smoked salmon; a Superior Treasure Pot filled with things like eight-head abalone, dried oysters and Australian scallops; a whole roasted sesame chicken; a bottle of premium XO chilli sauce; and Chinese taro cake.
For the latest updates on Wonderwall.sg, be sure to follow us on Facebook, Instagram and Telegram. If you have a story idea for us, email us at [email protected].