Worth It Or Not? Luke's Lobster Singapore
There are few sensations more shiok than biting into a buttery, briny lobster roll on a wintry morning in Shibuya, or on the first day of spring in New York. So how will the experience at home compare, now that we have our own Luke's Lobster?
The famed East Village seafood shack will open its first Southeast Asian outpost on next week, on 23 September, in Isetan Scotts. Enter through Shaw Centre, walk past the luxury beauty counters and the newly-opened Leckerbaer Café, and you'll see Luke's Lobster Singapore, located next to glass window overlooking ION Orchard and Tang Plaza.
The aesthetic feels, well – polished. The seaside-inspired décor offers a rustic touch, but make no mistake: if Luke's Lobster in Manhattan is camping, then Luke's Lobster Singapore is glamping. You'll get to enjoy your lobster roll in an airconditioned environment, amidst atas skincare – which sounds odd, but if you're a Japanophile, then isn't so far removed from eating the same thing in the upscale alleys of Harajuku.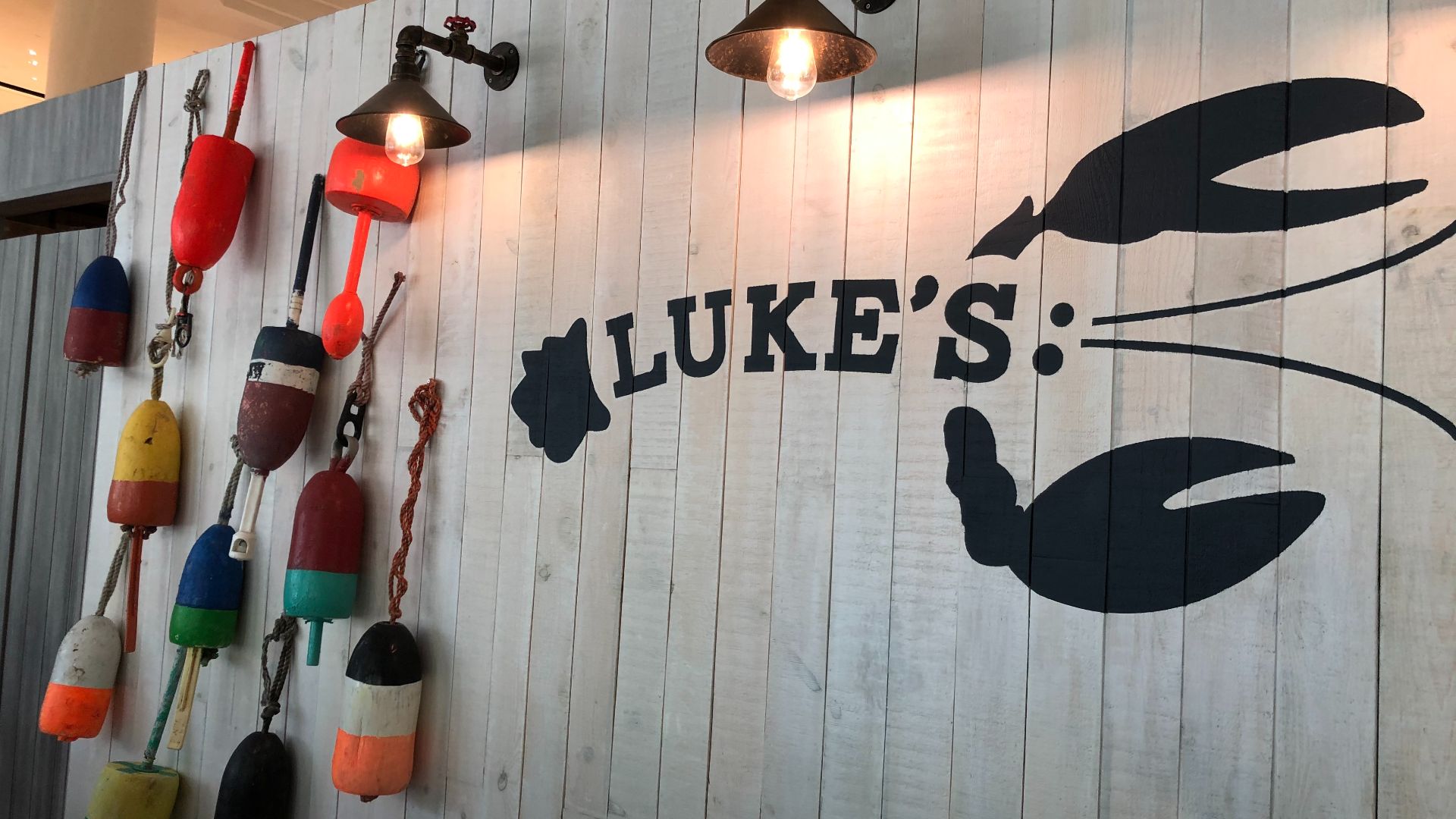 Once I posted about the media preview on Instagram, friends bombarded me with questions: "Worth it or not? Good or not?"
Of course, "worth it" and "good" are subjective. The signature Maine-style Lobster Roll is $25.50. It is fleshy and clean, drizzled with a bit of lemon butter and a special (secret) blend of seasoning, encased in a savoury griddled bun. The flavour and texture are true to the roll's Atlantic origins; no seasonal "mala editions" or salted egg sauce here.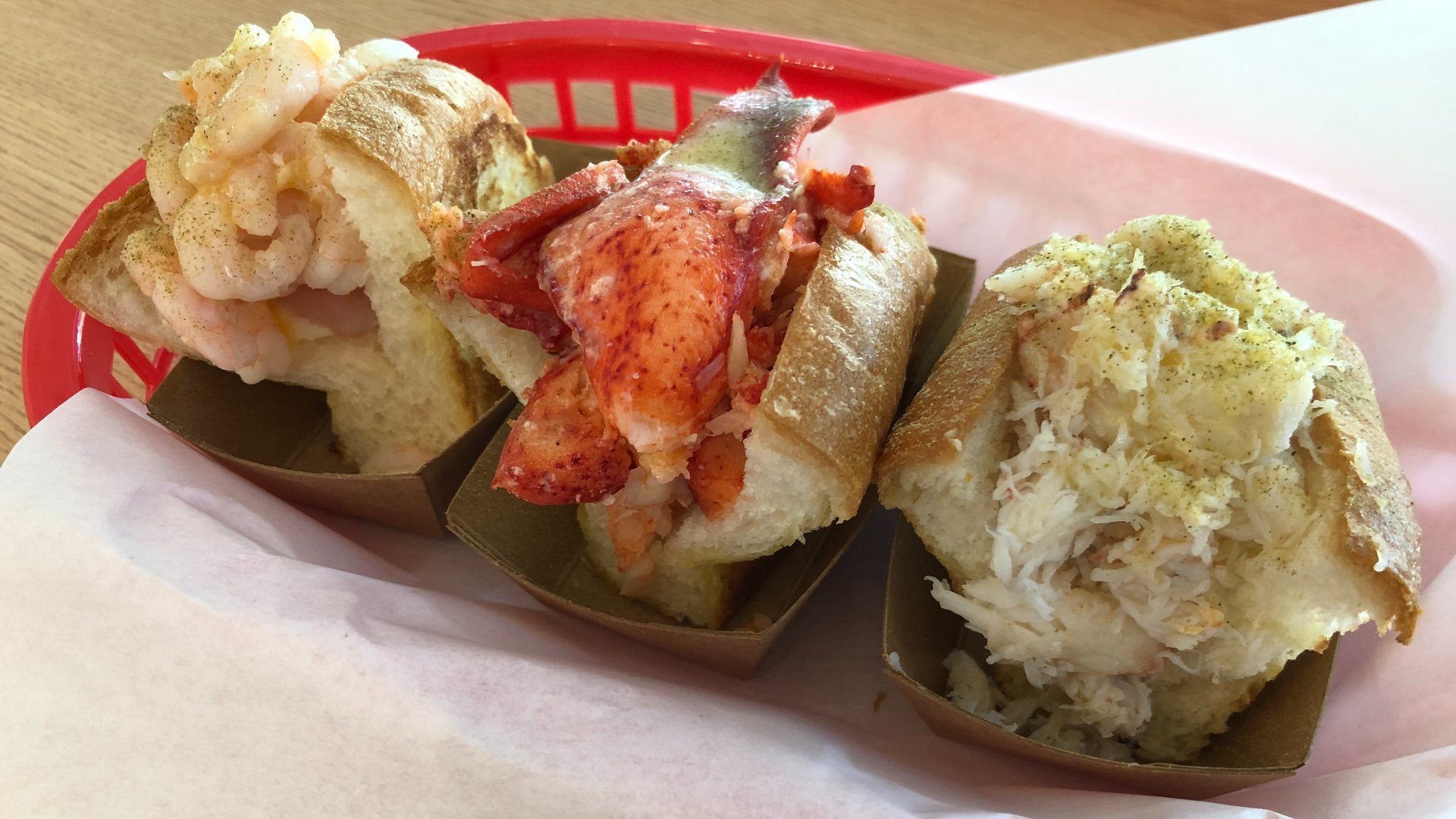 If you're not too keen on lobster, you can order a Crab Roll ($23.50) or a Shrimp Roll ($21.50) instead, which taste great, but which are slightly less juicy than the lobster. Or if you want to try all three, you can order Luke's Trio ($33.50, pictured above), which comes with half sizes of the lobster, crab, and shrimp rolls.
Still hungry? Order the Clam Chowder ($11.50) or the Lobster Bisque ($12.5), which feel a little underwhelming compared to the rolls, but which help wash down some of the butter.

And stay posted for the Lobster Grilled Cheese and Crab Grilled Cheese in December. We had these two for lunch, and let's just say that we've fully maxed out this week's Cheat Day.
So, worth it? Pricewise, these aren't too different from the prices in America (USD 17, or S$23) and Japan (1580 yen, around S$20). And they're also less ex than the lobster roll at Burger & Lobster ($28) and at Pince & Pints ($58+).
The seafood at Luke's Lobster is purchased and prepared at their seafood facility in Maine, sourced from fishermen fishing in cold, clean waters, using sustainable methods. If you have any doubts about whether seafood from that part of the world is still fresh by the time it reaches Singapore, Luke's ships out fresh and frozen goods every day, preserving them using liquid nitrogen technology before putting them through a slow thaw process.
Verdict? Worth it.
350 Orchard Road #01-K4, Shaw House, Isetan Scotts
Opens to the public on 23 September, 1 pm
Pre-orders open now
For the latest updates on Wonderwall.sg, be sure to follow us on Facebook and Instagram. If you have a story idea for us, email us at [email protected].