Artist Behind The Art: Making Friends With His Inner Monsters
Struggling with mental health can be a very challenging, overwhelming and oftentimes lonely experience. For many years, artist Distort Monsters aka Migs – who is based in Philippines, and started doing graffiti street art in 2009 – battled with crippling anxiety.
"I got really, really bad anxiety attacks, the type where your arms and legs go cold, your chest is heavy, like there's this huge rock – you can't breathe, you're stuttering. And the worst case was I'd collapse. It was such a terrible feeling," says the artist, whom we caught up with at BLAXK by ActionCity, the pop culture gallery and store at Funan where his work is on display in his inaugural solo show in Singapore entitled "Monsters In The City".
To cope with his mental health issues, the self-taught artist would doodle mindlessly – a process that brought calm to the chaos, and resulted in the vibrant-hued bug-eyed beasts you see at BLAXK and CO PLAY, a pop culture art space on Level 3 of Plaza Singapura.
We talk to Distort Monsters about his moniker; making friends with his inner monsters; and his "Holy Trinity" of skateboarding, punk rock and graffiti street art.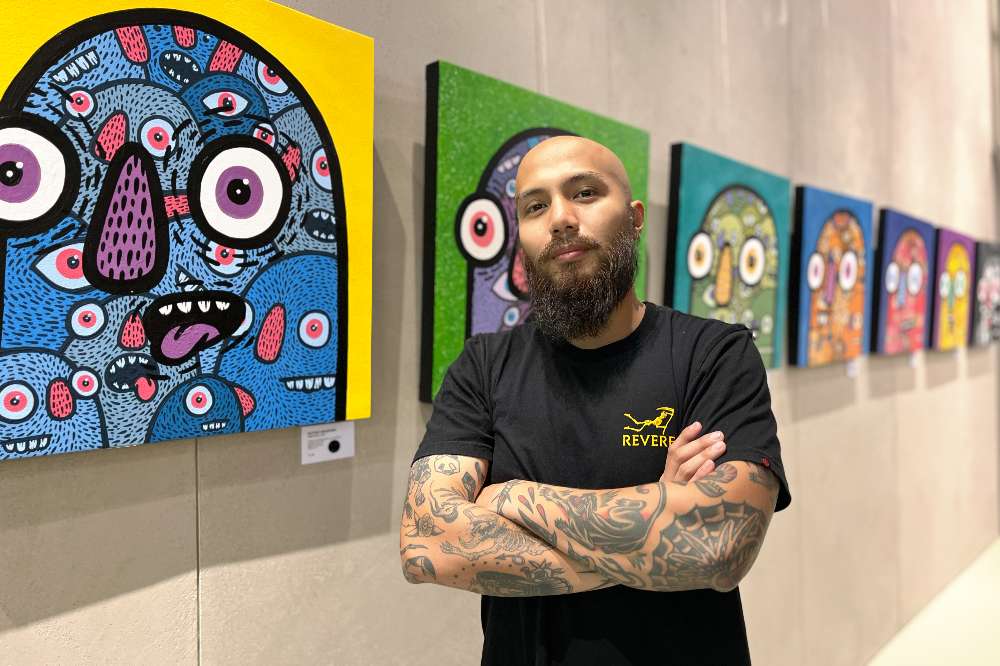 Distort Monsters began dabbling in graffiti and street art in 2009. | IMAGE: SIM DING EN
How did you come up with the name Distort Monsters?
I can't really draw proportionally or realistically. Like, if you asked me to draw a specific object, or gave me a reference to copy, I could not copy it at all. I suck so bad at proportions. It was very frustrating, I was on the verge of giving up, and told myself, you know what, if I'm gonna make ugly stuff, I might as well do it on purpose. So, out of spite, I started doing all these ugly drawings on purpose – with weird body parts, misplaced parts; odd caricatures, basically. And that's how I came up with the name "Distort" – it was basically an excuse for me to draw badly! (laughs)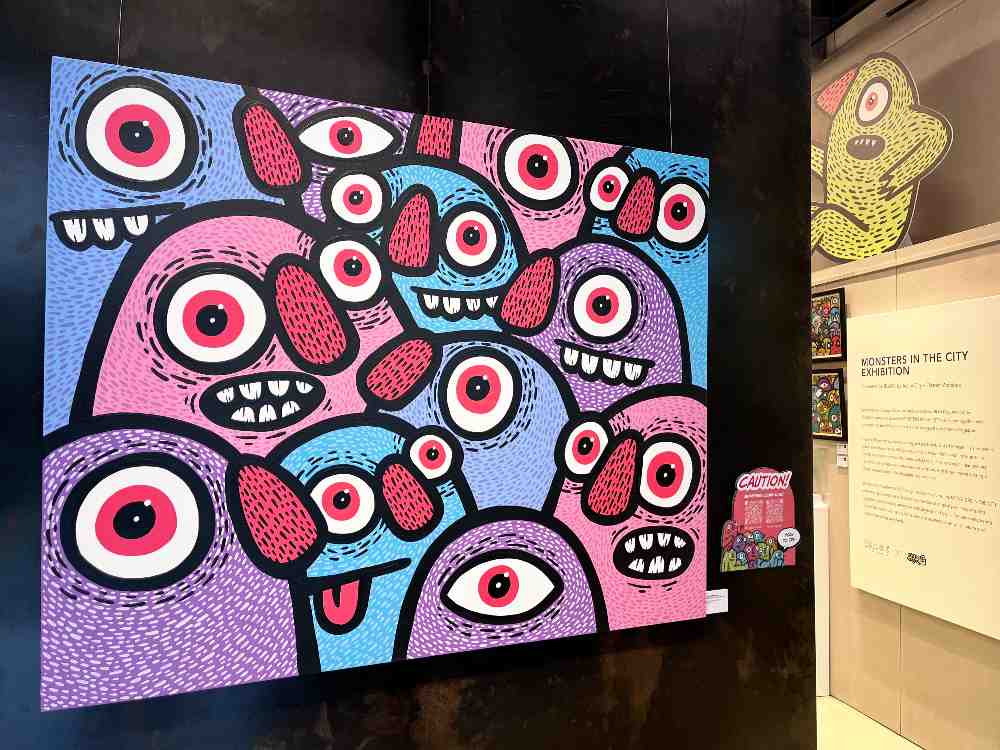 The "Monsters In The City" exhibition showcases over 40 artworks by the artist. | IMAGE: SIM DING EN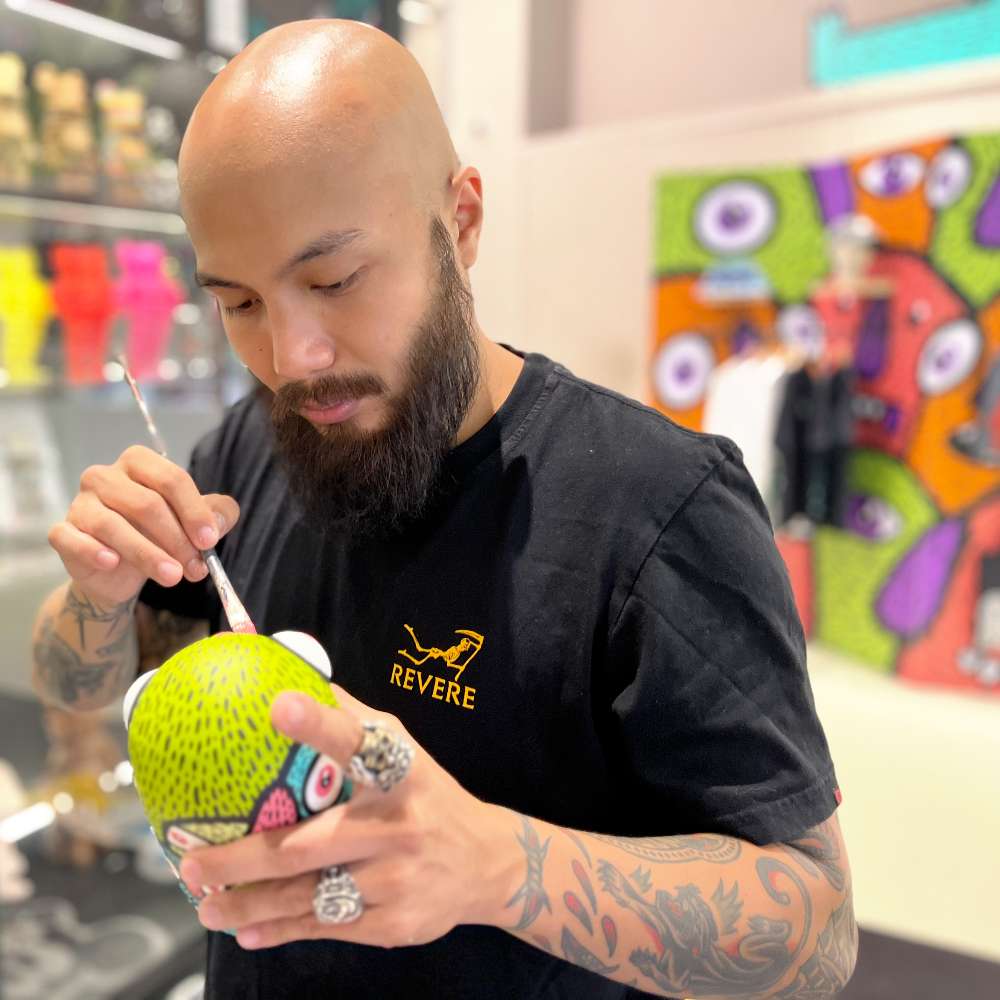 Touching up some parts of a Monster Head that the artist created out of acrylic and spray paint on resin. | IMAGE: SIM DING EN
And the "Monsters" part?
There were a few years I struggled with my mental health; I'm a really bad overthinker. I would fixate on something that was probably not gonna happen and end up overthinking it, and it would just overwhelm me.
One of the best ways I found to cope with my overthinking was through drawing. It was less about the output, but more about the process of actually drawing. Drawing was a matter of connecting one line to the other; it was mindless scribbling or doodling. And every time I would feel an anxiety attack coming on, I'd pull out a pen and paper and just start mindlessly drawing. I accumulated boxes and boxes of these drawings.
One day, my best friend (whom I grew up skateboarding with and started doing graffiti with) and I were preparing to head out to paint out in the streets, and he was going through my drawings, and out of the blue he asked me, "Why do you keep drawing monsters?" And up until that point, I never really thought of the drawings as monsters. And the word struck me, really resonated with me. It occurred to me that maybe drawing these characters in this way would help calm me down because it was some sort of subconscious release. Like, by drawing these monsters in my head, I'm giving them like an exit point. I liked how that narrative sounded. So, I put the word "monsters" together with my then-tag name "Distort", and I became Distort Monsters.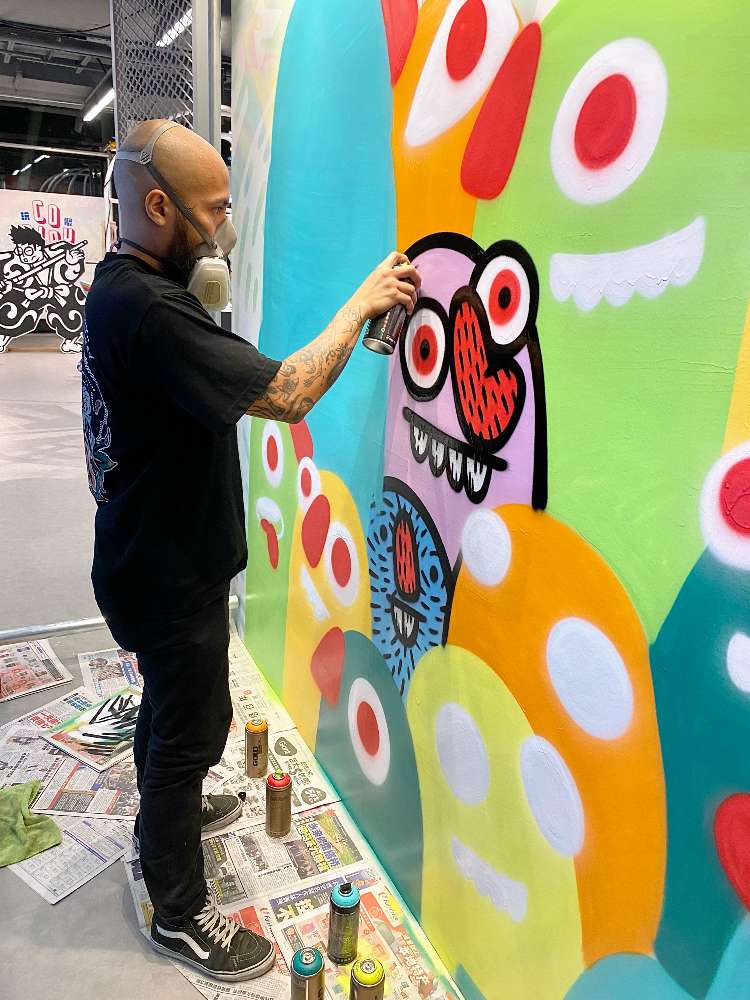 Distort Monsters spray-painting a mural at CO PLAY, located on Level 3 of Plaza Singapura. | IMAGE: CO PLAY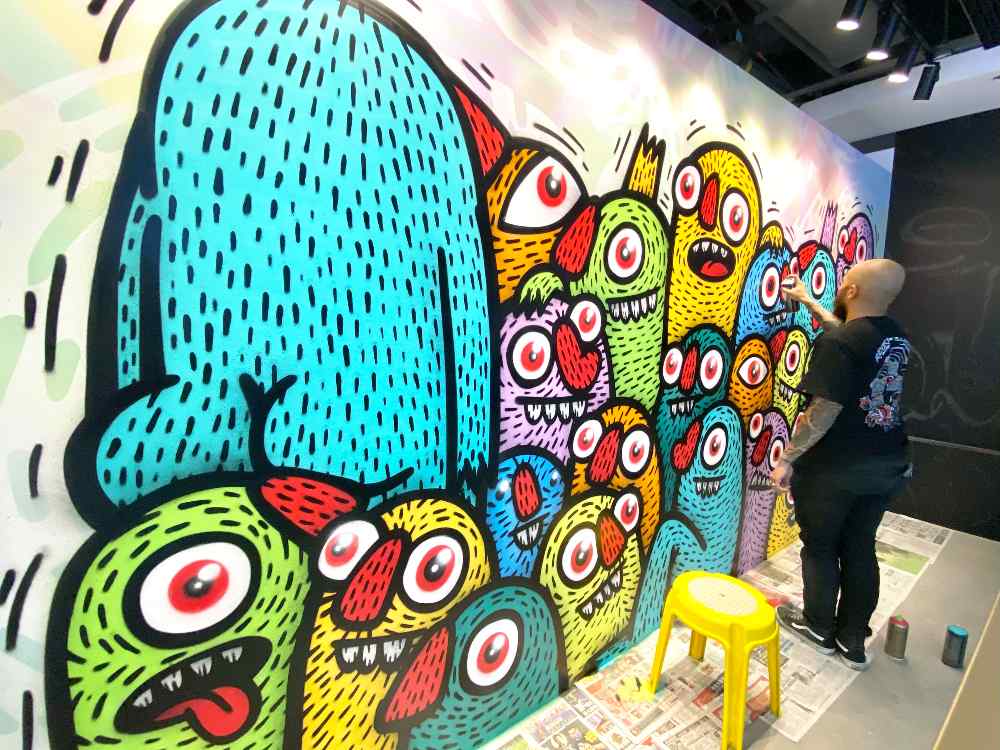 Applying the finishing touches to the artwork. | IMAGE: CO PLAY
Do the monsters represent anything? Especially with regard to the Monstermash series where there are multiple monsters squashed in a single space?
The way that I see it is that each particular monster is representative of a single thought, and you could think of the canvas as the confines of your head. All these monsters are like all these different thoughts stuck in there together, and they're all noisy, and it's overwhelming.
People often ask, if your works come from a dark place, why are they so colourful? Why are they always so happy? Well, it's because they've evolved through time. As I matured and grew as a person and as an artist, my perspective towards the world changed, how I understood myself and what was happening to me also changed, you know?
I used to think of monsters as the voices in my head driving me crazy. So, they were actual monsters in a sense that they were my tormentors. But I realised if the act of drawing these characters, these monsters helped me calm down, then maybe they were not the reason, but they were like the coping mechanism, they were my support system, they were friends. And it was such a big shift in energy for me.
Sometimes people ask, how long have you been painting? I tell them, "I've been making friends with the monsters in my head since 2009."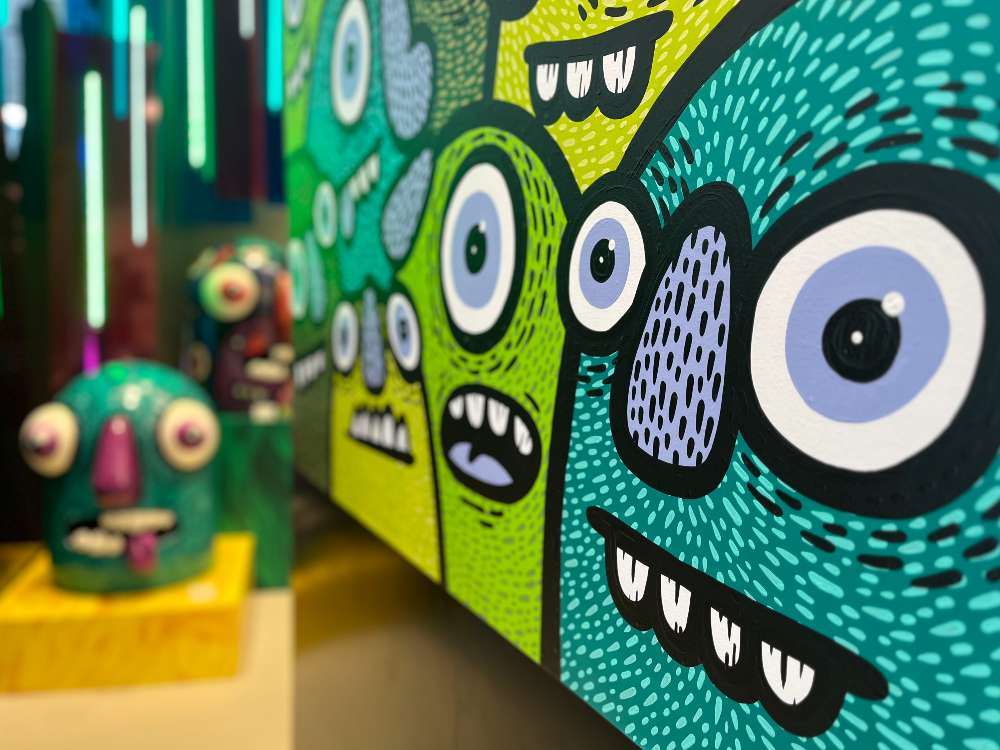 IMAGE: CO PLAY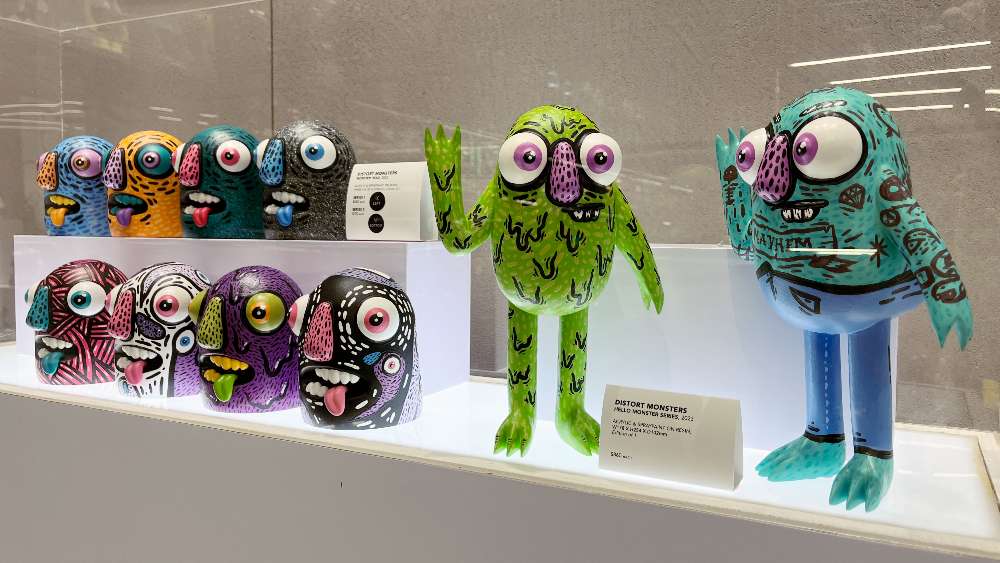 IMAGE: SIM DING EN
There's a simplicity in their form, which also makes them pretty versatile and universal.
They look simple now. Through time, I realised that less is more, and I'm left with a base form of the monster. I can put horns on them, I can put a halo on them, I can dress them up however I want. And I want my works to be inclusive. There are no real identifiers – there's no race, there's no religion, there's no gender.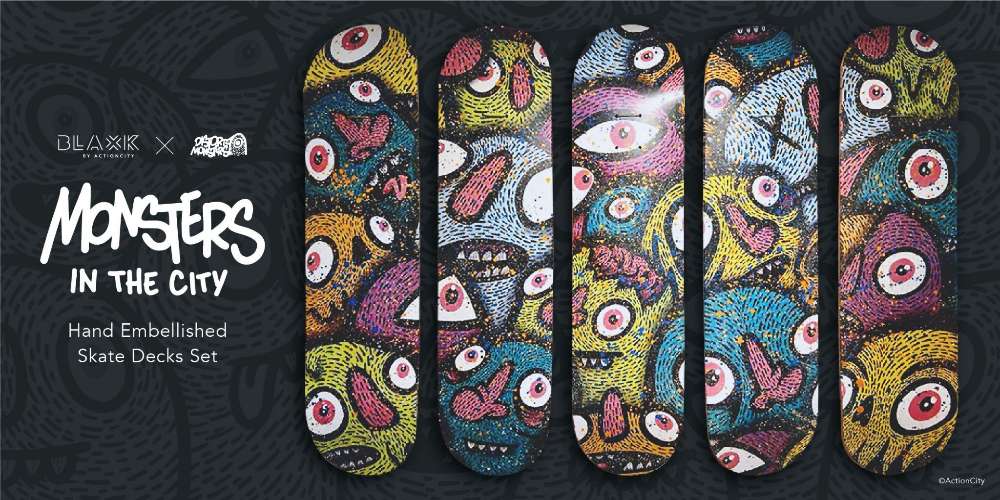 IMAGE: BLAXK
Two of your greatest loves are skateboarding and punk rock music. How do they inspire your work?
I have what I call my own personal "Holy Trinity": Skateboarding, punk rock, and graffiti and street art (which is one category). Ever since I was young, I've had an affinity for skateboarding. I loved the rush, the energy of skateboarding so much. It was so in your face – aggressive, but creative at the same time. And because of that, I got into punk rock. I would be blasting it while skateboarding, it would get me pumping. And through punk rock, I discovered the whole DIY do-it-yourself mentality – like, you don't have to buy anything, you can make it yourself.
I was also very drawn to the imagery used in all these skateboard brands, particularly Toy Machine and the Zero Skateboards. That's how I started drawing, I wanted to design my own skateboards. Eventually, I met a bunch of other skaters who were doing graffiti and street art, and they said, why don't you try using spray paint? So, I tried doing it for the very first time sometime in 2009, and I haven't looked back since.
What do you enjoy most about Singapore and exhibiting your work here?
I love how multicultural this city-slash-country is, so many different types of food, so many different types of people. It's my fourth or fifth time here, but each time I come, there's always new food to eat. It's exciting, so many flavours! Everything here is fast-paced. Each time I visit, there's always something or someone new here.
When it comes to exhibiting here in Singapore, I really love working with the whole BLAXK and ActionCity family, cuz we share the same vision, pretty much. They're all very genuine people who are passionate about what they do. And authenticity is something that you can really feel from people, you know. You can't fake it. And I really appreciate that. It's always pleasant to work with people who have that same energy as you. It's an additional drive to do better.

---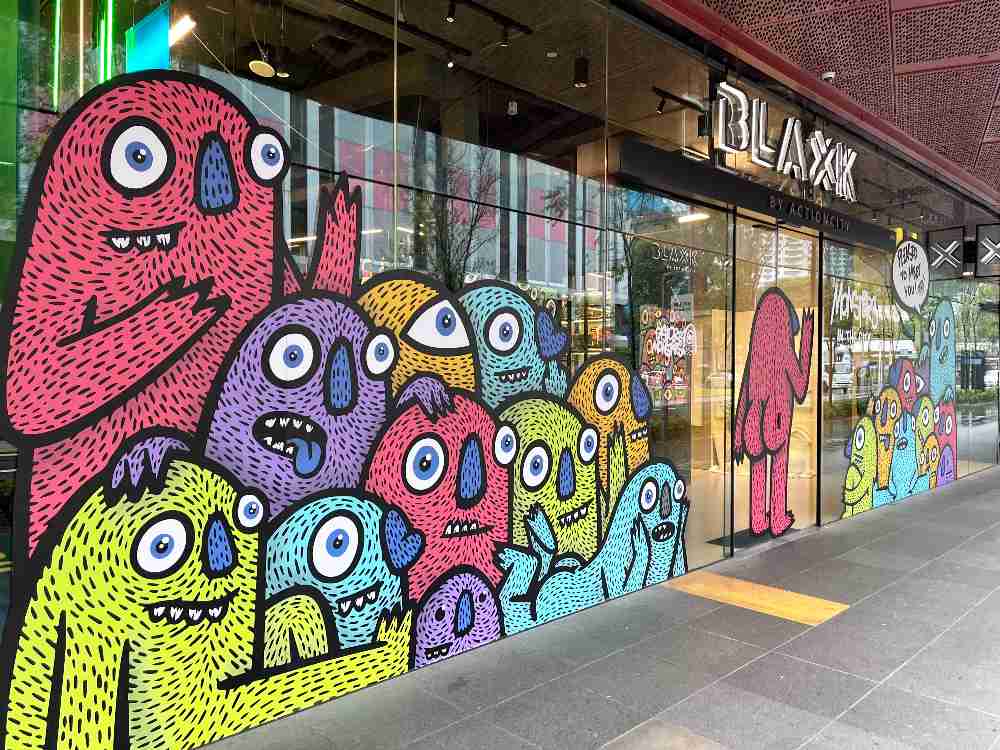 IMAGE: SIM DING EN
About "Monsters In The City"
The exhibition held inside BLAXK by ActionCity at Funan runs till 16 Apr 2023, and includes over 40 artworks that showcase the artist's versatility not only with acrylics on a flat canvas and illustrations on skate decks, but also in 3D sculptures and art toy collectibles as well as in the digital space – each physical piece is paired with a corresponding NFT.
"I'm a traditional artist, I use brushes and canvases and spray paint. So, I saw NFTs more as a medium for me to expand the narratives of my works, a way to bridge my physical art into the digital space, and back again into the real world. So, I came up with different types of utilities that I could attach to the project," says Distort Monsters, who has also created oversized 1m-tall Monster Heads that you can interact with though the magic of AR.
You can also catch the artist this weekend (1 and 2 April) at the ActionCity x Distort Monsters booth at Sneaker Con SEA which will be held at Singapore Expo Hall 5.
For the latest updates on Wonderwall.sg, be sure to follow us on TikTok, Telegram, Instagram, and Facebook. If you have a story idea for us, email us at [email protected].