This Bold Creative Is Setting The Write Example In The Community
International Women's Day is an opportunity to celebrate women who have left an indelible mark in the community and are breaking glass ceilings in various industries – not least in the literary scene.
Unbeknownst to most, Singapore is home to many inspiring female creatives who are doing their part to push our local arts scene forward, and, in the process, put Singapore on the world map.
Noridah Kamari is one such leading light. The 42-year-old writer and scholar of Malay literature is also the co-owner and publisher at Unggun Creative, a Malay literary publishing outfit.
Noridah's list of accomplishments as a writer is highly impressive: She has won several awards, including the Malay Literary Award and Promising Young Writer Award (2013) from the Malay Language Council, Singapore. Her latest collection of poems, entitled "Gigi Nadim Masih Rongak", was published in 2020.
We spoke to the linguaphile (a person who loves languages and words) about her love for epics and legends, the scarcity of Malay literature on the market, and what it takes to succeed in the publishing industry.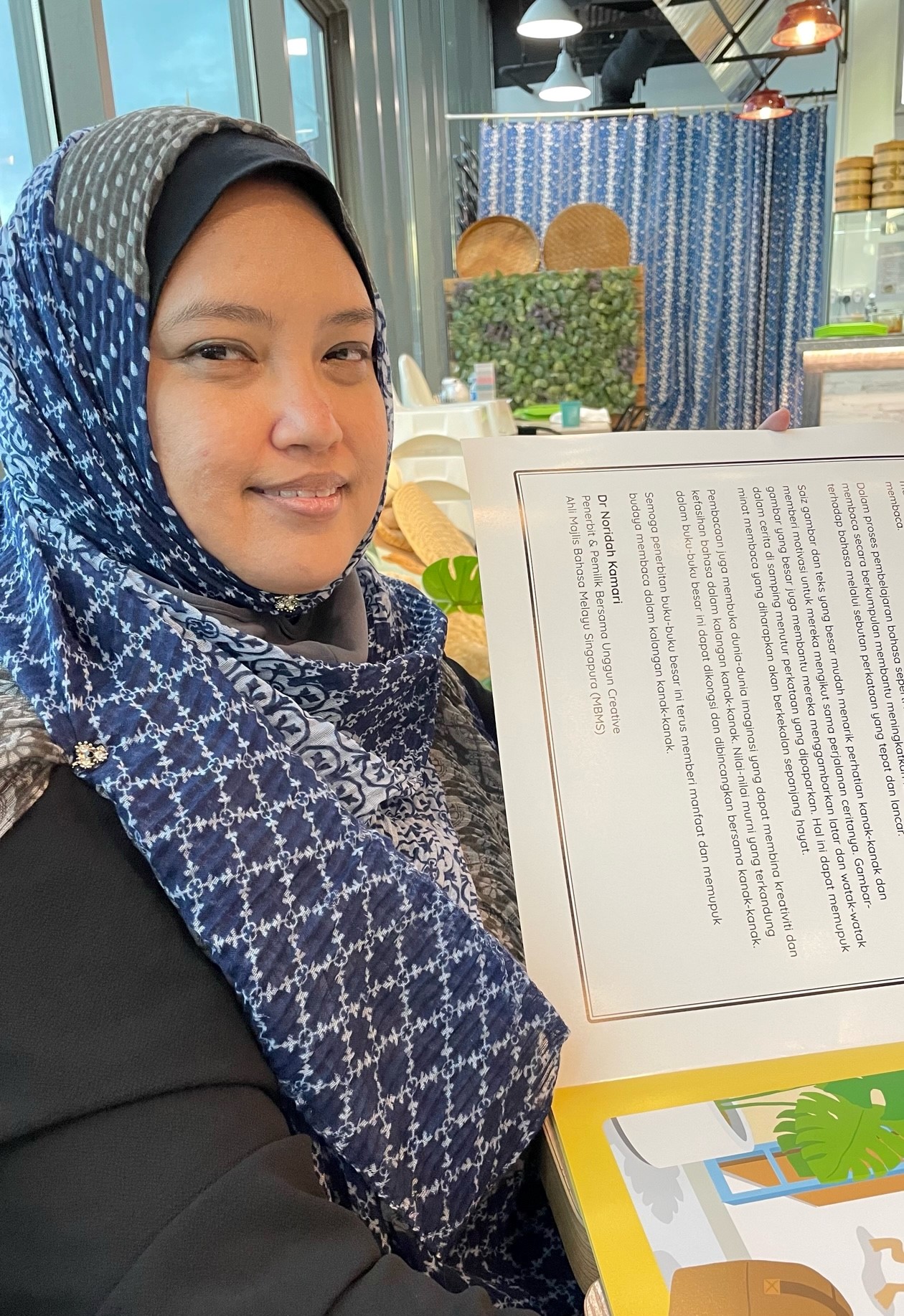 Tell us about your passion for Malay literature.
My love for Malay literature originates from my love for the language. At an early age, I was exposed to pantun or Malay quatrains that contain a witty play of words and beautiful phrases.
The symbols used in each quatrain also carry profound meanings, and reflect on the intricacies of life. From pantuns, I learnt the beauty of rhyming and rhythm in poetry, and from there, I branched out into other more creative writing forms.
Who are some of your favourite authors, and what was the focus of your PhD in Malay Literature?
My favourite authors are Shahnon Ahmad, A. Samad Said and Arena Wati. I also love reading traditional prose like the hikayat, epics and legends which were originally passed down by word of mouth. Stories like "Hikayat Bayan Budiman", "Hikayat Merong Mahawangsa" and "Hikayat Malim Deman" are written in abridged versions for children and teenage readers.
In "Hikayat Merong Mahawangsa", there is a story on the cannibal king or Raja Bersiong: The cook accidentally cut his finger while preparing a meal for the king. After the king ate the meal that was cooked with blood, he developed an appetite for human blood, and kept wanting more until his teeth grew into fangs.
Only when I was older did I understand the significance and symbolism of the tale, which is about a king who would sacrifice the lives of his people for his own benefit.
I did my PhD in Malay literature at the Universiti Sains Malaysia in Penang, from 2014 to 2018. My research focused on the development of Malay literary history at the Straits Settlements in the 19th century. As part of my research, I had the opportunity to visit archives in Britain and Leiden - namely, the Royal Asiatic Society, British Library, SOAS (University of London), British Museum, and Leiden University - to study Malay manuscripts and letters between British officers in the Straits Settlements and their main headquarters in London.
How did your parlay your interest in Malay literature into a fully-fledged writing and publishing career?
It happened spontaneously. Writing has always been my bread and butter. I started my first job as an intern journalist for the local daily, then I dabbled in scriptwriting for TV and radio. I held a full-time job as a translator for the ministry before pursuing further studies.
While I have put out works with other publishers - namely, my children's book "Negeri Setengah Jalan" that was published by Buku Prima, Karangkraf Malaysia - nothing beats the satisfaction of being at the helm and controlling the editorial and creative direction of a publication.
Speaking of which, tell us what inspired you to set up Unggun Creative, and how it helps to make a difference in the community while promoting youth writers?
My husband and I started Unggun Creative in September 2016. To date, we have published 26 books, comprising novels, short stories, poetry, non-fiction, graphic novel and children's books. We have about nine books in the pipeline ranging from YA novels and short story anthologies to a collection of dikir barat lyrics.
The inspiration to set up Unggun Creative came about because of the scarcity of Malay books in the market. We inspire to give voice to our generation and showcase young talents. When the pandemic broke out, we sought out resources and grants to produce podcasts, poetry recital videos, and a free online literary magazine, "Kayu Api".
Fortunately for us, there are several organisations that share the same vision in cultivating our youths in literature. For example, in the recent Malay Poetry Bootcamp organised by Singapore Book Council (SBC) as part of the "Sing Lit: Read Our World" literary movement, I was invited to create content and did two video recordings on an introduction to Malay poetry.

Among your many literary achievements, which body of work are you most proud of?
My first solo poetry collection entitled "Gigi Nadim Masih Rongak" (2021), showcased 45 poems written over 20 years. Some of the poems were written in my 20s and 30s, delving into matters of the heart that were pertinent to me then. I see the collection as a personal diary that saw me grow as an author and blossom into a woman.
In lieu of International Women's Day, what advice do you have for aspiring female creatives?
It takes guts to go against the grain and remain relevant. For all aspiring female creatives, stay authentic and be bold and courageous to keep challenging boundaries in your work.
For the latest updates on Wonderwall.sg, be sure to follow us on Facebook, Instagram and Telegram. If you have a story idea for us, email us at [email protected].