Championing The Next Generation Of Creatives
Hyder Albar is in many ways a trailblazer. A leader in the local music scene from his time as the drummer of alternative rock outfit West Grand Boulevard, the 34-year old has since gone on to wear many hats. Whether it is as a musician, mentor, speaker or entrepreneur, he truly believes in the unifying power of creative pursuits and the importance of giving back to youths. It is in this spirit that he founded Invasion Singapore, with the aim of developing the creative aspirations of future generations.
*SCAPE INVASION, a programme he developed in partnership with youth non-profit organisation *SCAPE, is his commitment to that cause. We spoke with Hyder at a recent media launch to find out about his future plans which includes rolling out year-long calendars of school shows, festivals, talks, workshops and talent development initiatives to help youths embark on their own creative journey.
What are the most important factors that will help young creatives to succeed?
An audience. If we have a market, everything else falls in line. Artistes have to be very focused in terms of getting their fanbase up, engaging their fans and creating that superfan culture. You guys are the ones who are going to be creating the content that these people consume. We have to have a bigger focus in terms of developing the audience that want to consume creative content in Singapore.
How important is music quality in getting that outreach?
Nowadays we live in a world where even if your production value is not so hype, we can still go viral. So it really depends on what genre you're playing and what kind of things you're trying to engage people about. But in this day and age, productions are generally good. If you put an international act next to a local act, it's very hard to tell the difference. To the average listener, it almost sounds the same. So the quality is there. Now, it is just a matter of creating the culture.
In the 3 years since you've partnered with *SCAPE, how has the *SCAPE INVASION programme grown?
The goals have shifted over the years. At the start it was just about music alone. Now we're talking about things that are broader, a bit more focused on creatives in general. People like writers and videographers or people that want to create their own events. Nowadays, young people's tastes change very quickly, so we're trying to create a programme that's evergreen and a part of youth culture.
Can you share with us more about the programmes that you will be running under the *SCAPE INVASION banner in the next couple of years?
Of course, there are the tours which people are familiar with where we go to secondary and tertiary schools to try and inspire the next generation of musicians that are seated in the audience. That will never change and continue to be a staple.
But the two programmes that we want to highlight are the Music Producer Development Programme and the Event Producer Development Programme. Firstly, we want to focus on people in the back end. We want to demystify some of the music production gears and software which can be difficult. But to start off playing music is very much simpler than it ever was before. So we want to lower that barrier to entry and get a lot more people involved with music production.
We also want to get people involved in creating their own signature event. Artists who want to develop their own gigs or photography exhibitions, for example. There will be a 12-week programme where we will take these individuals through the wringer. How do you ideate? How do you do consultancy selling? What are the funding methods available to you? We will get trainers from our corporate networks to help with things like design thinking and building a team.

Do you feel that the arts scene in Singapore has become increasingly collaborative?
One hundred per cent. I think this is a generational thing where the youngsters are much more open to collaboration. Lines are being blurred and people want to work with each other a bit more. I would say one of the first few guys of this generation that started the culture was Shigga Shay. He started the collective Grizzle Grind Crew (pictured above). He had beatboxers, rappers, dancers and music producers in his crew. That was one of the first examples of that scale and I think that this spirit is in this generation. I'm very happy that this is the case. It's very important because if you don't work together, you won't get access to different audiences.
What insights have you gained in your role as a mentor with *SCAPE INVASION?
The people that last are the ones that get hit on the chin and continue. A lot of people think that it is very easy but it's not. The reality is that we have to be responsible in the way we get creatives on board this journey because it's a hard one. We need to be honest with these people.
What is your proudest moment or milestone from championing *SCAPE INVASION?
Every time people sing along to the songs of the artists that we put up. That is just priceless. I was that musician before. When people sang my songs, I was super happy. But now I am in the position of putting together the platform for it so when that happens for other people, I also feel the same second-hand joy. I love it!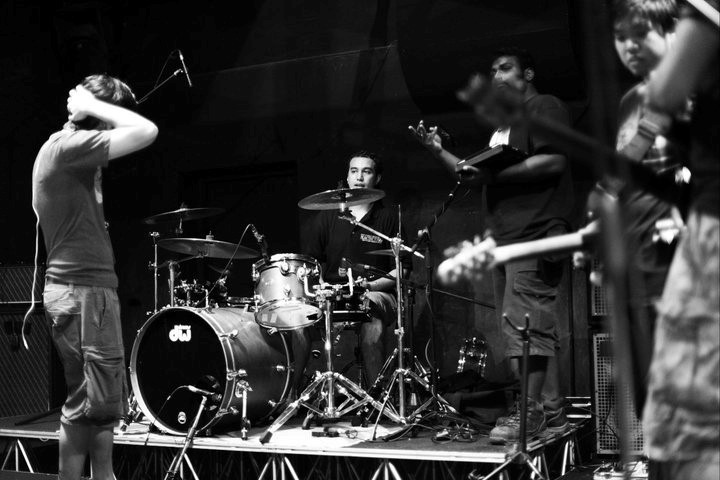 What message would you like to share to young creatives out there who are struggling or feel that they do not have any support to pursue their passions?
I think that there is a lot more support than you realise. Try to think locally first. Your few friends, their few friends. Look at it as a network effect rather than wanting to conquer the world straight away. Try to think in stages and have the perspective of what are some of the steps you should take to get there. To be frank, when I started out on this journey, I wanted to do big things. But you have to pace yourself. If not, everything is going to feel like a huge failure. Then, it's about whether you can take that failure, move on and make something better out of it. Persist but also be realistic and pragmatic.
Find out more about *SCAPE INVASION here.
Got a story idea for us? Email us at [email protected]