From Patient To Pioneer: How A 24-Year-Old's Open Heart Surgeries Spurred Him To Create An Award-Winning Cardiac Brace
Since 2005, the James Dyson Award has celebrated the inventiveness of design engineering students by giving them a platform to showcase their creations to the world. Past winners have included Dan Watson, inventor of a sustainable fishing net, as well as Kai Xiang Lin, a US National Runner-up who created a prosthetic leg for amputee rock climbers.
We were thrilled to hear that this year's 20 finalists include a 24-year-old Singaporean, E Ian Siew, inventor of a vest-like brace for patients who have undergone open heart surgery. This device, called the Auxobrace, leverages soft robotics technology and vacuum devices to create bending and shrinking forces - in other words, it allows wearers to move more easily than they could if they were wearing a conventional brace. The Auxobrace's sleek construction makes it lighter, more breathable, and more sweat-resistant than its cumbersome forebears.
The inspiration? E Ian himself, who underwent open heart surgery in 1999 at birth, and again in 2021. His slow and painful recovery process over four months sparked an interest in improving cardiac rehabilitation for the world at large.
"I realised that there could be a better tool for open-heart surgery rehabilitation only after being discharged from the hospital," E Ian told us over an interview. "As a recovering patient, I found it extremely tough to do many basic things on my own and the current method of support also did not provide the best pain relief. A year later, before my thesis project, I decided that this was a problem I wanted to research and solve, and that was how Auxobrace came about!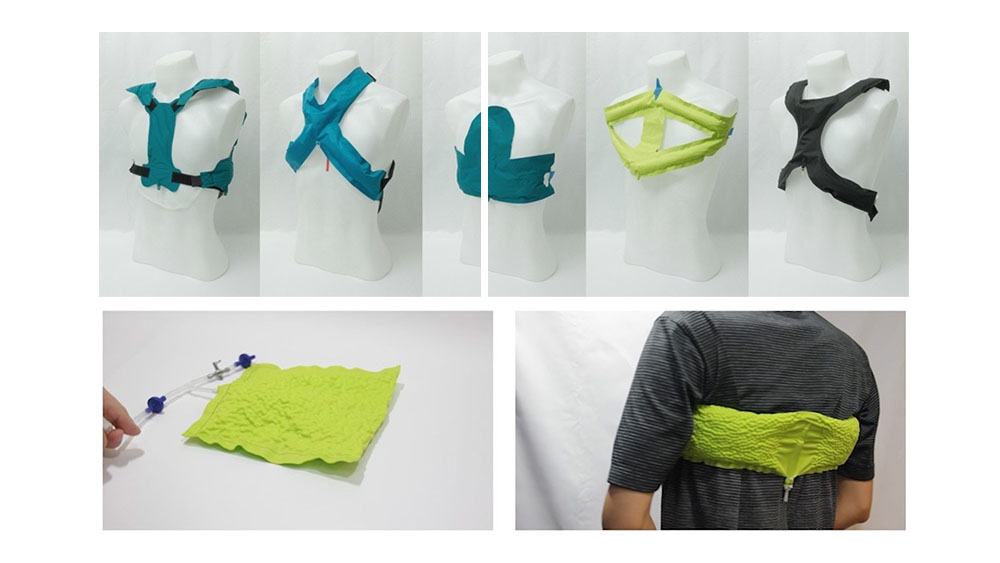 Early prototypes for the Auxobrace | IMAGE: DYSON LTD/E IAN SIEW
Working together with experts from the National University Hospital (NUH), E Ian drew from his own experiences to create several prototypes, which were initially inspired by vacuum-packed rice - the key being that the device could become soft or rigid on demand. After a few rounds of trial and error, the team experienced a breakthrough when they applied soft robotics technology to control where the pressure points were targeted. This allows the wearer to adjust the Auxobrace's wearer to "mold" the vest to their upper bodies and to adjust it for different stages of recovery.
Today, E Ian is a Design Research Engineer at the NUS Centre of Additive Manufacturing. While he's anticipating needing another round of heart surgery in the future, he's also busy preparing for his postgraduate studies to advance his research in rehabilitation devices. (Of course, he's also gearing up for the final announcement of the James Dyson Award winners on 15 November!) Here's what he shared about his journey from heart surgery patient to global inventor:
Congratulations on winning the James Dyson Award for Singapore and making it to the global top 20!

It is still mind-blowing to me that my project has gained the recognition to be awarded the Singapore national winner and is now part of the global top 20 shortlist!

The Award has opened many opportunities for me to share about Auxobrace with the world. I'm still in awe at this point and I am super grateful that all the work that I've created turned out to be something people see great value in. Of course, my school, family and friends have been an integral support during this whole process, and I couldn't have done it without their constant feedback.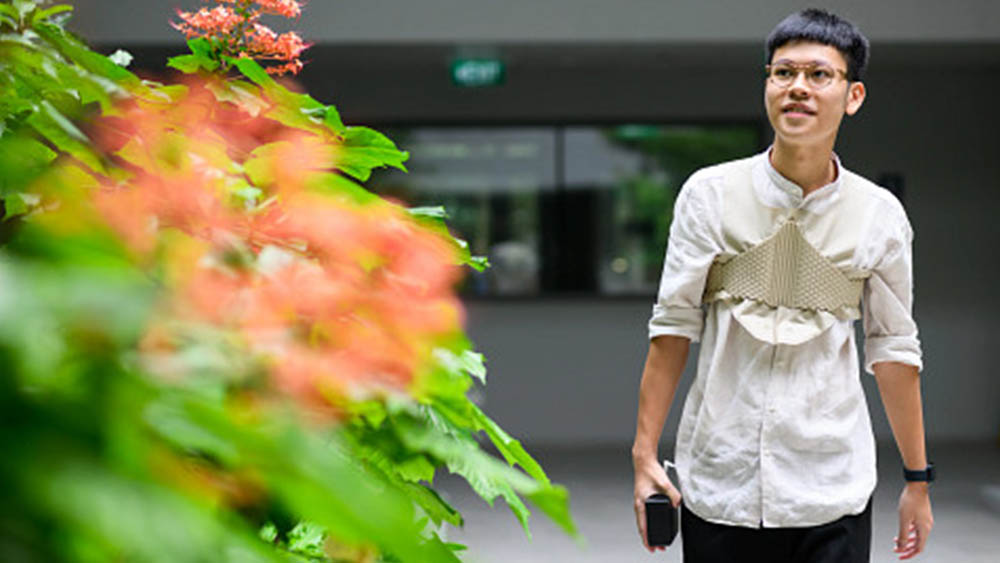 IMAGE: DYSON LTD/E IAN SIEW

Are there any key takeaways or lessons you've learned from the experience of competing in the James Dyson Award that you'd like to share with other aspiring inventors and innovators?

The brief is simple – design something that solves a problem – but it requires a lot of intentional thinking, perseverance, and ingenuity to create something that truly makes the world a better place.

For me, it's about learning the importance of designing with the hands, making, testing, failing fast, and just repeating the process until the failing stops! Most of the successful inventions from the Award follow a similar structure and approach, which I think yields the best outcomes.
What challenges did you face during your own recovery that motivated you to design the Auxobrace, and how did those challenges shape its development?

Apart from basic activities done at home such as getting up from the bed, showering, coughing etc., the toughest challenge was going about my daily life outside of the house. Both of the current methods of using a pillow as support and the conventional chest braces were not very helpful. Furthermore, it was extremely cumbersome to use them in public and its bulkiness either drew unwanted attention or it was just annoying to use in times of need. This paved the direction of having a more discreet and 'quiet' vest that did not look exactly like a medical product.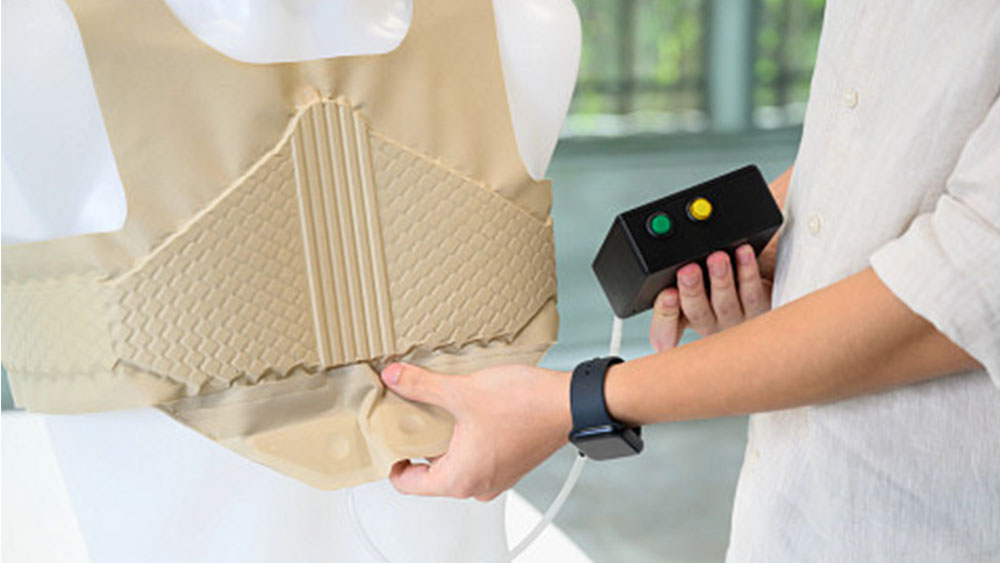 IMAGE: DYSON LTD/E IAN SIEW

Could you walk us through the innovative technology behind the Auxobrace and how it differs from traditional sternal braces in terms of comfort and functionality?

Auxobrace's internal structure is made of tiny cube-like structures positioned out in an array. When placed inside an airtight bladder, this creates small little pockets of air throughout the vest. Auxobrace uses a vacuum mechanism to evacuate these air pockets, causing the whole structure to shrink and contract. Compared to traditional sternal braces, this method of compression applies pressure around the body at a very even pace. The vacuum mechanism is also an external 'force', compared to the traditional brace where users would need to use their own brute strength to create the compression, which might be very challenging for elderly patients. In terms of comfort, Auxobrace almost feels like a draped vest over the body, instead of an elastic constriction around the body found in the traditional chest braces.
One of the unique aspects of the Auxobrace is its ability to adapt to various activities. Could you share some examples of how patients can adjust the device to different pressure levels for different tasks?

With the internal structure of the vest being fixed, it is possible to then calculate the void air spaces within. Therefore, there is also a direct relation to the pressure exerted on the body with the volume of air evacuated. For patients recovering and conducting various activities, a different amount of pressure would be needed, and by controlling the volume of air being evacuated, less or more pressure could be applied to reach their ideal needs. Less pressure is also needed later into the recovery stage, so the control of pressure would also be beneficial for the different ambulation stages.

Traditional sternal braces have been criticized for being bulky and restrictive. How does the Auxobrace address these issues and offer a more user-friendly alternative?

With its very thin internal structure, Auxobrace has a very body-hugging form. It does not need to have any elastic straps that would be in direct contact with the body for extended periods of time since it will be able to shrink and compress on demand!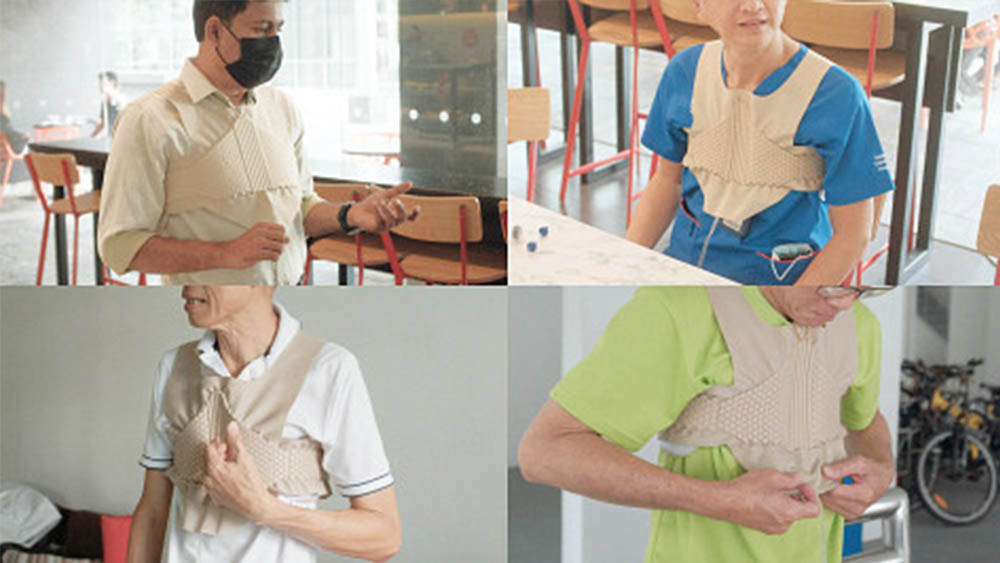 IMAGE: DYSON LTD/E IAN SIEW

The future plans for Auxobrace include exploring different rehabilitation needs and fashion accessories. Could you provide some insights into what these developments might look like and how they will impact patients?

These potential future developments will all have similar methods of activation, via vacuum and pneumatics. This could allow for even more dynamic casts for a big range of recovery braces that might allow patients to feel more confident and relaxed during their rehabilitation journey.
Finally, what personal fulfillment or satisfaction do you derive from knowing that the Auxobrace is making a positive impact on people's lives, and do you have any specific stories that stand out to you in this regard?

It's amazing to know that a simple idea of trying to solve something can lead to a much bigger outcome and relief for a larger population. During the final stage of my thesis when I had to bring some prototypes for patients to test, I was delighted to hear that they wished Auxobrace existed sooner, as it would have made them feel more confident during their recovery journey. These heartwarming comments gave me the motivation to pursue my research in Auxobrace, even after graduation.
Hear more from E Ian and see the Auxobrace in action below:
Find out more about the Auxobrace and the James Dyson Award here
For the latest updates on Wonderwall.sg, be sure to follow us on Facebook, Instagram and Telegram. If you have a story idea for us, email us at [email protected].