Half Of Singaporeans Will Not Be Celebrating CNY This Year Due To Pandemic
Forget angpow market rates and fending off nosy relatives: There's something far more important to dwell on this Chinese New Year.
Namely, the logistics of planned celebrations – or lack thereof, if you have some measure of common sense.
According to a YouGov survey published last month, most Singaporeans are thankfully exercising said common sense instead of planning to go all out for Chinese New Year as in past years before the outbreak of COVID-19.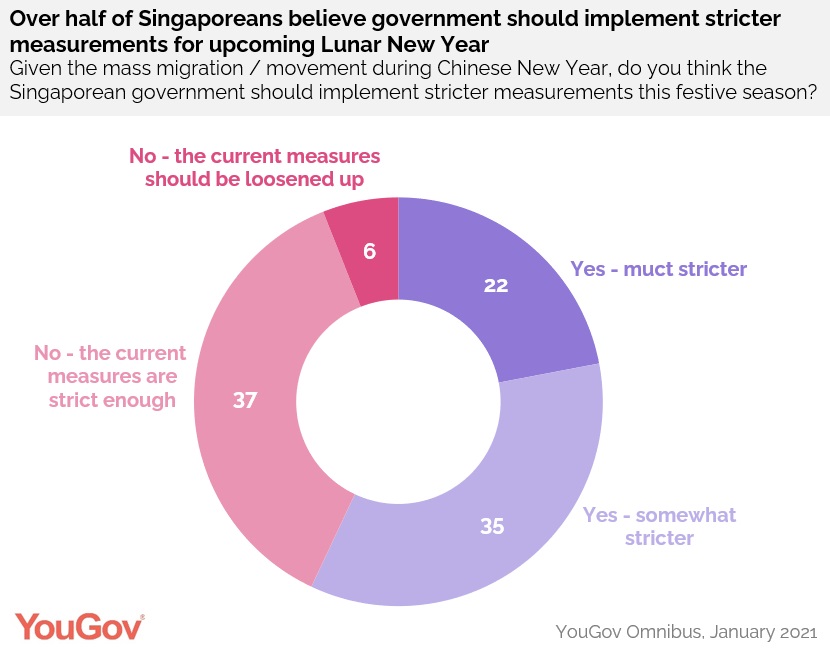 For instance, despite Singapore having moved into Phase 3, thus allowing social gatherings of up to 8 people, more than half (57%) of survey respondents believe that the government should implement stricter social distancing measures during the festive season due to the typical crowds that are to be expected throughout the Lunar New Year.
Meanwhile, 37% believe that the current measures are strict enough, while 6% think current measures are too strict and should be loosened . We're guessing this 6% are probably also the sort to invite 999 distant relatives, the neighbours from three blocks away and their colleague's cousin's brother-in-law for CNY visitation while juggling a colour-coded spreadsheet of visitors so they don't break the "max 8 people per day" rule.
Or, more simply: Joining the throng of crowds that have been swarming Chinatown in recent weeks despite the cancellation of the annual Chinese New Year bazaar. Hello ah, have you guys heard of a little thing called... SOCIAL DISTANCING?
Despite this seeming lack of sense demonstrated by (pre-)festive crowds, the YouGov survey also indicates that only 47% of Singaporeans intend to actually celebrate Chinese New Year. A quarter (27%) are currently unsure whether they'll celebrate CNY (Suggestion: DON'T), while 26% will not be celebrating in light of the pandemic.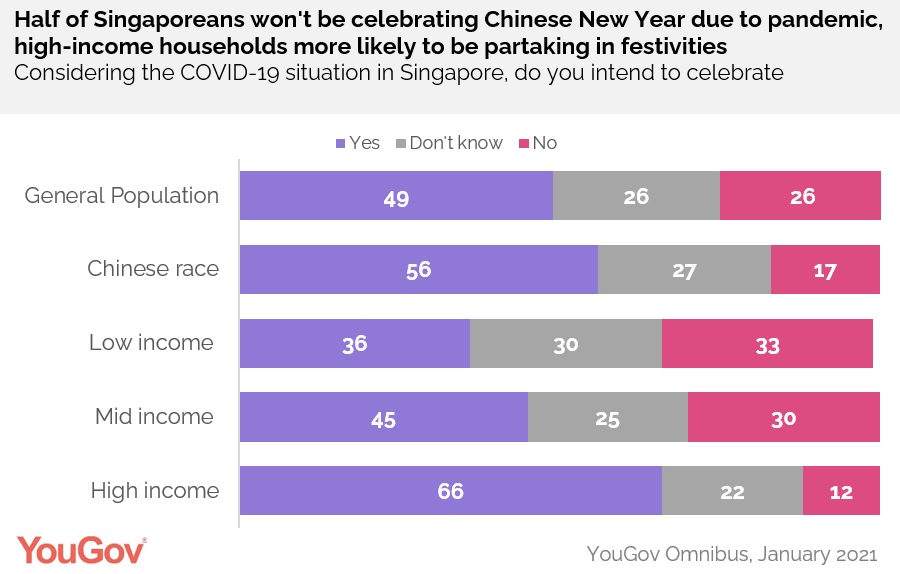 Even amongst Chinese-Singaporeans, only slightly over half (56%) of respondents indicated they would be partaking in CNY festivities.
In addition, lower-income households (households earning less than $4,000 per month) are half as likely to be celebrating CNY compared to high-income households (households earning more than $8,000 a month) (36% vs 66%).
The survey also found that while 77% of respondents still intend to give out angpows this year, 28% will be giving out smaller angpows than usual due to the financial impact of COVID-19 – one more reason to stay home .
If you do intend to go visiting or find yourself receiving visitors this year, check out our guide on awkward angpow situations to make sure you're well-prepared.
But really, just do yourself (and the rest of us) a huge favour and:
For the latest updates on Wonderwall.sg, be sure to follow us on Facebook and Instagram. If you have a story idea for us, email us at [email protected].