Here's How Tonight's NDP Evening Show Came Together At The Eleventh Hour
For the first time in history, the NDP's evening show was held place indoors. Of course, this is not what anyone, let alone the NDP planning committee, expected. According to Creative Director Royston Tan, planning began as early as August 2019, and by February of this year, they had a concrete concept and the music was 70% complete. But of course, the show had to be scaled down in the wake of COVID-19.
At a press event earlier this month, Tan – of 881 fame and a first-time Creative Director for NDP - said that reconceptualizing was "honestly....painful".
"We had mapped out the whole entire performances with thousands of people, costumes, and everything done up already. But as I look back, in retrospect, I think I don't have the right to feel pain, because there are many other fellow Singaporeans who are also in pain.
So we see this as an opportunity for them to 'echo out' their sentiment and incorporate that in the show. NDP unifies people, but it also heals people. I think that is the true purpose of NDP."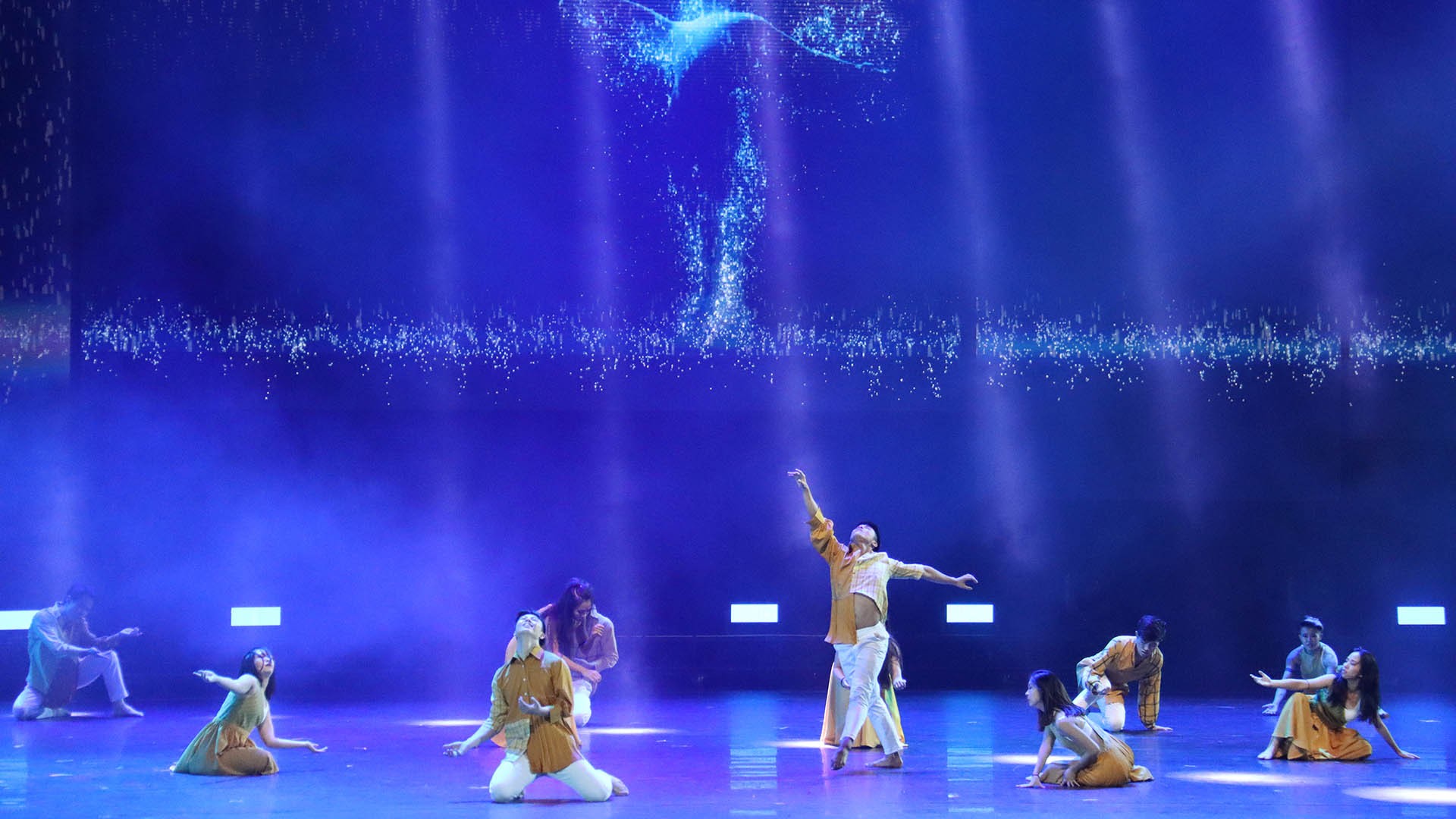 A change in plans
Tonight's show featured 31 stories of everyday Singaporeans alongside small group items from 87 performers. The programme might feel more intimate than usual, but that doesn't mean that it was any simpler to plan, especially considering the tight deadline.
For instance, the planning team needed to shift their focus toward the millions of people watching in their living rooms, rather than to the usual crowd of 27,000 spectators (this year, there will only be 150 invited guests.)
"So in the past, we had like mass display and things like that, but this route is catered for the home audience," said Tan. "So in terms of the camera angles and how we are going to capture, right, it's very much catered to, to individual. There'll be more close ups. And we also have films, because this is the medium that reaches out to the TV audience."
The team also needed to practice safe distancing in all their rehearsals – many of which were done virtually. This made designing the choreography especially challenging.

"I think they mentioned like one meter, but we make it two meter," Tan said. "And also, we have to limit the number of people performing on stage and also, how do we incorporate wearing masks during the performance."

Despite all the changes, Tan expressed gratitude for the way that NDP can encourage and even provide work for the dancers, performers, and entertainers whose gigs were cancelled due to the virus.
"NDP give them this platform to – for us to bring them some comfort and support. And also, with many songwriters and musicians, because of the compositions they have written, we are able to fuse that all in. So that became an opportunity for NDP to support them."
One such person is Nathan Hartono, who sang the NDP2020 theme song, Everything I Am, and who will perform it at the Evening Show tonight.
"I have not done a single show in the last year of the last half a year that has been boring," Nathan said, chuckling.
And while he's been involved in past NDP shows, this is his first time headlining such a big number.

"The double-edged sword of NDP, I think, is that it's a very like, kanchiong show," he said, when asked about rehearsals. "And I say that because every year that I'm involved, it's okay, you always have to standby and you standby there for 45 minutes just so that you won't be late. They really try to dot I's and cross all their T's."
"So, in this year's context with like, everything happening, that attitude, which I used to kind of like, not love, is actually coming in very, very useful this year."
He also can't complain too much about being able to rehearse in an airconditioned space. "It's a very much more comfortable environment in the theater, because usually we're doing it in the outdoors. Everyone's a sweltering like, we have like all these layers of costumes on and we're sweating like crazy. Like the makeup lady has to constantly like put seven layers of makeup on you just so you look human."
Hartono said that his life had not been affected too much by the safe distancing measures, and for that he is "very blessed and grateful". At the same time, being a part of NDP2020 has shown him the extent to which the arts and music community may need to adapt.
"It's not easy and it and it not only affects the performers, it affects the creators behind it and affects like patrons all over, like performance venues. It affects the people who work in these venues. There's a whole ecosystem through it that is currently just completely gone. To carefully but boldly step forward with things like this is definitely important."
"It's a learning process for everybody, like it is changing and is morphing, the rules get stricter and stricter every other week, as we're getting closer and closer because we don't want to take any chances. I'm personally like curious to see how this all pans out. Like this could be a new way to do it until things normalize a bit. It's kind of frightening, kind of optimistic."
NDP 2020 will be broadcasted live from The Star Performing Arts Centre at 7pm on August 9. Available on Mediacorp channels and NDPeeps' YouTube Channel.