Here's How NS Prepares You For Life After 'OWADIO!'
National Service is many things: first and foremost, it is a duty, a rite of passage, and an essential aspect of nation-building. But in addition to fulfilling its main priority – training our full-time national servicemen (NSFs) to defend our country – it can also prepare them for school and work.

A majority of respondents in two surveys by the Institute of Policy Studies (82% in 2013, and 71% in 2023, respectively) said they considered NS an important source of learning for future employment.

Furthermore, in a recent response to a commentary published in The Straits Times, MINDEF and the SAF said that they are committed to supporting post-NS transitions, meaning that while undergoing their training, NSFs also have access to resources that prepare them for employment and further studies.

Here's how:

1. Being equipped to defend the nation

Let's get this out of the way: NS exists to fulfil national defence needs. But that doesn't mean NSFs are trained to only defend Singapore from armed conflicts. Our servicemen are also currently engaged in addressing terrorism, managing the aftermath of natural disasters, and combating health epidemics. At any given time – whether in uniform or not – our NSmen are ready to safeguard Singapore from these threats.

2. Funding for self-advancement courses
Since 2003, Mindef and the SAF have provided NSFs with funding for self-advancement courses. In 2022, they collaborated with NTUC LearningHub and NTUC's Employment and Employability Institute to bolster this support. Prior to last year, NSFs were given $350 worth of credits for upskilling and refresher courses in their last 12 months of full-time NS, which they could use up to one year after their Operationally Ready Date (ORD).

Now, under the new scheme with NTUC LHUB, NSFs are provided with a free subscription to the SkillsFuture@NS Learning e-learning platform, which can be activated any time during their full-time NS, and which they can access for two years from the date of activation.

The platform gives NSFs unlimited access to over 75,000 courses (much more than under the previous scheme, which only hosts 3,000 courses). It also includes an online repository of post-NS resources, plus a job and course portal.

Check out some of the courses here.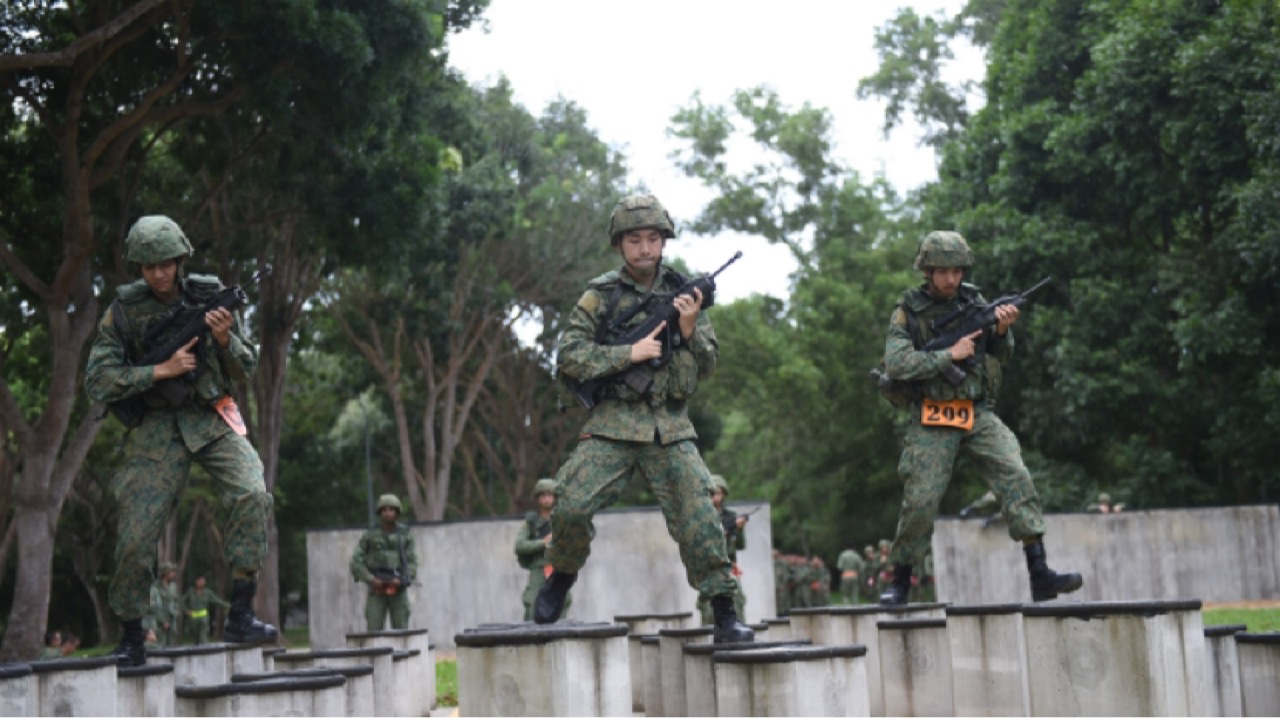 IMAGE: PIONEER
3. Accreditation for skills acquired during BMT

Since 2017, the SAF has worked with SkillFuture Singapore to accredit certifiable skills acquired during NS, such as leadership, technical, and specialist skills, under the Workforce Skills Qualification (WSQ) system. For example, a Naval Officer is eligible for a WSQ Advance (Level 3) Certificate under the Leadership and People Management WSQ framework upon graduating from the Officer Cadet School.

Find out more here.

4. Work-Learn Schemes in several vocations
Some NSFs love NS so much that they elect to extend their service. But this doesn't have to disrupt their studies. Under MINDEF's Work-Learn Schemes, NSFs can earn academic credits that count toward diplomas or degrees from polytechnics and universities. These cover several vocations, including the field du jour: artificial intelligence.
We know what you're thinking: do these schemes actually work?

Anecdotally, yes.

According to this 30-year-old NSMan looking back on his 20-year-old NSF self, a leadership role in NS prepared him for leadership roles in the corporate world. It also taught him mental resilience, a necessary skill for navigating the trials and travails of adulthood.

This NSF, who was conscripted into the Singapore Police Force, agreed, citing the mandatory swimming lessons he undertook during NS. Beyond teaching him lifesaving skills, they also helped him overcome his fear of water.

Meanwhile, Daniel Teo (founder of Kin Hoi), says that the RSAF inspired him to give up a corporate job to be a hawker. "[The pilot trainee programme] made me know that risk-taking should be part and parcel of life and not something which we procrastinate about."

And in some cases, your NS vocation can directly inspire your choice of career, as it did Benjamin Tan, whose 15 years in MINDEF and the SAF's cybersecurity teams led him to his role as CEO of Red Alpha Cybersecurity.