Can A Competitive Eater And A Trainer Occupy The Same Body? Evidently, Yes
The year-end holidays and festive season are upon us, and you may be looking forward to some merry-making and feasting to cap an otherwise unusual and difficult year.
We catch up with Singapore's top ranked competitive eater Zermatt Neo to get you some tips on how to eat as much as you want yet not pile on the pounds.
For the uninitiated, the 32-year-old YouTuber is currently ranked No 1 under Food League Singapore, a network formed in 2016 by competitive eating enthusiasts to standardise eating contests and introduce a national ranking system. The next in rank is Sarah Ow, a former SQ girl who ditched the famed "kebaya" for stretchy pants.
It all started in 2013. On a dare, he joined a ramen-eating contest at Ramen Champion. With barely any training, he slurped up 11 bowls of ramen in under 20 minutes, and emerged the Singaporean Champion, finishing second to Japanese celebrity competitive eater Tomoko Miyake.
In 2016, a social media post of him polishing off a hefty near-4kg portion of chicken rice – that's 10 servings of rice and a whole chicken – in slightly over 29 minutes went viral.
Despite his crazy eating challenges (stuffing down 121 plates of sushi in an hour, 10 bowls of Gyudon in 15 minutes, and eating 92 chicken wings in 8 minutes), Zermatt sports rock-hard abs with a body fat percentage of 9.3. Not only that, he has a degree in nutrition from the University of Wollongong in New South Wales, Australia, and is a personal trainer.
How does he have his cake and eat it? Let's dig in to Zermatt's secrets.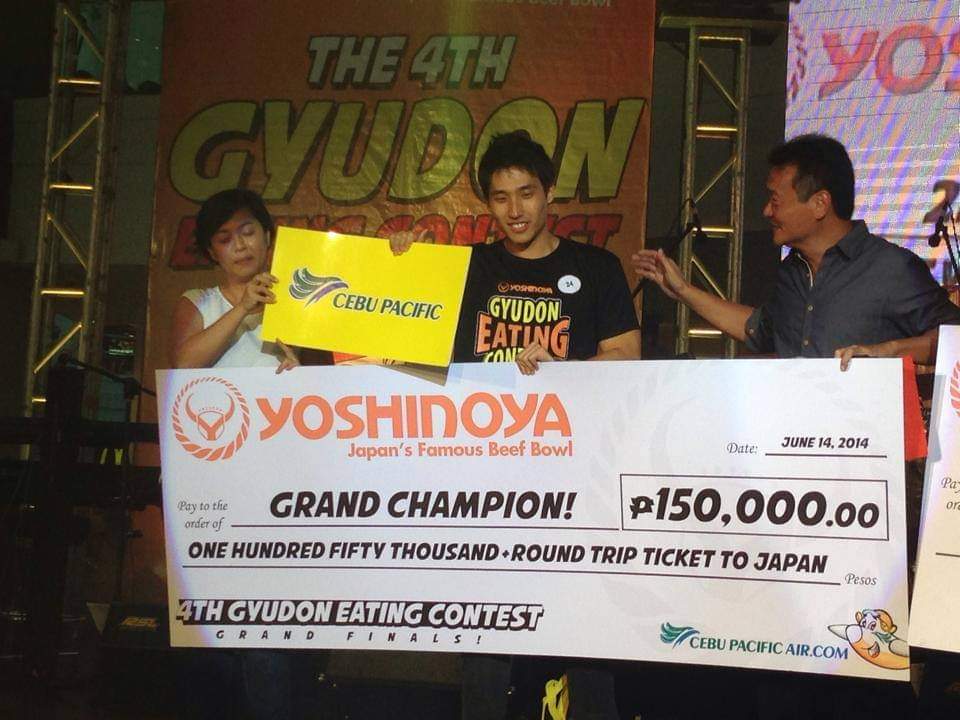 Singaporeans love to eat, so would you consider this a "dream job"?
Eating like that takes a lot out of me. It is pretty taxing and I'll also have to work out six days a week to burn off all those excess calories. I like it as I love food in general, but it's like a double-edged sword and sometimes I do get burnt out from eating too much, too frequently.
Describe a day in the life of a competitive eater.
I restrict myself to two eating challenges a week. For the rest of the time, I restrict myself to a pretty responsible diet of vegetables, fruits, protein and nuts. I'm pretty much a vegetarian on days off as I like eating a low inflammatory diet, so I don't like to have meat around except when I need it for filming. I still do enjoy a good buffet for leisure from time to time, and so far, no one has ever chased me out of their restaurant for overeating! I also work out six days a week.
How much do you eat when you are eating competitively? And what is the maximum amount of food you can stomach?
During an eating challenge, I typically consume between eight to 15 servings of food. That's equivalent to 4 to 6kg of food. My stomach capacity fluctuates between contest season and off season. Now it's around 5 to 6kg. An average person's stomach capacity can take about 400 to 600g of food.

What is the most you have eaten so far competitively? Is there a special eating technique?
The most I've eaten is 125 plates of sushi at Sushi Express. There are certainly different techniques that eaters adhere to when it comes to shoving down different food items (such as dunking the buns into water, folding the pizzas etc.) but it really boils down to stomach capacity. Most of the time, I am able to hold the food down.
What is the competitive eating scene in Singapore like? And would you like your significant other to be a competitive eater?
Food League Singapore organises all these eating contests but sadly the competitive eating scene in Singapore isn't as big as that in the States. There are quite a few eaters from America that I look up to – Matthew Stonie, Geoff Esper, and the world's No 1 competitive eater, Joey Chestnut. I do not expect my other half to be eating as much as I do or even compete as I do, as I do not eat like that every other day.
(Zermatt battled Joey in a satay-eating contest in 2016. Joey demolished 200 sticks of satay in 10 minutes while Zermatt did it in 19 minutes. It was after this little contest that he figured how far behind he was when competing against the best, and that was what kickstarted his training.)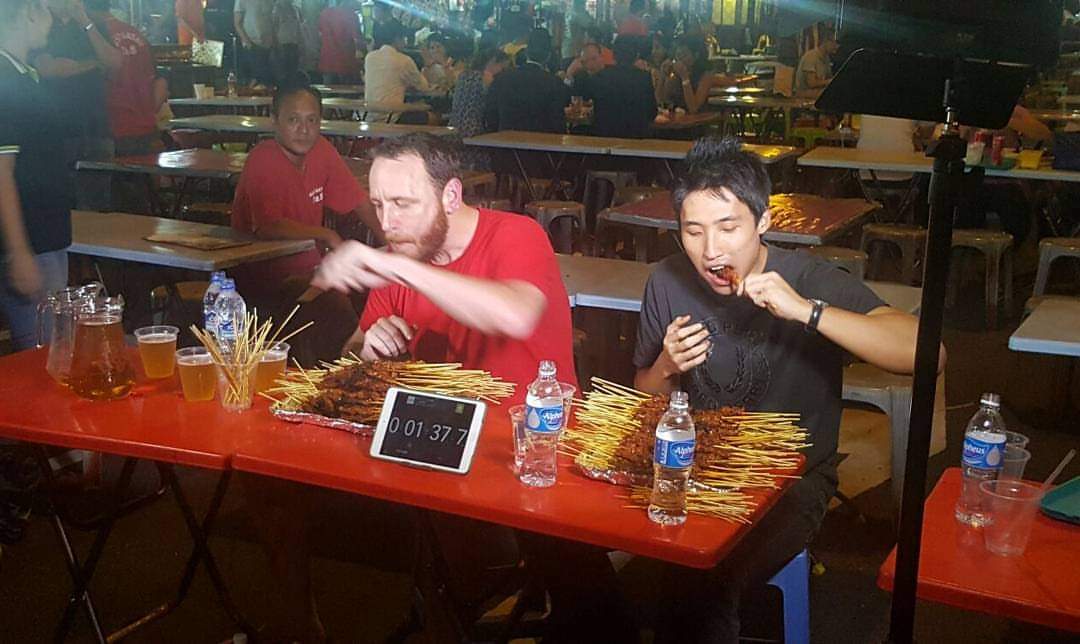 You have a background in nutrition, and growing up, eating caused you to throw up, although your digestive problems went away when you started eating right. In competitive eating, is it unhealthy or dangerous to consume so much food in a short amount of time in one sitting? Are you afraid that being a competitive eater in the long term may cause adverse health effects or shorten your lifespan in any way?
There are almost little to no studies done on these issues. Most of us are pretty much experimenting. If you go a little overboard, you may get hurt. But I guess you'll really have to have the discipline to work out and burn off all the excess calories. I go for checks twice a year and my doctor says I'm healthier than 90 per cent of the locals here!

How much and how often do you work out at the gym to compensate for your competitive eating lifestyle?

I work out almost every day, between six to seven days a week. On days that I'm not at the gym, I'll be out hiking or doing some cardio exercises. I count my calories every single day. I eat almost the same types of food during my days off, so sometimes, I can just eyeball them and immediately know how many calories I am consuming. My weight does fluctuate a bit; I am around 66 to 68kg now.
What type of fasting do you do and why? Are you putting your body through extreme stress by practising the polar opposites of both feasting and fasting?
I do intermittent fasting – a 20-hour fast every day with a 4-hour eating window. I have been doing this for a while and my body likes it. Some eaters cannot fast, so it's really figuring what works best for yourself.
How long do you hope to be a professional competitive eater? What are your plans for the longer-term?

I don't really have a specific date or timeline that I set for myself with regard to this. I've seen eaters peaking at the age of 45, so I guess I won't stop anytime soon, hopefully. I've always wanted to own a restaurant or hawker stall and I am actually in the midst of planning to start a hawker stall selling chicken rice with a friend!
What advice would you give to those who wish to feast and enjoy their food this holiday season without putting on the pounds?
My advice is to always stay active regardless of whether it is the holidays or not. Try to incorporate some sort of workout and it does not necessarily have to be at the gym. A badminton session or a 30-minute walk around your neighbourhood does the job. Also, always start your feasting with a plate of salad before diving into the high-caloric options as that will fill you up, and you'll end up eating less of the "sinful" stuff.

What would you say to those who wish to get into the competitive eating scene?

For anyone that wants to try out competitive eating, start off with something small. Don't just jump into a 4kg challenge just because you've seen some videos on YouTube. People tend to overestimate their own eating abilities when they are feeling hungry.
Watch more of Zermatt Neo's crazy food challenges here.

For the latest updates on Wonderwall.sg, be sure to follow us on Facebook and Instagram. If you have a story idea for us, email us at [email protected].