Jaw-Dropping Additions To The Singapore Book Of Records In September 2023
On 30 September 2023, a new record was set in the Singapore Book of Records for the longest hand-painted lantern chain created.
Through the efforts of over 1,000 residents and other community partners, a total of 1,888 lanterns were hand-painted and arranged into a long dragon of over 500m at the Admiralty Mid-Autumn PAssionArts Festival.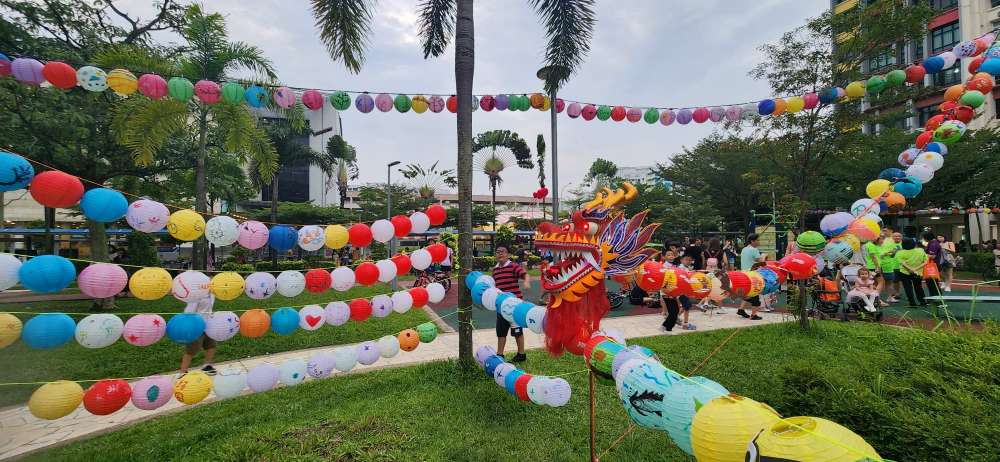 IMAGE: PASSIONARTS
Singapore is no stranger to unusual record-breaking feats. Here are a few more that just made history this past September:
25 September 2023: Youngest to recall more than 700 Digits of Phi
11-year-old Karthick Prasanna from Yuvabharathi International School managed to recite a whopping 777 digits of Phi (an irrational number with infinite digits, not to be confused with Pi), also known as the Golden Ratio.
23 September 2023: Largest Flower Carpet
It took 200 hours of labour from 300 people using 100,000 potted plants and 20,000 cut flowers to create this gargantuan beauty.
Spanning 34.2m in diameter, the medley of colourful blooms formed a circular, batik-inspired pattern honouring our national flower, the Papilionanthe Miss Joaquim.
22 September 2023: Largest collage made of Chinese brushwork
Did you know that brushwork and calligraphy are part of the curriculum for Primary 1 to 5 students of Pei Hwa Presbyterian Primary School?
For this record, students did brush paintings and wrote the school's values in calligraphy. Selected pieces were put together to form a 2.8m-by-10.5m collage, which was unveiled on 22 September.
10 September 2023: Largest display of pet lick art
Over 2 weekends, The Star Vista ran an interesting pet-related exhibition named 'A Space Pawdyssey'. One of the highlights of the event was the creation of pet lick art.
What's pet lick art, you ask? Simply put, treats were placed on ziplock bags containing canvases drizzled with globs of paint. When the furry artists licked off the treats, they would spread the paint in the canvas, creating unique works of art.
A total of 176 masterpieces were displayed on the last day of the exhibition (10 September).
5 September 2023: Most digits of square root of 12 recalled
Last but not least, yet another memory-related record. This time, the record was set by 6 years and 11 months old Stanley Liu Jia Fan, a Primary One student from Tao Nan School.
This young mathematician wrote down 666 digits of the square root of 12, an irrational number with endless decimals.
For the latest updates on Wonderwall.sg, be sure to follow us on TikTok, Telegram, Instagram, and Facebook. If you have a story idea for us, email us at [email protected].