9 Places In Singapore That Belong In A Korean Drama
Earlier this month, we learned that the Singapore Tourism Board (STB) signed a three-year agreement with Korean drama production house, Studio Dragon – the company behind 'Crash Landing On You' – to promote Singapore as a travel destination. Meaning that once COVID-related restrictions ease, you'll be seeing Singapore as a backdrop in K-dramas.
While we might not have Lotte World, Jeju Island, or pojangmacha (Korean street food stalls) in Singapore, we wouldn't rule out er, hawker centres as the backdrop for a romantic (and probably sweaty) back hug.
Here are some other places in Singapore that wouldn't look too out of place for a K-drama:
Coney Island
Scene: Offshore date compounded by a bike ride and a romantic declaration in the rain.
There's a saying in K-drama fandoms that "all roads lead to Jeju Island", but Coney Island can be perfectly swoon-worthy given the right company.
Tan Tock Seng Hospital
Scene: Male lead saves female protagonist from Truck of Doom, only to end up in a coma after sustaining head injury.
There's ALWAYS a hospital scene in K-dramas. Don't forget to include a misting humidifier (and a cute doctor) next to the hospital bed!
Siloso Beach
Scene: Couple kicks sand at each other while laughing.
Could also double as a breakup scene on cloudy days.
Pinnacle@Duxton Rooftop
Scene: Drinking beer and eating chips with oppa
Rooftop scenes are a dime a dozen in romantic shows, and the sweeping views atop Pinnacle would feel especially cinematic behind a K-drama lens.
NTUC
Scene: Romantic leads go grocery shopping after a fight
Immediately followed by a scene where the female lead gives the male lead a back hug while he prepares maggi mee.
HSBC Rain Vortex
Scene: Prolonged 360-degree kissing scene.
Nothing says 'dramatic first kiss' like a dramatic waterfall cascading behind you as the camera pans in and out for what feels like an eternity!
Lau Pat Sat
Scene: Female lead drinks too much, to comical effect.
Our beloved (and tourist-friendly) colonial hawker centre would make a lovely backdrop for a drunken piggyback ride.
Anywhere resembling an army camp
Crash Landing on Tekong.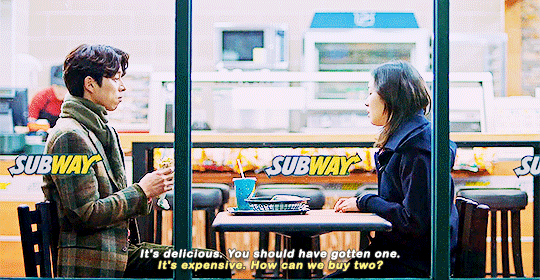 Subway
Obligatory.
For the latest updates on Wonderwall.sg, be sure to follow us on TikTok, Telegram, Instagram, and Facebook. If you have a story idea for us, email us at [email protected].