Marina Bay Lit With Student Artwork To Usher In 2022 In A Meaningful Way
For a full COVID-19 Phase Advisory during this period, click here.
Whether scaled down or toned down, there's going to be a new-year countdown.
So, if you happen to be out and about at the Marina Bay area to jalan-jalan your 2021 blues away, you might notice that as the sun goes down, the lights come on on the facades of three iconic structures here: The Fullerton Bay Hotel Singapore, the Merlion and the ArtScience Museum.
Look closely and you'll notice that the intricate tapestries tell powerful visual stories of the year past, from helping hands that went towards various causes to the close-knit nature of the migrant worker community and the tireless efforts of frontline workers.
Called "Share The Moment", this illumination and projection show kicked off on 26 Dec and is presented by the Urban Development Authority (URA) in support of the Singapore Together movement, which was launched in 2019.
This meaningful component and one of the key highlights of this year's Marina Bay Singapore Countdown 2022 features 15 pieces of artwork by local students from LASALLE College of the Arts, Nanyang Academy of Fine Arts, Nanyang Polytechnic, National University of Singapore, Ngee Ann Polytechnic, Republic Polytechnic, Singapore Management University, Singapore University of Social Sciences and Temasek Polytechnic.
The Fullerton Hotel Singapore
Pictured here on the facade of The Fullerton Hotel Singapore is a piece by How Hee Lin of the Singapore University of Social Sciences that depicts a multitude of multicoloured hands which represent the President's Volunteerism & Philanthropy Awards 2021 nominees who have lent a helping hand towards various causes.
According to the URA's Facebook post, "the artwork also seeks to remind us of all the little blessings received in 2021, even as we look forward to a brighter 2022."
Projection show schedule: 26-31 Dec 2021, 8-10.30pm daily (extended to 11.45pm on 31 Dec 2021)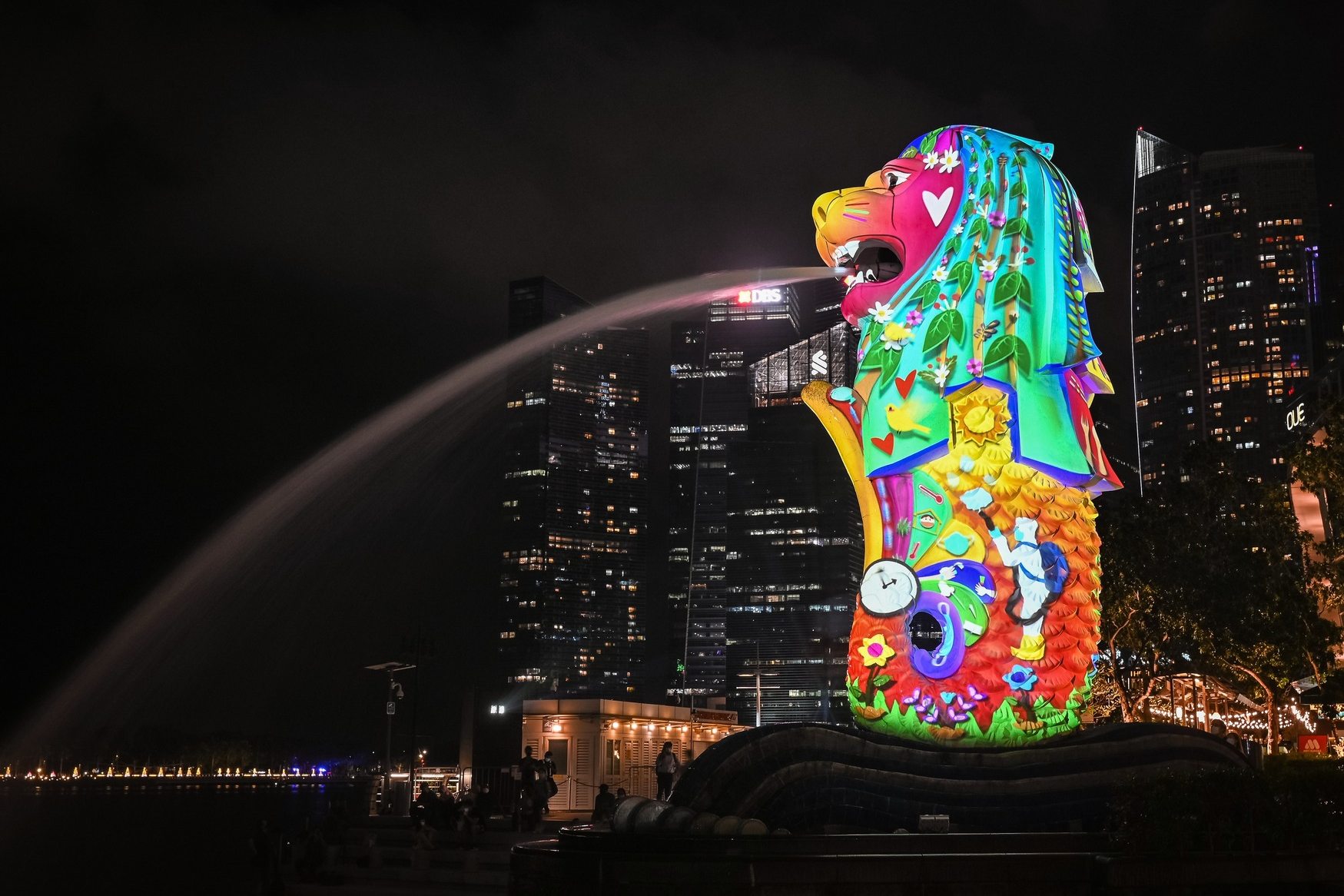 The Merlion
There's no better canvas for an artwork than the pristine white surface of our beloved merlion. Here, we see it blanketed in rainbow hues and the creative imaginings of Temasek Polytechnic student Nur Qistina Bte Soherdy, who was inspired to document the efforts of cleaning and antimicrobial technology company Speco Singapore and the Pan Pacific Hotels Group.
Why these two organisations? According to URA: "The two organisations share a common goal of uplifting marginalised communities – Speco has partnered more than 90 social service agencies to train, upskill and employ over 300 individuals; while Pan Pacific Hotels Group runs a central kitchen programme with a social enterprise and charity partners to enable employment for persons with disabilities."
Projection show schedule: A 5-minute animated light projection show will play every 15 minutes, with the last show at 10.30pm (last show at 11.45pm on 31 Dec)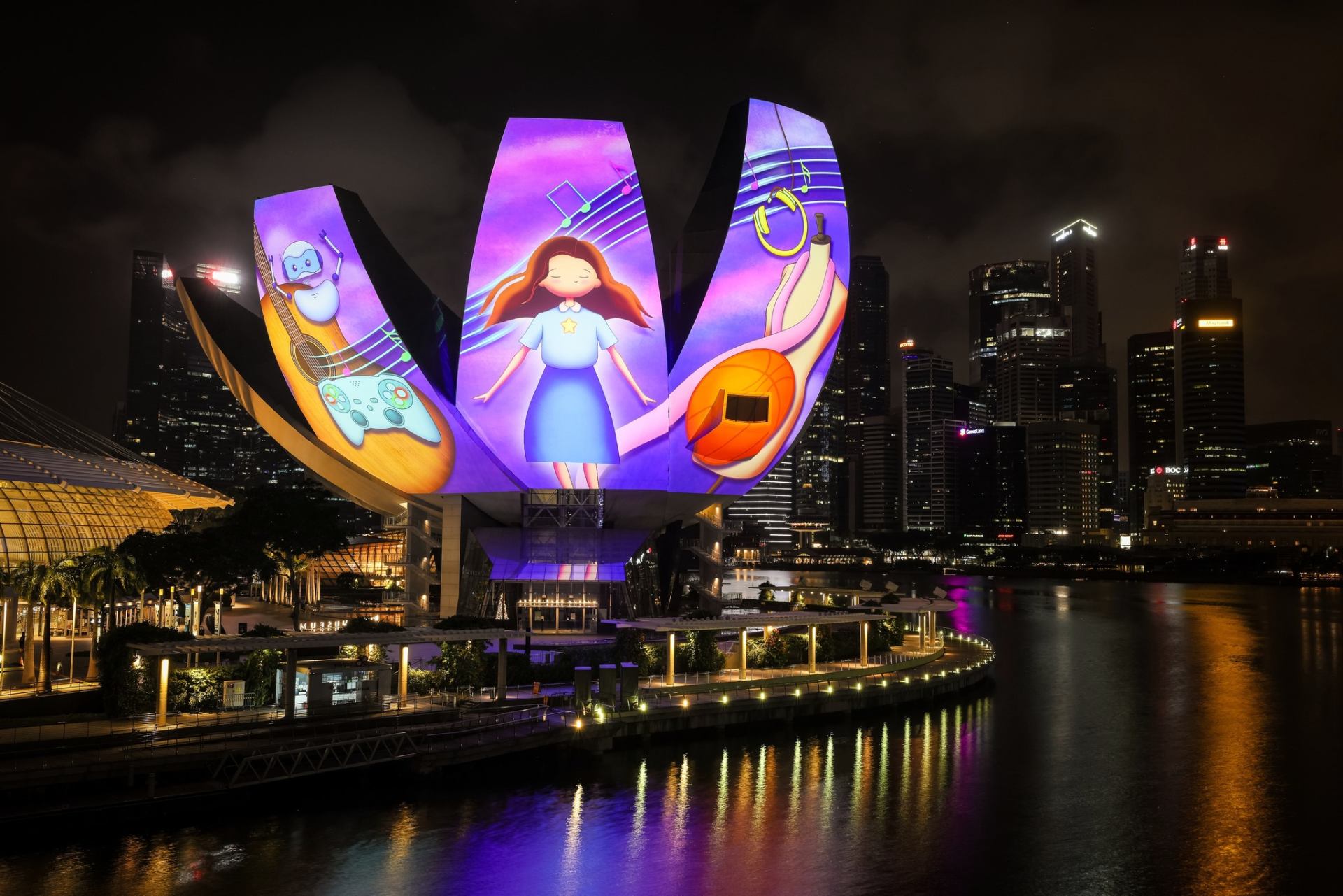 ArtScience Museum
NAFA student Elsa Tania's artwork quite literally throws the spotlight on "I Am Talented (IAT) by David Hoe", a youth empowerment programme which creates opportunities for disadvantaged students to discover their talents in non-academic pathways.
Elsa uses songwriting, photography and fashion to depict how such pursuits have "helped students ignite their inner spark, making their world more colourful and fulfilling", according to URA.
Projection show schedule: 8.15pm, 8.30pm, 8.45pm, 9.15pm, 9.30pm, 9.45pm, 10.15pm, 10.30pm (last show at 11.45pm on 31 Dec 2021)
For the latest updates on Wonderwall.sg, be sure to follow us on TikTok, Telegram, Instagram, and Facebook. If you have a story idea for us, email us at [email protected].