World Book Day: Little Kids Will Love These Libraries in Singapore
Today (23 April) is World Book Day, when we promote the enjoyment of books and reading. And what better way to introduce our children to the joy of reading by bringing them to a library?
Although reading may be a hard sell for some kids, our libraries in Singapore are filled with more than just shelves and shelves of books. Some are packed with movie evenings, art and craft sessions, teen hangout sessions, gaming rooms, storytimes, fun workshops and more! A great selection of books is just the icing on the cake at these libraries!
Your little ones will love hanging at one of these little-kid friendly libraries across town: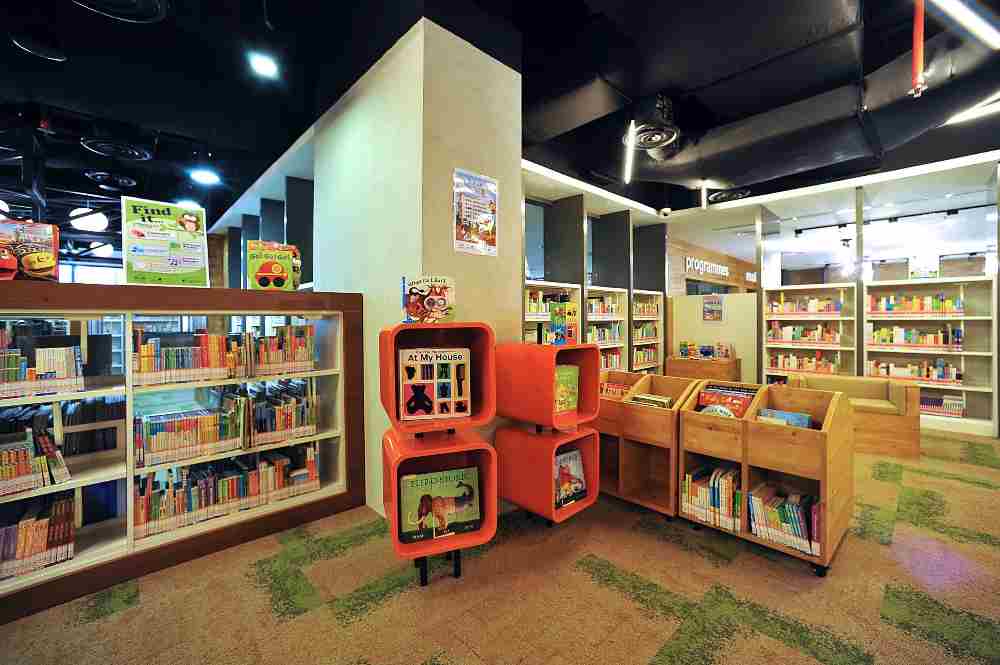 IMAGE: NATIONAL LIBRARY BOARD
Imagine a library inspired by a shipyard. That's exactly what the design behind Sembawang Public Library is, and the (older) children's area is home to container-shaped spaces reminiscent of Sembawang's shipyard and maritime legacy, and also features several images of old Sembawang, as well as of the jetty.
The Babies and Toddlers section at Sembawang Public Library is designed with low-seating and kid-friendly tactile furniture. It also features the Early Literacy Collection (for children aged 0 to 6 years) that focuses on the five key areas vital to children's learning and development - playing, talking, singing, reading and writing.
The Young Readers Area (designed for older children 7 to 9 years) features children's Interactive Digital Storytelling Kiosks to access the library's eResources. Speaking of storytelling, Sembawang Public Library also hosts regular storytelling sessions for kids aged 4 to 6 (details here).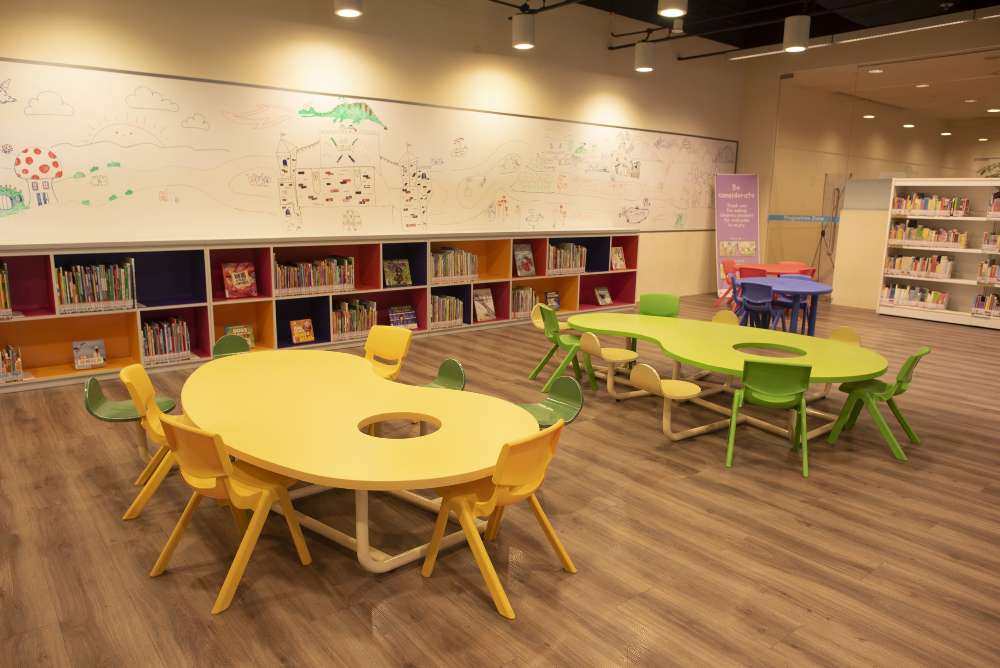 IMAGE: NATIONAL LIBRARY BOARD
Located on the rooftop of NEX shopping mall, Serangoon Public Library is Singapore's first public library to be located on a rooftop (and the scenic rooftop neighbourhood views are not to be missed).
The Children's Collection corner is home to colourful furniture to make it more attractive to young children, as well as regular storytelling sessions for 4 to 6 year olds.
Also keeping up with our young generations of tech-savvy kids, Serangoon Public Library also has dedicated gaming areas for kids to read and learn through interactive games.
Bonus: There's also digital gaming programmes and PC gaming stations to encourage learning and social bonding through play.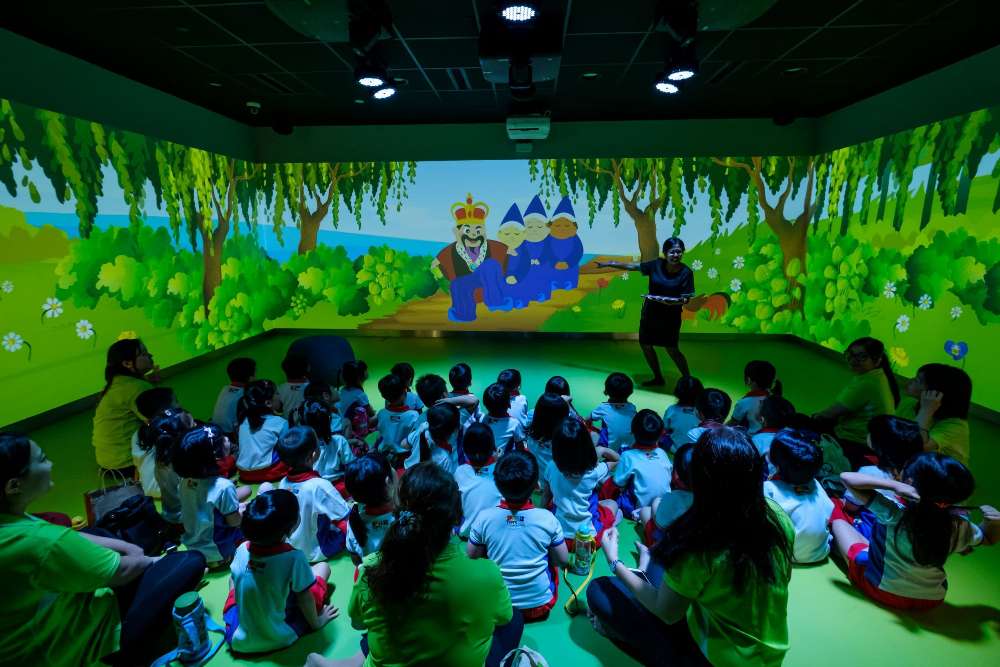 IMAGE: NATIONAL LIBRARY BOARD
Did you know that the library@harbourfront is the largest shopping mall library in Singapore? With over 200,000 books and magazines, audio-visual materials and six different learning pods in a space spanning a whopping 3,000sqm, the library is also perfectly decked out in a coastal theme with waves and blue and green hues.
Kids will love the Children's Zone with audio and visual technology to make stories come alive in the very cool immersive storytelling room. There are also digital books and activities in the Tumblebook stations to encourage young readers to learn through technology.
Children aged 3 to 9 years can check out the Tinker Truck makerspace for crafting and puzzle activities, as well as Augmented Reality books on topics such as Space, Animals and Body Health.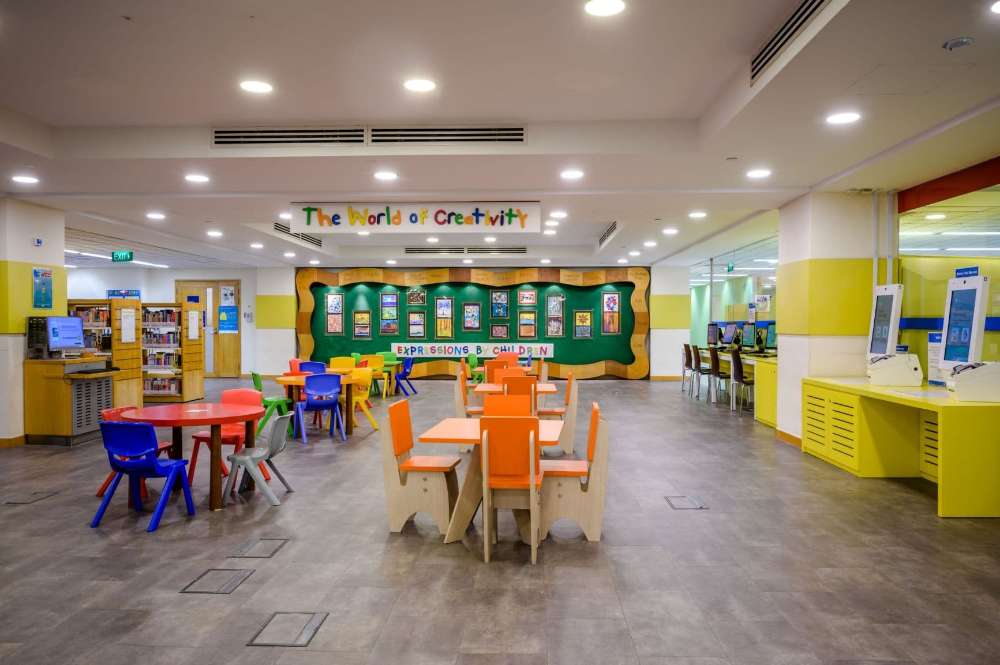 IMAGE: NATIONAL LIBRARY BOARD
Looking for a Children's Section reading area that is designed as a park, complete with an Enchanted Tree? It's literally like taking a walk in the park at this library because the entire children's level has been designed like a park!
Welcome to Woodlands Regional Library, an interactive library and one of the very few libraries in Singapore that can boast having an autism-friendly space with sensory-friendly reading and learning areas.
The library's nature theme is inspired by its location, with it being near three nature reserves (Sungei Buloh Wetland Reserve, Sungei Khatib Bongsu and Bukit Timah Nature Reserve).
There's also Calm Down to The Library, an autism-friendly space on Level 4 that aims to promote the inclusion of children with autism into the library space.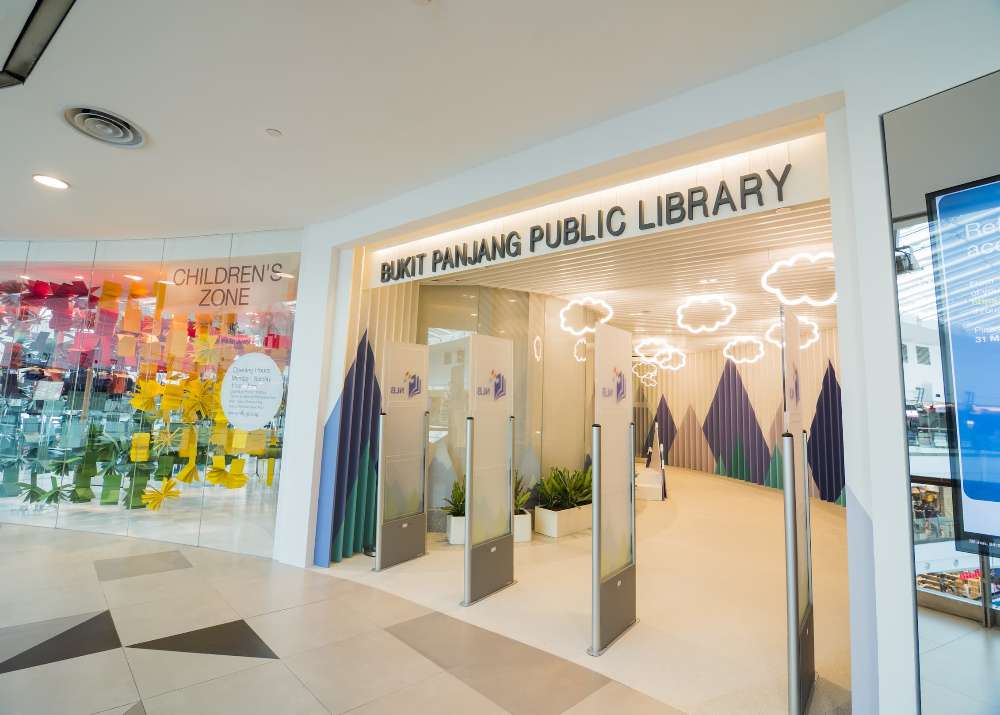 IMAGE: NATIONAL LIBRARY BOARD
5. Bukit Panjang Public Library
This huge library in the North West (there's a very convenient and direct connection to the Downtown Line MRT) has two wings, with one entire wing dedicated to being The Children's Zone!
With a design concept inspired by changes to Bukit Panjang's public transport access, the coloured ribbons on the library's floor help visitors find their way around the library and guide them in their reading journeys.
What makes this library so much fun for kids? Easy! The Stories Come Alive Room offers them an immersive and interactive multimedia storytelling experience through the use of images, lights and sound effects; there are eye-catching rainbow-coloured book displays; as well as the super cool conveyor-belt return system with a mountain-decorated staircase for little ones to drop their books in. Returning books has never been this fun!
Other kid-friendly activities include "Jiggle, Read and Rhyme" sessions (aimed at kids aged 1 to 3 years), and wall-mounted interactive boards and colour-coded paths to guide kids to age-appropriate books and genres.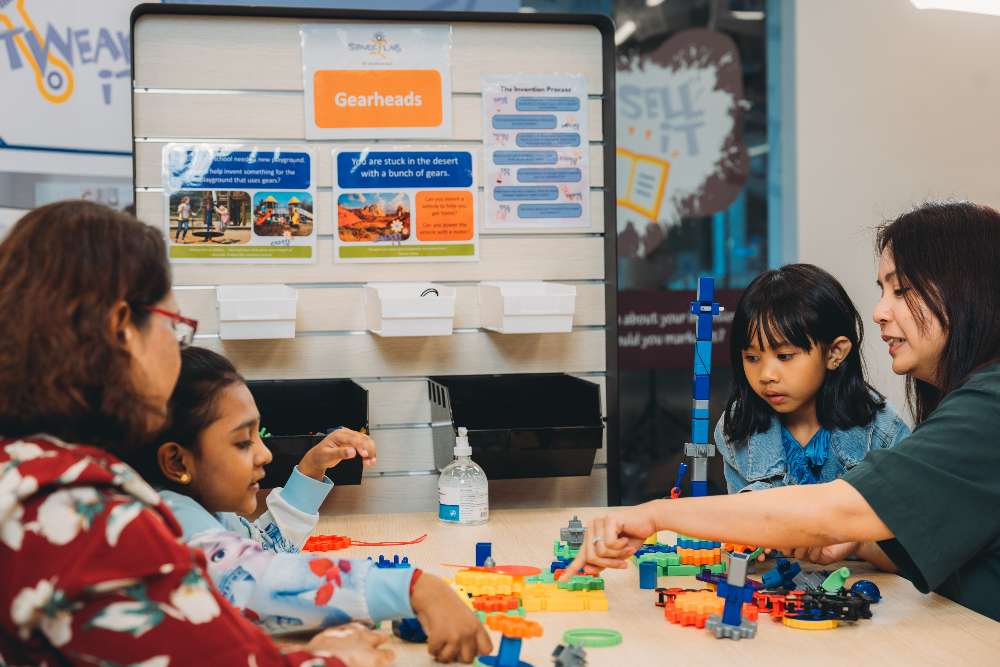 IMAGE: NATIONAL LIBRARY BOARD
Did you know that Punggol has one of the highest proportions of children below five years in its resident population? So of course it was bound to have bragging rights for perhaps the best children's library in town!
Reputed to be Singapore's biggest public library, the five-storied Punggol Regional Library officially just opened last week at the One Punggol integrated community hub, but its dedicated 'Learning Marketplace' children's section on its first two floors already opened earlier this year in January, home to a very extensive children's zone.
Check out these cool features for kids to enjoy include:
Stories Come Alive Room - storytelling comes alive with moving images and text, and light and sound effects in this immersive and interactive space
The World and Us Zone - reading materials from around the world on everything from geography and culture to history and migration.
TinkerTots (for 6 years and below) - children can play with educational toys and learn about the world through simple tinkering activities
Toy Library (for 6 years and below) - regular toys, educational aids, puppets and costumes for children to play with
Spark!Lab™ (for 7-12 years) - a DIY tinkering space set up in partnership with the (American) Smithsonian Institution to encourage kids to participate in hands-on activities and create innovative solutions to different challenges
Storyteller Cove (for 7-12 years) - animations, illustrations, activity and prop-making stations to inspire children to create their own stories
And keeping in line with NLB's Libraries and Archives Blueprint 2025 (LAB25), which aims in part to make libraries more inclusive to all, the library also caters to people with disabilities with several new accessible features.
For the latest updates on Wonderwall.sg, be sure to follow us on TikTok, Telegram, Instagram, and Facebook. If you have a story idea for us, email us at [email protected].