Where Time Stands Still: Buildings In Singapore That Are Retro AF
With supersized suburban malls like NEX, Jurong Point and Vivo, we can find pretty much anything we need nowadays without travelling very far.
But hor, retro is the new cool.
You might be surprised to find hidden gems or unique services in some of the older complexes in Singapore that are as retro as their facades.
Here's a list of buildings that have been around for decades – show your parents leh. It will bring back fond memories of their youth, hopefully!
Fun side project: if your parents have an old picture of themselves taken in front of any of these buildings, why not recreate the moment in 2021? Email your "Then & Now" photos to [email protected]
1. Golden Mile Complex
Where ah? 5001 Beach Rd, Singapore 199588
This lao jiao has been around since 1973, and is now a popular spot for mookata lovers. On top of all the sizzling mookata you can eat, you can find Thai discos (aka "siam dius"), a Thai supermarket, and tons of good Thai food. Now Covid-19 cannot travel, so Singaporeans who like to travel to Bangkok can come here to satisfy their Thai-ethnic cravings. No kidding, Golden Mile Complex is even known affectionately as "Little Thailand"!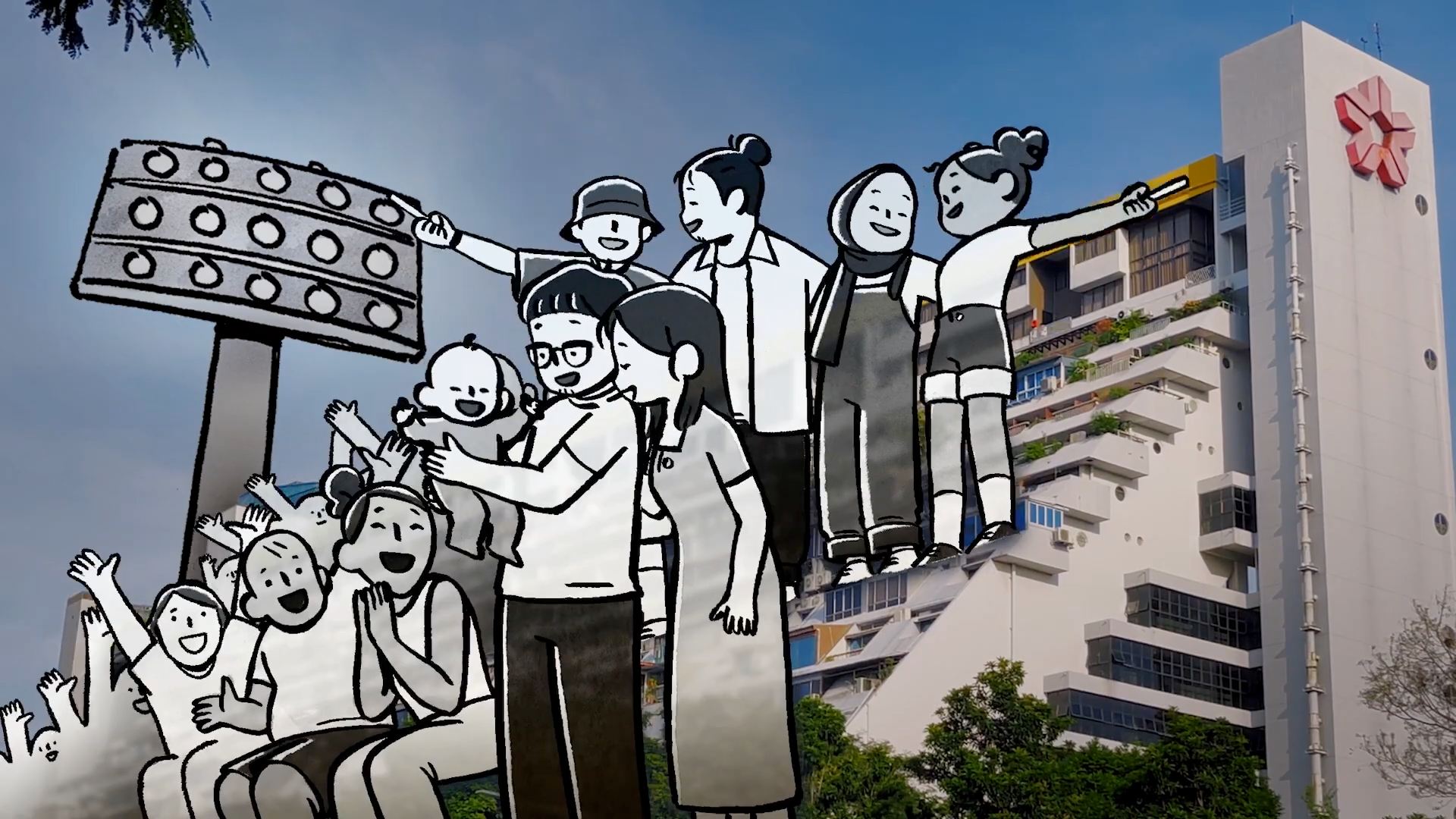 The iconic building is featured in the music video of this year's NDP theme song, "The Road Ahead" - this is the first time an NDP theme song music video has combined live action with animation.
---
2. Bras Basah Complex
Where ah? 231 Bain St, Singapore 180231
Completed in 1979, Bras Basah Complex was known as书城 ("shu cheng", Mandarin for "City of Books") and famed for its numerous bookstores. The complex, which still serves as a one-stop centre for educational books and art materials, is also known as 百胜楼 ("bai sheng lou", Mandarin for "building of a hundred victories").
"Bras Basah", on the other hand, comes from "beras basah" ("wet rice" in Malay) - a reference to a time when rice would be unloaded on the banks of Sungei Brass Bassa (which is now called Stamford Canal); the rice would often get wet because of the rising tides.
Fun fact: Bras Basah Complex was also a popular venue for Singapore xinyao singers to launch and promote their albums in the 1980s.
---
3. Queensway Shopping Centre
Where ah? 1 Queensway, Singapore 149053
Built in 1974, this is one of Singapore's first multi-purpose shopping complexes alongside Golden Mile and Katong. A mention of the name "Queensway Shopping Centre" and rows of sports equipment shops immediately come to mind.
Today, the shopping centre continues to be a favourite haunt for students, families and bargain hunters all over Singapore searching for sporting goods, engravers, photocopiers and men's tailor shops.
Fun fact: Singapore's first public escalators were also installed in this shopping centre.
---
4. Far East Shopping Centre
Where ah? 545 Orchard Rd, Singapore 238882
Far East has been nestled in the heart of Orchard since 1974 and, at the time, the shopping centre held the record for being the mall with the greatest number of escalators in both Singapore and Malaysia.
And this place really like rojak (in a good way!): Retailers sell everything from precious stones to golf kits and equipment, electronics, and both formal and informal clothing.
A wide array of services can also be found here, including travel agents, moneychangers, tattoo studios and beauty parlours.
---
5. People's Park Complex
Where ah? 1 Park Rd, Singapore 059108
Completed in 1973, this place held the title of Singapore's largest shopping complex in the 1970s. Its location in the shopping and commercial district of Chinatown made it a popular venue for public events, exhibitions, fund-raising shows and trade fairs.
The open-air area enclosed by the complex and the adjacent buildings such as Pearl's Hill Market, Majestic Theatre and OG Building often played host to street vendors, performers, and fun fairs even up till today.
The "residential rooftop" is a famous IG-worthy spot as well, and has been featured in more than a few music videos: at the end of a poignant version of Dick Lee's "Home", and throughout a video of DJ-producer MYRNE performing his latest EP "Wandering" (both featured above).
---
6. Peninsula Plaza
Where ah? 111 North Bridge Rd, Singapore 179098
In 1979, Peninsula Plaza became the first building in Singapore to feature outdoor escalators and car lifts. It was built at a hefty cost of $110 million .
In the early 1990s, Peninsula Plaza turned into a popular gathering spot for the local Myanmar community and became known as "Little Myanmar". One could find traditional clothing, Myanmar Lager beer, and even a Burmese-language library in the building.
Peninsula Plaza even served as a space for the Myanmar community to congregate and organise relief operations and raise funds in the aftermath of 2008's devastating Cyclone Nargis.
---
7. Thomson Plaza
Where ah? 301 Upper Thomson Rd, Singapore 574408
One of Singapore's oldest shopping malls opened in 1979, Thomson Plaza has been home to the first Swensen's in the country.
It was also popular due to Yaohan, the first Japanese supermarket chain to open in Singapore.
Pedestrian ramps that cut across the centre of the building and link the different levels make it easy for people with disabilities to go from floor to floor. Obstructions are minimised, and doors have been designed to be wheelchair accessible and fitted with lever handles (which can be pushed, instead of knobs that need to be turned).
For the latest updates on Wonderwall.sg, be sure to follow us on TikTok, Telegram, Instagram, and Facebook. If you have a story idea for us, email us at [email protected].