"Best Brands In Singapore" List Reveals Some Uniquely Singaporean Traits
Earlier this week, YouGov published the results of a survey on the Best Brands of 2020. Said results were... enlightening, to say the least.
What we glean from this survey: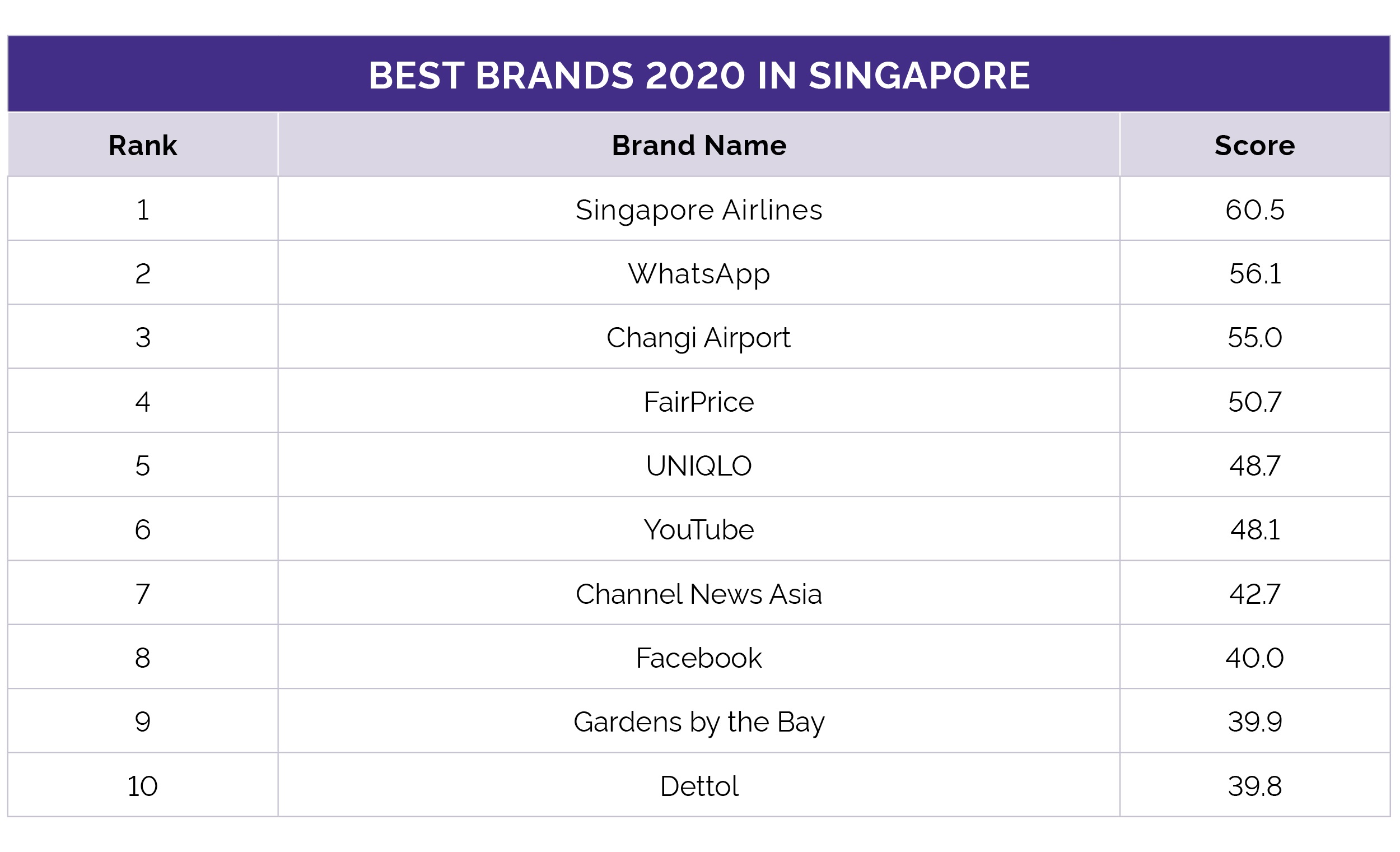 1. Singaporeans love the idea of getting off this small island
You'd think that COVID-19 travel restrictions would spell bad news for travel-related brands. However, against all logic, Singapore Airlines was rated the top brand this year, with Changi Airport coming in 3rd place.
Looks like Singaporeans' wanderlust is too strong to be defeated by the pandemic. Can't travel? Time to have meals in a plane restaurant (to pretend you're flying, minus the turbulence?), visit Singapore's offshore islands, "travel" by binge-reading IG posts/binge-watching Youtube videos, or simply spend hours and hours shopping and dining at Changi Airport and Jewel Changi (just tell yourself you're waiting for a flight... that will take off in about a year's time).
2. Singaporeans die die must send texts, links, stickers, gifs, memes, etc
Ah yes, Whatsapp. Aka Singaporeans' favourite platform for forwarding everything and anything from COVID memes to "Stay healthy" stickers, handwashing gifs and, of course, forwarded message chains about COVID updates (often of dubious accuracy). It's no wonder Whatsapp is 2nd on this year's Best Brands list.
On that note: PLEASE STOP SPREADING FAKE NEWS. (You can keep sharing cute mask stickers though, those are awesome).
3. Deep down inside, Singaporeans are all aunties and uncles
For the first time ever, Fairprice made it to the Best Brands list – in 4th place, no less.
Take a wild guess as to what prompted that. Yes, we're looking at YOU, toilet paper/instant noodles/rice/canned food panic buyers and hoarders.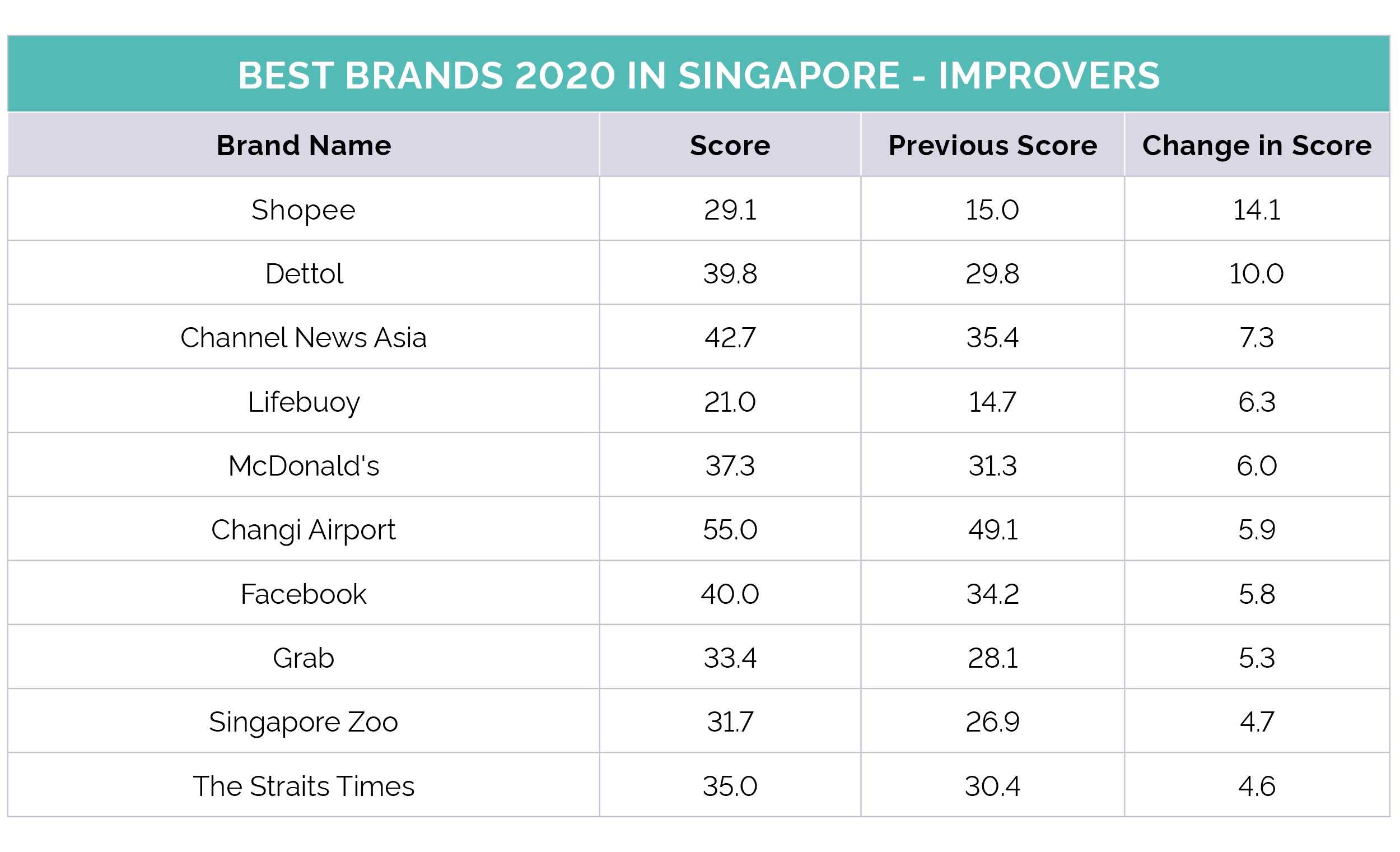 4. Pandemic or not, Singaporeans are shopaholics at heart
WFH? Can't go out much due to social distancing restrictions? Don't care, must still buy new clothes! How else are we supposed to look our best during Zoom meetings?
Where to buy clothes? Uniqlo has been a popular choice this year, clocking in at 5th place on the list. Not surprising, since Uniqlo has had some rather, ahem, unique designs this year poking fun at our new normal.
Of course, for those of us who really follow social distancing restrictions (or, more likely, don't want to deal with crowds), there's also Shopee.
While Shopee isn't one of the top 10 on the Best Brands list, it scored 1st place when it comes to improvement in performance compared to last year. After all, shopaholics + online platform + delivery = INSTANT WIN.
5. Dettol. In 10th place. Really??
Surprisingly, Dettol only made it to 10th place on this list, trailing behind other brands like YouTube, Channel News Asia, Facebook and Gardens by the Bay.
Granted, in terms of improvement from last year, Dettol experienced the second highest rate of brand improvement, just behind Shopee, but still. You'd think that a brand specialising in hand sanitiser and SOAP would be doing better amidst the ongoing pandemic.
For the latest updates on Wonderwall.sg, be sure to follow us on TikTok, Telegram, Instagram, and Facebook. If you have a story idea for us, email us at [email protected].