Causing A Commotion: The Best (And Weirdest) Songs About COVID-19
With COVID-19 sweeping the globe and disrupting our daily lives, it's easy to feel down these days.
But artistes everywhere are not letting the virus stunt their musical creativity. In fact, a recent number of coronavirus-themed songs have gone on to become viral sensations. In the same way the virus does not discriminate whom it infects, so too does how music impact its listeners, whether they understand the language or not. Indeed, some of these tunes have been positively infectious (pun intended).
From songs about showing solidarity towards healthcare workers, ditties on personal hygiene, to even unexpected club bangers, we've rounded up the very best (and weirdest) songs about COVID-19 that have been released in SIngapore and around the world so far.
The Unexpected Hit: Jealous Coronavirus by Vietnamese Health Department (Vietnam)
Popularized by John Oliver who featured it—and, more memorably, danced to it—on this week's coronavirus-focused edition of Last Week Tonight, the recent PSA from the Vietnamese Health Department has turned coronavirus caution into an earworm so catchy that you will be washing your hands AND tapping your feet at the same time. Seriously, just listen to it. "Jealous Coronavirus" is our favourite out of all the virus-related songs, having best turned the outbreak into the foundation for a certifiable bop.
Down With The Cool Kids: Coro-NAH by Rojak 'N Rojak (Singapore)
On the homefront, the coolest song award most definitely goes to "Coro-NAH" by Rock 'N Rojak. This youthful quintet delivers killer bars over a hypnotic trap beat as a salute to medical workers here in Singapore. Since it's release on 24 February, it has garnered more than 15,000 views on YouTube!
We can't keep our eyes off of their African-Singaporean member Alvin, especially. The dude's so fresh and earnest, you might as well call him our Fresh Prince of Bel-Air... or Bedok, rather. Check out our recent interview with the group here.
Can Challenge We Are The World: Believe Love Will Triumph by Various Artistes (China)
With a celebrity roll call boasting the likes of Jackie Chan, Wang Leehom, Xiao Zhan and Tong Liya, this star-studded anthem released by the Chinese state media is the most ambitious crossover since Avengers: Endgame.
It has poignant lyrics such as, "For you, I fight with my life even in the face of a rainfall of bullets. Through the door of life and death, I promise not to leave. The hardest thing is to let it go. I will stay calm for you. Pull yourself together during many dark nights. Never let life stop. We firmly believe with love we will triumph."
It's a beautiful tribute to the country's healthcare workers and is aimed at lifting spirits through difficult times. While it is relatively short at under two minutes, the song certainly hits home and is a good rallying call to get behind.
The Emo Ballad: Stay With You by JJ Lin & Stefanie Sun (Singapore)
"No matter the challenge, love always prevails." *sheds a single tear* We challenge you to sit through this tearjerker without pulling out the tissue box. And no, not because "Stay With You" by JJ Lin and Stefanie Sun is about healthcare workers battling the virus. Backed by piano and a lush string arrangement, the Mandopop duo have produced an emotional song that tugs at your heartstrings. Now, go offer your seat to the next nurse you see taking public transport with you.
Time To Wave Your Lighters In The Air: Empty Streets Of Wuhan by Guru Rewben Mashangva (India)
This tune is quite the gem. The last thing we expected was to discover a song written by a folk legend from Manipur, India and have it resonate so strongly with us, but here we are. Guru Rewben Mashangva may not be a household name, but he is famous in his region for the many traditional songs he has composed for the Naga tribe where he hails from.
His voice has been compared to Bob Dylan, Bob Marley and Bruce Springsteen and while that is certainly high praise, we dare say it's well-deserved. Now, close your eyes and raise your lighters in the air as you blast this wistful tune as he implores Wuhan's residents to "stay strong, be strong Wuhan".
The Rock Anthem: Virus Corona by Gamelan Faiz Rock (Indonesia)
Rockers are also getting in on the anti-COVID19 movement. In Indonesia, hard rock band Gamelan Faiz Rock (the name is pretty self-explanatory) combine aggresive guitar chords, thumping drums and wailing vocals with traditional Indonesian instruments to denounce the virus.
Rock has always been about challenging the establishment and rising up against authority. Now, this genre of music is going to help defeat COVID-19. So throw your devil horn hand poses in the air as you head bang to this track, because "ROCK NEVER DIES!"
The Power Hit Song: Singapore, Unite As One by Jacob Neo (Singapore)
From scary long-haired rockers, to cutesy teenybopper. Back in Singapore, we might have just found our very own Justin Bieber, more specifically, the innocent, good boy version. Talented 12-year-old Jacob Neo from Fairfield Methodist Primary wrote the music and lyrics for 'Singapore, Unite As One' in just two days to rally Singaporeans in the fight against the COVID-19 outbreak.
Not only is the song simple and powerful, it's inspirational and fills your heart with hope as well. Isn't that what we all need right now? Great job, Jacob! Check out our feature on the track here.
Sung So Seriously, Yet Somehow Funny: Fight the Virus by Alvin Oon (Singapore)
We have no idea how Alvin Oon managed to pull this off. But his remake of the Simon & Garfunkel classic "Sound Of Silence" sounds so sincere yet hilarious at the same time. Filled with helpful information on how to maintain your personal hygiene and learning from 'the memory of SARS', "Fight The Virus" is charming as charming can be. The problem is, we can't really tell if that was intentional or not.
The Party Banger: CORONA VIRUS by Yofrangel (Dominican Republic)
Nothing screams safeguarding public hygiene than getting on a crowded dancefloor and shaking what your mama gave you. But Dominican Republic artiste Yofrangel decided that the best way to battle the virus is to get jiggy with it. The beat, we admit, is so mightily infectious, you might as well put a face mask on. However, the less said about the intro of the song where the singer lets out a dry heaving cough, the better.
The Social Media Meme: It's Corona Time by Freestyle Remix (TikTok)
How does this generation battle adversity and come together in the face of an escalating pandemic? Well, by making memes of course.
"It's Corona Time" is the latest viral sensation to hit TikTok. For any boomers out there reading this (and if you don't know what the term means, you're most likely one of them), TikTok is the cool new app used to create short lip-sync, comedy, and talent videos.
By repurposing an old dance electronic tune from the 1980's (the irony), youngsters everywhere are proving that they don't take anything seriously. Now, let me pull out my shades and chill because... "It's Corona Time!"
The 'WTF Was That?': Ivan Urgant & Elena Malysheva (Russia)
Things get positively weirder in Russia though. A pair of television hosts from the country's late night talk show debuted a new song aimed at preventing the coronavirus from coming to Russia, and it's the most bizzare and unsettling thing you will ever see during this outbreak.
The song is part late-80's lounge music, part patriotic propaganda. If we carried the virus, we would certainly think twice about crossing the border into the country for fear of getting thrown into prison with this song blaring in your ears as a torture tactic. If the performance doesn't leave you confused, the screenshot below of a man dressed as COVID-19 dancing around the pianist will.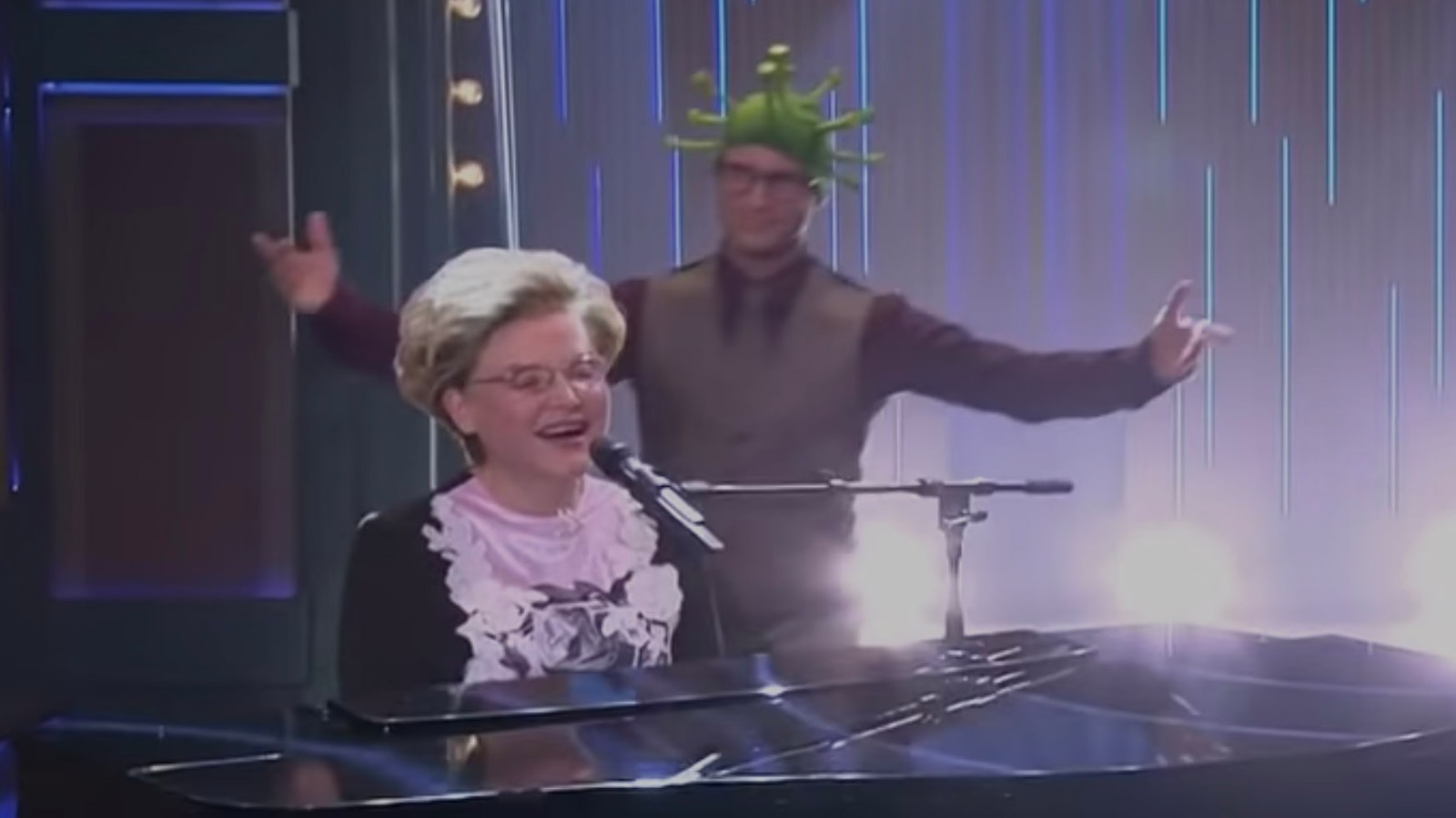 For the latest updates on Wonderwall.sg, be sure to follow us on TikTok, Telegram, Instagram, and Facebook. If you have a story idea for us, email us at [email protected].