This Game Lets You Save Ugly Food, Protect The Planet And Win Wild Prizes
At Wonderwall.sg, we love wildlife and the environment. We are big video game fans too. These three things aren't something you usually put together, but this cool initiative by Mandai Wildlife Group aims to use gaming to teach us about how our food choices can affect our planet.
In the Choose Good Game Challenge, you select your favourite animal and go on an adventure to save "ugly" food (which doesn't meet market standards in terms of its appearance; who knew food could be subject to such judgement!), as well as collect sustainably sourced food and plant-based food.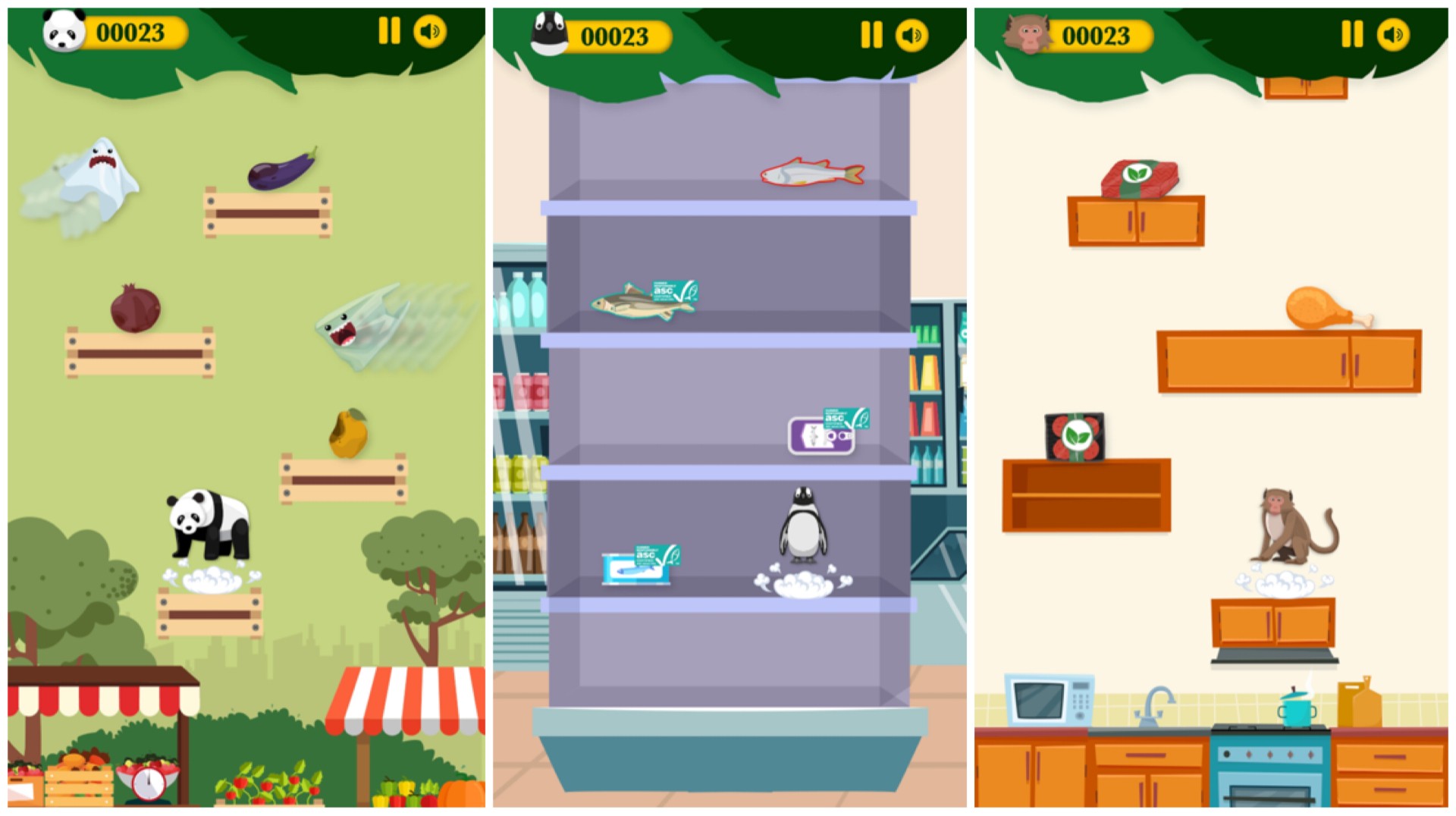 How to play
It is very simple. All you need to do is tap left or right to navigate your character, which jumps automatically. At the same time, you need to collect different items while avoiding various obstacles, depending on the level you're in:
Stage 1: Food wastage; save ugly food and reduce food waste. Collect the ugly food and avoid the trash.
Stage 2: Sustainable seafood; protect the oceans and marine life. Collect the sustainable seafood and dodge the unsustainably sourced fish.
Stage 3: Plant-based diets; reduce your carbon footprint by choosing plant-based foods. Collect the plant-based foods and dodge the meat dishes.
You will need to hit the minimum score in Stages 1 and 2 to progress to Stage 3. Aim for a super high score in Stage 3 and top the leaderboard to win attractive prizes, such as a private buggy tour of Singapore Zoo, a unique dining experience with pandas, and more.
The available characters to pick include the Oriental Pied Hornbill, African Penguin, Smooth-coated Otter, Long-tailed Macaque, and the White Rhino. If you share the game with three best buds, you can unlock the Giant Panda.
Click here to play the game (mobile only).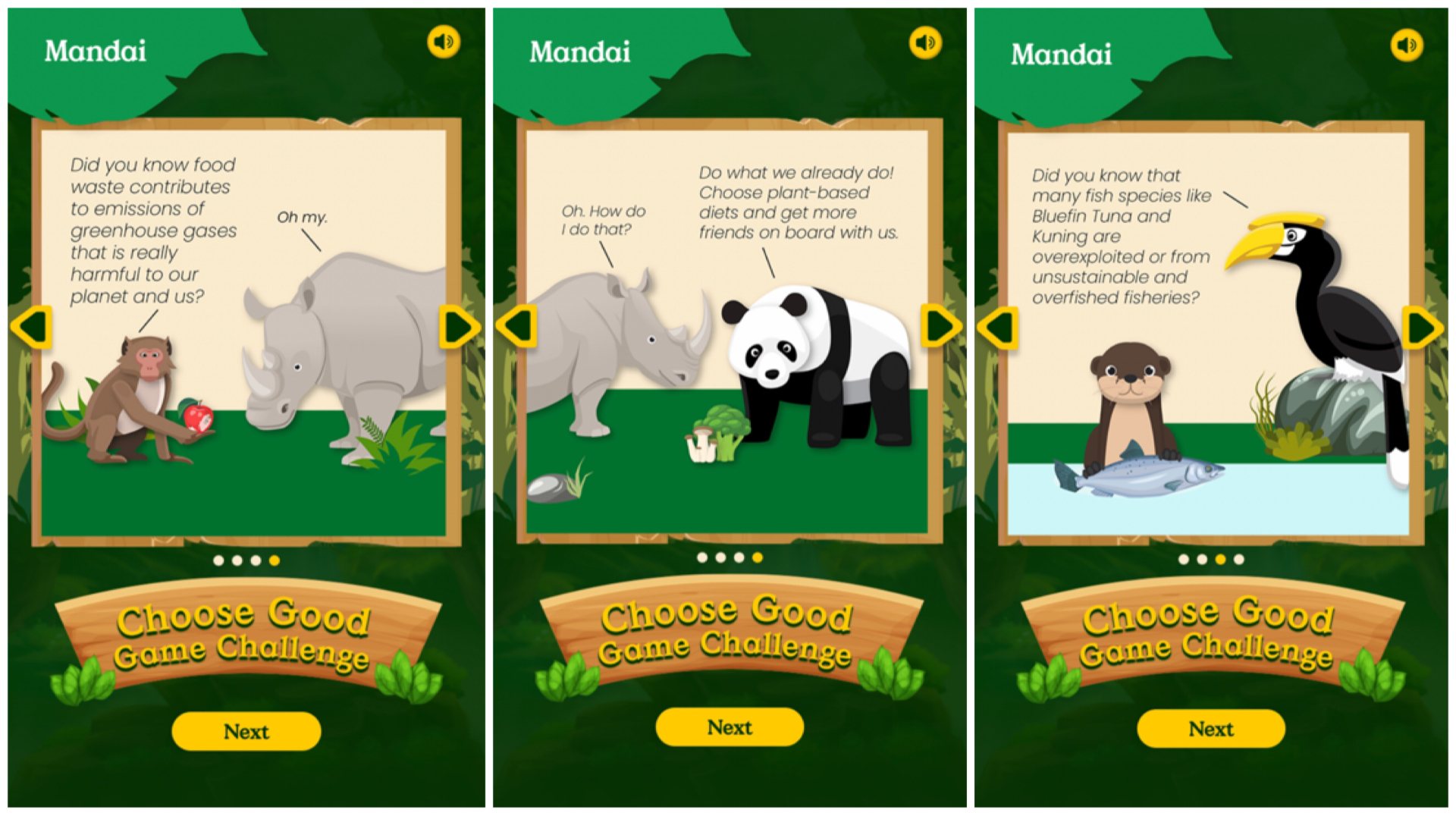 Learn while playing
The game also includes educational comics and fun facts about how our planet is affected by the food choices that we make.
For instance, we found out that cosmetic filtering is the biggest reason why fruits don't make the cut in quality checks. Ugly food is still edible, but usually disposed of. Sadly, 817,000 tonnes of food went to waste in 2021 alone.
We also learnt that seafood packaging with labels like the ASC green tick or the BAP logo indicates that the seafood was caught in a sustainable way that does not harm the ecosystem. Good to know for our next shopping trip.
---
Choose Good With Mandai
The Choose Good Game Challenge is part of "Choose Good With Mandai", a two-part campaign about making conscious choices that help protect the planet. The first part, the Choose Good Food Trail, was a collab between Mandai Wildlife Group and 20 local food establishments to come up with and offer gastronomic creations and grocery bundles inspired by wildlife diets.
Learn more about the Choose Good With Mandai campaign here, and their efforts in wildlife conservation.
For the latest updates on Wonderwall.sg, be sure to follow us on TikTok, Telegram, Instagram, and Facebook. If you have a story idea for us, email us at [email protected].