5 Things You Can't Miss At Gardens By The Bay This CNY
It's that time of the year when everything is red. Wait, not that one. Come 27 January, Gardens By The Bay kickstarts it's Chinese New Year programme.
The programme is split into "Dahlia Dreams" and "Spring Surprise" and features everything from fire-breathing dragons to 7-metre tall archways.

"Dahlia Dreams" boasts floral displays and horticultural works, with festive flowers such as (surprise!) Dahlias, Azaleas (not Iggy) and Pussy Willows (not Sam).

"Spring Surprise" promises fiery performances, colours and dragons. No, it's not Disney.
So, if you and your (hordes of) relatives are visiting Gardens By The Bay this Chinese New Year, here are some things you guys must not miss.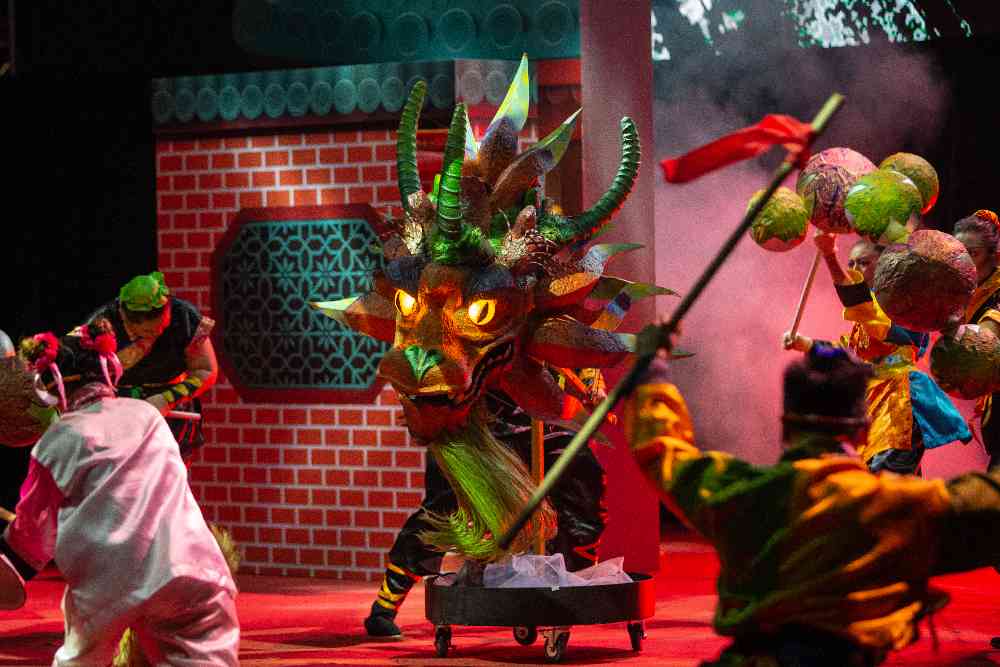 IMAGE: GARDENS BY THE BAY
1. The Story of Nian (年兽的传说) | Spring Surprise | Supertree Grove

We have all heard of the story. Unless you're not Chinese (cough Grab cough), then not all of us have.
The performance, produced by Dick Lee Asia and under Dick (not Richard) Lee's creative direction of Dick Lee also features puppets designed by local award-winning puppeteer, Frankie Malachi.
In short, a mythical creature named Nian (not nyan) that constantly preys on a village is eventually scared away when the villagers, with the help of an old man, work together by making loud noises, the colour red and a...chicken?
You're going to have to watch the performance for this part.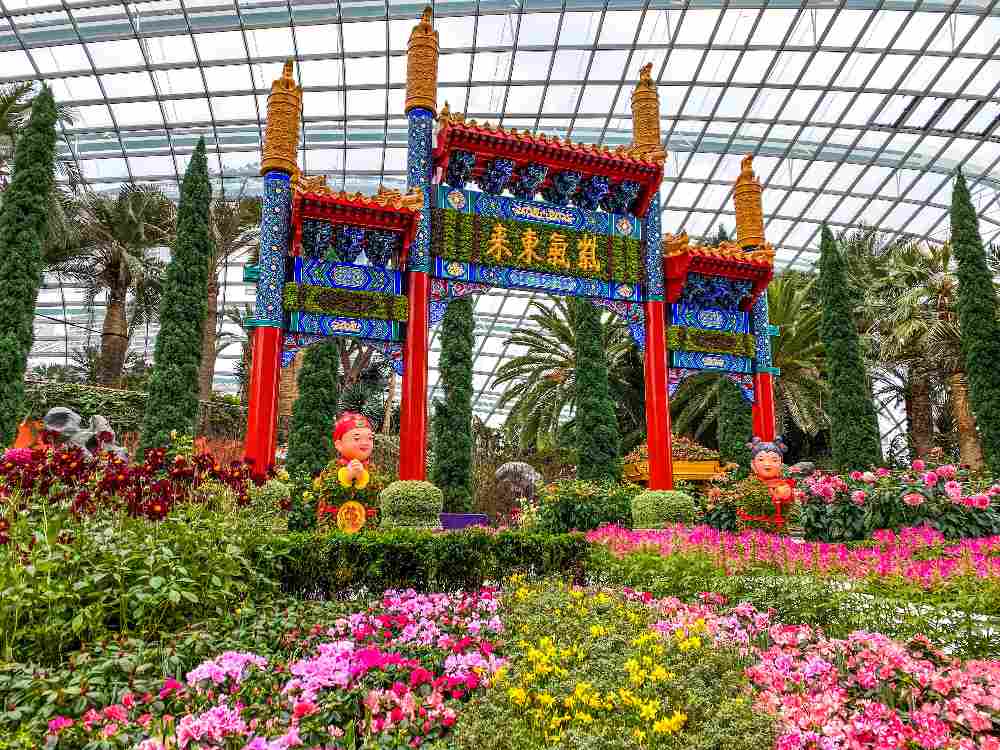 IMAGE: GARDENS BY THE BAY
2. Auspicious Omens (牌楼 "紫气东来") | Dahlia Dreams | Flower Dome

This 7-metre tall archway is the result of a first-time collaboration between Gardens By The Bay and Chinese landscape design company Beijing Florascape Co. Ltd.
If you're wondering what Florascape does, they are the people behind the large-scale floral displays at the 70th anniversary of the People's Republic of China at Tiananmen Square last year and the 2008 Summer Olympics as well.
Interestingly enough, Auspicious Omens is loosely translated from the Mandarin phrase 紫气东来, meaning purple haze from the east. (Purple light, in the valley?)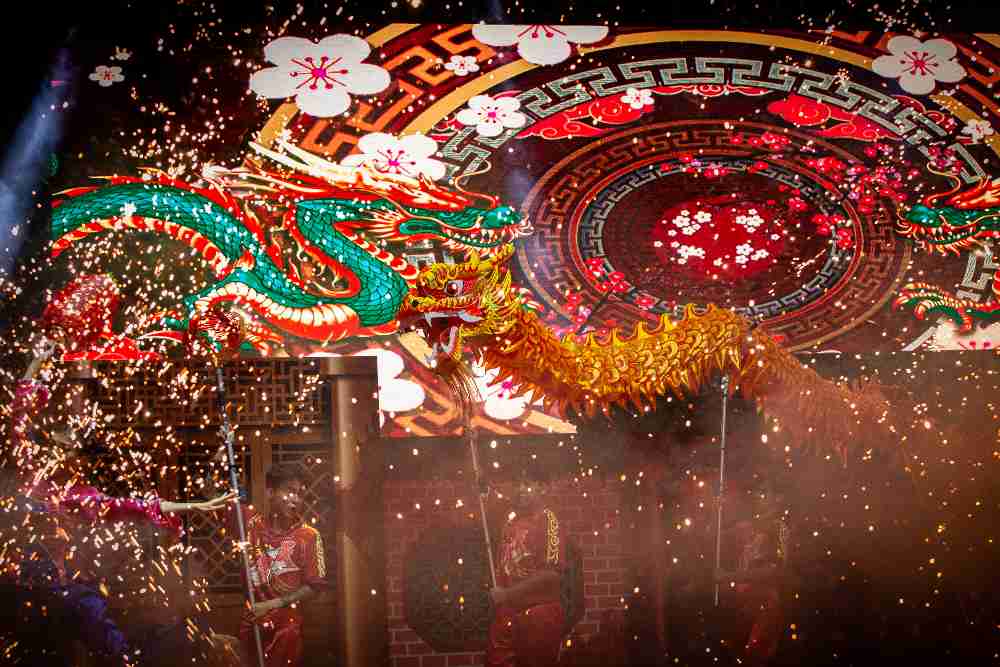 IMAGE: GARDENS BY THE BAY
3. Golden Pyro Dragon Dance (金龙炫舞) | Spring Surprise | Supertree Grove

Another "first" debuts in the form of a pyrotechnic Dragon Dance – a first for Singapore. Yeah, the 14-metre long dragon is a lot more real this time.
Performing the act is local troupe Tian Eng Dragon & Lion Dance Centre, attempting to set the record of "First Pyrotechnic Dragon Dance" in the Singapore Book of Records. (Yes, it's a thing!)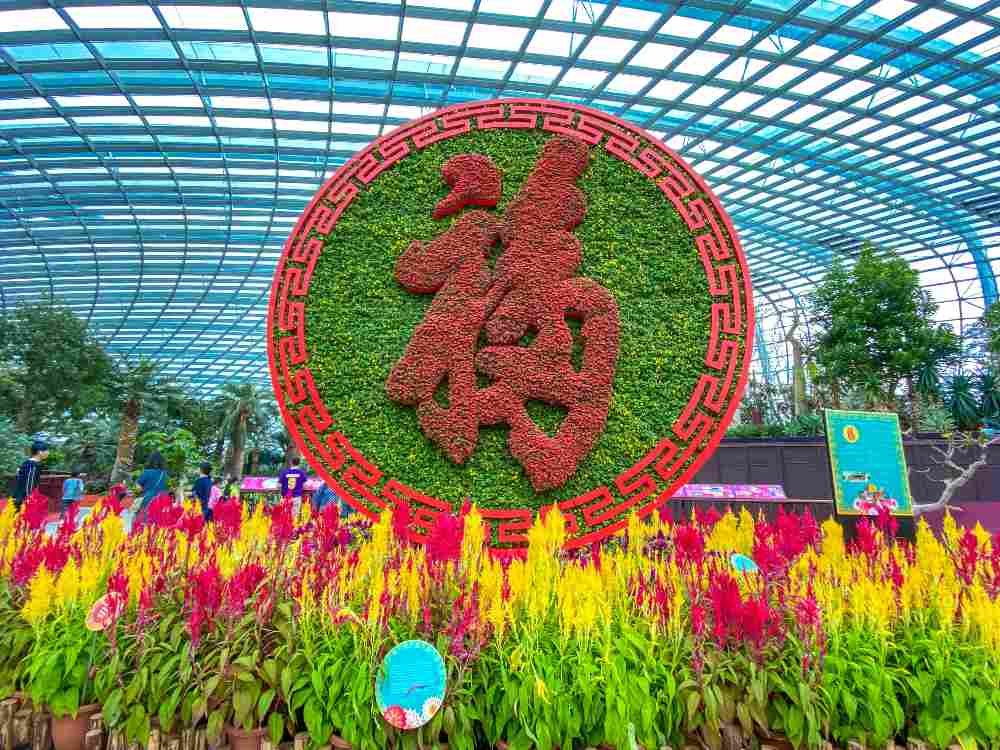 IMAGE: GARDENS BY THE BAY
4. The World's Best Blessing (天下第一福) | Dahlia Dreams | Flower Dome

If the 7-metre archway is too tall for you, this 5 metre tall medallion that greets you at the Flower Dome entrance should help ease you in.
The whole 5 metres of mosaiculture includes the platform too, so try not to get your hopes up too high.
It displays the Chinese character Fu (福, meaning blessing), taking after Emperor Kangxi's handwriting.
It also contains glyphs of of several Chinese characters including Zi (子, descendants), Cai (才, talent), Tian (田, land), Fu (福, blessing) and Shou (寿, meaning longevity).
Really, it's just "endless profundity and infinite blessings" packed in one.
I can only hope to get this much luck when unlocking my Call of Duty crates.
IMAGE: GARDENS BY THE BAY
5. Colours of Spring (春之彩) | Spring Surprise | Golden Gardens

If you're just looking to sit back and vibe, then this one's for you.
This display of hand-painted colourful rat lanterns (and their treasures) were put up in collaboration with REACH Community Services.
They say rats have good financial luck. So, if you're broke, maybe take a break from watching Imran and Dominic videos and try this display instead.
For the latest updates on Wonderwall.sg, be sure to follow us on TikTok, Telegram, Instagram, and Facebook. If you have a story idea for us, email us at [email protected].