Is Saving For A Rainy Day Your Financial Priority? Half Of Singaporeans Say Yes
Due to the COVID-19 pandemic and its impact on the global economy, Singaporeans' financial priorities have shifted over the past several months.
According to a YouGov survey published earlier this week, half of Singaporeans (51%) have actively reduced their non-essential expenses (like drinking bubble tea and going cafe hopping) since the outbreak – of course, it helps that overseas travel is an impossibility for more than just financial reasons at the moment.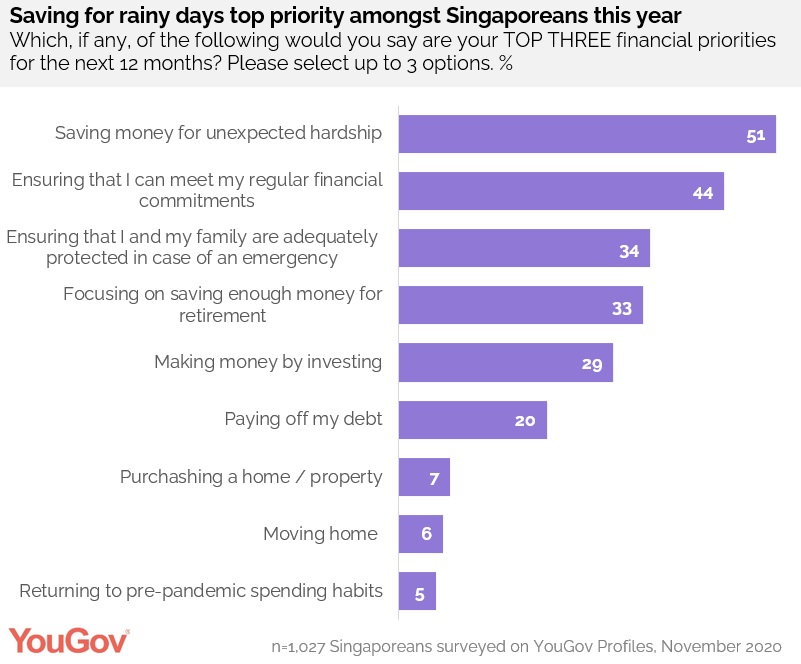 Likewise, when it comes to future financial priorities, 51% of survey respondents cited saving money for unexpected hardship as their top priority, followed by ensuring they could meet regular financial commitments (44%) and ensuring that they and their family would be adequately protected in case of an emergency (34%).
Survey respondents over the age of 55 are twice as likely to prioritise saving money for retirerement compared to those aged 18 to 24 (39% vs 20%, though to be fair, retirement feels like 999 years away for us at this point).
In addition, respondents aged 18 to 24 are twice as likely to prioritise making money through investments than those aged 55 and up (39% vs 22%). After all, how else are we to save up for our future BTO? Naturally, those within the age group of 18 to 24 are also five times more likely to prioritise purchasing assets than those 55 and up (10% vs 2%).
Furthermore, the survey indicates that younger Singaporeans (those aged 18 to 24, again) are three times more likely to prioritise returning to pre-pandemic spending habits than all other surveyed age groups (12% vs 4%). Still, there's little chance of that till the borders open up and we can enjoy our vacations in Bali/Japan/Hong Kong again.
For the latest updates on Wonderwall.sg, be sure to follow us on TikTok, Telegram, Instagram, and Facebook. If you have a story idea for us, email us at [email protected].