The 2020 Wonderwall.sg Wonderful Gadgets Awards (Sorry, No Prizes Hor)
Welcome to the inaugural Wonderwall.sg "Wonderful Gadgets" Awards.
Gadgets have helped us adapt to this crazy new world we live in, and thankfully the tech universe has continued to churn out some amazing gadgets throughout the year. We've looked through the crème de la crème this year and handpicked the following gadgets as the true winner of their respective categories.

Wonderwall.sg "Most Wonderful Sound for WFH" Award
Goes to: Sony WH-1000XM4
Noisy neighbours or plenty of distractions when you're WFH? You need the best pair of noise-cancelling headphones to drown them all out – the Sony WH-1000XM4. Not only is the noise cancelling feature superb, this pair boasts premium sound quality so you won't need to go "Har? What you say?" during your next Zoom call with the colleagues.
It also connects to two devices at once, so you can pick up a call on your phone while jamming to music from the computer. Don't have the privilege of WFH? It's also the perfect distraction-free pair of headphones to listen to your favourite beats while taking the MRT to work. Just don't miss your stop.
Headphones too big lah, I prefer earbuds: The best noise-cancelling earbuds you can buy now are the Bose QuietComfort Earbuds, with 10 levels of noise cancelling to make any external din fade away. Or check out these other wireless earbuds we highly recommend! Don't say good things we never share.
Wonderwall.sg "Most Wonderful TV For Netflix Nights" Award
Goes to: Prism+ Q Series
I don't know about you, but I think I've watched the most TV in my life this entire year compared to the last few years combined. If you're, ahem, picky like me, then you need the best viewing experience – a 4K TV with zero bezels and smart TV capability. These would usually cost you over a thousand dollars but the Prism+ Q series ticks all those boxes from $699 onwards.
This proudly #MadeinSG TV offers ultra-crisp sharp visuals to watch all your favourite Netflix shows. Plus, it's a certified Android TV product with in-built Chromecast and Google Voice Assistant, the latter perfect when you can't find the TV remote. Just tell it what you want to watch and your wish is its command.
If you've watched everything on Netflix already, maybe it's time to check out Disney+, Amazon Prime, or some of these other streaming platforms have new shows you can binge on.
Wonderwall.sg "Most Wonderful Smart Home Thing" Award
Goes to: Google Nest Audio
All the extra time you're going to be spending at home this coming year is perfect for turning your entire house into a smart home. But first, you'll need the Google Nest Audio ($139) to control all your smart devices. The best part about the Google Nest Audio is that it's been tuned for playing music, with louder sounds and stronger bass compared to the ol' Google Home. Pair it with another Google Nest Audio for a stereo experience listening to your Spotify playlists.
Of course, the most important use of the Google Nest Audio is to control all your smart home devices – such as your lights and TV, using only your voice: a big plus to empower the disabled to be more independent around the house.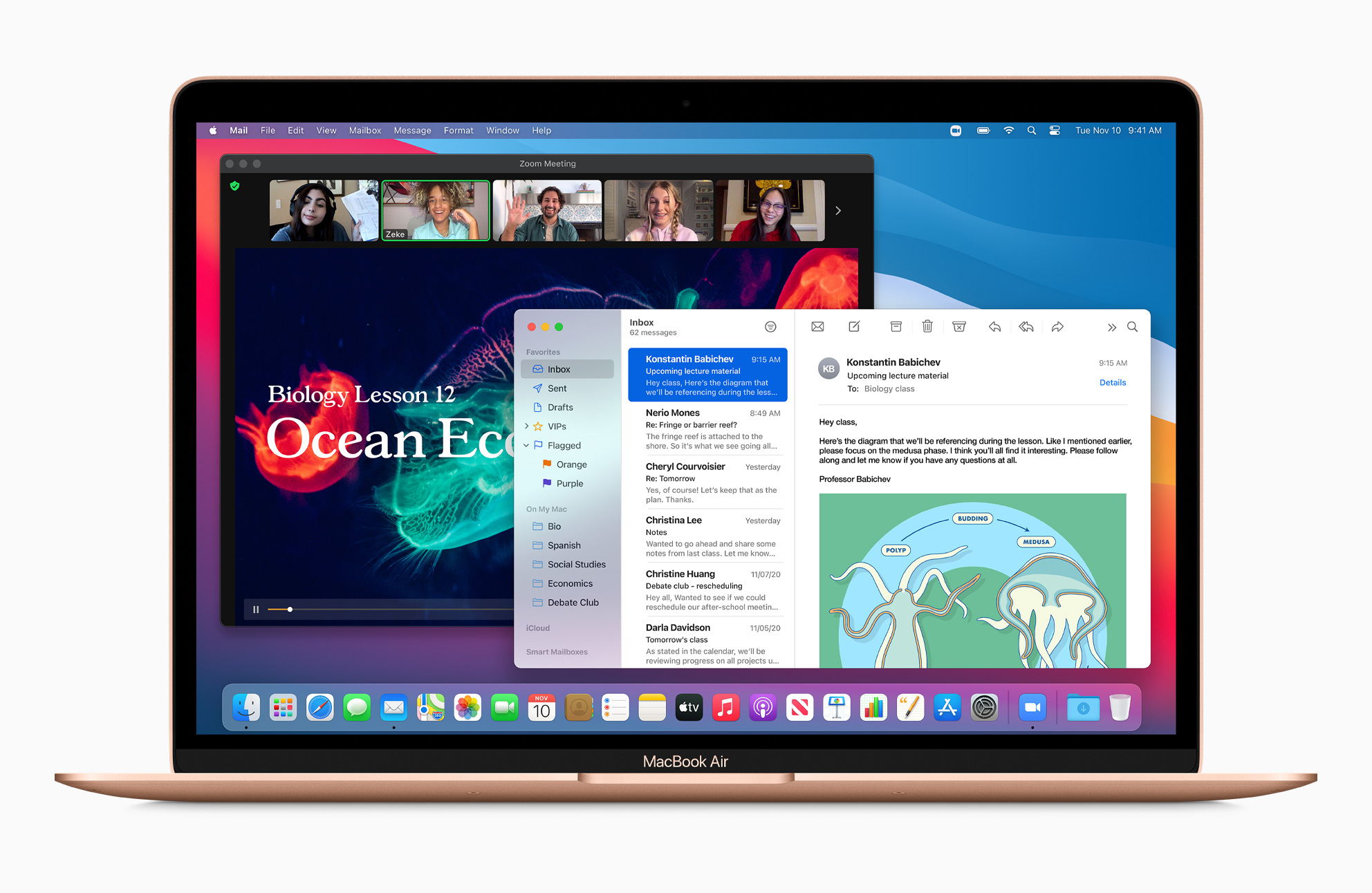 Wonderwall.sg "Most Wonderful Laptop to WFH With" Award
Goes to: Apple MacBook Air (late-2020, M1 processor addition)
Apple MacBook computers have always been the cream of the crop, until a less than stellar keyboard and buggy screen issues plagued the line over the last few years. This year, though, their refreshed MacBook Air (from $1,449) comes with a scissor-switch keyboard that's a billion times better, a better webcam for Zoom office calls, and Apple's very own M1 processor for photo/video editing and decent gaming. If you're focused on the latter two, then the MacBook Pro (from $1,849) is a safer bet.
Sian about WFH? Here're some gadget hacks that can help.

Wonderwall.sg "Most Wonderful Game Console" Award
Goes to: Sony PlayStation 5
You need to plan your gaming space around this massive "air purifier", but no console gamer should be without the Sony PlayStation 5. It's not only the graphics that have levelled up, but also the faster loading time and that new PS5's DualSense controller – with haptic feedback and super subtle vibrations. Just play "Astro's Playroom" that comes bundled free to feel the difference when your character walks on sand, or jumps into water, or pulls an elastic band. Then imagine an AAA game that really takes advantage of this controller. Remember, it's better not to pay scalper prices and wait. There will be enough stock for everyone. Mai kan cheong.

Bonus Wonderwall.sg "Most Wonderful Video Game" Award
Goes to: "Animal Crossing: New Horizons"
Call it good timing, but Animal Crossing: New Horizons for the Nintendo Switch was released at a time when we all craved a temporary escape during the Circuit Breaker. The game is so easy to pick up that my non-gamer bae managed to spend more than 500 hours creating her dream island. Maybe you should pay a visit to your friends' islands before the year ends. Or see if you can please your Asian parents instead?

Wonderwall.sg "Most Wonderful Smartphone To Buy For Your Mum" Award
Goes to: Apple iPhone SE
Asian mums are hard to impress. That's why the best smartphone for your mum has to be affordable, have good build quality and great battery life (for those gossip sessions about your third cousin's brother-in-law's illicit affair) and best of all, should last for years without you buying her another new phone. The iPhone SE (from $649) fulfils all these criteria and comes with the same Apple A13 Bionic chip found in the iPhone 11 Pro.
Apple is also known to support their older products with software updates too, so expect four years or more of iOS updates unlike most Android devices. Now your mum can show-off to the other aunties that you bought a new iPhone for her.
If mum prefers taking selfies and family photos: The Google Pixel 4A ($499) has decent specs but Google's awesome internal image processing means you're getting top quality photos even at night. Stock Android is always a plus too.
Wonderwall.sg "Most Wonderful Standout Smartphone" Award
Goes to: Samsung Galaxy S20 FE
Plenty of great smartphones have hit the market this year. Samsung continues to innovate the smartphone space with their Samsung Galaxy Z Fold2, while Apple has kept steady with not three, but four different iterations of its iPhone 12 to stay best in class for an all-round smartphone.
But what if you want truly the best specs without breaking the bank? Samsung has the perfect gift for Android users and their fans with the Samsung Galaxy S20 FE (Fan Edition). From $1,068, you get everything the original premium Galaxy S20 has like the top-notch AMOLED screen, triple rear cameras; plus the best performance in the Qualcomm Snapdragon 865 chipset that us poor Singaporeans never got in the original S20.
Only two major compromises: the 8MP telephoto camera compared to the 64MP one on the original (but the Ultra Wide and Wide lenses are exactly the same as the Galaxy S20) and the plastic rear body, which still looks quite attractive with additional colour choices.
The Samsung Galaxy S20 FE truly surprised us and is most fitting of our "Most Wonderful Standout Smartphone" Award.
For the latest updates on Wonderwall.sg, be sure to follow us on TikTok, Telegram, Instagram, and Facebook. If you have a story idea for us, email us at [email protected].