Multiplier Account: What Is It And How Does It Make Your Money Grow?
With all that ang pao moolah coming our way this Lunar New Year, there's only one place on most people's minds to store it - a bank account.
After all, who doesn't love having money in the bank? There's nothing more shiok than to see our bank balance go up - it makes us feel just that tad bit baller.
But what if we told you that it's possible to turn up the huat by having your money in the bank actually work for you?
Enter this wonderful thing called a "multiplier account". A bank account that does what it says - multiply your money.
Now, you may be wondering: "Where got such thing one!" We're here to take you through Multiplier Accounts 101.
What is a multiplier account?
A multiplier account is a bank savings account that allows you to earn bonus interest by fulfilling requirements on top of a base interest amount.
Simply put: you stand to earn more money putting your money in a multiplier account compared to a regular bank savings account. Shiok ah!
One notable example is the DBS Multiplier account, arguably the most popular in Singapore. Remember the ads with the multiplying bunnies? Yup, that's the one.
Now, before you scramble to find your piggybank containing your primary school savings - there's a catch to earning that bonus interest. Let us explain.
How does it work?
First, you earn a base amount of interest (usually 0.05% p.a.) for putting any form of money into a multiplier account, which usually matches other regular savings accounts out there in the market.
In order to earn more in the form of bonus interest, you have to fulfil certain requirements relating to the money in the account. This can vary from the source of funds to different types of transactions made using the money in the account. Cha-ching.
These requirements and how it affects the interest earned differs between the different banks' offerings, and we're here to break it all down for you.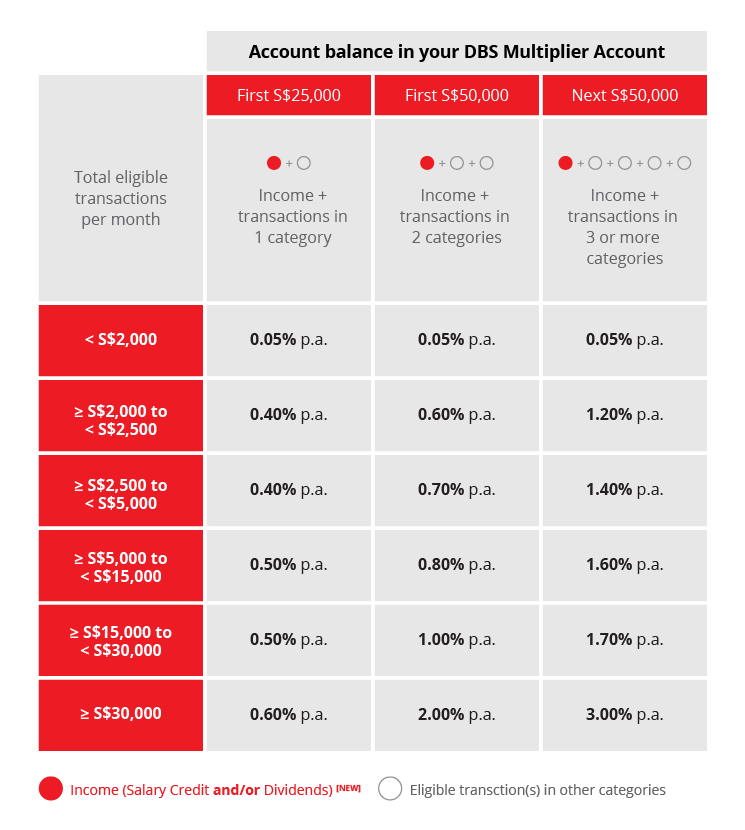 DBS Multiplier Account
What's the deal: Arguably the most popular multiplier account in Singapore, probably because they have ATMs everywhere. The only multiplier account that supports PayLah as a way to earn bonus interest. Those below 29 are in luck as there is no need for mandatory credited salary to earn bonus interest through PayLah retail transactions.
What's the catch: To be eligible for bonus interest, money must be credited in the form of salary or investment dividends. Bonus interest is then earned depending on total transaction value, transaction categories, monthly average balance, and PayLah retail spend.
Who's this for: The lazy ones who can't be bothered to find an ATM that isn't from DBS/POSB, and students/retirees with no regular income source.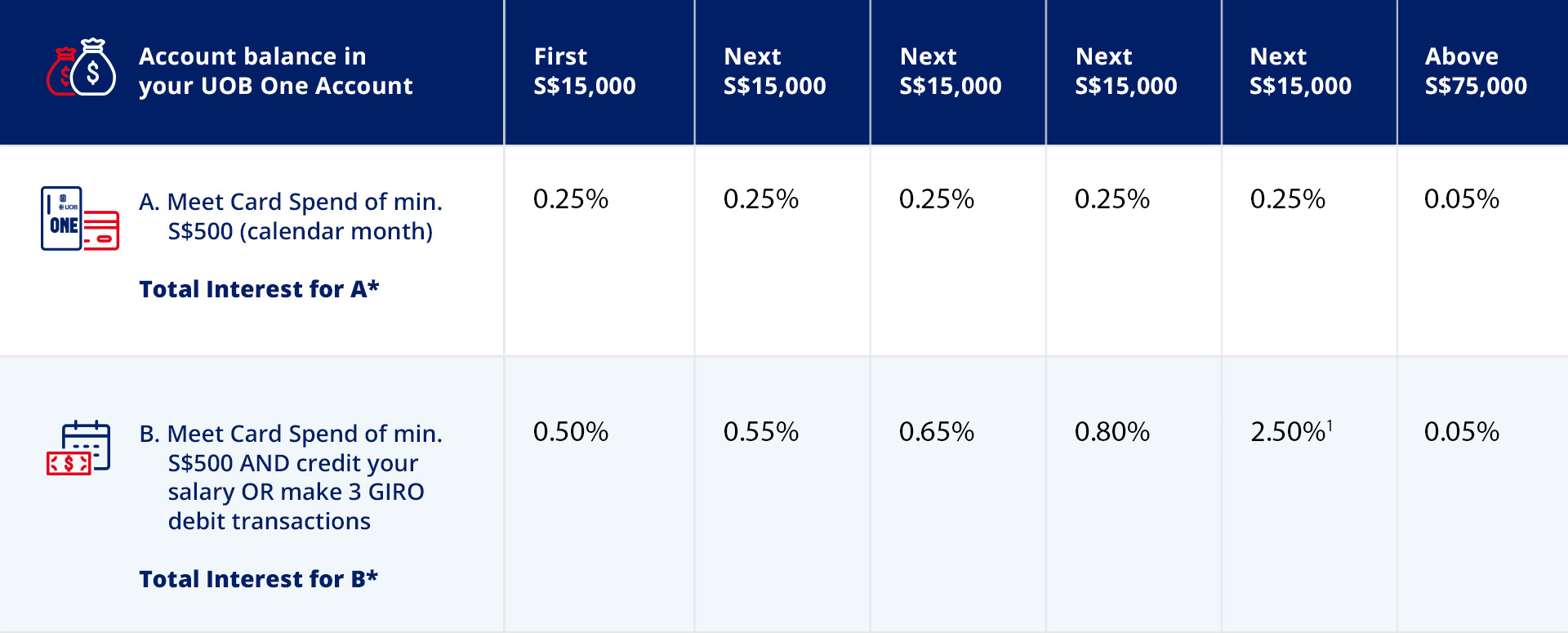 UOB One Account
What's the deal: Much simpler compared to other options. A fuss-free multiplier account option tailor-made for those who don't wish to waste time calculating and racking their brains. Only credit card spend is needed to earn bonus interest.
What's the catch: To earn a bonus interest of 0.25%, at least $500 in UOB credit card spend must be accumulated. Further bonus interest earned is dependent on factors such as salary credit, GIRO bill payments, and account balance.
Who's this for: Those who suck at math, and freelancers/retirees with no regular income source.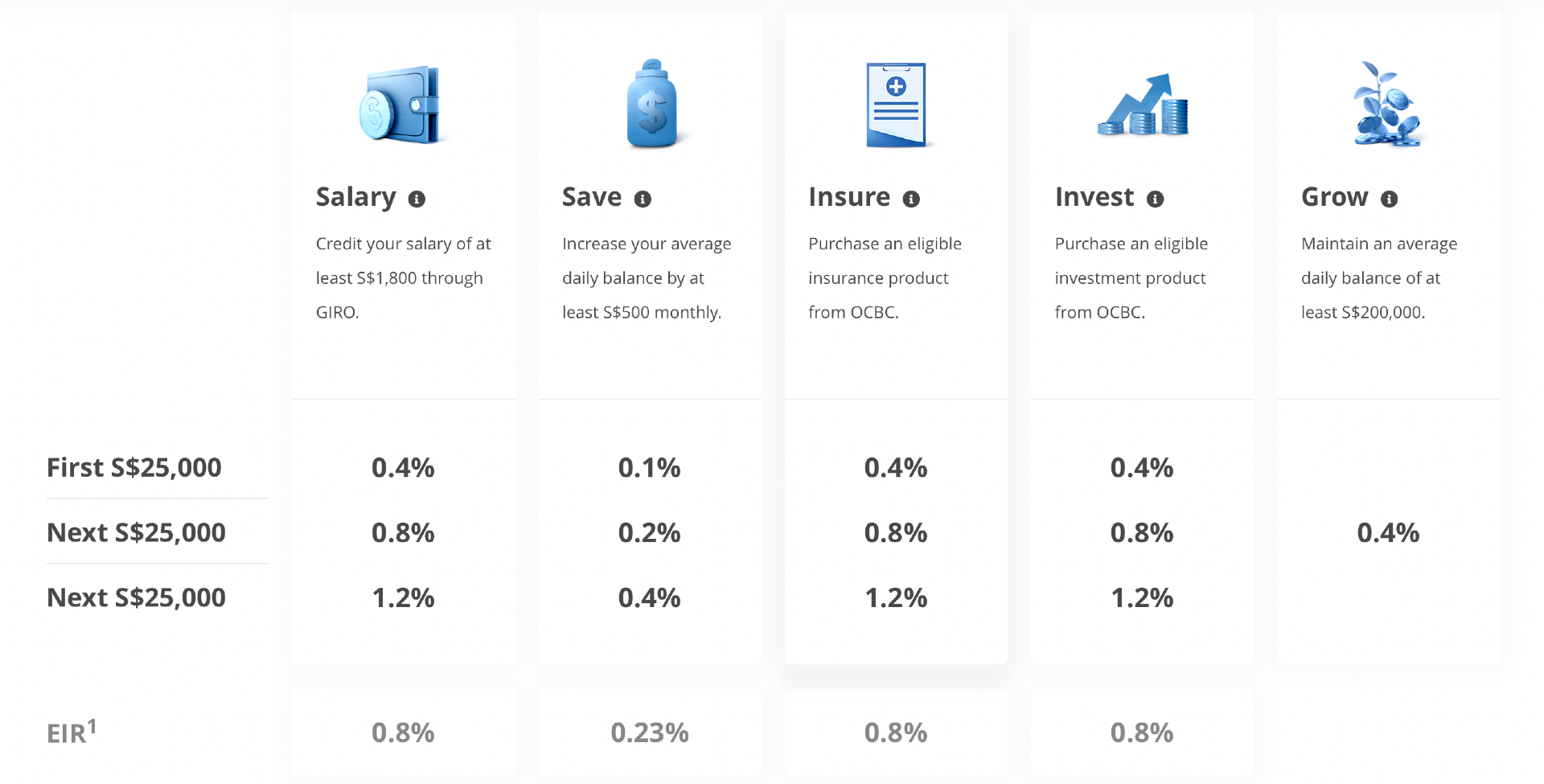 OCBC 360 Account
What's the deal: Can be more complicated than other multiplier accounts, but fewer hoops to jump to earn your bonus interest. Low minimum salary credit required to earn bonus interest. Bonus 0.1% interest every month for every time your bank account increases by $500 or more.

What's the catch: Bonus interest earned is dependent on salary credit, insurance, investments, and adding to your bank balance. No mandatory eligibility requirements.
Who's this for: For the frugal spender who likes to save money for rainy days, and those who earn just enough to meet the minimum $1,800 salary credit.
Find the multiplier account that best suits your financial needs and individual situation. Choose carefully - else you risk your money not multiplying enough!
For the latest updates on Wonderwall.sg, be sure to follow us on TikTok, Telegram, Instagram, and Facebook. If you have a story idea for us, email us at [email protected].