How I Conned My Way (Like The Kims In "Parasite") Through My Ram-Don Project
SPOILERS AHEAD! If you haven't watched "Parasite", you might want to read another article on Wonderwall.sg instead
"Yes, I know what ram-don is," I lied.

And like any responsible person with Imposter Syndrome in 2020, I asked Google. Alas, the search results for "ram-don Singapore" were on websites that generated fake random Singapore telephone numbers for... scammers who sell faulty Hazmat suits made from discarded Ikea bags, I suppose?
As RuPaul would say about me and these websites, category is #fakeittillyoumakeit.
That is also the de facto theme in "Parasite", the Bong Joon-ho movie that won this year's Oscar for Best Picture and that US President Donald Trump summed up as "a movie from South Korea".
A more cheem summary would go something like this: it's a commentary on the contrasting worlds of the rich and the poor in Korea, the have-its vs the have-nots, the low SES vs the high SES, and Carousell Scalpers vs Those Of Us Still Queueing For Masks Outside Watsons at 9am.
In the movie, the basement-dwelling Kim family use connections, lies, Photoshop and peach fuzz to con their way into the privileged lives of the uppity Park family.
But director Bong probably didn't expect that much of the online buzz would come, not from his Oscar and Cannes wins, but from ram-don. This dish has since spawned an entire industry on blog recipes, YouTube eating videos and writing assignments like this one.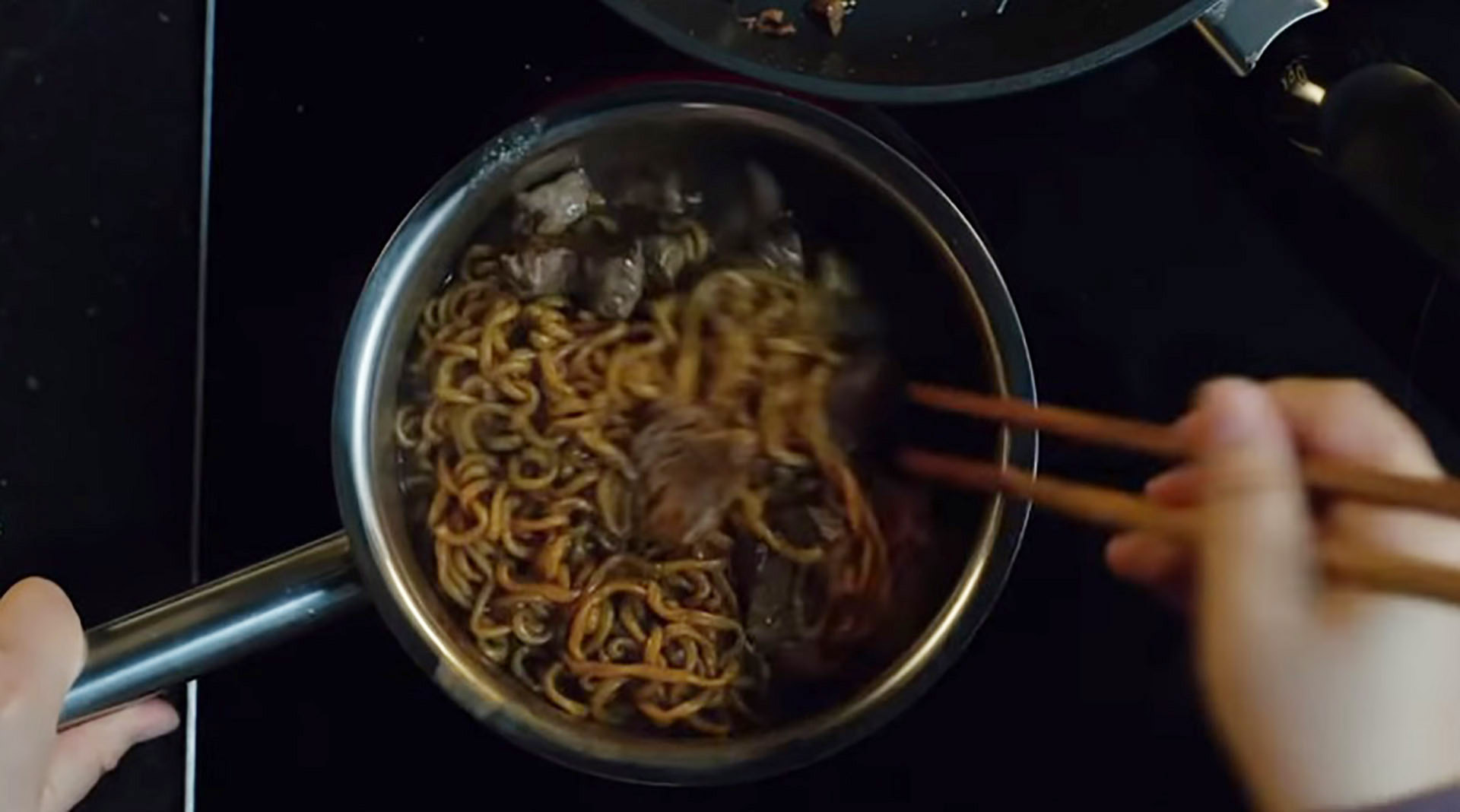 In "Parasite", the rich, languid Mrs Park calls home after an aborted family camping trip and asks her housekeeper Mrs Kim to whip up a pot of warm ram-don in eight minutes.
Problem 1: Thinking that the Parks would be out of town for longer, the Kims had checked into the former's posh residence and made themselves at home ala entitled Airbnb guests.
Problem 2: Mrs Kim is a phoney. She's more of an impoverished housewife – whose idea of a family meal is cheap beer and cheaper snacks – than she is the housekeeper-to-tai tais whom she claims to be. And so she exclaims: "What the hell is ram-don!"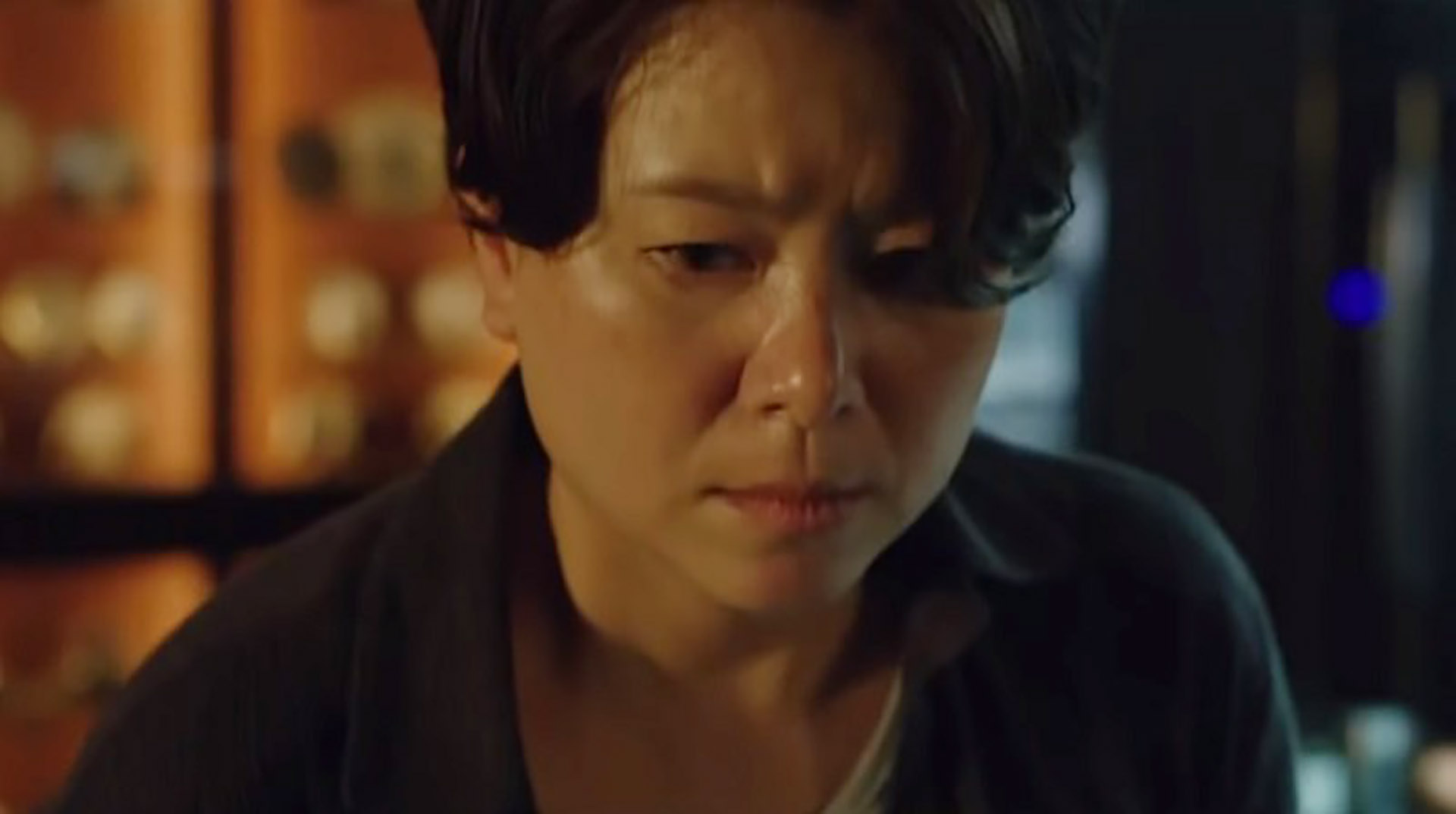 That's exactly what I mouthed too until I did a bit of online sleuthing.
First, don't try ordering ram-don at restaurants. Ram-don is actually jjapaguri, Korean instant noodles, and it didn't exist before Parasite. The movie's translator, Darcy Paquet came up with the term to make subtitling easier, joining the major league of famous people who created famous words. Think Tyra Banks for "smize", Paris Hilton for "amazeballs" and the prata seller at my HDB kopitiam for "Cheesy Delight Bomb Prata".
And because googling things can take up a lot of calories, I got real hungry.
I was going to make my own ram-don.
Problem 1: I don't usually eat instant noodles. Not because I'm atas but because there's a 24-hour real noodle stall in my hood.
Problem 2: I don't usually eat Korean food. Or listen to BTS. Or watch K-dramas. And until recently, I had no idea that Won Bin isn't Hyun Bin.
Hey, but if the Kim siblings can pretend to be a qualified tutor or an art therapist, I can pretend to be a ram-don expert too.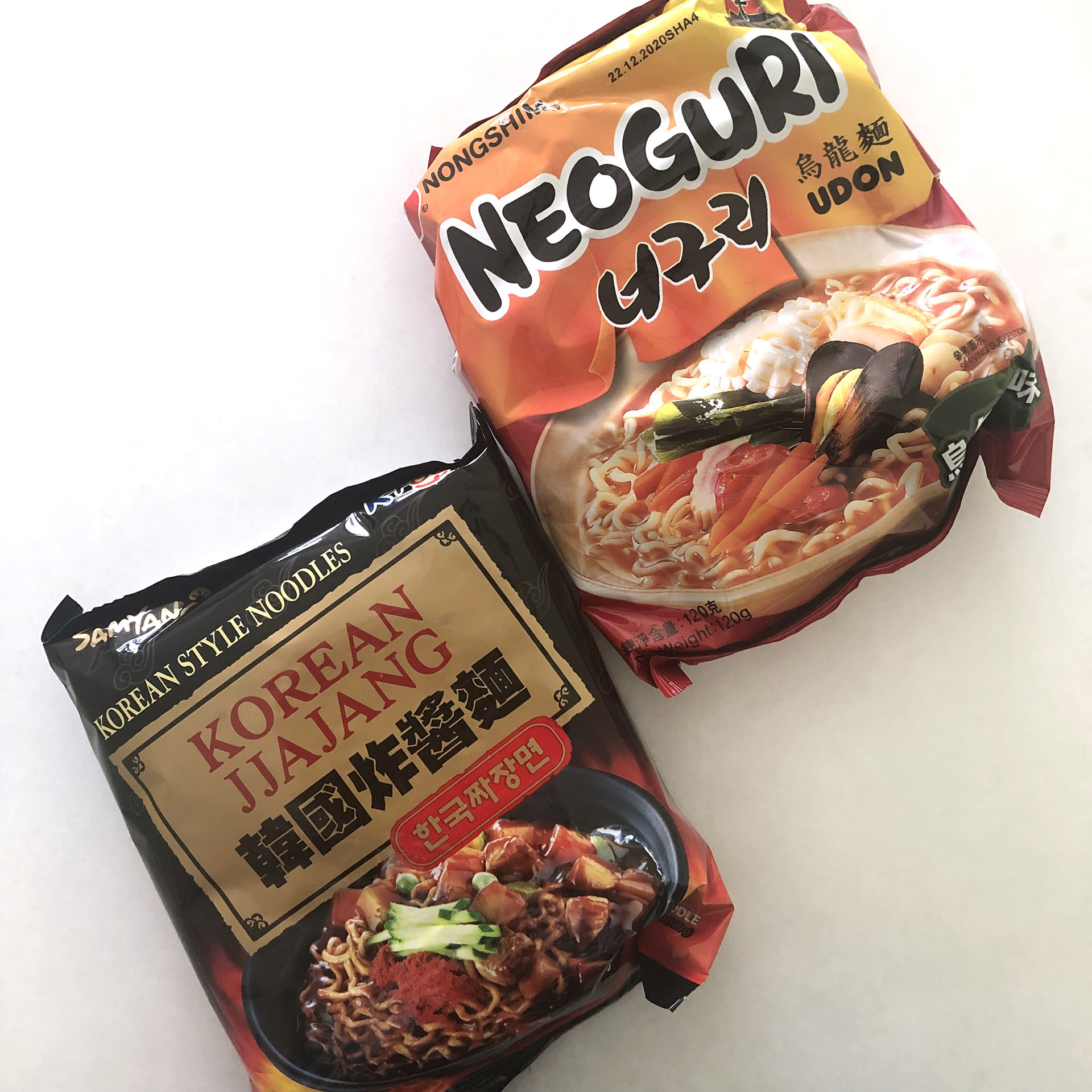 First, you can't use something commonplace like Maggi or Nissin. It has to be a combo of Korean Chapagetti Jjajang Noodles and Neoguri Udon Type Noodles, which is a lot of noodles (they do taste and look alike to me too so I wasn't sure why you had to use both types). And carbs. And calories. I found Neoguri Udon Type Noodles at NTUC but had to settle for a more generically named Korean Jjajang Noodles (pictured above). And just in case you still haven't got the plot by now, ram-don is a portmanteau: cue ramen and udon.
Now, if you read the many recipes online, some tell you to pan-fry the seasoning powders from both noodles, others tell you to make a soup from the udon seasoning and yet some others tell you to pour either seasoning directly onto the cooked noodles.
And since each type of noodles comes with two packets of seasonings, things can get really confusing, especially if you've gone from hungry to hangry.
I dunked both sets of noodles into boiling water, drained them with a sieve, poured all the seasoning contents into a bowl, added some of the boiling water into this, threw in all the cooked noodles, and gave everything a good toss. The Jjajang Noodles seasoning turned the noodles a sooty black and made them smell like a much more fragrant and delish version of Indomie.
More confusion: the Neoguri Udon Type Noodles is meant to be eaten in a spicy soup and has a sachet of soup base powder. So I made an instant soup out of that and left it aside, not knowing what to do with it since I didn't recall a scene of Mrs Park sipping on any spicy soup.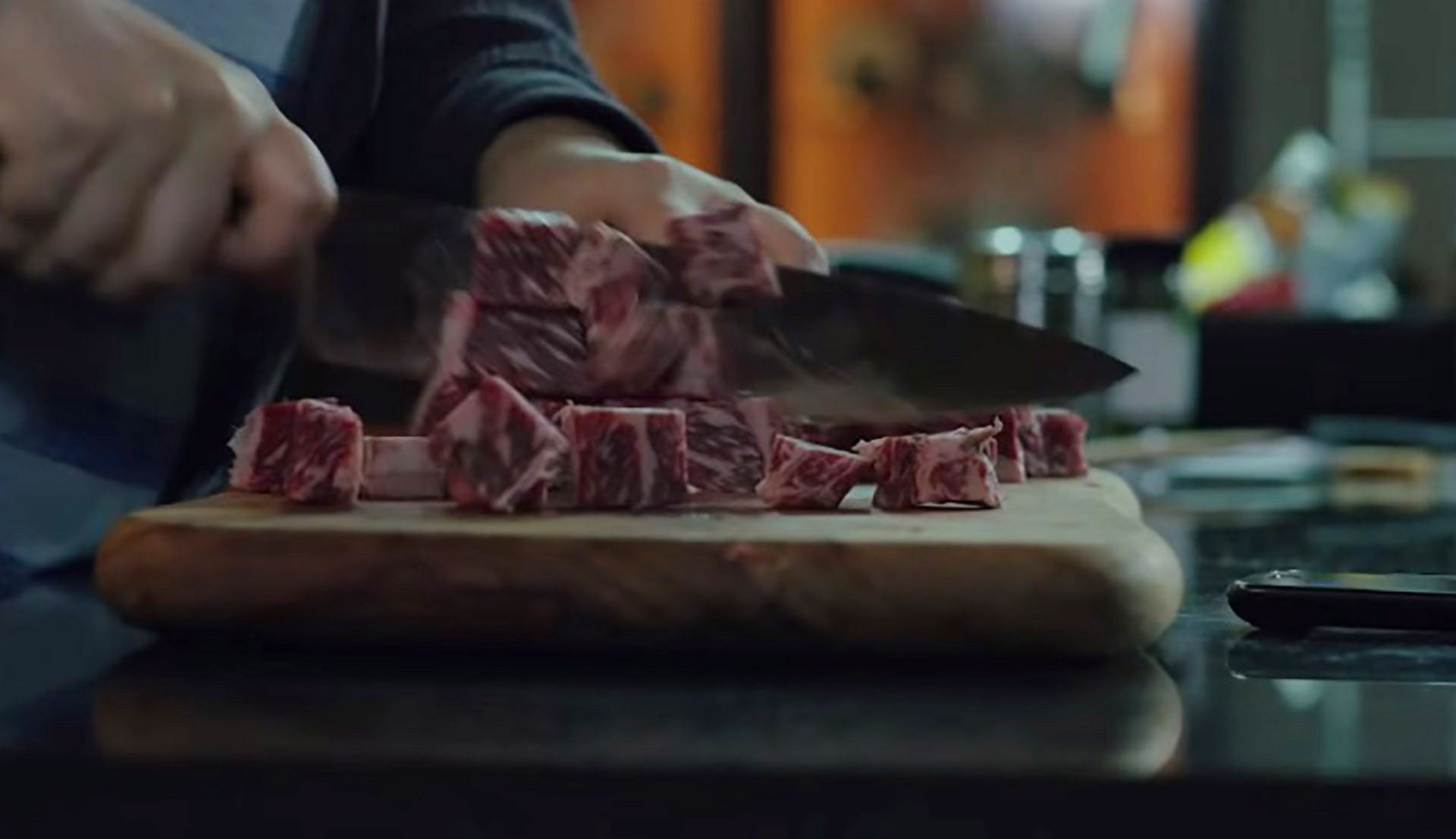 What she did do, though, was to ask for atas sirloin on her ram-don (pictured above). Director Bong had wanted to use this detail to show how only the very moneyed could afford to pair expensive beef with something as pedestrian as instant noodles (you know how only rich people can wear a Chanel tweed jacket with Uniqlo jeans?). And somehow, someone with a lot of time or/and beef knowledge out there found that the beef used in the movie is premium Hanwoo beef.
Me? I just used ready-sliced, no-brand, low-grade "beef made for stir-fry". This doesn't have exquisite marbling or a natural fatty taste so I marinated the slices in fish sauce, black pepper, salt flakes and sesame oil before searing them. Then I decided ram-donly to soak the beef into that bowl of spicy soup from the Neoguri Udon Type Noodles before plating the meat. I also added a fried egg because everything was looking too brown and drab. I know, I'm shallow like that.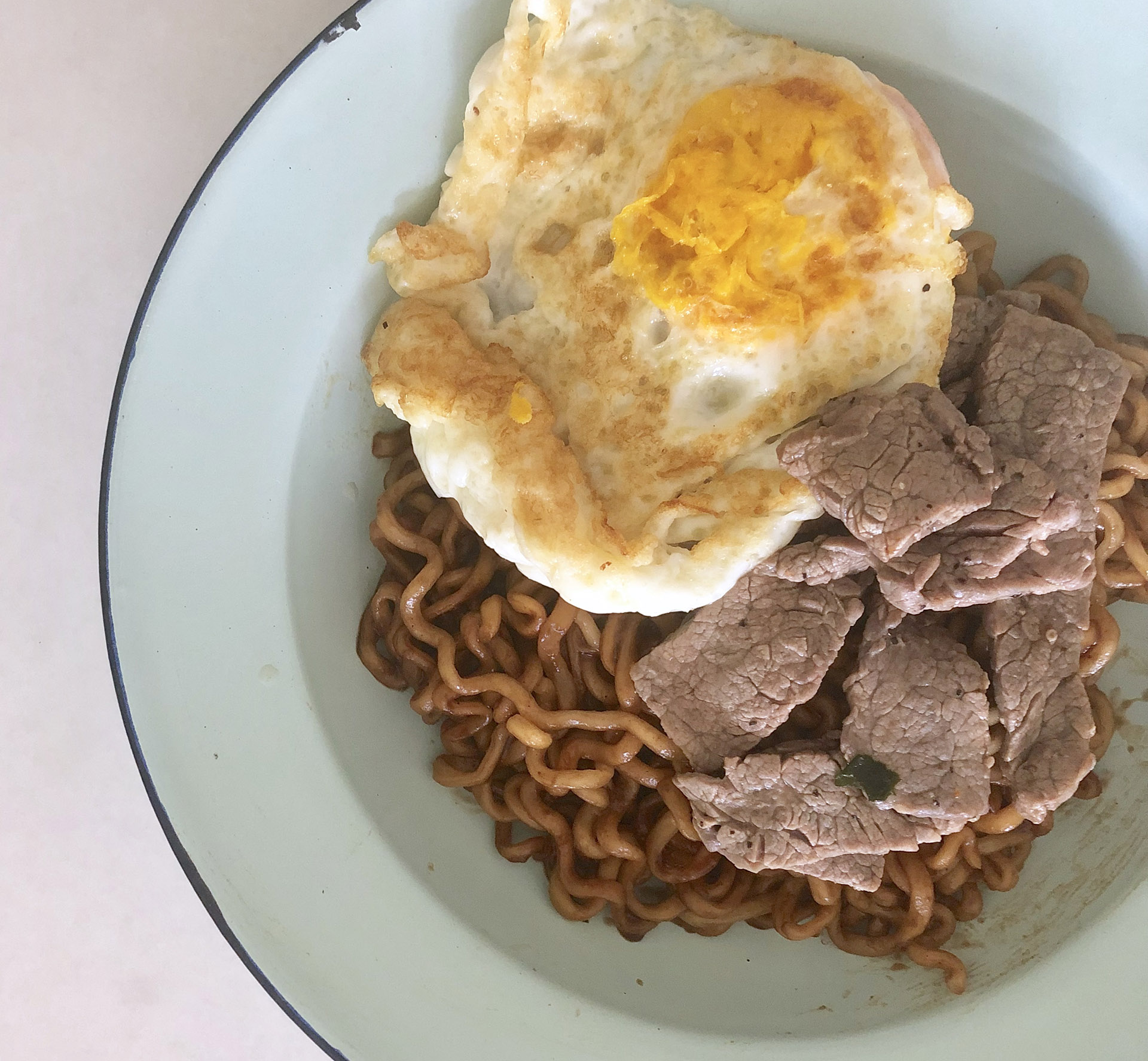 So, did my ram-don turn out looking like the one you drooled over in "Parasite"?
I'm not going to lie. And your eyes won't, too. Mine looked more japalang than jjapaguri. But it sure tasted yummy, thanks to the juices seeping out from the beef. I think one of the main culinary takeaways from this ram-don hype for most of us is, it's pan-fried beef – and, gasp, not luncheon meat – that can really elevate your instant noodles.
The Kims propagated #fakeittillyoumakeit(intosomeone'shome). I'll stick with #fakeittillyoucookandeatit then. But still, I hope I won't be tasked to make and write about those open-fire-roasted clams from "Crash Landing On You".
For the latest updates on Wonderwall.sg, be sure to follow us on Facebook and Instagram. If you have a story idea for us, email us at [email protected].