National Monuments Of Singapore: Sri Mariamman Temple
What is a National Monument? Who gazettes them? How many national monuments are there in Singapore? To date, the Preservation of Sites and Monuments, a division of National Heritage Board, has identified and gazetted 75 buildings, structures and sites of national significance as an integral part of Singapore's built heritage.
And we're here to tell you all about them - one National Monument at a time!
Here they all are on a Google Map we specially created. Every Wonderwall.sg logo, or "W", indicates a spot where a National Monument of Singapore is located:
You've probably passed by or stepped into more than a few of them without realising they were National Monuments: Al-Abrar Mosque, Asian Civilisations Museum (ACM), the Civilian War Memorial, Saint Andrew's Cathedral, the Esplanade Park Memorials, Fort Siloso on Sentosa - no need to plan an itinerary for friends visiting from overseas; just show them this article ✌️
In this edition, we take a look at the oldest and largest Hindu temple in Singapore, Sri Mariamman Temple.
📍 Location
Sri Mariamman Temple was the 6th building to be gazetted as a National Monument, and is located in the heart of Chinatown. The MRT stations nearest to it are Chinatown or Telok Ayer.
📅 Significant dates
Dates built:
1827: Simple wood-and-attap temple
1843: Replaced by a brick structure
1862-63: Much of the present structure was constructed
Dates unveiled:
1903: Original three-tiered gopuram (entrance tower)
1925: The gopuram was rebuilt into a five-tiered one
1960s: The existing gopuram was constructed
Date gazetted: 28 Jun 1973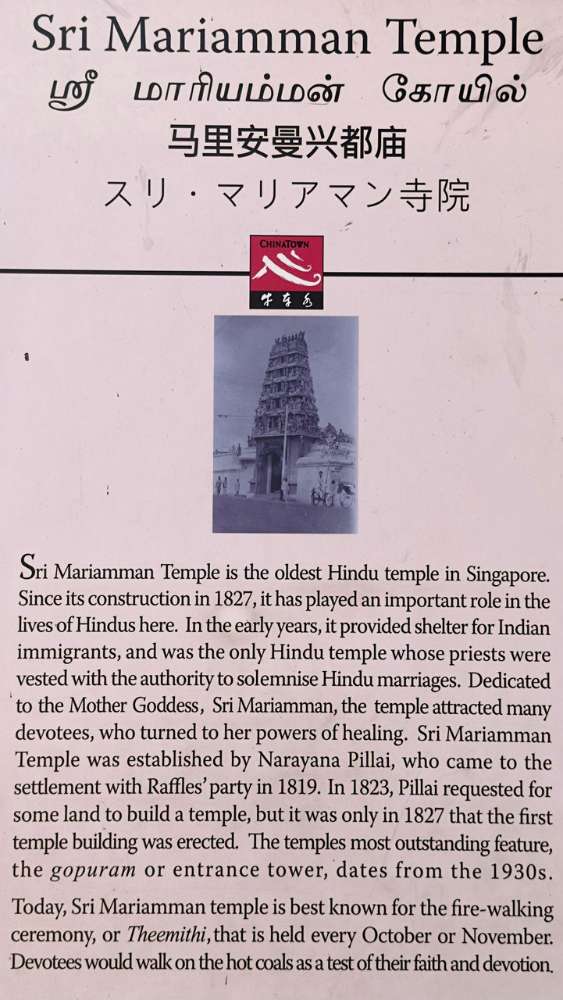 IMAGE: NG KAI
📜 History
Just like Jamae Mosque, Sri Mariamman Temple is an enduring landmark on South Bridge Road within the heart of Chinatown. These two National Monuments bear witness to the sizeable Tamil community that once resided in this area, and serve as perpetual reminders of their pivotal role in the development of Singapore during its British colonial period.
Sri Mariamman Temple not only embodies the timeless Hindu traditions and practices, it also serves as a tribute to the philanthropic endeavours of the early Tamil settlers.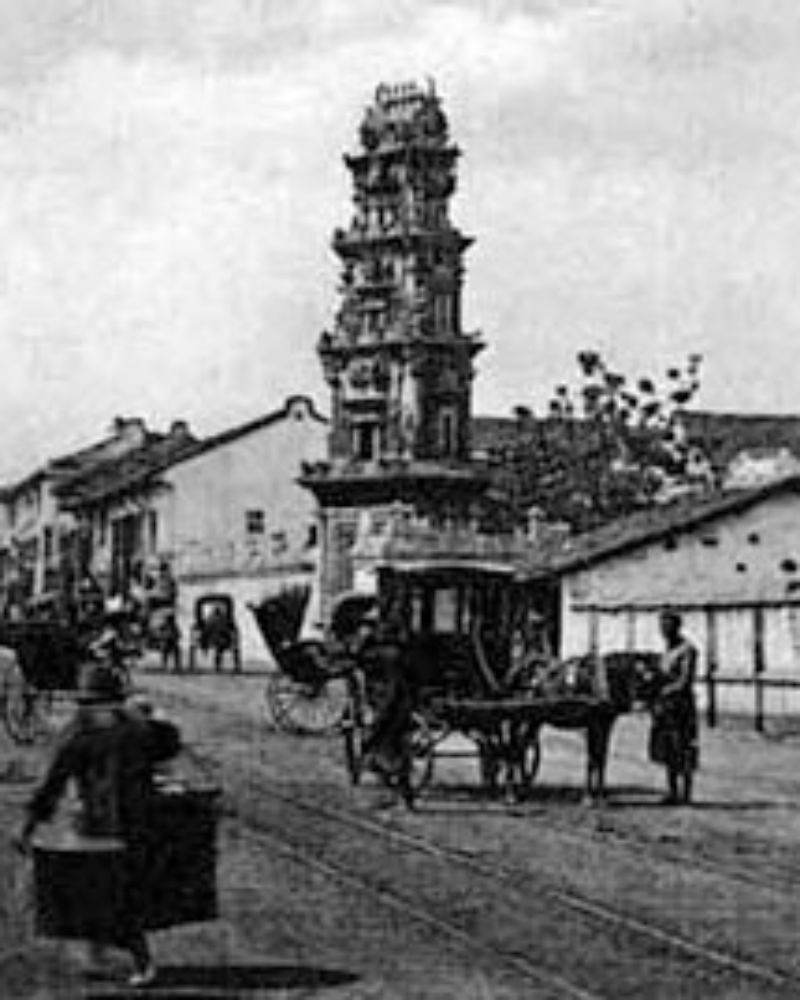 View of Sri Mariamman Temple circa 1900. | IMAGE: WIKIMEDIA COMMONS/@PHOTOGRAPHER OF G.R. LAMBERT & COMPANY
Sri Mariamman Temple was established by Indian pioneer Naraina Pillai, who served as a government clerk in Penang. He was in the company of Sir Stamford Raffles during Raffles' second visit to Singapore in 1819.
Initially, the British East India Company had allocated a plot on Telok Ayer Street for the construction of a Hindu temple. However, this location was rejected by the Hindu community because it lacked a convenient supply of fresh water, which was essential for Hindu rituals. Colonel William Farquhar, the Resident of Singapore, then granted Naraina permission to build the temple near Freshwater Stream (now known as Stamford Canal).
Later on, the Town Planning Committee deemed this site unsuitable as they had different plans for it.
In 1823, the site for the current temple on South Bridge Road was granted and reserved in Singapore's inaugural town plan, formulated by Lieutenant Philip Jackson. A simple wood-and-attap structure was constructed on this location by 1827.
The primary deity of this temple, Sri Mariamman, is closely associated with the life-sustaining and life-giving qualities of rain (in Tamil, "maari" means rain, and "amman" denotes mother). She is also venerated for her reputed ability to heal epidemic diseases like cholera. Historically, the temple was also referred to as the "Kling Temple" due to the common usage of the term "Kling" (sometimes spelled as Keling or Kelenga) to describe southern Indians, particularly the Tamil community.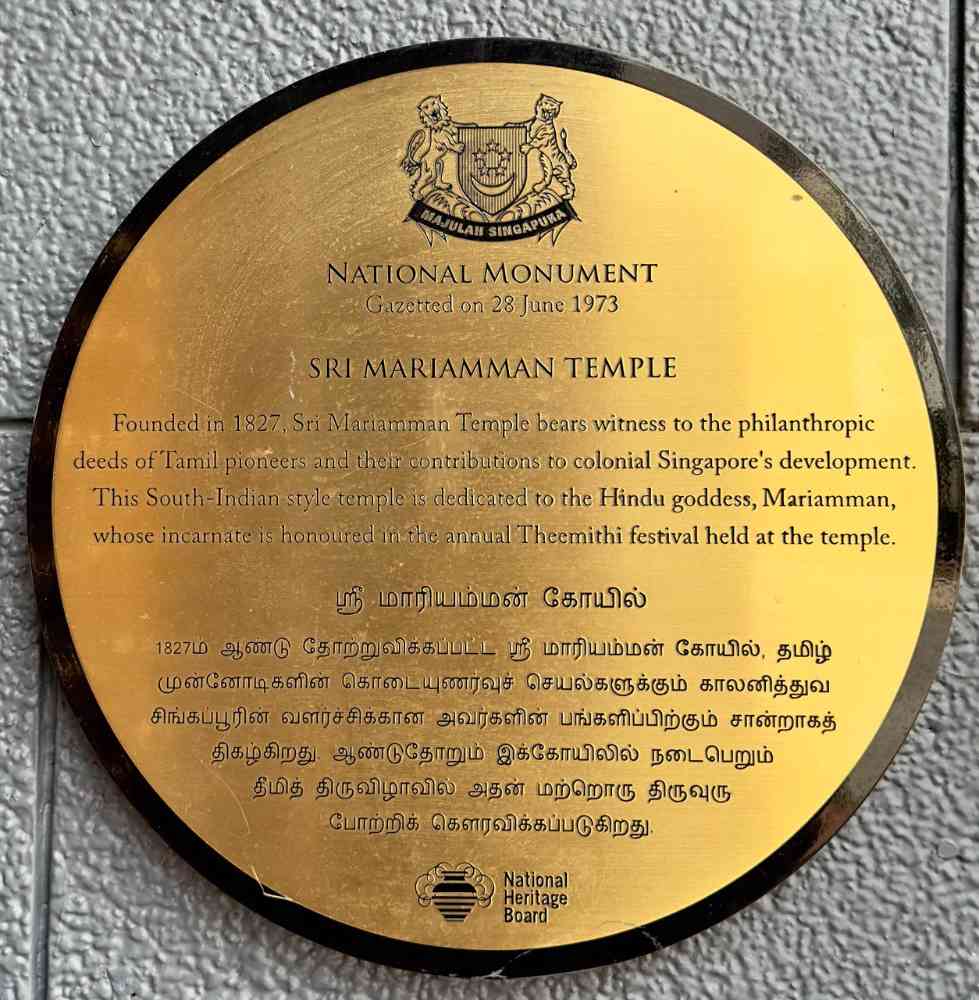 IMAGE: NG KAI
The temple grounds underwent expansion in 1831, when an Indian landowner named Seshasalam Pillai generously donated a portion of his land to the temple. This act of benevolence is commemorated by a granite slab within the temple premises. The oldest sections of the current brick structure date back to around 1843 - highly skilled artisans from India, and even China, were engaged for this construction project.

In 1915, the architectural firm Swan & Maclaren (the same firm responsible for designing the Civilian War Memorial and Cenotaph) was commissioned to create a new covered walkway connecting the entrance tower and the main building. This addition came about because a fire in 1910 had destroyed the previous attap-covered walkway.
Sri Mariamman Temple was not only a religious house for the Hindu community, it was also a refuge and shelter for newly arrived Indian immigrants until they found accommodation and work. Like other places of worship, it also functioned as a social space for Indian immigrants to meet and mingle. Traditional Hindu wedding ceremonies were and continue to be held in the temple.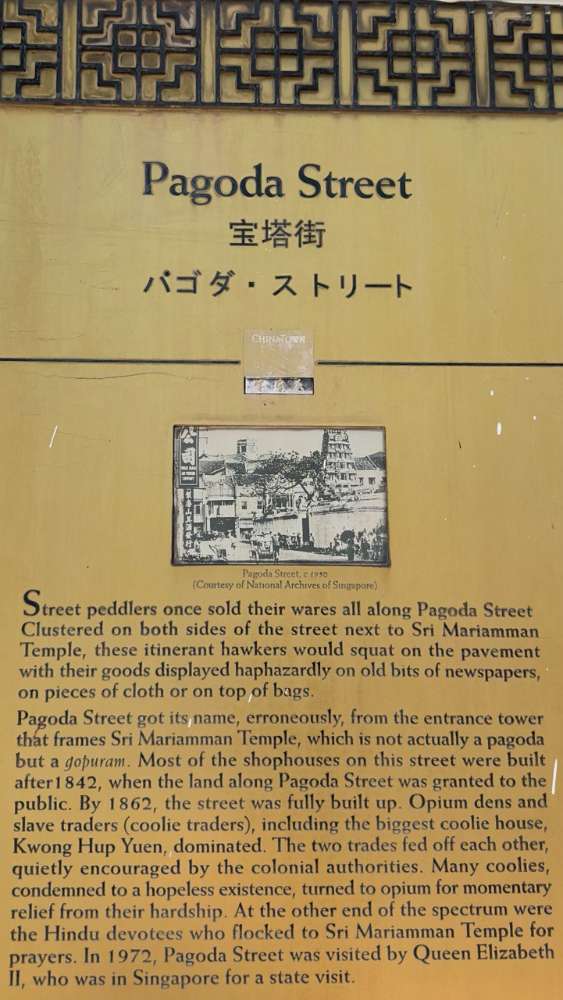 IMAGE: NG KAI
The prominent temple also inspired the names of two streets on its sides: Temple Street and Pagoda Street. The latter referenced the gopuram (the monumental tower above the entrance of a South Indian Hindu temple), which, to the Chinese populace, resembled a Chinese pagoda.
Every year, Sri Mariamman Temple observes Theemithi, a festival dedicated to honouring Draupadi. This celebration has been a central tradition of the temple since its early days. Theemithi typically occurs in either October or November, and commemorates an episode from the "Mahabharata" where Draupadi demonstrated her purity and virtuosity by walking on fire.

As part of the festivities, devotees embark on a 4km route, commencing at Sri Srinivasa Perumal Temple on Serangoon Road and ending at Sri Mariamman Temple. The highlight of this event is the fire-walking ceremony. During this ritual, male devotees courageously traverse barefoot across a bed of burning charcoal, measuring approximately 3m in length, before stepping into a pit filled with milk.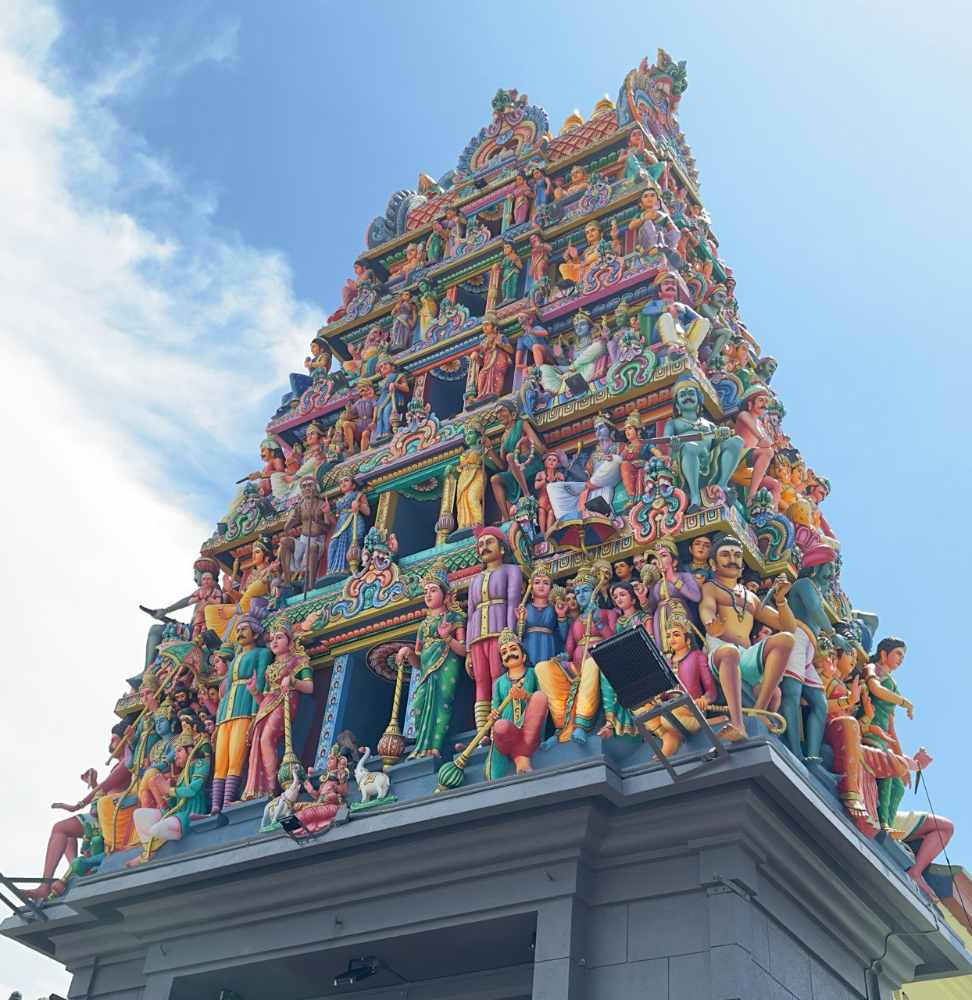 The present-day six-tiered gopuram showcases sculptures of Hindu deities, other figures and ornamental decorations. | IMAGE: NG KAI
📐 Design and architecture
The most captivating aspect of Sri Mariamman Temple, as with most South Indian temples, is its gopuram (the ornate entrance tower). Intriguingly, amid the myriad vividly painted sculptures featuring Hindu deities and intricate floral designs, there were once depictions of sepoys (Indian soldiers employed within European military garrisons) from the British Raj. These sepoys were portrayed standing guard, rifles in hand, at the base of the gopuram. However, in 1971, the statues of the sepoys were removed from the temple's premises.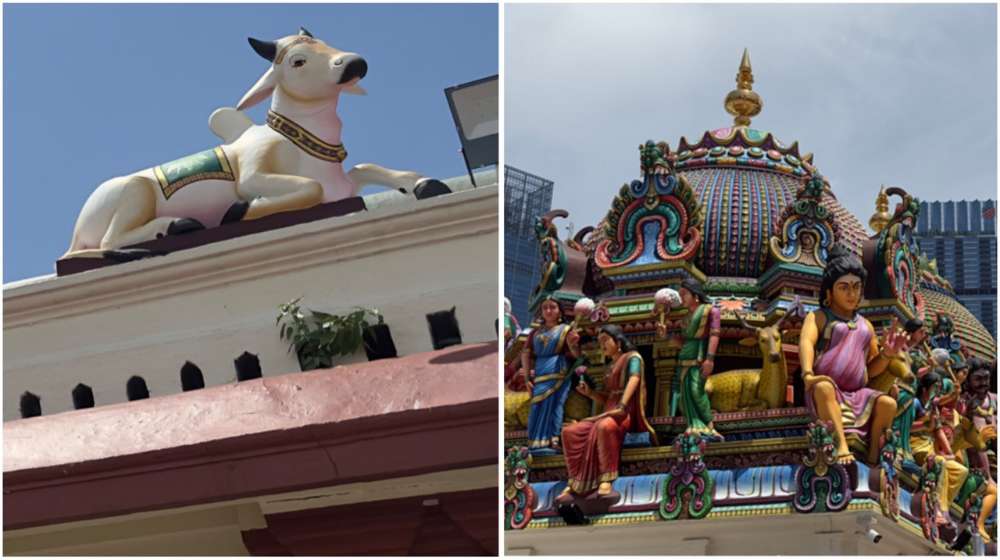 IMAGES: NG KAI
Within the temple compound are shrines capped with colourful domes called vimanam. Near the temple's ablution area is a flagpole, up which a flag is raised some days before an important festival or ritual to announce the start of preparations for that particular event. Sculptures of cows, sacred to Hindus, can also be found on the boundary walls around the compound.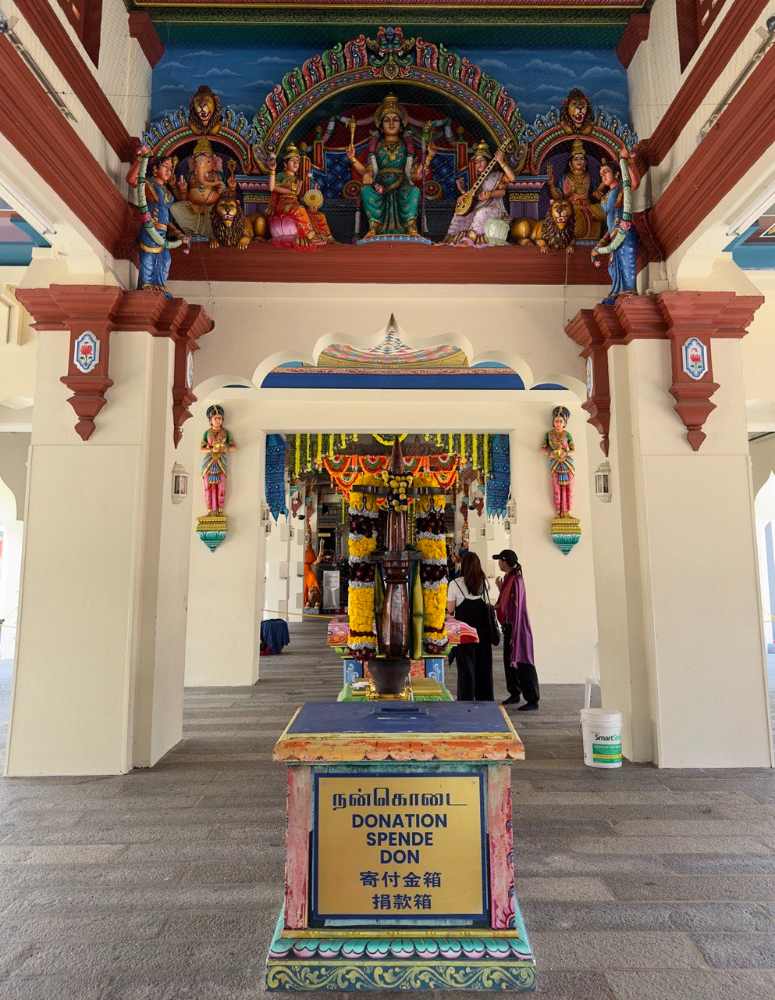 IMAGE: NG KAI
The mandapam, or main hall, is flanked by square columns and extends as a long nave adorned with intricate ceiling paintings. Some of these paintings feature the mandala, a ritual symbol symbolising the universe and the state of nirvana.
Within the inner sanctum resides a small statue of Sri Mariamman, typically veiled except during puja (religious services) and specific festivals. This statue is the same one that Naraina had initially installed when the temple was founded. The central shrine is flanked by two secondary shrines dedicated to Draupadi, a prominent figure in the Hindu epic "Mahabharata", and Rama, the incarnation of the Hindu deity Vishnu. Additionally, other deities venerated in Sri Mariamman Temple include Ganesha, the Elephant God, and Aravan, depicted in the form of a severed head, believed to be a sacrificial hero from a significant battle in the "Mahabharata".
Following the Hindu tradition of periodically renovating and reconsecrating their temples every 12 years, Sri Mariamman Temple underwent its most recent reconsecration in 2010. This year-long project meticulously restored the temple to its original magnificence. Today, it stands as one of the most esteemed Hindu temples in Singapore, attracting numerous devotees and visitors alike.

🕖 Opening hours

Regular visiting hours are 6am-12pm and 6pm-9pm daily.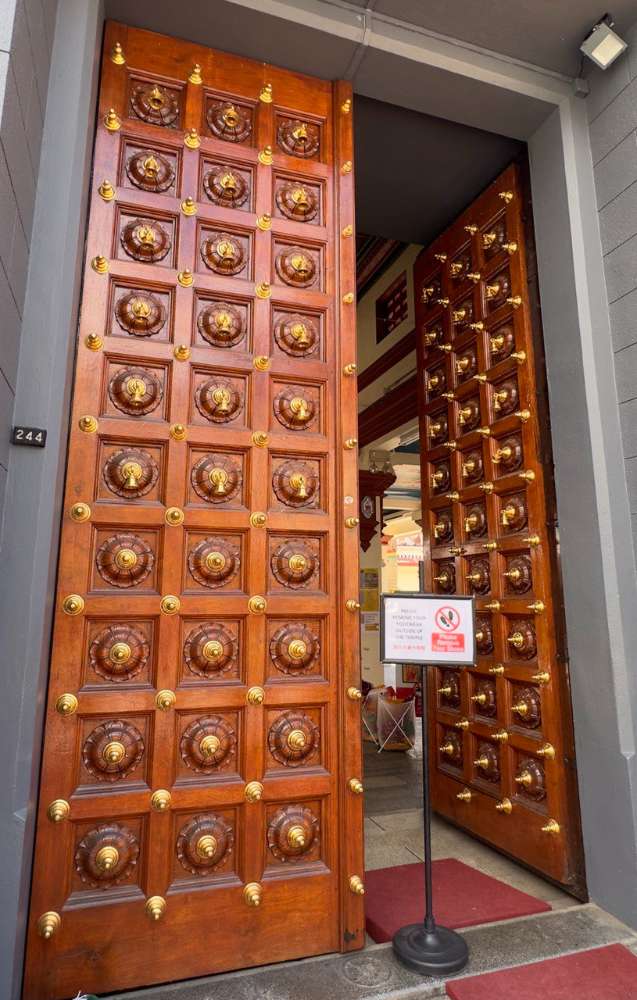 The doors are studded with small gold bells arranged in a grid; devotees are supposed to ring them as they move through the doors. | IMAGE: NG KAI
🎟️ Admission
Entry is free. However, do take note of the dress code when visiting Sri Mariamman Temple:
Shoulders must be covered, and trousers or skirts must cover at least the knees.
The temple does provide shawls, cover-ups and wraps.
Avoid anything too tight, too short and too revealing.

Footwear should be removed outside the temple; socks are allowed inside. There is a space outside the temple's entrance designated for footwear to be left safely.
For the latest updates on Wonderwall.sg, be sure to follow us on TikTok, Telegram, Instagram, and Facebook. If you have a story idea for us, email us at