Van Gogh Experience: Putting A Surreal Twist On Post-Impressionism
To Gogh or not to Gogh? We - two average Joe's - checked out "Van Gogh: The Immersive Experience" at B1 Forum, Resorts World Sentosa for an interesting peek into the life of the iconic Dutch painter. And we say: Gogh for it!
We got winked at by portraits, mesmerised by dozens of multicoloured paintings, and awed by digital projections.

When it comes to appreciating art, we'll be the first to say that we're as casual as gallery-goers come. Here are our thoughts!
You feel like you're in a dream
Nicholas: There's no question that Van Gogh was one of the greatest artists of our time. Even someone like me who is only interested in gaming, Gundam and Pokémon can recognise his famous works like "The Starry Night" or his many "selfie" self-portraits (thanks to playing lots of Animal Crossing). A pioneer of the selfie movement?

Kai: Same here - "The Starry Night" and Van Gogh's "Sunflower" series are his most iconic works for me. I like those because there's no "gimmick" and I don't have to try hard to figure out what I'm looking at. The works are very dreamlike and almost hypnotic: the colours used come together in a way that really scratches an itch behind my eyes - eyegasm much?
Nicholas: Yeah, for sure. Also, we could get really, really close to the replica paintings - I could really see the layers and brushstrokes.
Kai: It's a great way for the layperson to appreciate art because they can examine the colours and brushstrokes in detail by going all the way up to eyeball the paintings.
It taps into your subconscious and gives you a visual "high"
Nicholas: I remember you said the entire exhibition feels "trippy", and I think that is the best way to describe this place. Truly, it is a unique take on your typical art gallery or museum.

Kai: No security guards patrolling, no warning signs, and no harsh lighting. It's like walking through a cosy and comforting space where you can easily get lost in the myriad colours that exist in Van Gogh's works. The tech really brings his paintings to life - really liked the self-portraits that winked at us intermittently.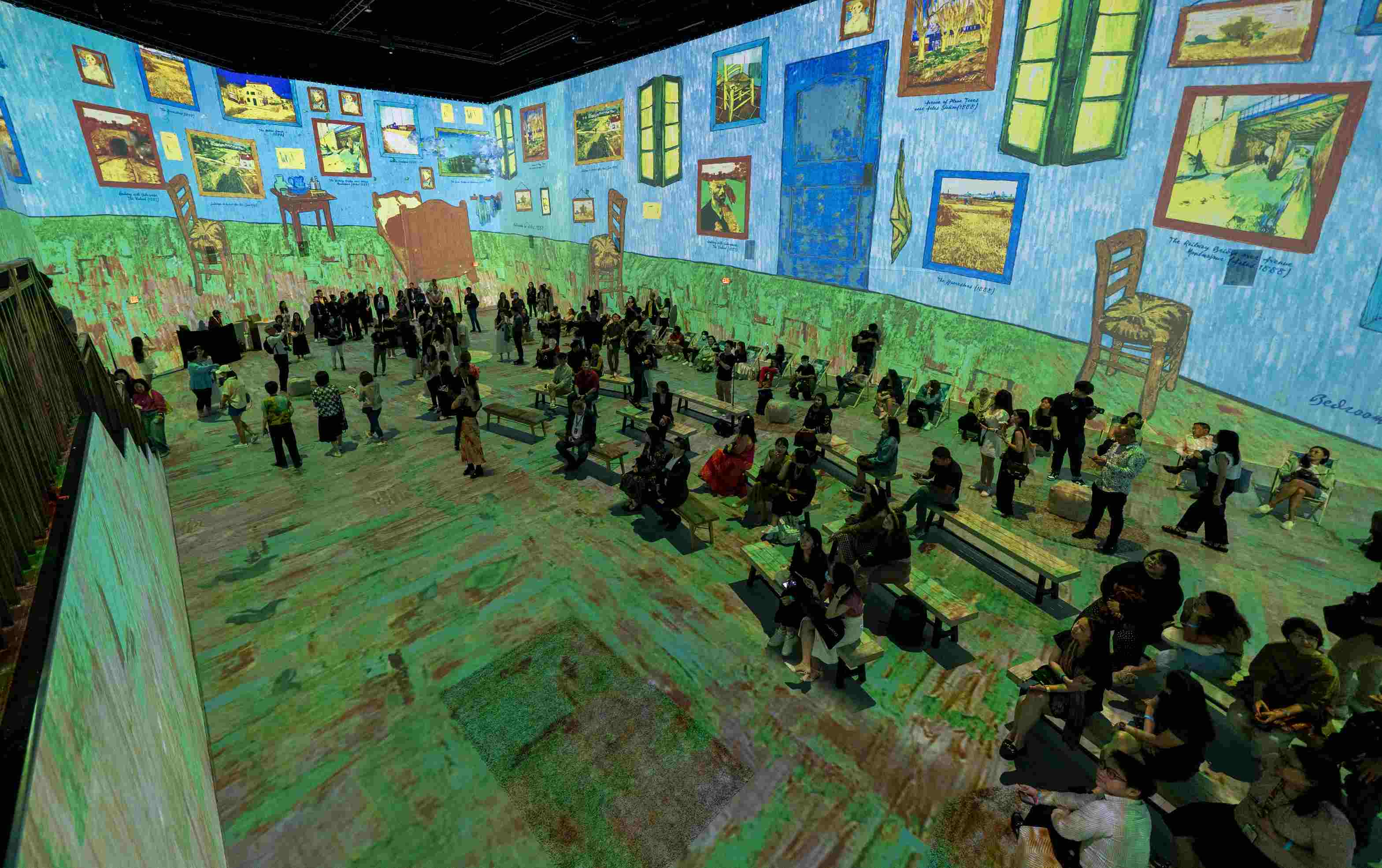 It offers respite from the real world
Nicholas: The moment you enter the space, you feel like you're stepping into Van Gogh's "world", thanks to moving portraits that made me feel like I was in a Harry Potter movie, and the massive projection-mapping space - that was cool AF. The best part was relaxing on one of the Van Gogh chairs to watch the show.
Kai: I absolutely loved The Immersive Room; it truly lived up to its name. Every inch of space (even the floor) had digital projections on them that showcased Van Gogh's most famous works. I felt as though I'd left my worries at the door and embarked on a journey through Van Gogh's artistic vision. NGL, I felt myself drifting off while seated on one of the Van Gogh chairs - that was how calming the space was!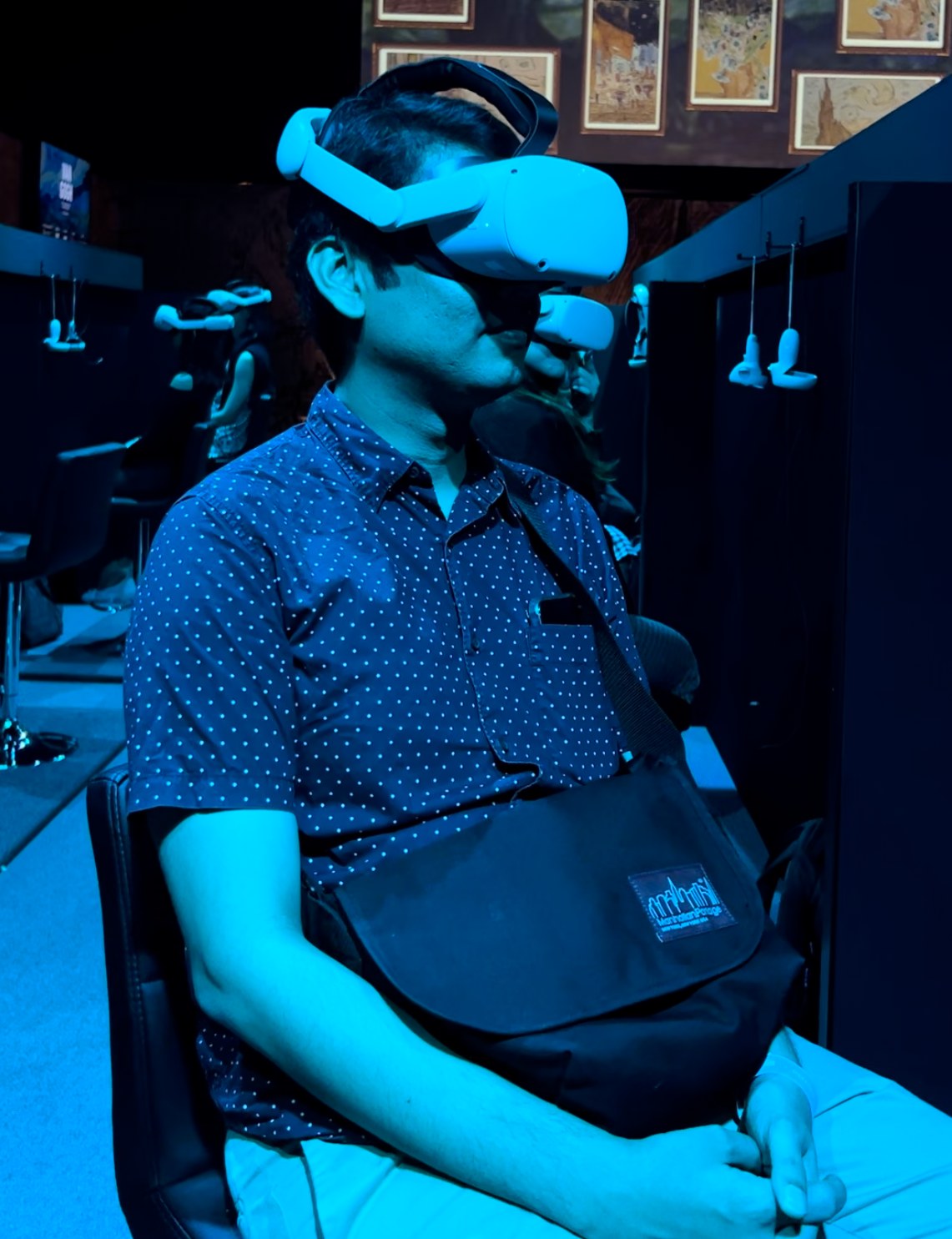 You get to unleash your sense (and appreciation) of colour
Nicholas: The VR part was ok-ok lah, but I was quite shocked to see so many people colouring their own Van Gogh masterpiece. Why ah? I think you told me it was something to do with how colours play an important role in Van Gogh's work?
Kai: The VR experience was cool, but the 240p resolution kind of took away the magic for me. For the colouring segment, you can actually scan your completed art works onto a huge live screen for everyone to admire. Apparently, Van Gogh was thought to suffer from some form of colour-blindness. Nobody knows for sure, although he definitely used colours to a great degree of mastery. He utilised them to express his own emotions and to alter the emotions of whomever viewed them. He also frequently employed complementary colours to increase the overall contrast as they intensified each other.

And fun fact: Van Gogh's favourite colour was yellow! He once said: "How wonderful yellow is. It stands for the sun."
Nicholas: No wonder got so many sunflowers!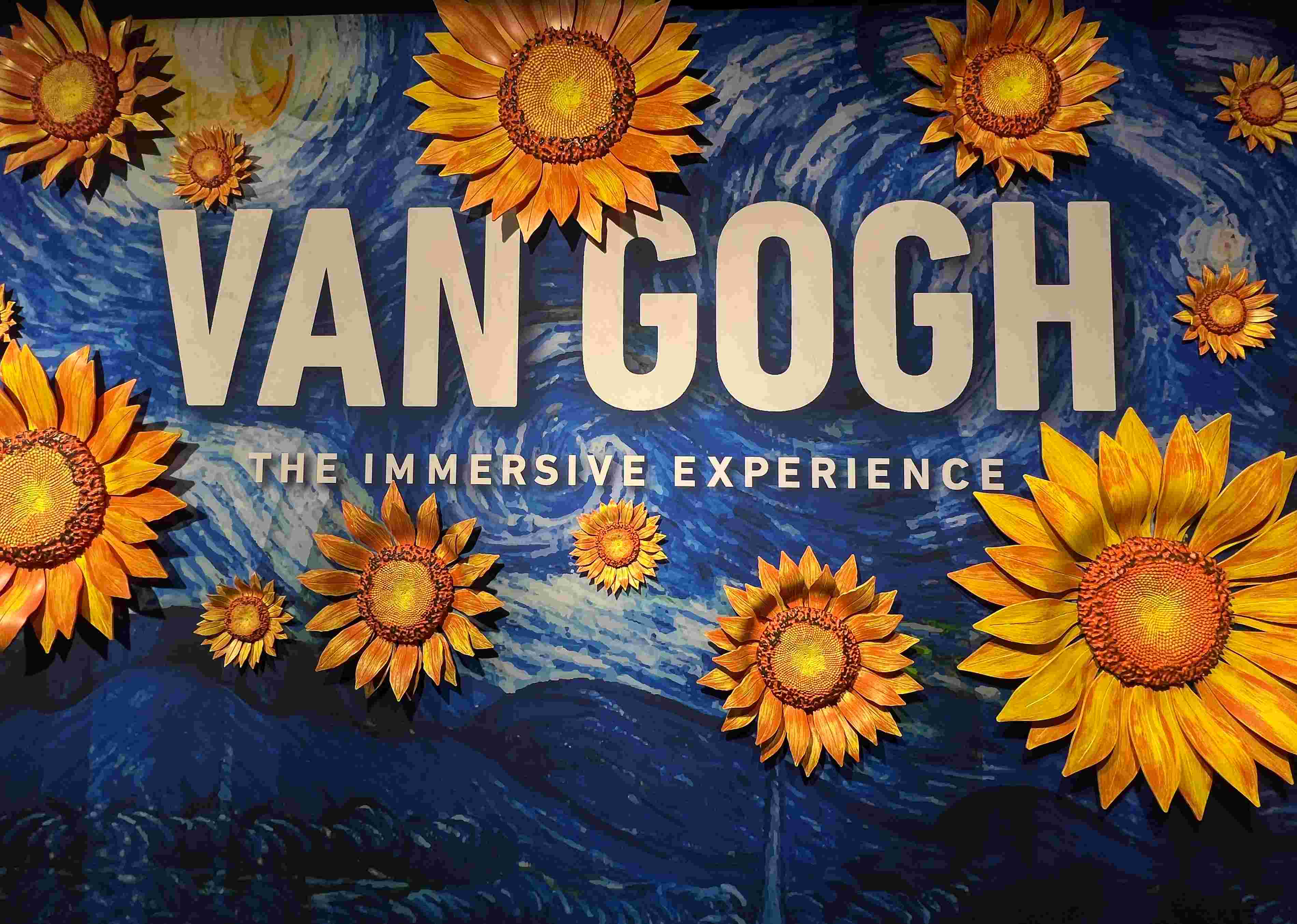 It's a show for everyone
Nicholas: For anyone with a modicum of art appreciation running through their veins, this Van Gogh immersive experience must-go lah.
Kai: For the average Joe, it's a fun and captivating walk-through of the life of one of the most celebrated artists of all time. Always inspiring to learn more about the life of such an influential individual!
Admission tickets to Van Gogh: The Immersive Experience start at $15 for children and $24 for adults - find out more here.

For the latest updates on Wonderwall.sg, be sure to follow us on TikTok, Telegram, Instagram, and Facebook. If you have a story idea for us, email us at [email protected].