NEW MAKAN VIDEO SERIES! Stay Home, Stay Safe, Also Must Eat, Right?
When Aaron Wong started his series of "Stay-Home Survival Cookbook" posts on Instagram, our curiosity was piqued, our appetites were whet, our mouths started to lao nuah.
So we did what any good lifestyle website would do - got in touch with the MasterChef Singapore finalist and self-proclaimed neighbourhood Ah Beng (he ownself call ownself one ah), and said, "Oi! Ho sei boh? Ai collab mai?"
In a word, he said "ai", and here's the first episode of a new video series where, together with Aaron, we bring his deliciously photographed IG posts to life.
And trust us, the food tastes as good as Aaron photographs it - we have recorded proof of our cameraman Edwin's reaction as he tried Aaron's mui fan (which will be featured in an upcoming episode). Let's just say the shiok face Edwin made would make his wife blush.

All the steps to achieve that perfectly gooey and well-brined ramen egg are in his post below (swipe to see the steps in pictures):
But back to our savoury series.
Aaron, who is a commercial photographer and an avid diver, tells us how and why this series was conceived, and if it's true that anyone can cook.
What prompted you to start this "Stay-Home Survival Cookbook" series on IG?
They say necessity is the mother of all invention, and I say it is true! 
Like everyone else, this pandemic literally stopped me dead in my tracks as we were all forced to stay in. And thanks to stupid hoarders, the reality of having to cook your own meals with whatever the hell you had sunk in fast.
And with all that time on my hands, I figured I might as well make boring stuff epic. I mean, what else was there to do right? And when some of this stuff turned out good, I realised I had to rescue my fellow Singaporeans from the grip of boring everyday instant noodles!
So I created the first "Survival Cookbook" post even before the the Circuit Breaker bomb was dropped. The main aim was to share simple tips with folks who really needed help in the kitchen - nothing fancy, just real, honest everyday stuff that anyone could do. It's a pandemic - who needs fancy?!
What kind of response did you get from your followers?
I really wasn't expecting much out of it. If anything, I actually thought it was fun to just shoot and document all these simple ideas and recipes.
But then I started getting tagged in posts by people who actually tried out the dishes, or private messages saying how much these no-nonsense "Ah Beng" posts made them smile a little - it was pretty nice and rewarding. 
People all the way from the US tagged me in their posts, saying they tried the recipes and it blew their mind. That was pretty cool.
Is it true that anyone can cook?
Well, if you can boil water, you can cook. It just depends how edible your cooking is!
But for a lot of people who don't step into the kitchen, fancy, wayang, atas cooking shows that we don't really relate to can make it all the more nerve-racking. Not knowing or having that fancy cheese readily available in your fridge makes you feel you are stupid or something.
So that's why I kept the Survival Cookbook as simple as possible, and talked about stuff everyday Singaporeans would have at home. So, if it is indeed cheese, it would be Kraft Singles - and all of a sudden, everyone can cook!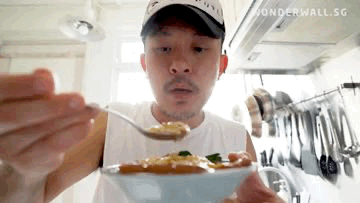 "Aaron Wong's Stay-Home Survival Cookbook" is also available on Wonderwall.sg's IGTV channel.
For the latest updates on Wonderwall.sg, be sure to follow us on Facebook and Instagram. If you have a story idea for us, email us at [email protected].