Amid Novel Coronavirus Outbreak, Beware The Virus Of Racism
Even as the novel coronavirus outbreak continues, the far more ancient and dangerous disease of racism is resurfacing, with rampant Sinophobia rearing its head and unwarranted fearmongering towards anyone of Chinese descent. While we continue to stand together against the coronavirus, let's not allow racism and xenophobia to infect us instead.
Facebook user Mohamed Imran Mohamed Taib pointed out that "The coronavirus could have started anywhere in the world with poor hygiene or sanitation. It is not because of PRC Chinese. Eating of wildlife animals can be found in many cultures. It cannot be generalised to the PRC Chinese. To put the blame on PRC Chinese simply for being PRC Chinese is racist and xenophobic."

Similarly, Facebook user Arianna Blanche noted that "As dangerous as the Corona virus is, it is also dangerous to just blame the Chinese. Let us not forget to fight against racism."

Another Facebook user, Ryan Archival Villaflores, shared a video about medical personnel in China fighting the outbreak in Wuhan, saying: "This is how we should fight the darkness of a virus. Not racism and prejudice and false alarm and amplification on Facebook."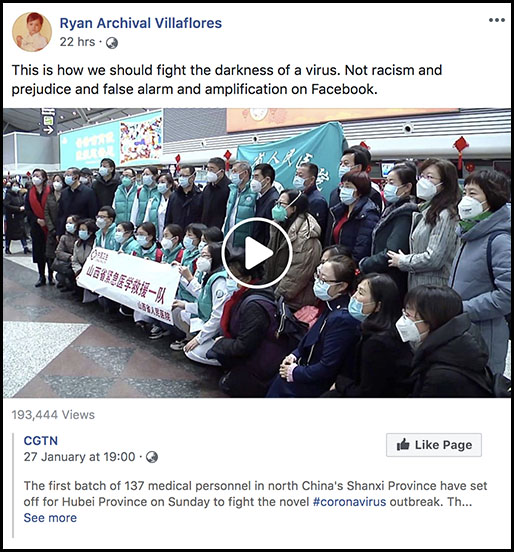 openDemocracy writer Jonathan Ong called for better accountability from journalists and pundits, saying: "Journalists and the general public can do better by amplifying stories that recognise the agency of doctors and responders on the ground, and sharing (and verifying) stories and videos produced by ordinary people in Wuhan. These stories remind us that the outbreak is experienced most exceptionally as a tragedy by people that both mainstream news and fake news sites have dehumanised."

Referring to a headline in the Herald Sun, international Chinese student Wing Kuang wrote in the Brisbane Times: "Why racialise the cause of an epidemic? Anyone from any ethnic background can be infected by coronavirus." The writer added: "This is a global fight against the coronavirus, not a 'Chinese virus'. Everyone, Chinese or not, should be prepared for the battle."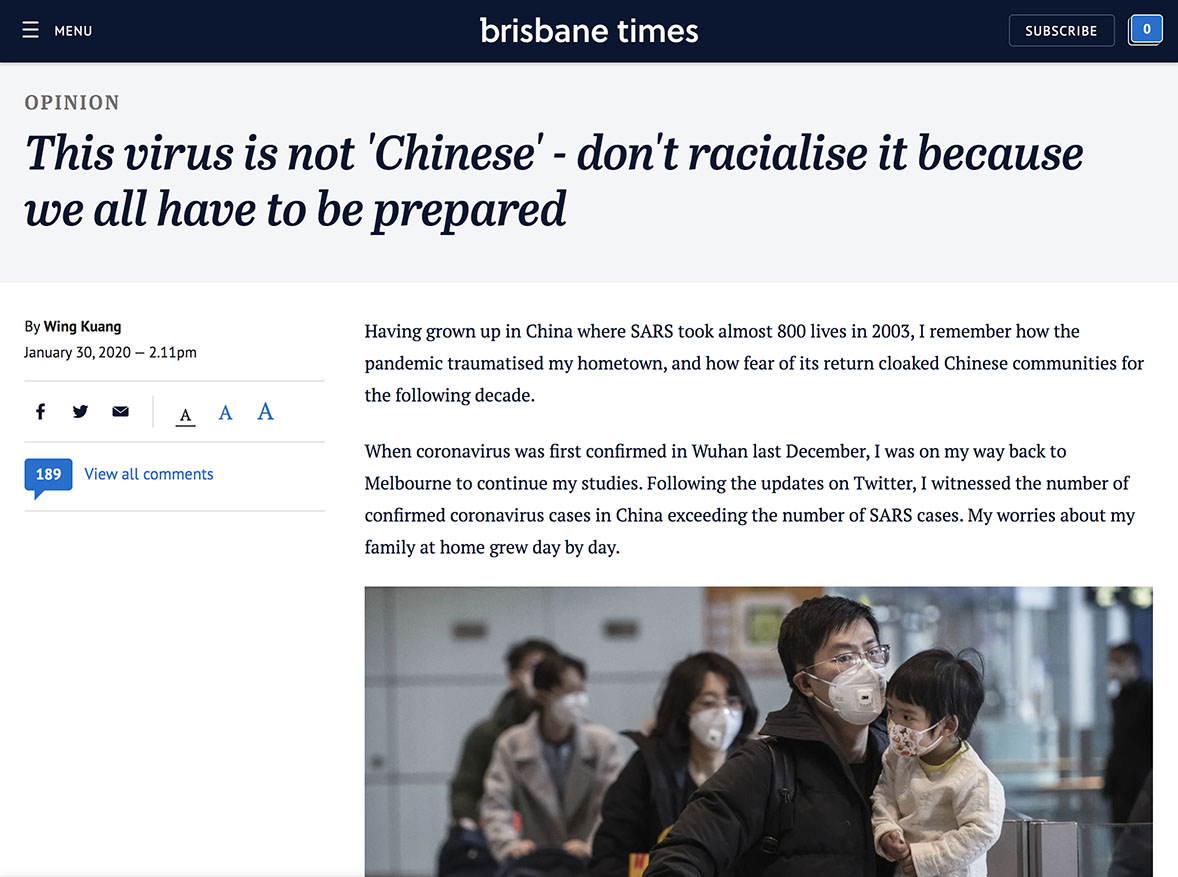 Writing for The Guardian, graduate student Sam Phan shared how a man on the bus scrambled to get up as soon as Phan sat next to him, among other hostile experiences that his fellow east Asians in the UK have been subjected to recently. He also said: "This week, my ethnicity has made me feel like I was part of a threatening and diseased mass. To see me as someone who carries the virus just because of my race is, well, just racist."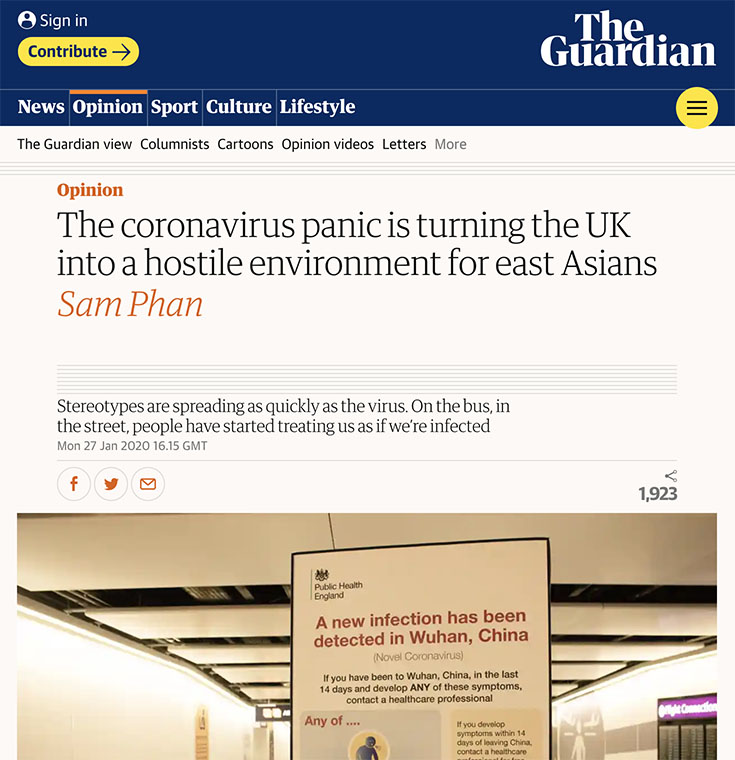 CNN contributor Jeff Yang said: "This coronavirus is new. But the diseases of xenophobia and racism are not. And as history has shown, outbreaks of the latter are potentially harder to contain, and far more lethal."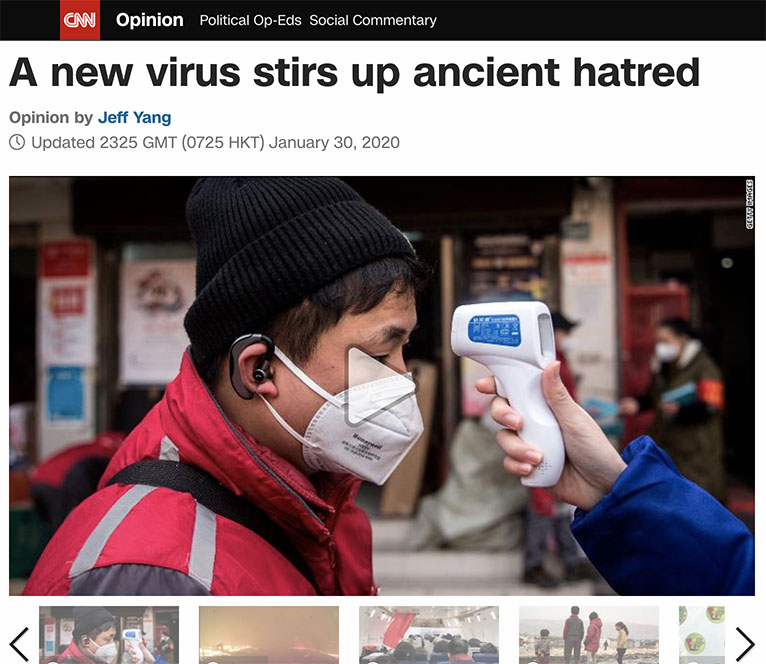 Instead of getting caught up in finger-pointing, let's all concentrate on maintaining our personal hygiene, showing support for our frontliners and healthcare workers, and remaining vigilant in the fight against racism and online falsehoods.
For the latest updates on Wonderwall.sg, be sure to follow us on Facebook and Instagram. If you have a story idea for us, email us at [email protected].