Happy National Day, Singapore! Kudos To All Those Who Make NDP 2023 Awesome
To celebrate Singapore's 58th year of independence, we throw the spotlight on some of the indefatigable participants of this year's National Day Parade at the iconic Padang as well as those working tirelessly behind the scenes to put on a memorable show – one that will not only entertain and inspire, but also remind everyone watching of the vulnerability of our island state, and how each of us has a part to play in the defence of our nation.
IMAGE: THE ISLAND VOICES
👉 Singapore's 'Vocal Avengers' Assemble – Kick-Ass Harmonies Guaranteed!
Who are they? The Island Voices, a vocal group comprising 10 singers
We speak to the band's baritone Aaron Bunac about a new medley, "Evolution of NDP Songs"; doing national service (NS) with the Music & Drama Company (MDC) with fellow band mate Jayesh; and the group's plans post-NDP.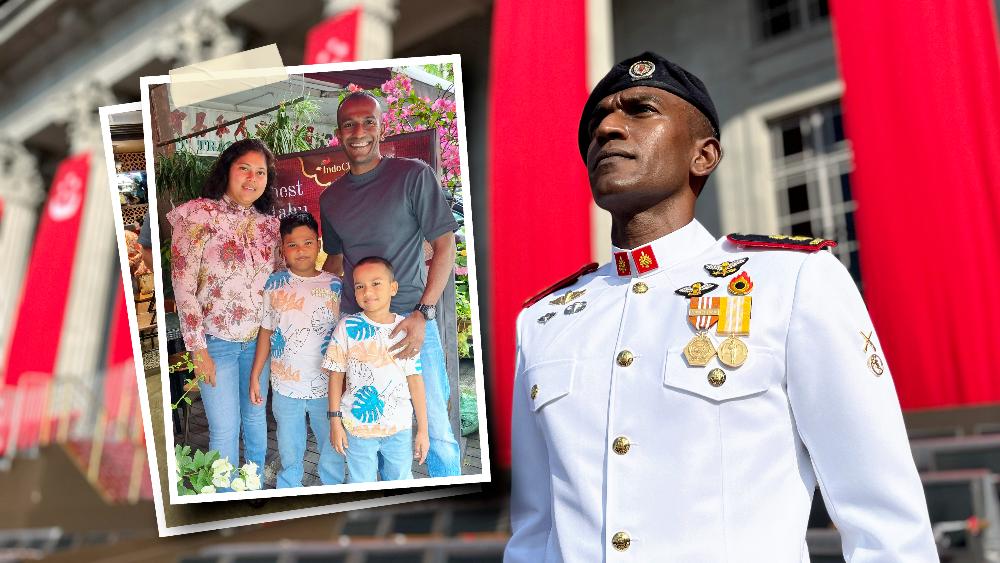 IMAGES: SIM DING EN (PORTRAIT) AND NDP 2023 EXCO (INSET)
👉 NDP 2023 Parade Commander's Young Sons Salute Him At Home – Aww!
Who is he? LTC Ragumaran S/O Davindran, Parade Commander
"This is a career-defining milestone, something which I could have never imagined, and I truly feel privileged and humbled to be given this opportunity," says LTC Ragumaran, who is Commanding Officer of Supply Base North, Supply Command.
IMAGES: NG KAI (LEFT) AND NDP 2023 EXCO
👉 It's Kin-Credible! Meet This Mother-Daughter Duo And Other Families Involved In NDP 2023
Who are they? Ismadiana Binte Samsudin (left, in both images) and daughter Nurul Qusyairah Binte Hamzah, who will be part of the Singapore Post marching contingent
We speak to the pair about how training and marching together in this year's National Day Parade has strengthened the bond between them. "It's not really a mother-and-daughter relationship, but more like a colleague who is encouraging her friend!" says Ismadiana.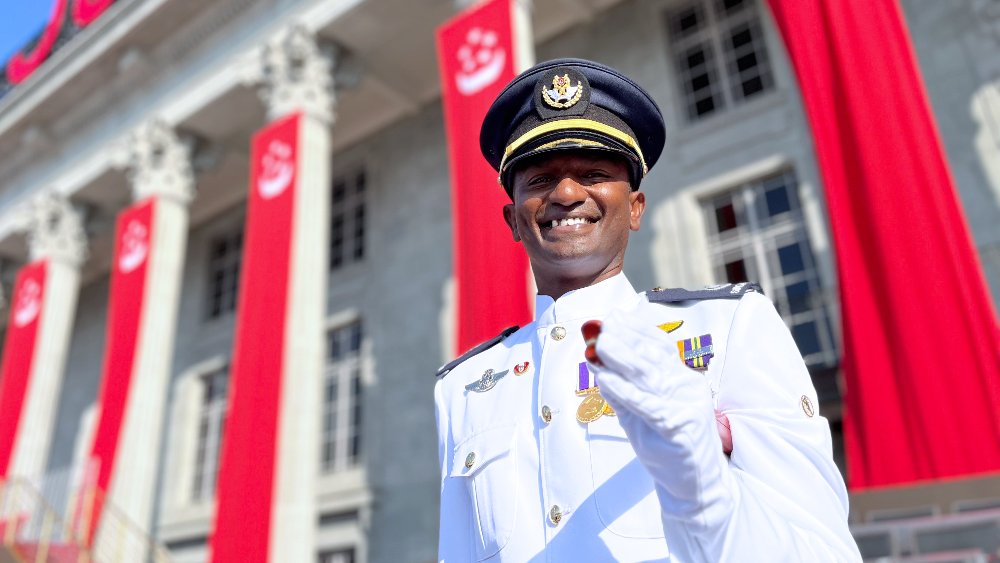 IMAGE: SIM DING EN
👉 NDP 2023: He's The Man Who Plans The Parade's Shape And Form
Who is he? MWO Pandykumaran S/O Arthiappan, Parade Regimental Sergeant Major
"I have always had a strong interest in drills and parades, which inspired me to join the Boys Brigade in primary school," says MWO Pandy, Command Chief, Changi Air Base, Air Power Generation Command. "A personal dream of mine has always been to march at the Padang, especially during NDP. Finally, the dream will come true."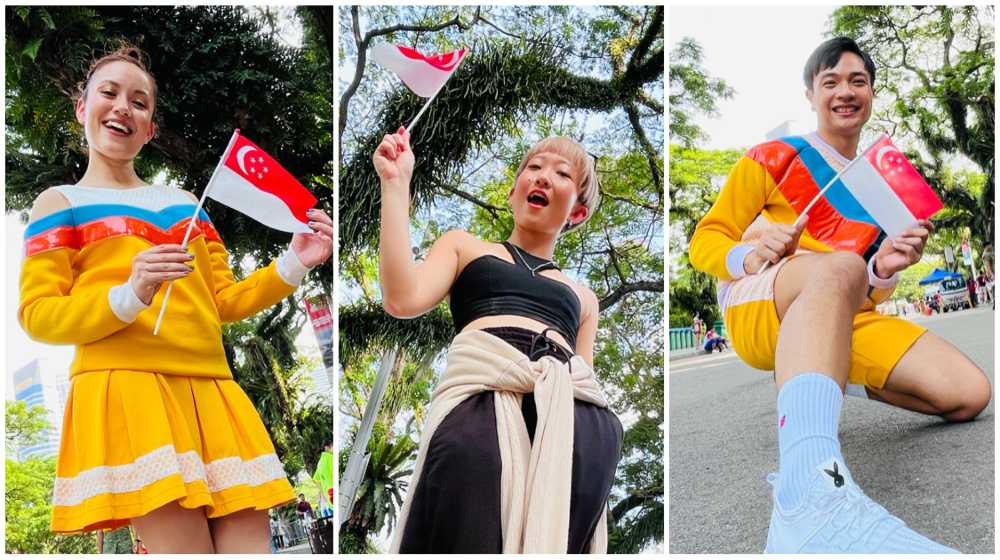 IMAGE: SIM DING EN
👉 Turn The Rhythm Up: Celebrating S'pore's 58th And Music & Drama Company's 50th
Who are they? Music & Drama Company (MDC) artistes Shauna Santa Maria, Lum Lum Lee and Afiq Noorazwa
These passionate dancers and choreographers are just three of the over-40 MDC talents involved in this year's NDP. "We've never done something like this in our entire career with MDC, so it is an honour and a privilege to be trusted with [this responsibility]," says Afiq. This year, MDC celebrates its golden jubilee. Woo hoo!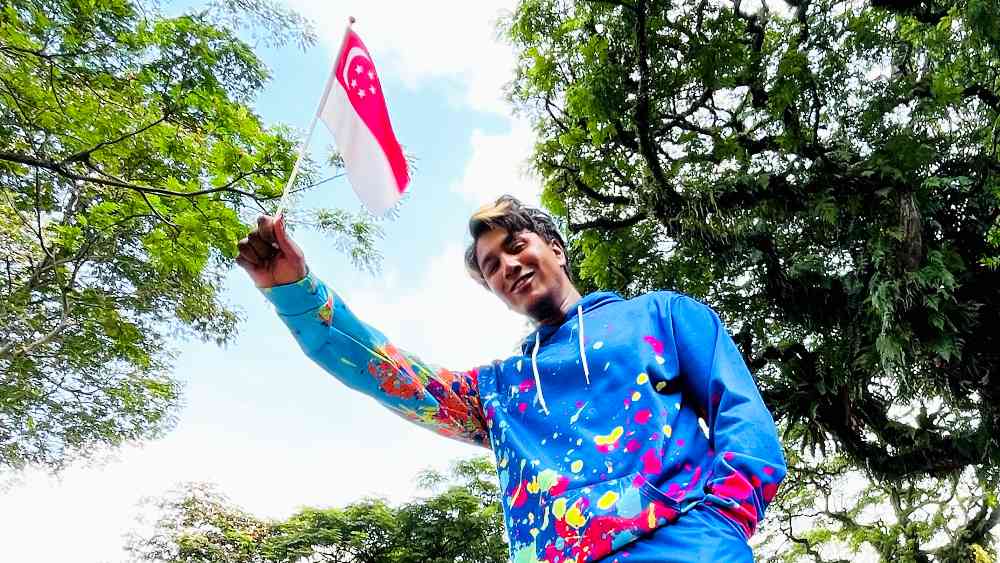 IMAGE: SIM DING EN
👉 From NSF With Music & Drama Company To Full-Time Artiste And NDP Performer
Who is he? MDC artiste Kevin Brendan
"I think I've been training my entire life, leading up to this point. And you know, you're going to need the training to be part of NDP!" says Kevin. "I think no matter how much you perform, nothing really prepares you for a crowd like this. As a performer, you really feel that energy – it's insane!"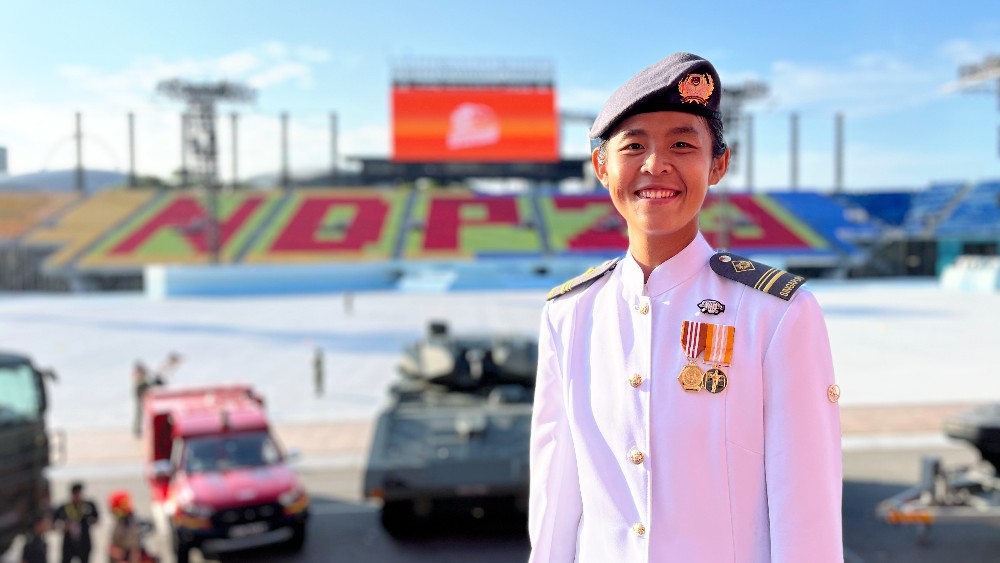 IMAGE: SIM DING EN
👉 She's The Contingent Commander Of The SAF's Fourth Service, Debuting In NDP 2023
Who is she? ME5 Audrey Yong, Contingent Commander, Digital and Intelligence Service
"I represented the Girl Guides in previous years, but this is my very first participation in NDP as a soldier, and also my first time marching at the Padang – an extremely significant place," says ME5 Audrey. "It serves as a stark reminder of our history, how we strive for independence, and how we need to continue to guard this especially in today's complex threat environment."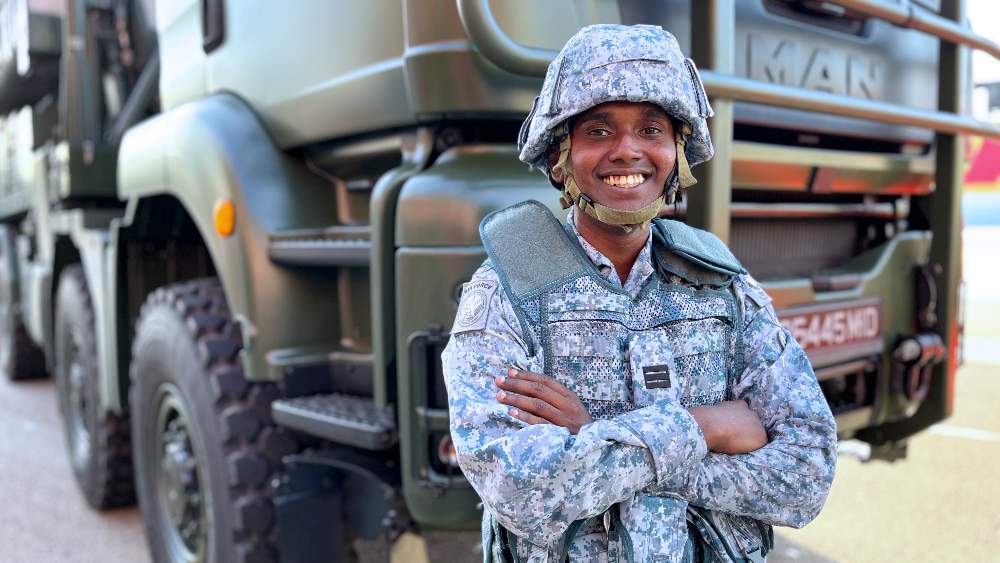 IMAGE: SIM DING EN
👉 Not Only Does He Defend Our Skies, He Also Makes A Mean Aglio Olio
Who is he? CPT Naveen S/O Gunasakaram, Total Defence Parade participant on the Aster 30 Missile System
"Being part of NDP has also given me many opportunities to learn about other services, and see how holistic we are in terms of our defence," says the Air Warfare Officer in 163 Squadron of the Republic of Singapore Air Force (RSAF). "I'll definitely walk away with lots of good friends, and lots of proud moments!"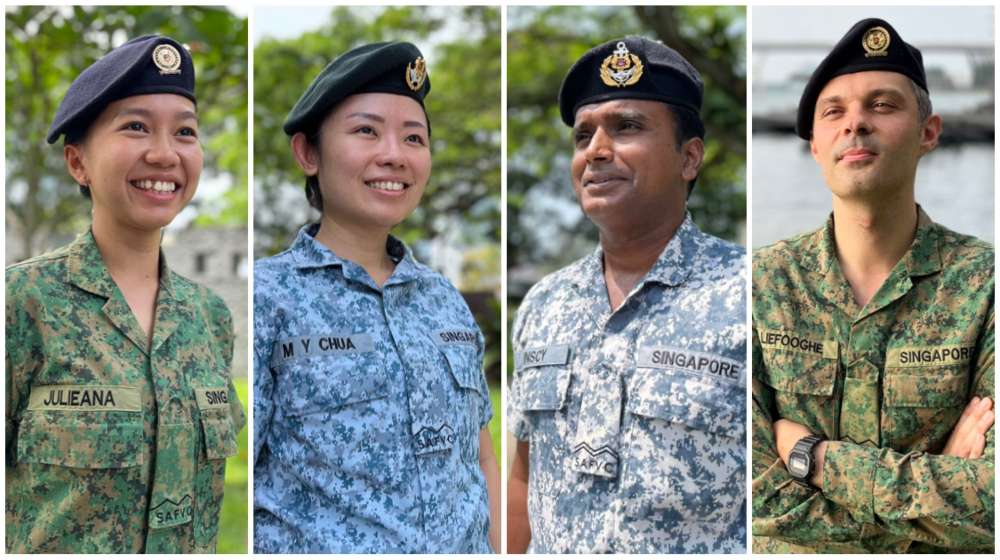 IMAGES: SIM DING EN
👉 They've Stepped Forward To Serve The Nation, And Keep NDP 2023 Safe
Who are they? SV1 Julieana Binte Suhaimi, SV1 Chua Mei Yun, SV2 Sowrinayaham Hiruthayaraj Vinscy Daniel, and SV1 Matthieu Liefooghe from the Singapore Armed Forces Volunteer Corps (SAFVC)
The SAFVC is a uniformed volunteer scheme inaugurated in 2015 to give Singaporeans and Permanent Residents the opportunity to contribute to national defence, and show support for national service. These four SAFVC Volunteers not only do their part in the defence of our Little Red Dot, but also support operations at NDP which range from water safety to medical services and crowd management.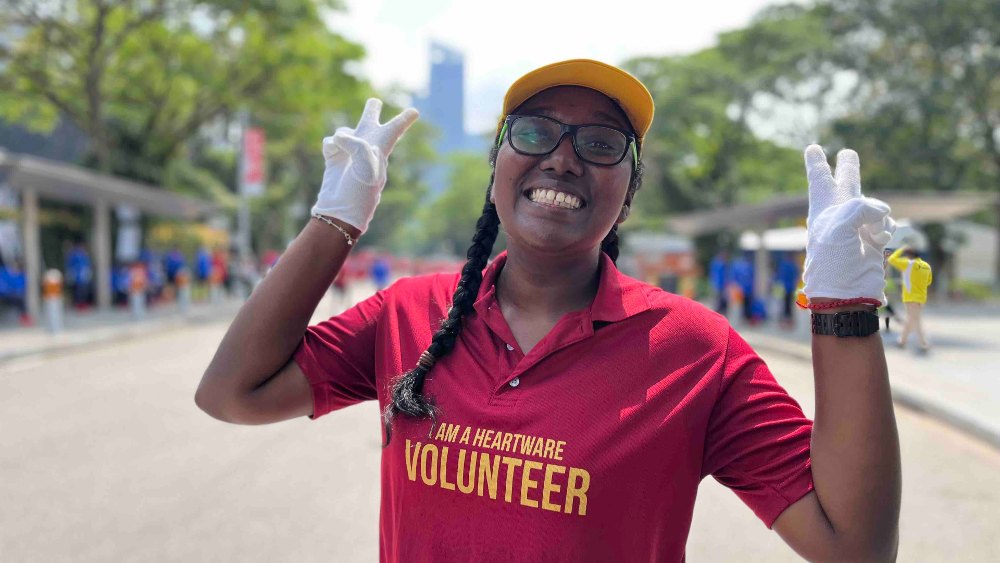 IMAGE: SIM DING EN
👉 'OMG I Get To Be In NDP? Sign Me Up!' Says This Youth Volunteer
Who is she? Anbu Agana N Annadurai, Contingent Commander, Heartware Network
"When I was young, I used to look at National Day performances and it was like, wah, they must be really cool or they must be really good to be selected to perform. To me, this opportunity is a huge deal!" gushes 24-year-old Agana. With over 17,000 volunteers, the Heartware Network focuses on fostering a sense of social responsibility, leadership, and volunteerism among its members aged 14 to 35.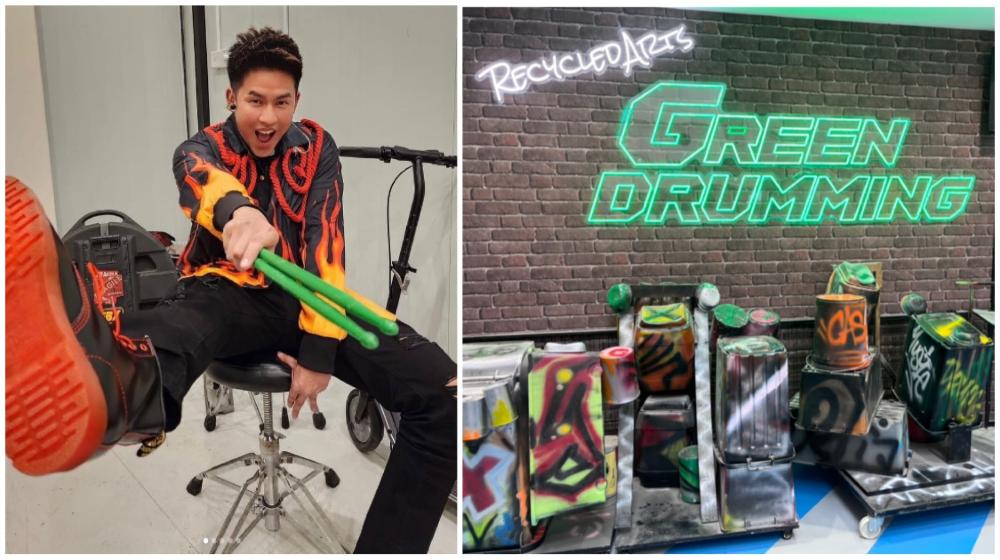 IMAGE: SIM DING EN
👉 From Beats To Eco-Feats: He Started A Drumming School Focusing On Sustainability
Who is he? Arthur Choo, founder of cajon social enterprise BEAT'ABOX and Green Drumming
Rhythm is everywhere we go. You don't need to spend dollars to learn rhythm. It is inbuilt in us. When you have rhythm, you can do anything," says the 36-year-old, who will be drumming his heart out for the nation in Act 3 of the NDP 2023 Show.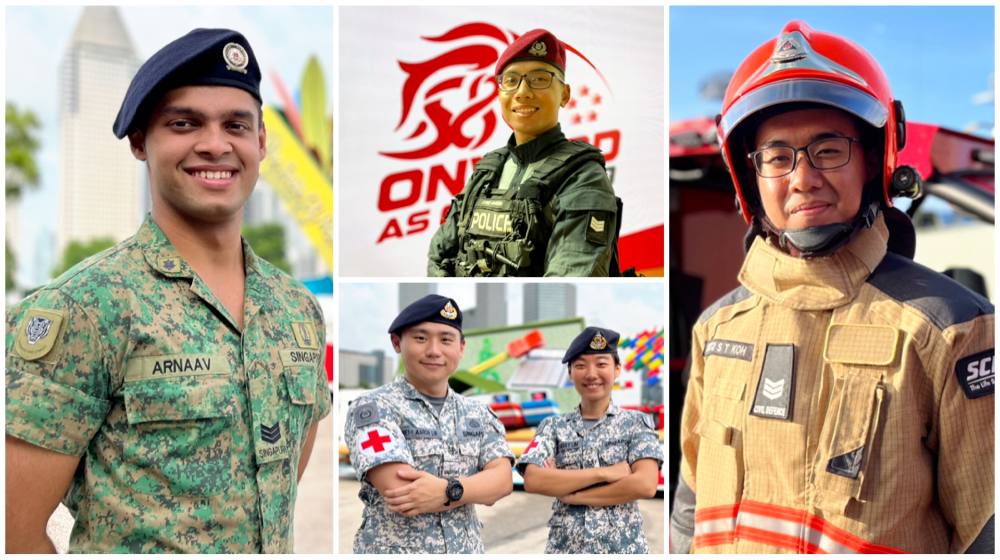 IMAGES: SIM DING EN
👉 A Memorable NDP Debut: Fresh Faces Add Vigour To The Total Defence Parade
Who are they? (Clockwise from left) 3SG Arnaav Karan Chabira, SGT(3) Syed Ameen Hussain, SGT2 Andy Koh, ME1 Sherry Lim, and ME1 Aaron Lim
Keep a lookout for the Total Defence Parade segment in this year's NDP, which will feature floats representing the six pillars of Total Defence as well as a combined procession of assets from the Singapore Armed Forces, Singapore Police Force, and Singapore Civil Defence Force. We speak to five TDP participants about their first showing at NDP.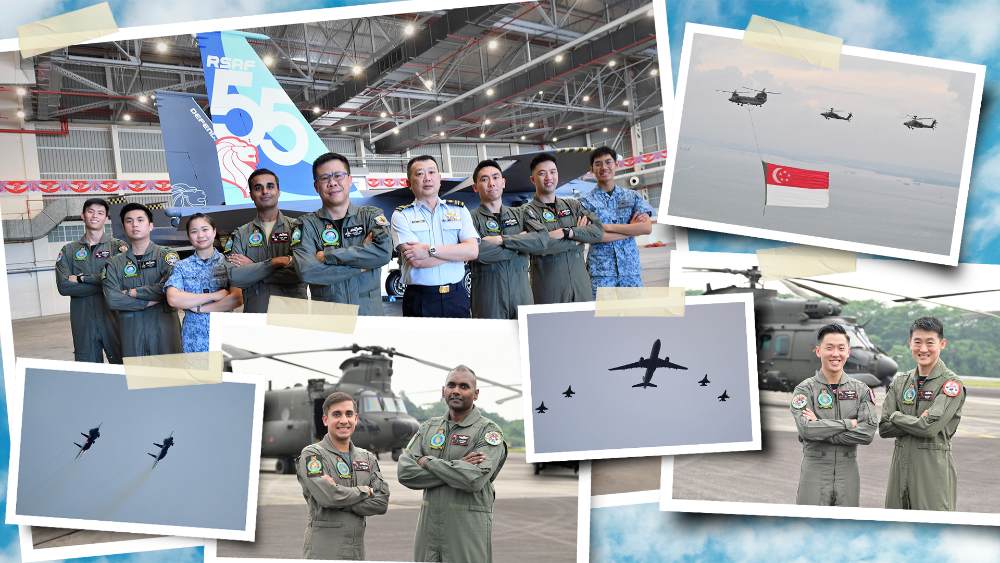 IMAGES: NDP 2023 EXCO
👉 Spectacle In The Sky: RSAF's Enhanced Aerial Showcase Set To Make NDP 2023 Superfly
Who are they? Aircrew and ground crew from the RSAF
To celebrate not only Singapore's 58th birthday but also the RSAF's 55th anniversary, an enhanced aerial display has been put together. "The intent of putting up this show is to showcase some of the RSAF's newest capabilities, to show Singaporeans how much [the RSAF has] transformed from how we started to what we are today, and to give Singaporeans the confidence that the RSAF is very capable of defending what we hold dear in Singapore," says COL Jonavan Ang, Chairman, Air Participation Committee.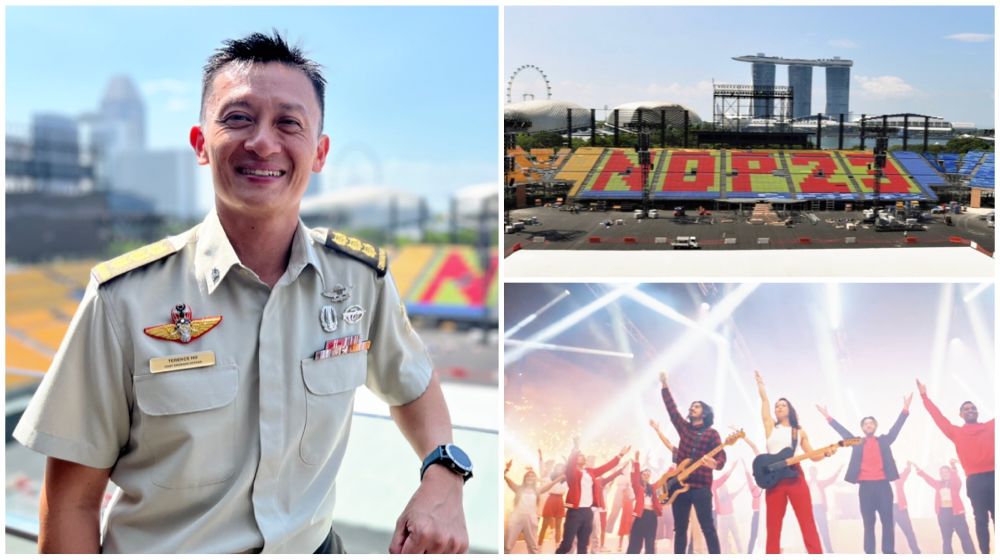 IMAGE: SIM DING EN
👉 NDP 2023 Head Honcho Is Hard At Work Engineering An Awesome Parade
Who is he? COL Terence Ho, Chairman of the NDP 2023 Executive Committee
"My first NDP was more than two decades ago when I marched as part of the Colours Party for my Formation – and that was at the old National Stadium," recalls the Singapore Combat Engineers' 20th Chief Engineer Officer.
This year's NDP theme song, "Shine Your Light" reminds him of his mum. "She raised me and my two siblings, and taught us the importance of grit and determination against whatever challenges life throws at us," says COL Terence.
"She spoke little English, but when we were growing up, I remember she picked up many new skills, sought new qualifications, and juggled between work and taking care of us in order to give us a decent living and a chance to be successful in our lives. She shone her light on the three of us and inspired us to give our best in whatever we do in our lives."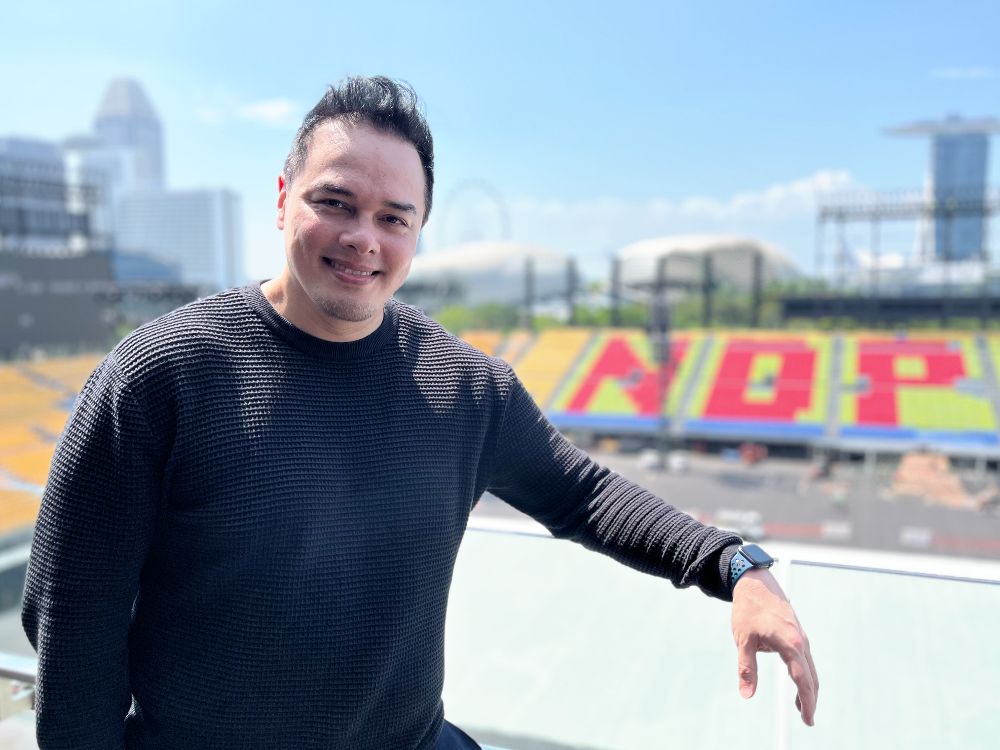 IMAGE: SIM DING EN
👉 It's Feel-Good! It's Catchy! It's A Don Richmond NDP Theme Song!
Who is he? Award-winning producer, singer, songwriter and composer Don Richmond
Fun fact: Did you know that Don Richmond wrote not only the NDP theme song this year ("Shine Your Light") and last year ("Stronger Together"), but also "Rise" and "Tomorrow's Here Today" from NDP 2016?
For the latest updates on Wonderwall.sg, be sure to follow us on TikTok, Telegram, Instagram, and Facebook. If you have a story idea for us, email us at [email protected].