Secret Singapore: This Shop In Bedok Modernises The Retro Biscuit Trade
Baby ball biscuits, ais gems, biscuit telinga. Do any of these childhood snacks sound familiar? If you're of a certain vintage (sorry, Gen Zs), then these traditional titbits will bring on a wave of nostalgia.
Shaun Seet, who grew up with such retro treats, wanted to preserve them for the new generation, especially now that they're so scarce. This led to the entrepreneur co-founding Biscuits & Co and opening shop in the heartlands of Bedok at the end of 2020.
The offerings: Row upon row, and packet after packet of vintage biscuits and treats sourced from local suppliers through word of mouth, online and from Malaysia. And some bundled in decidedly cool packaging that any Instagrammer would approve of.
We speak to the 33-year-old about his labour of love and giving tradition a bit of a facelift.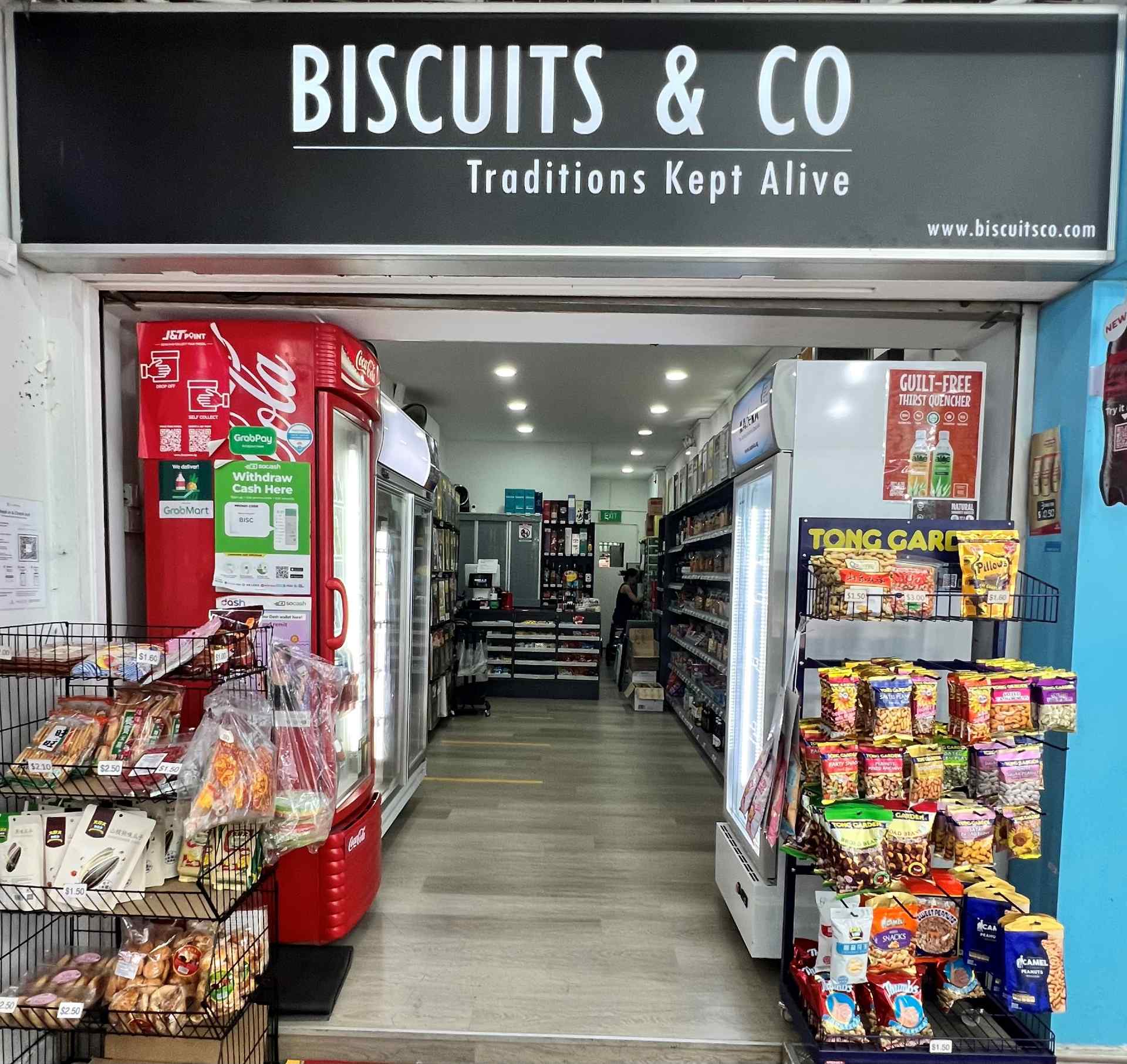 What inspired you to start Biscuits & Co. Why retro biscuits?
After I ORDed, I dreamt of being an entrepreneur, so I was always on the lookout for a trade to go into. When I was previously a trade marketeer for 10 years, I served General Trade outlets like mom-and-pop stores and minimarts.
As the years went by, I realised these store owners were mostly in their late 50s with no successors. This sparked my interest in entering into this retail trade but I didn't want to just start another minimart.
That is when I chanced upon stalls in the market selling nostalgic biscuits, and I thought, since I love eating these biscuits, why don't I start a business on this and try to modernise it. That is how I decided on selling traditional snacks.
Why is it important to preserve the tradition of such nostalgic childhood snacks?
These are the snacks that our parents and grandparents have been eating since they were young. It is more affordable and tasty too! It is also a good change from eating all the new-generations snacks - and it can bring back memories of childhood.
What is your favourite memory growing up, eating these childhood treats?
My favourite memory would be going into void deck mama shops, and looking for those cheap snacks with the coins I have, and buy biscuits from tins where I can request for $0.50 or $1 servings.
What is your personal favourite biscuit from the shop that you would recommend people from the younger generation to try?
My personal favourite would be the "ear biscuits" (shown above), also known as biscuit telinga. It is very crunchy and you will never stop munching on these while you are watching Netflix.
Biscuits & Co. is located at Blk 510 Bedok North St 3 #01-57. Find out more information on their Facebook and Instagram.
For the latest updates on Wonderwall.sg, be sure to follow us on TikTok, Telegram, Instagram, and Facebook. If you have a story idea for us, email us at [email protected].