National Monuments Of Singapore: Lau Pa Sat
What is a National Monument? Who gazettes them? How many national monuments are there in Singapore? To date, the Preservation of Sites and Monuments, a division of National Heritage Board, has identified and gazetted 75 buildings, structures and sites of national significance as an integral part of Singapore's built heritage.
And we're here to tell you all about them - one National Monument at a time!
You've probably passed by or stepped into more than a few of them without realising they were National Monuments: Al-Abrar Mosque, Asian Civilisations Museum, the Civilian War Memorial, Saint Andrew's Cathedral, the Esplanade Park Memorials, Fort Siloso on Sentosa - no need to plan an itinerary for friends visiting from overseas; just show them this article ✌️
In this edition, we spotlight the only survivor of the five markets that used to serve residents living in Singapore's town area, Lau Pa Sat (formerly known as Telok Ayer Market).
📍 Location
Lau Pa Sat was the 4th building to be gazetted as a National Monument. The MRT stations nearest to it are Telok Ayer and Downtown.
📅 Significant dates
Dates built:
1823: The first Telok Ayer Market, a timber-and-attap structure
1833: Rebuilt on the same site
1890-1894: Relocated to newly reclaimed land at Collyer Quay; the new Telok Ayer Market was built
1972: The market was converted into a food court
1986-1992: Reopened as Lau Pa Sat
Milestones:
1989: Telok Ayer Market was renamed as Lau Pa Sat
30 Jun 2014: Reopened after a nine-month renovation
Date gazetted: 28 Jun 1973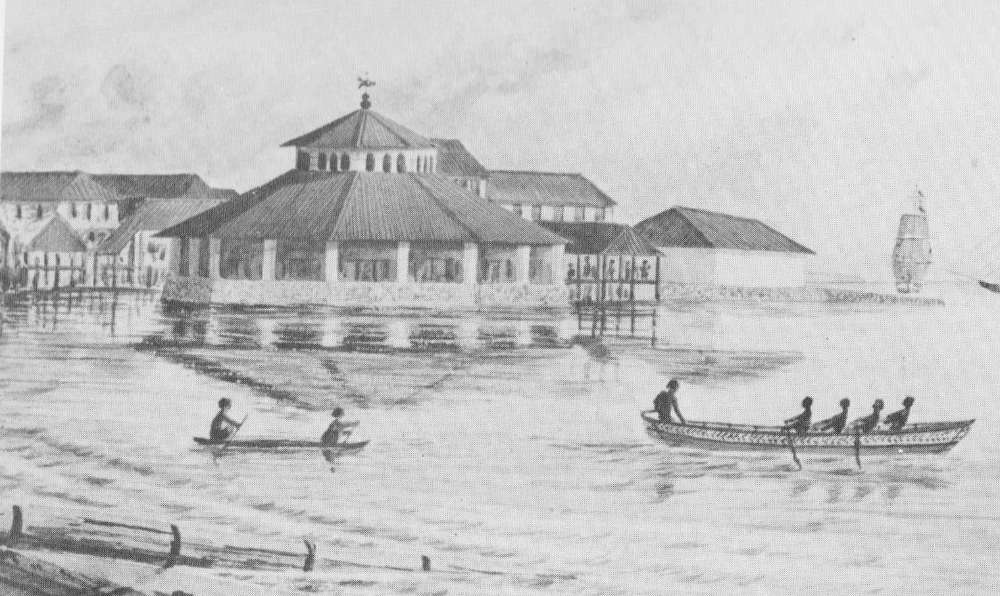 IMAGE: WIKIMEDIA COMMONS/@JOHN TURNBULL THOMSON
📜 History

The first Telok Ayer Market, opened in 1823, was a timber-and-attap structure located on the shore at the western end of Market Street. However, the structure was declared defective soon after its completion: the timber piles needed replacement, and the attap roof violated fire safety regulations set by the British Administration. Tiles were then installed on the roof, but the structure was unable to bear the weight. Attap was thus reinstated. By 1830, the market was once again deemed to be extremely unsafe.
A new market building replaced the dilapidated structure on the same site in 1833. It was constructed according to the design of George D. Coleman, the first Government Superintendent of Public Works who assisted in the planning of early colonial Singapore's town centre. Among other buildings that Coleman designed were the Armenian Church, the first Saint Andrew's Church, and the Old Parliament House.

Four decades later, in 1879, the market was demolished due to the land reclamation project at Telok Ayer Basin and relocated to the newly reclaimed land at Collyer Quay. Municipal Engineer James MacRitchie was tasked to design the new market. Construction began in 1890 and was completed in 1894.

In the early 1970s, plans were made to transform the vicinity of the former Telok Ayer Market into a commercial and financial district. A wet market, or fresh-produce market, nestled in the midst of office buildings was reckoned to be inappropriate. Eventually, the building ceased to function as a wet market, and was transformed into a hawker centre in 1972.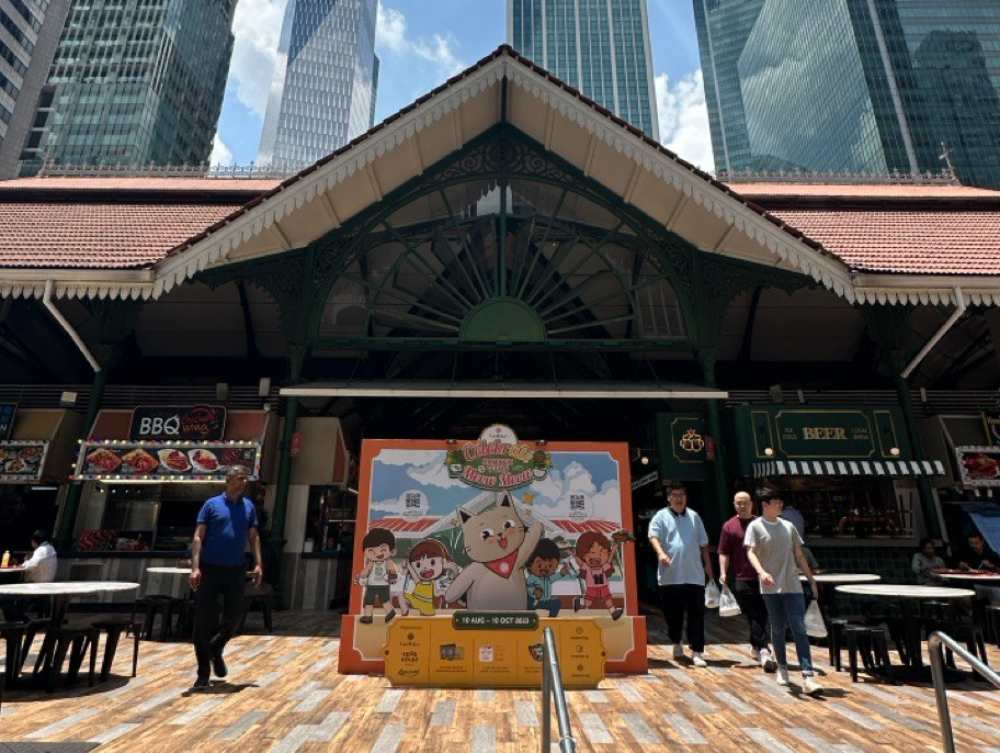 IMAGE: NG KAI
When the Mass Rapid Transit (MRT) system was constructed in the mid-1980s, the former Telok Ayer Market was taken apart piece by piece so that workers could install the train lines beneath the structure.
A few years later, the historic edifice was meticulously pieced back together after the track-laying project was completed and a new foundation was laid. It was then decided that the former Telok Ayer Market would be converted into a festival market and was officially renamed Lau Pa Sat in 1989.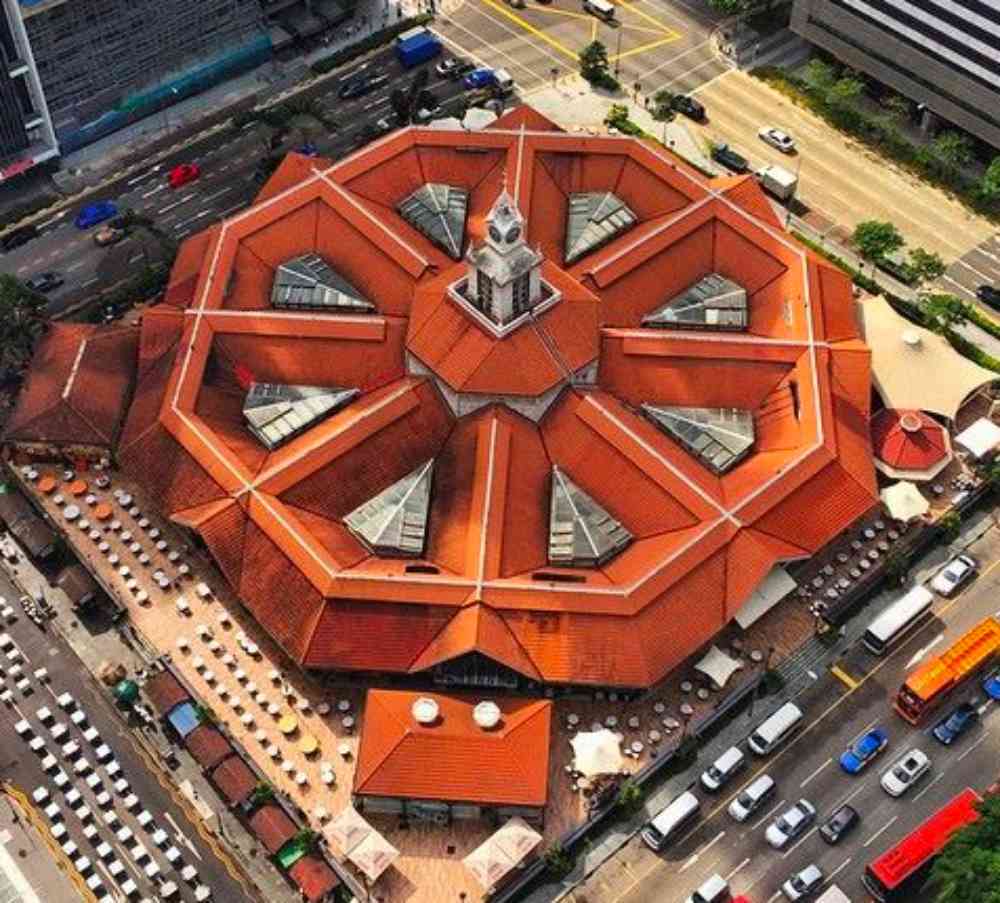 IMAGE: WIKIMEDIA COMMONS/@XTREMEMACHINEUK
📐 Design and architecture
In his plan for the new market, MacRitchie retained the octagonal shape of Coleman's design. The former Telok Ayer Market was built with Victorian cast-iron elements prefabricated in Europe and crafted by Walter MacFarlane & Company, an iron foundry in Glasgow, Scotland. This same foundry later made the cast-iron verandahs of Raffles Hotel in 1913. Cast-iron was one of the most popular building materials at that time.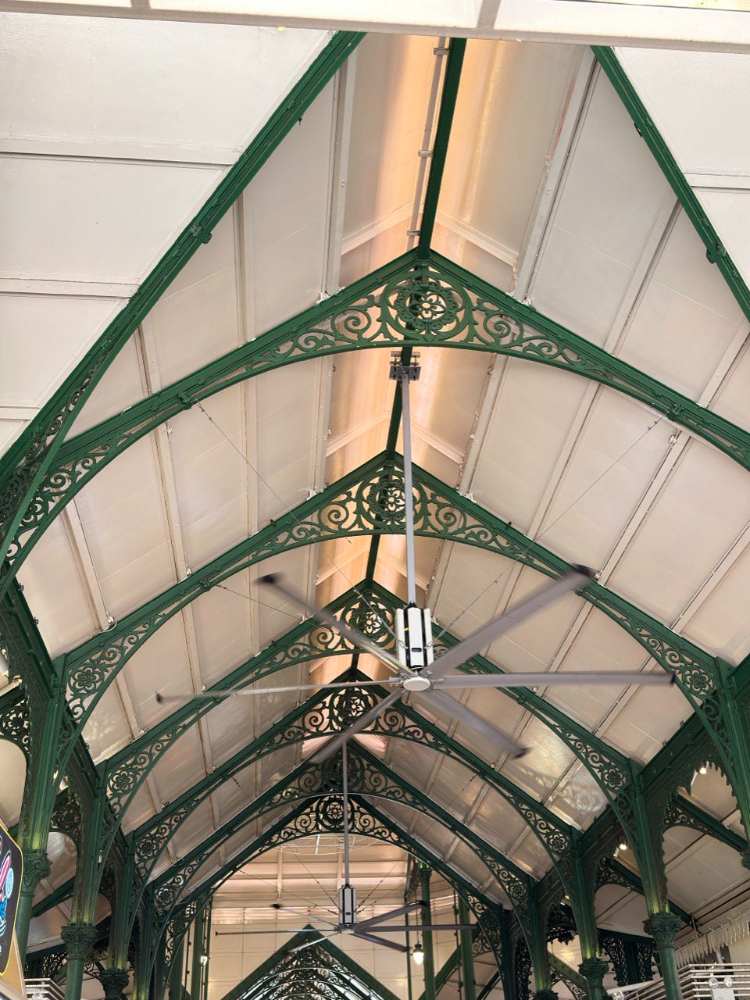 IMAGE: NG KAI
Elegant cast-iron columns with various architectural designs adorned with elaborate and intricate fretwork (decorative open patterns) can be found around Lau Pa Sat.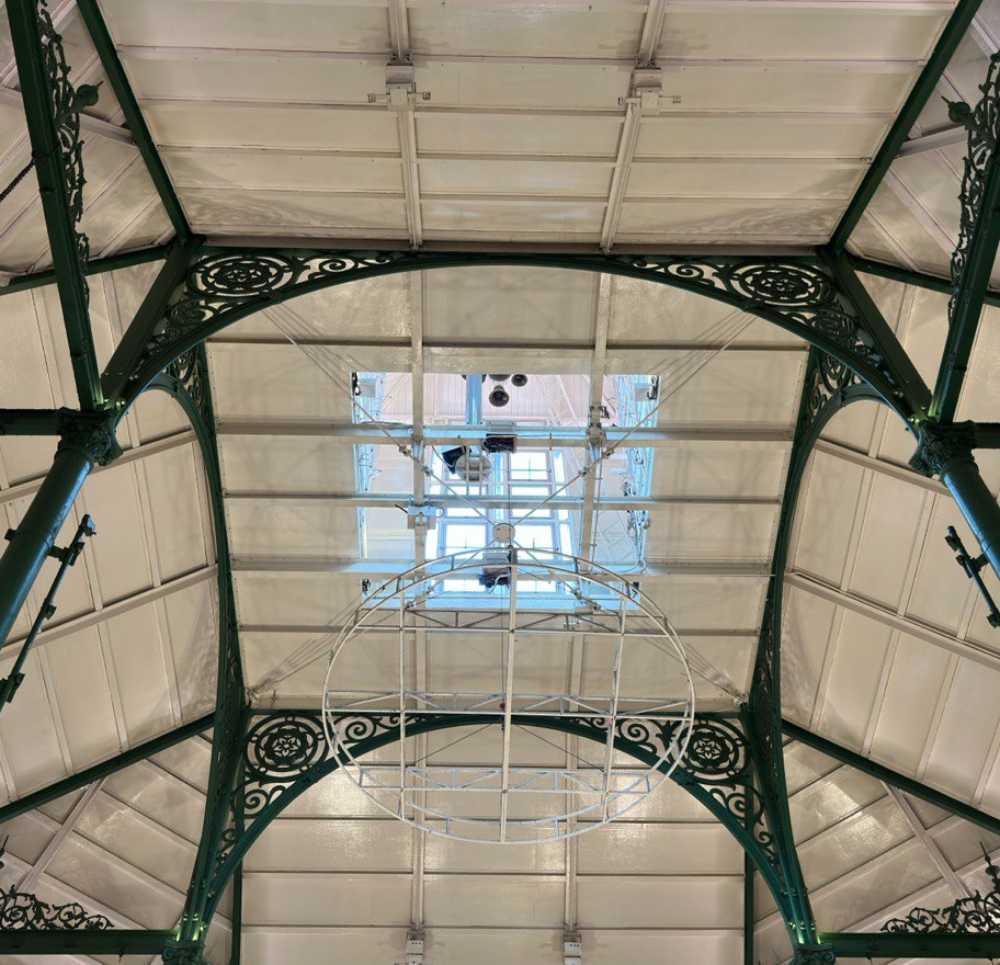 IMAGE: NG KAI
The high-ceilinged octagonal structure has eight radial passageways sectioned by air wells, and at the end of these passageways are eight large entrances. These features maximise air circulation and ensure that the market is well ventilated. The lantern (a windowed superstructure on the roof) at the centre of the building illuminates the interior space.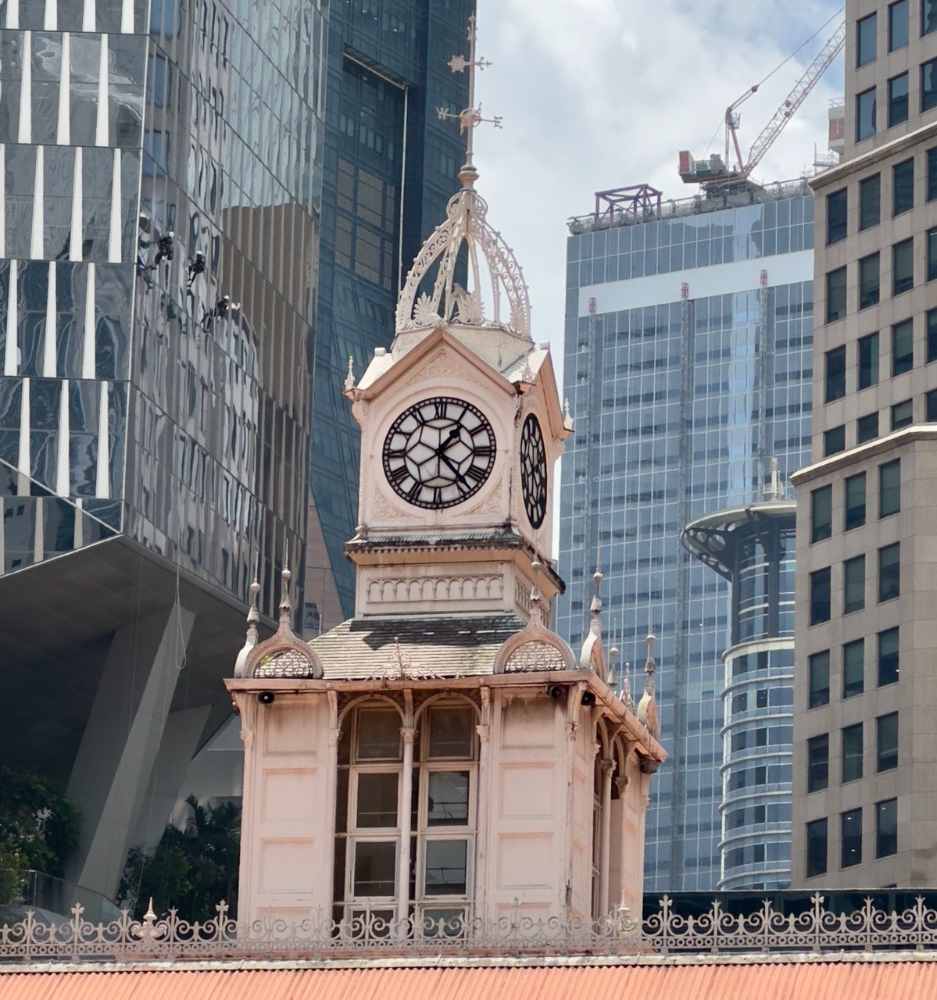 IMAGE: NG KAI
Crowning the lantern is a beautiful clock tower which can be seen from afar; it is perhaps the former Telok Ayer Market's most prominent feature. It boasts a clock face on each of its four sides. Topped by a wind vane, the lantern and tower are adorned with ornate filigree and shaped like a pavilion. A carillon of bronze bells and a jacquemart (a moving mechanical figure of a bell-striker) produced by the Royal Bell Foundry Petit & Fritsen in the Netherlands were installed in the tower in 1991.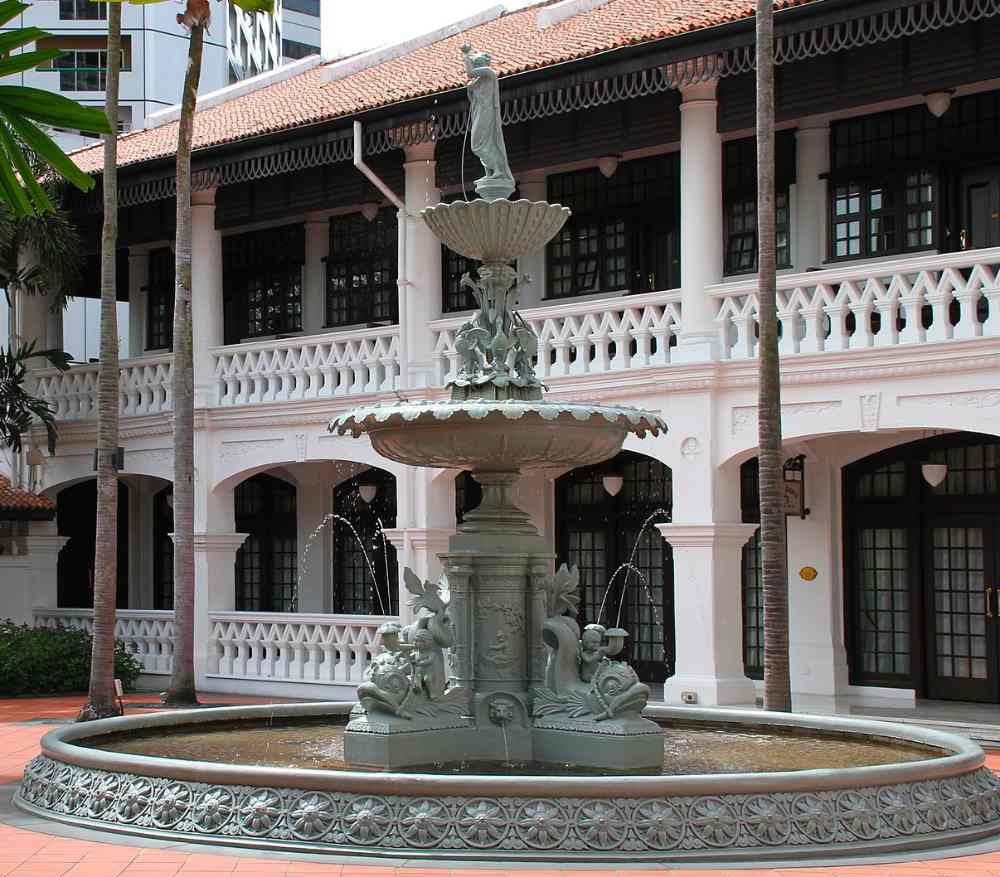 IMAGE: WIKIMEDIA COMMONS/@TONY HISGETT
A cast-iron fountain used to stand underneath the clock tower. It was moved to a plaza just outside Orchard Road Market in 1902, but was dismantled once again later.
The fountain disappeared from public view altogether and was forgotten until 1989, when the pieces were rediscovered and certified to be authentic by the team responsible for the restoration of Raffles Hotel. The fountain was reassembled and restored to its former beauty. Today, it is the centrepiece at one of the Raffles Hotel's courtyards, Palm Garden.
🕖 Opening hours

Open 24 hours daily.
🎟️ Admission
Entry is free.
For the latest updates on Wonderwall.sg, be sure to follow us on TikTok, Telegram, Instagram, and Facebook. If you have a story idea for us, email us at [email protected].