National Monuments Of Singapore: Ying Fo Fui Kun
What is a National Monument? Who gazettes them? How many national monuments are there in Singapore? To date, the Preservation of Sites and Monuments, a division of National Heritage Board, has identified and gazetted 75 buildings, structures and sites of national significance as an integral part of Singapore's built heritage.
And we're here to tell you all about them - one National Monument at a time!
Here they all are on a Google Map we specially created. Every Wonderwall.sg logo, or "W", indicates a spot where a National Monument of Singapore is located:
You've probably passed by or stepped into more than a few of them without realising they were National Monuments: Al-Abrar Mosque, Asian Civilisations Museum (ACM), the Civilian War Memorial, Saint Andrew's Cathedral, the Esplanade Park Memorials, Fort Siloso on Sentosa - no need to plan an itinerary for friends visiting from overseas; just show them this article ✌️
In this edition, we take a look at the first and oldest Hakka clan association in Singapore, Ying Fo Fui Kun.
📍 Location
Ying Fo Fui Kun was the 40th building to be gazetted as a National Monument, and is located along Telok Ayer Street. The MRT station nearest to it is Telok Ayer.
📅 Significant dates
Dates built:
Post-1822: Ying Fo Fui Kun began as a temple
1881-1882: Ying Fo Fui Kun clan house was first built
1997-1998: Restored extensively
Milestones:
1882: Ying Fo Fui Kun's clan house
2016: Reopened as a free public gallery
Date gazetted: 18 Dec 1998
📜 History
Along Telok Ayer Street is Ying Fo Fui Kun (应和会馆), Singapore's oldest Hakka clan association. It embodies the unity of the early Hakka community and serves as a reminder of their contributions to Singapore's progress over the years.
Hakkas in Singapore
Following the establishment of the British trading post in Singapore by Sir Stamford Raffles in 1819, the Chinese immigrant population experienced rapid growth. Among the five primary Chinese dialect groups in Singapore, namely the Hokkiens, Teochews, Cantonese, Hainanese, and Hakkas, the Hakkas were prominent. Many Hakkas pursued professions such as woodcutting, carpentry, blacksmithing, and goldsmithing.
IMAGE: NG KAI
Association for the Welfare of Hakkas
While the Hakka population was relatively small compared to other Chinese dialect groups during the early years of British colonial rule, they were among the first to establish a clan association. In 1822, a group of Hakka clansmen, led by Liew Lok Teck (刘润德), founded Ying Fo Fui Kun. Initially known as Ying Fo Kun (应和馆 or Ying He Guan), the clan association aimed to assist newly arrived Hakka immigrants in finding accommodation and employment in Singapore. Its name, Ying He, reflected the founders' aspiration for peaceful coexistence among local Hakkas.
The first building constructed to house the association was a single-story structure that served Hakka immigrants from five counties in Guangdong Province: Meixian (梅县), Xingning (兴宁), Wuhua (五华), Pingyuan (平远), and Jiaoling (蕉岭). In addition to providing support, the association ensured that its members received proper funeral and burial ceremonies.
By 1844, the committee deemed the building to be in disrepair. After raising sufficient funds for reconstruction, the current two-story Ying Fo Fui Kun was erected on the same site. An extension called 'Wu Cheng Fu Di' (五城福地, literally 'The Prosperous Land of the Five Cities') was constructed next to Ying Fo Fui Kun in 1875 to house the ancestral tablets of the Hakka community. Unfortunately, 'Wu Cheng Fu Di' was demolished in 1980 to make way for road widening.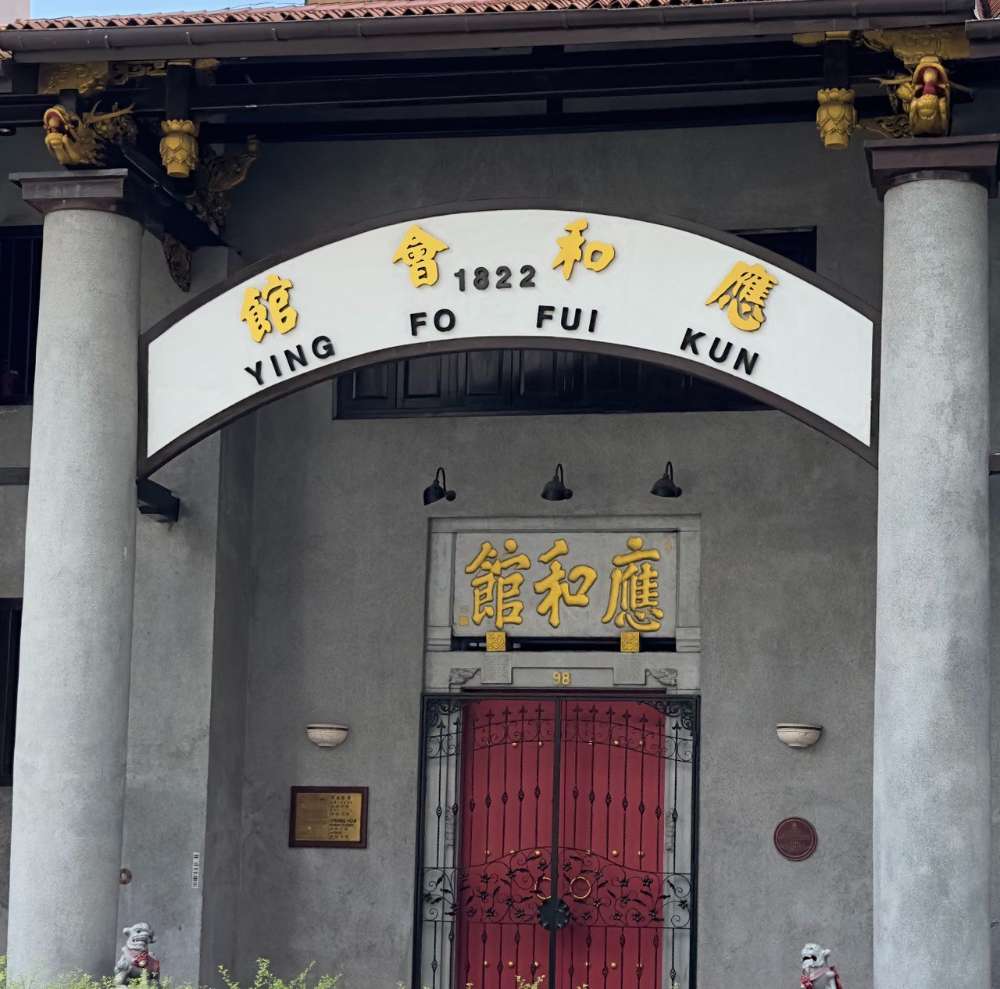 IMAGE: NG KAI
Ying Xin School
At the front entrance of Ying Fo Fui Kun, you'll find two Doric columns with an arch stretching between them. Today, proudly inscribed on the arch are the characters 'Ying He Hui Guan.' However, in the past, the arch bore the inscription 'Ying Xin Xue Xiao' (应新学校), or Ying Xin School, which the clan association established and operated within the building from 1905 to 1970.
Much like other schools established by temples and clan associations during that era, such as Chongwen Ge (崇文阁), and later, Chong Hock Girls' School (崇福女校) next to Thian Hock Keng, and Nan Ming School (南明学校) in Hong San See, Ying Xin School played a crucial role in providing education for the community's children. This was especially important during a time when government-run schools only admitted students who were proficient in English.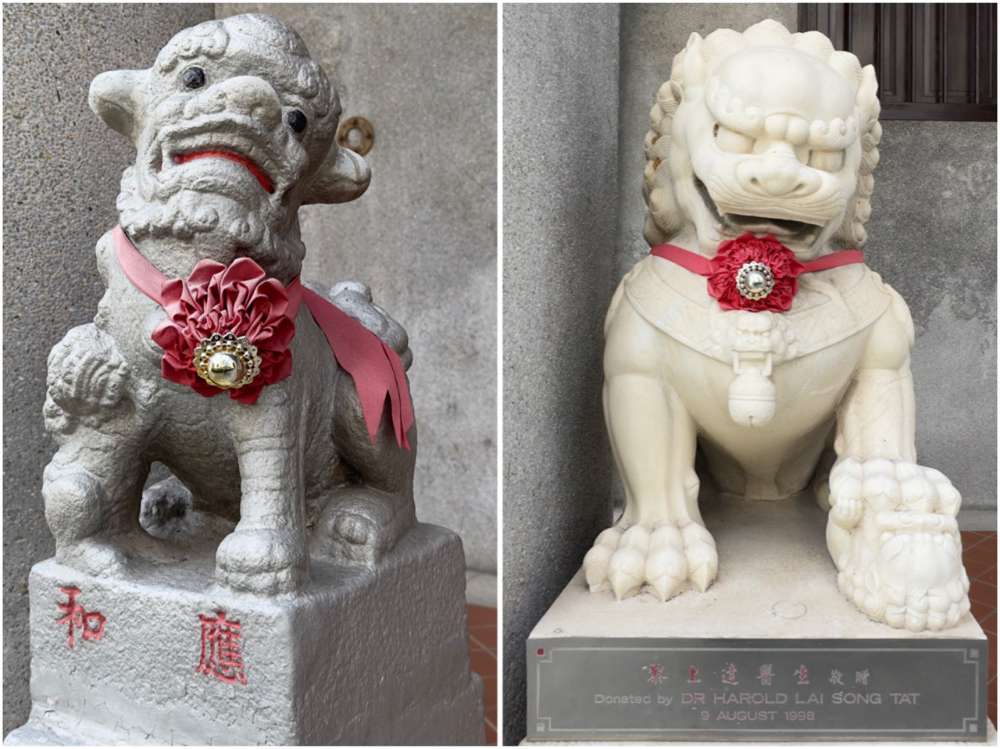 IMAGES: NG KAI

📐 Design and architecture
Ying Fo Fui Kun was designed in the style commonly seen in clan and temple buildings in Guangdong's southeastern coastal region. The architectural layout consists of a central courtyard flanked by an entrance hall, a main hall, and connecting corridors.
Notably, the front façade of the building features windows that are placed higher than the average person's height. This intriguing architectural detail is believed to have been influenced by the distinctive Hakka 'tu lou' (土楼) structures in China. These 'tu lou' are circular earthen residences characterised by minimal windows situated high above ground level. This design served a defensive purpose, preventing intruders from easily climbing into the building.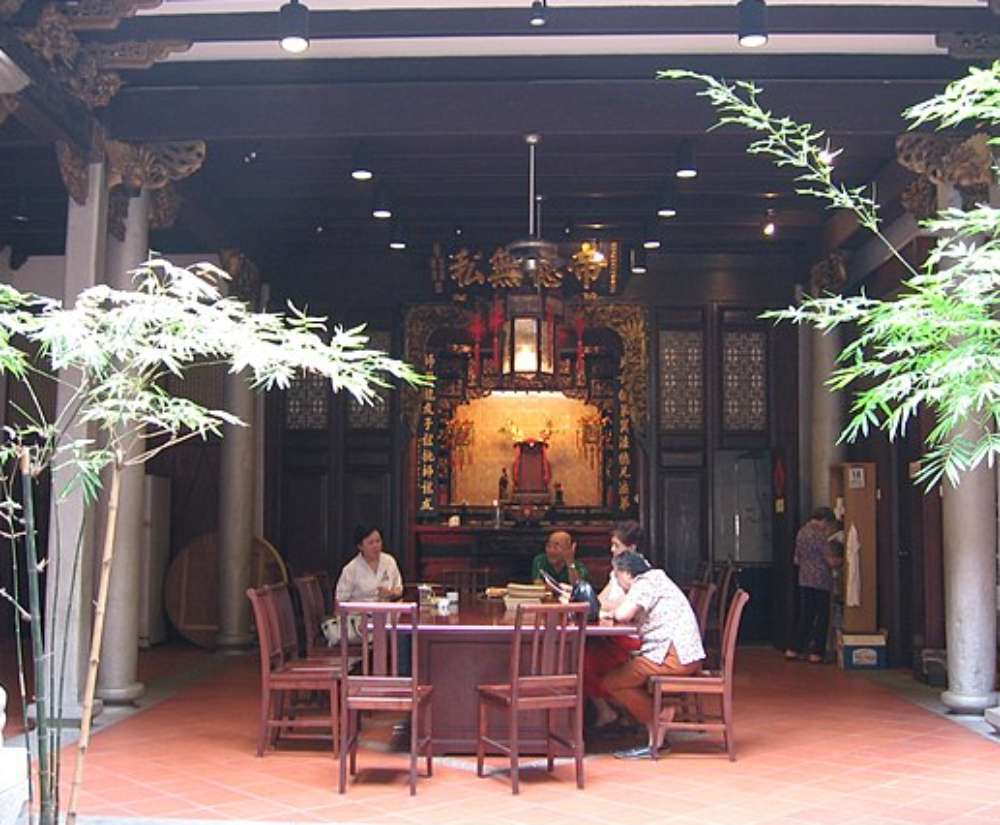 IMAGE: WIKIMEDIA COMMONS/@SENGKANG
In the daytime, Ying Fo Fui Kun's main hall is bathed in natural light streaming in through the courtyard. Positioned at the center of the hall is an altar dedicated to Guan Sheng Di Jun (关圣帝君), also known as Guan Yu (关羽), the deified Chinese general renowned during the Period of the Three Kingdoms. Beyond his role as the God of War, Guan Sheng Di Jun is revered for his paramount virtue of loyalty. Consequently, he symbolises the sense of camaraderie that the pioneering members aimed to cultivate within the Hakka community.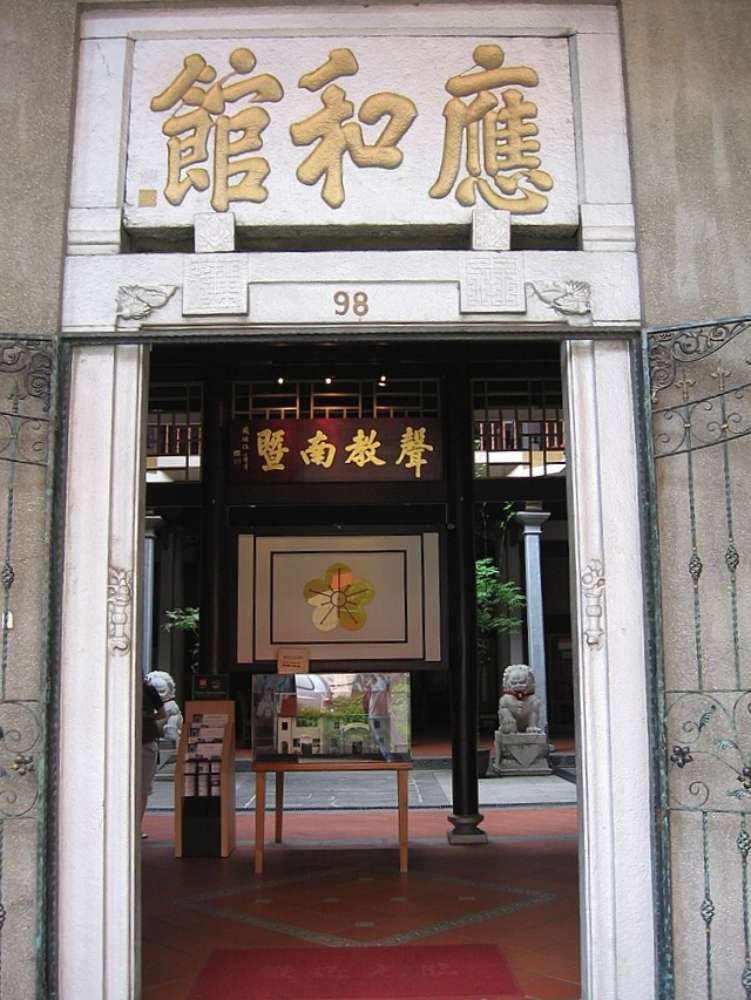 IMAGE: WIKIMEDIA COMMONS/@SENGKANG
In a departure from the traditional use of timber columns typically found in Chinese buildings to support the second floor, Ying Fo Fui Kun employs natural granite columns for this purpose. However, the structural members of the roof are still constructed from timber. Notably, in 'Jia Yuan Ting' (嘉缘厅, 'Hall of Fine Destiny') on the second level, these timber structural elements are adorned with intricate paintings depicting landscapes and scenes from Chinese mythology and folklore.
🕖 Opening hours

Regular visiting hours are from 8am-4pm, Mondays to Saturdays. Closed on Sundays and Public Holidays.
🎟️ Admission
Entry is free.
For the latest updates on Wonderwall.sg, be sure to follow us on TikTok, Telegram, Instagram, and Facebook. If you have a story idea for us, email us at