National Monuments Of Singapore: Thian Hock Keng Temple
What is a National Monument? Who gazettes them? How many national monuments are there in Singapore? To date, the Preservation of Sites and Monuments, a division of National Heritage Board, has identified and gazetted 75 buildings, structures and sites of national significance as an integral part of Singapore's built heritage.
And we're here to tell you all about them - one National Monument at a time!
Here they all are on a Google Map we specially created. Every Wonderwall.sg logo, or "W", indicates a spot where a National Monument of Singapore is located:
You've probably passed by or stepped into more than a few of them without realising they were National Monuments: Al-Abrar Mosque, Asian Civilisations Museum, the Civilian War Memorial, Saint Andrew's Cathedral, the Esplanade Park Memorials, Fort Siloso on Sentosa - no need to plan an itinerary for friends visiting from overseas; just show them this article ✌️
In this edition, we zoom in on the oldest Hokkien temple on our Little Red Dot, Thian Hock Keng.
📍 Location
Thian Hock Keng Temple was the 5th building to be gazetted as a National Monument in Singapore, and is located right beside other iconic National Monuments - the Former Keng Teck Whay Building and Former Nagore Dargore. The MRT station nearest to it is Telok Ayer.
📅 Significant dates
Dates built:
1821-1822: Began as a small prayer house
1839-1842: Thian Hock Keng Temple was built
Milestones:
1840: Hokkien Huay Kuan was founded on the temple grounds
1998-2000: The temple underwent a major restoration
Date gazetted: 28 Jun 1973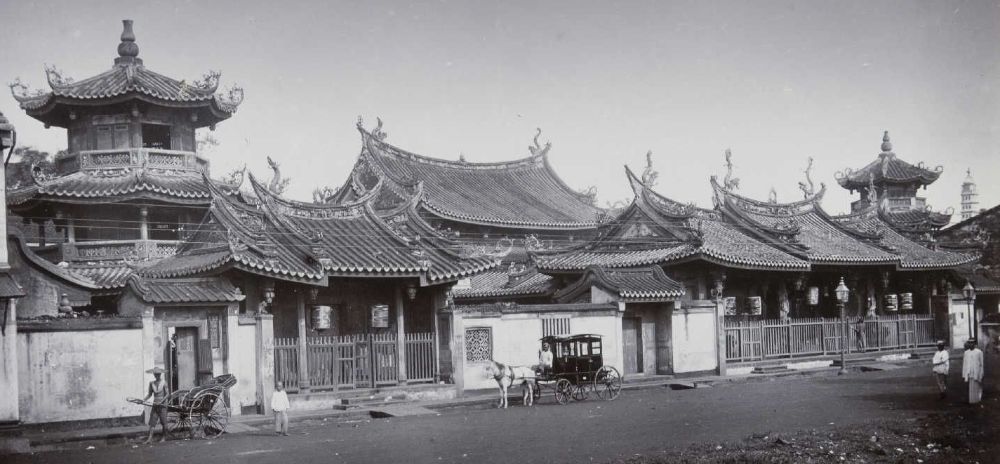 Thian Hock Keng Temple between 1880 to 1910. | IMAGE: WIKIMEDIA COMMONS/@NATIONAAL MUSEUM VAN WERELDCULTUREN
📜 History
The Thian Hock Keng Temple originated as a prayer house by the Telok Ayer Basin in 1821. It began as a small prayer house built by Fujian immigrants; it was dedicated to the goddess Ma Zu (or Tian Hou), revered as a protector of seafarers and navigators. Chinese immigrants, grateful for completing sea voyages safely, expressed thanks through offerings of funds and joss-sticks at the prayer house.
Between 1839 and 1842, the prayer house underwent extensive reconstruction, transforming into Thian Hock Keng, which means "Temple of Heavenly Happiness". Funded by affluent Hokkien merchants like Tan Tock Seng, the construction of the temple was finished in 1842.
Remarkably, not a single nail was used; all materials, including ironwood posts serving as the main pillars, were imported from China. Crafted by skilled artisans, the temple adhered to traditional Chinese architectural norms, making it one of Singapore's most authentic Chinese temples.
Ma Zu, the patron deity, was transported from Amoy (now Xiamen), Fujian province, to Singapore in Apr 1840. The Chung Wen Pagoda and Chong Boon Gate, located to the right of the main temple, were added in 1849.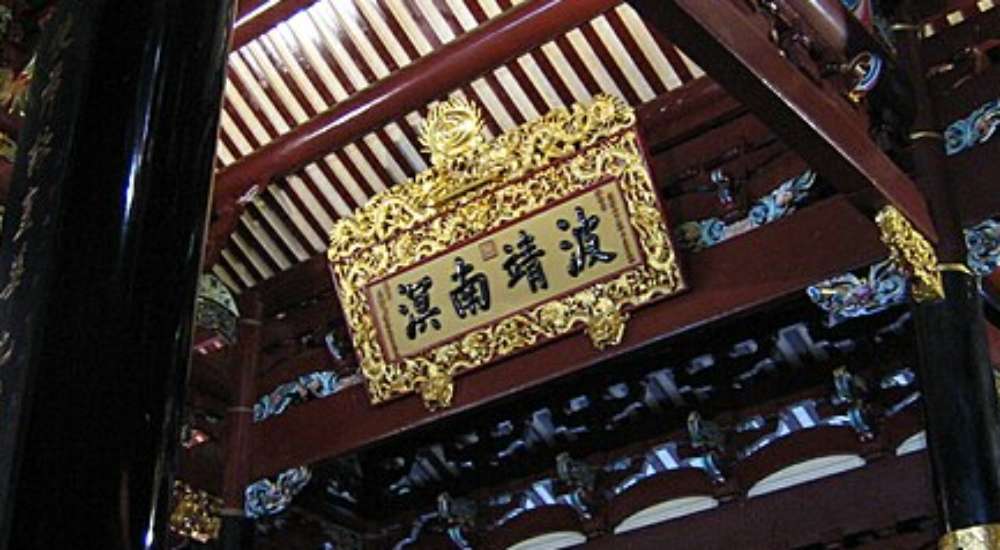 IMAGE: WIKIMEDIA COMMONS/@SENGKANG
In 1907, a plaque and silk scroll inscribed with calligraphy by Emperor Guang Xu of the Qing Dynasty were presented to the temple. The wooden plaque bears the inscription 波靖南溟 (bo jing nan ming), meaning "gentle waves over the South Seas". These characters are also featured on the silk scroll. Yueh Hai Ching Temple is the only other temple in Singapore that also received similar imperial favour.
Originally adorning the temple's main altar signboard, both the plaque and silk scroll were removed for restoration in 1999. After the restoration works finished, a replica of the scroll and the original wooden plaque were reinstated at the same spot. The scroll was later donated to the Singapore History Museum (now National Museum of Singapore).
IMAGE: NG KAI
The left wing of Thian Hock Keng once housed the Singapore Hokkien Huay Kuan, Singapore's oldest Hokkien clan association, founded in the temple grounds in 1840. In 1919, the association relocated to premises next to the temple, and, later, moved across the street in 1955.
Chong Hock Girls' School, one of the earliest Hokkien girls' schools in Singapore, had its beginnings at the temple. Initiated by the Hokkien Huay Kuan in 1915, the school was founded at the Chong Hock Pavilion (built in 1913), sharing the same space as the Chung Wen Pagoda. Renamed Chongfu Primary School later on, it began to admit boys in 1949 and moved out of the temple grounds to Yishun in 1985.
IMAGE: NG KAI
A major renovation of the temple was initiated in 1998 and completed in 2000. The renovation received an honourable mention from the UNESCO Asia-Pacific Awards for Cultural Heritage Conservation in 2001.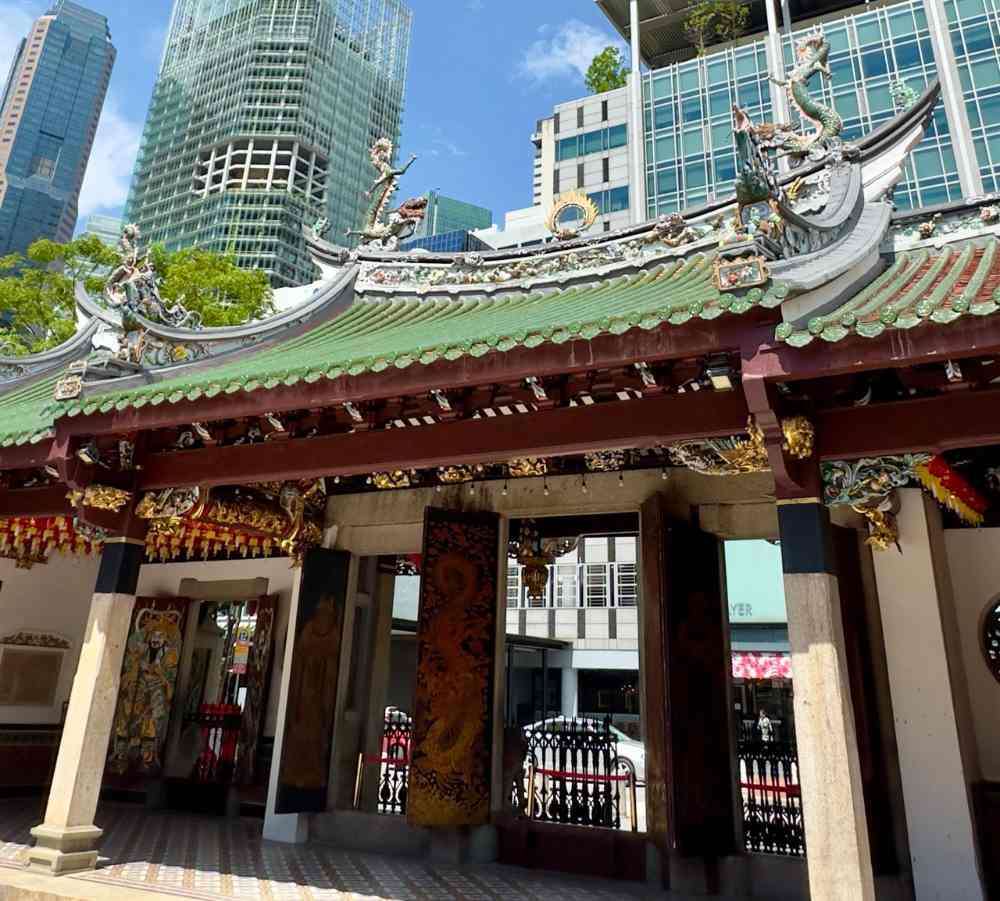 IMAGE: NG KAI
📐 Design and architecture
Built in the traditional Hokkien architectural style, Thian Hock Keng features curved roof ridges with distinctive upturned "swallow tail" end sweeps. On the roofs of the entrance hall and the main hall, four dancing dragons symbolising justice and power flank a blazing pearl representing immortality and perfection.
Like many Chinese temples, Thian Hock Keng has the standard layout of a three-hall typology, comprising an entrance hall, a main hall, and a rear hall. In addition, it has additional rows of side halls on either side of the primary prayer halls.
The decorative elements on the roofs were made using a special technique called jian nian (剪粘), which literally means "cut and paste". Colourful ceramics were meticulously cut into smaller pieces and pasted to create beautiful mosaic figures. Such ornamentation can also be found in other temples in Singapore, such as Tan Si Chong Su, Yueh Hai Ching Temple, Hong San See, and Lian Shan Shuang Lin Monastery.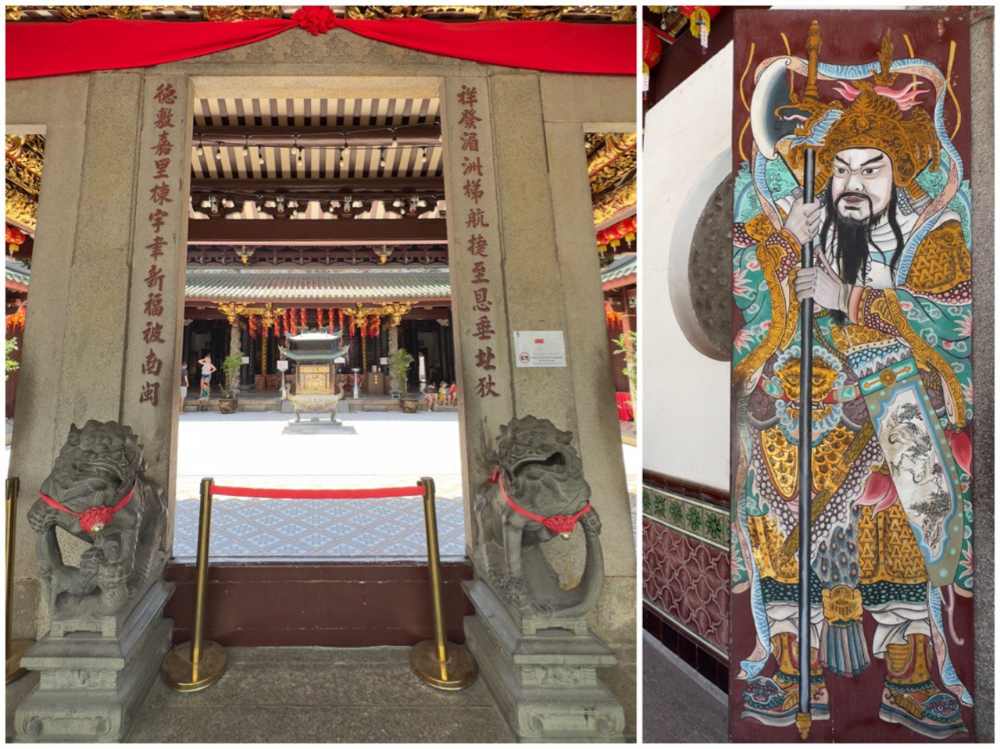 IMAGES: NG KAI
The entrance hall has one main door and two side doors, with a high step in front. The side entrances are decorated with coloured tiles with peacocks, roses, and the Buddhist swastika motif that symbolises good luck, eternity and immortality.
Guarding the doors are the traditional sentinels of Taoist temple – stone lions and Door Gods.
The temple is richly decorated with coloured tiles, red, black and gold lacquered wood, as well as figures of dragons and phoenixes, with embellished and gilded beams, brackets, and ceilings.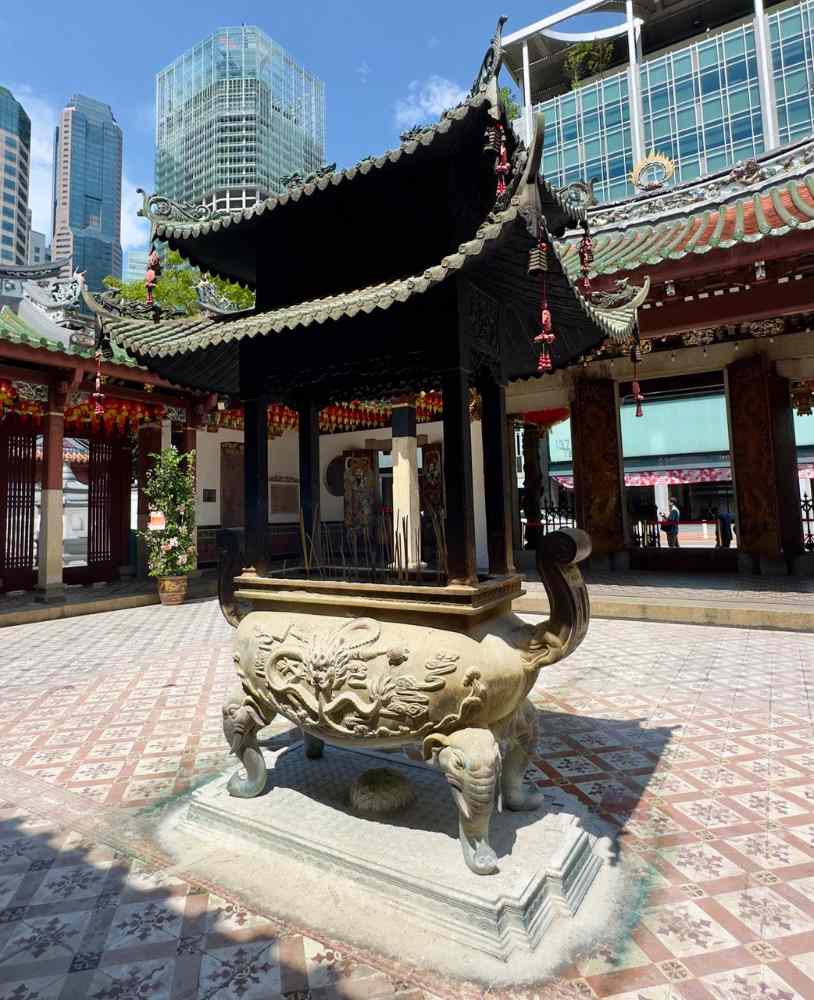 IMAGE: NG KAI
The entrance leads directly into main courtyard. Overlooking the courtyard is the temple proper where the shrine of Mazu is located. On either side of the temple are pagodas with octagonal bases – the one on the left is a shrine of Confucius while the one on the right houses the ancestral tablets of Hokkien immigrants who founded the temple.
Behind the main shrine is another courtyard where a smaller altar dedicated to Guan Yin can be found. Running down either side of the temple are aisles leading to the monks' quarters.
🕖 Opening hours

Regular visiting hours are from 7.30am to 5pm (last entry at 4.45pm) daily.
🎟️ Admission
Entry is free.
For the latest updates on Wonderwall.sg, be sure to follow us on TikTok, Telegram, Instagram, and Facebook. If you have a story idea for us, email us at [email protected].