National Monuments Of Singapore: Former Keng Teck Whay Building
What is a National Monument? Who gazettes them? How many national monuments are there in Singapore? To date, the Preservation of Sites and Monuments, a division of National Heritage Board, has identified and gazetted 75 buildings, structures and sites of national significance as an integral part of Singapore's built heritage.
And we're here to tell you all about them - one National Monument at a time!
Here they all are on a Google Map we specially created. Every Wonderwall.sg logo, or "W", indicates a spot where a National Monument of Singapore is located:
You've probably passed by or stepped into more than a few of them without realising they were National Monuments: Al-Abrar Mosque, Asian Civilisations Museum, the Civilian War Memorial, Saint Andrew's Cathedral, the Esplanade Park Memorials, Fort Siloso on Sentosa - no need to plan an itinerary for friends visiting from overseas; just show them this article ✌️
In this edition, we explore the Former Keng Teck Whay Building, a private mutual aid Hokkien Peranakan organisation that was established almost 200 years ago.
📍 Location
The building was the 58th building to be gazetted as a National Monument in Singapore, and is located a stone's throw away from the Former Nagore Dargah. The MRT station nearest to it is Telok Ayer.
📅 Significant dates
Dates built:
1831: Keng Teck Whay (庆德会, or "Keng Teck Association") was established
1840s: The Former Keng Teck Whay Building was built
Milestones:
2010: Ownership of the building was transferred to the Taoist Mission (Singapore)
2015: Reopened as Singapore Yu Huang Gong (玉皇宫, or Temple of the Heavenly Jade Emperor)
Date gazetted: 11 Nov 2009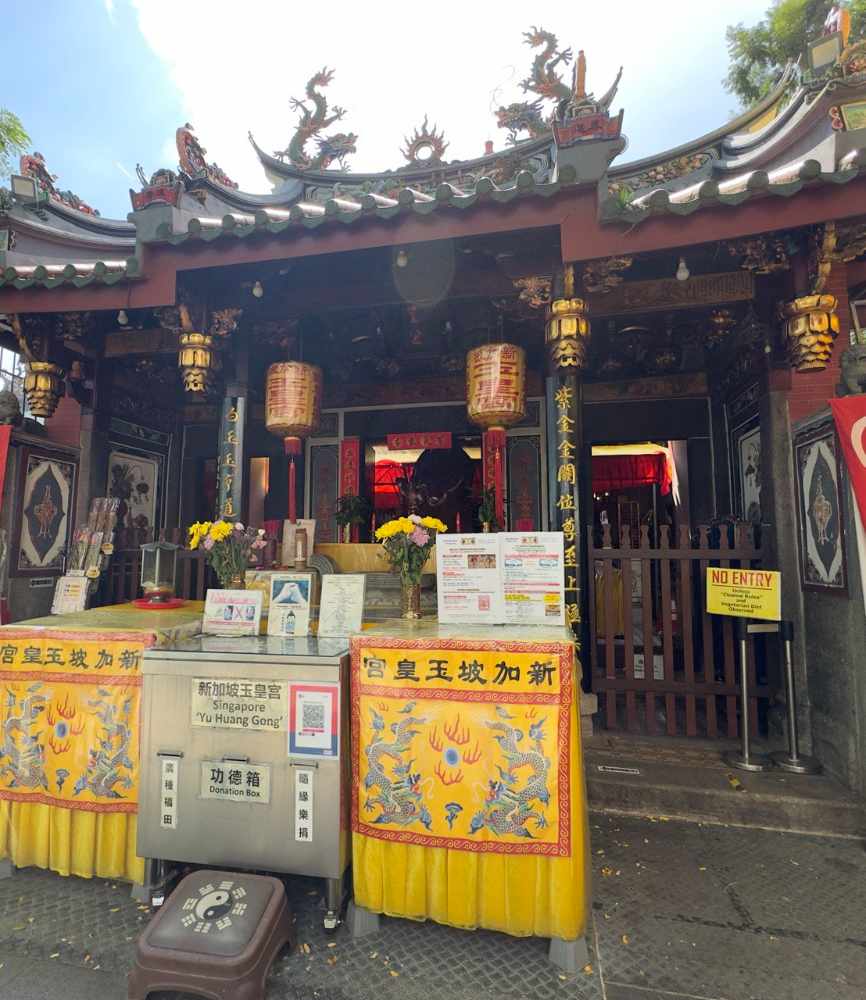 IMAGE: NG KAI
📜 History
Keng Teck Association
Keng Teck Whay (庆德会, or "Keng Teck Association") was established in 1831 by 36 Hokkien Peranakan merchants from Malacca. The men were all from distinct families, but boasted a shared lineage that could be traced back to Zhangzhou, Fujian Province, China. Notably, one of the men was Neo Chan Guan (梁赞元), nephew to Neo Lim Kwee. The latter had built the original Hong San See on Tras Street. During the association's inception, each member contributed equally to the association's central fund, with many also supporting the construction of Thian Hock Keng Temple next door.
Keng Teck Whay was unlike the conventional clan associations, and functioned as a private family benefit society. It was the first of such organisations in Singapore, and still exists today.
With exclusive membership for the founding members and their male descendants, the association prioritises four key objectives:
Worshipping Sanguan Dadi (三官大帝, or "Three Emperor-Officials"); and venerating ancestral tablets of the founders
Providing allowances to members and their lawful wives when financial assistance was needed
Extending bereavement support to members and their families
Offering essential aid during times of need for its members and their families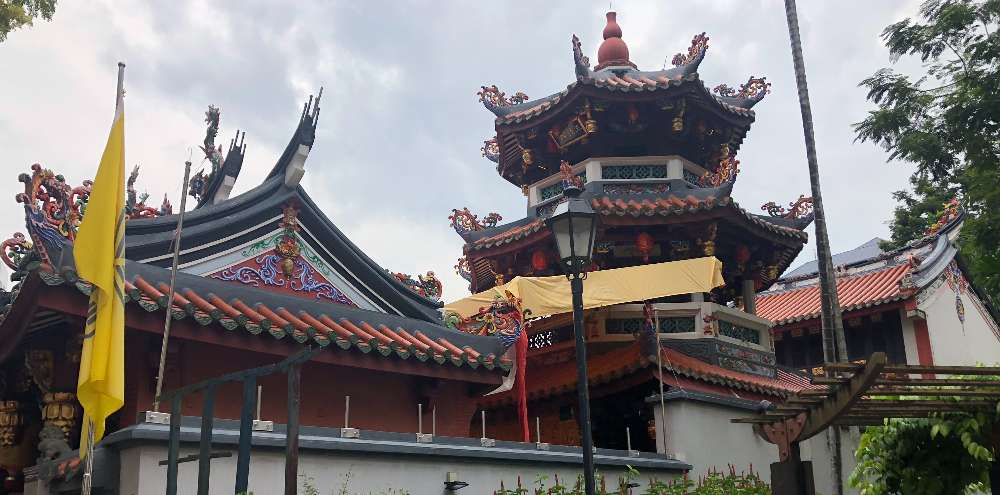 IMAGE: WIKIMEDIA COMMONS/@BJOERTVEDT
Singapore Yu Huang Gong
In 2010, the ownership of the Former Keng Teck Whay Building was transferred to the Taoist Mission (Singapore). Faced with the pressing need for repair and restoration, the Taoist Mission (Singapore) undertook the transformation of the structure into a Taoist temple. They renamed it Singapore Yu Huang Gong (玉皇宫, or Temple of the Heavenly Jade Emperor) as a tribute to Yu Huang Shang Di (玉皇上帝, or Jade Emperor), the eminent deity in Taoism. The temple warmly welcomed the public in January 2015 upon its official opening.
📐 Design and architecture
The Former Keng Teck Whay Building, a testament to traditional Hokkien architecture, showcases distinct features like curved roof ridges with upturned "swallow tail" sweeps, adorned with sculptures of dragons, fishes, and flowers. Crafted using the jian nian (剪粘, "cut and paste") technique, ceramic bowls were trimmed and assembled to create intricate figures and icons. Colourful tiles embellish parts of the floors and walls.
Within the compound, three structures stand — an entrance gateway, an octagonal pagoda above a square hall, and a discreet double-storey hall at the rear. This hidden hall served as both a meeting space and an ancestral hall for members' gatherings. Enshrined within is a stone ancestral tablet bearing the names of Keng Teck Whay's founding fathers, allowing association members to pay homage to the pioneers.
During the Taoist Mission (Singapore)'s painstaking four-year restoration from 2010 to 2014, efforts were made to faithfully restore the building to its original design. For instance, the intricate polychromatic paintings on the temple's doors and wall panels, distinctive of the Quanzhou architectural style in Fujian province, were meticulously restored by a team of artists from the region.
The restoration team also worked on the ornamental sculptures of dragons, fishes, and flowers on the roof ridges, employing the jian nian (cut and paste) technique.
🕖 Opening hours
Regular visiting hours are from 9am to 5pm daily.
🎟️ Admission
Entry is free.
For the latest updates on Wonderwall.sg, be sure to follow us on TikTok, Telegram, Instagram, and Facebook. If you have a story idea for us, email us at