National Monuments Of Singapore: Former Nagore Dargah
What is a National Monument? Who gazettes them? How many national monuments are there in Singapore? To date, the Preservation of Sites and Monuments, a division of National Heritage Board, has identified and gazetted 75 buildings, structures and sites of national significance as an integral part of Singapore's built heritage.
And we're here to tell you all about them - one National Monument at a time!
Here they all are on a Google Map we specially created. Every Wonderwall.sg logo, or "W", indicates a spot where a National Monument of Singapore is located:
You've probably passed by or stepped into more than a few of them without realising they were National Monuments: Al-Abrar Mosque, Asian Civilisations Museum (ACM), the Civilian War Memorial, Saint Andrew's Cathedral, the Esplanade Park Memorials, Fort Siloso on Sentosa - no need to plan an itinerary for friends visiting from overseas; just show them this article ✌️
In this edition, we take a look at an almost 200-year-old building that showcases Indian Muslim culture and heritage: the Former Nagore Dargah.
📍 Location
The Former Nagore Dargah was the 9th building to be gazetted as a National Monument, and is located along Telok Ayer Street. The MRT station nearest to it is Telok Ayer.
📅 Significant dates
Dates built:
1828-1830: A shrine named "Shahul Hamid Dargah" was built
2007-2011: Major restoration works
Milestones:
29 May 2011: Nagore Dargah Indian Muslim Heritage Centre
Jan 2015: A multimedia exhibit was included inside
Date gazetted: 19 Nov 1974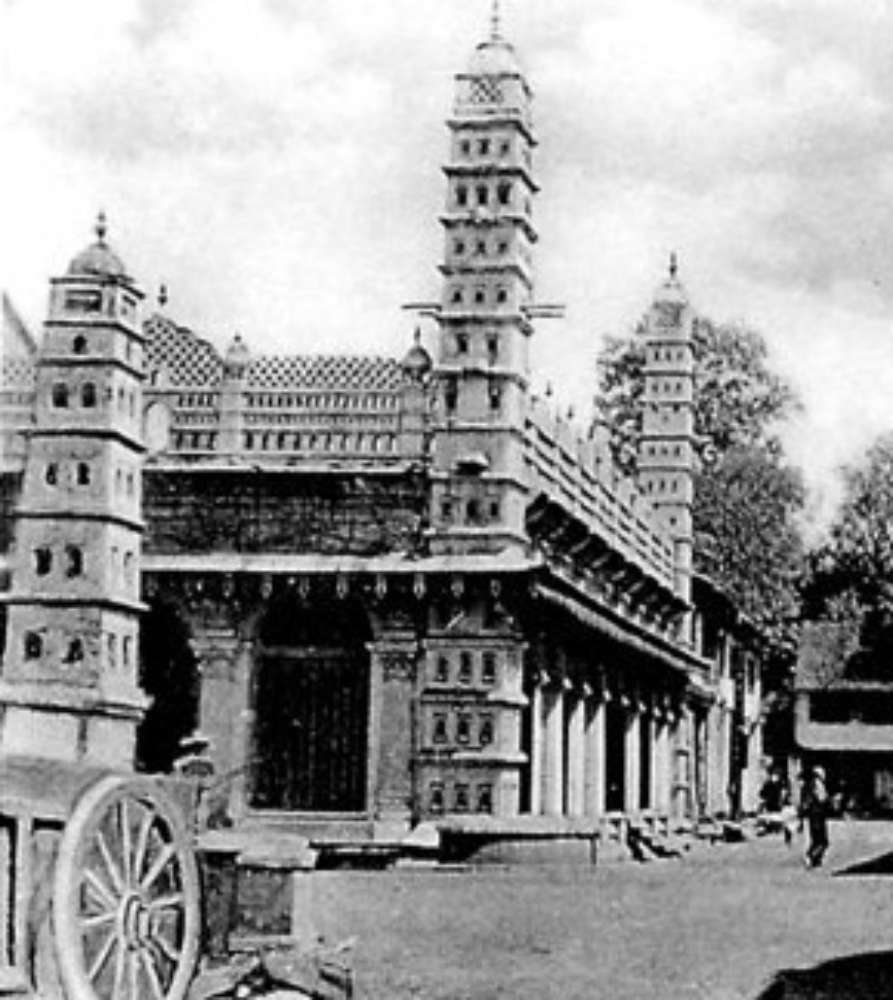 Nagore Dargah in the late 19th/early 20th century. | IMAGE: WIKIMEDIA COMMONS/@ALFONS VON MUMM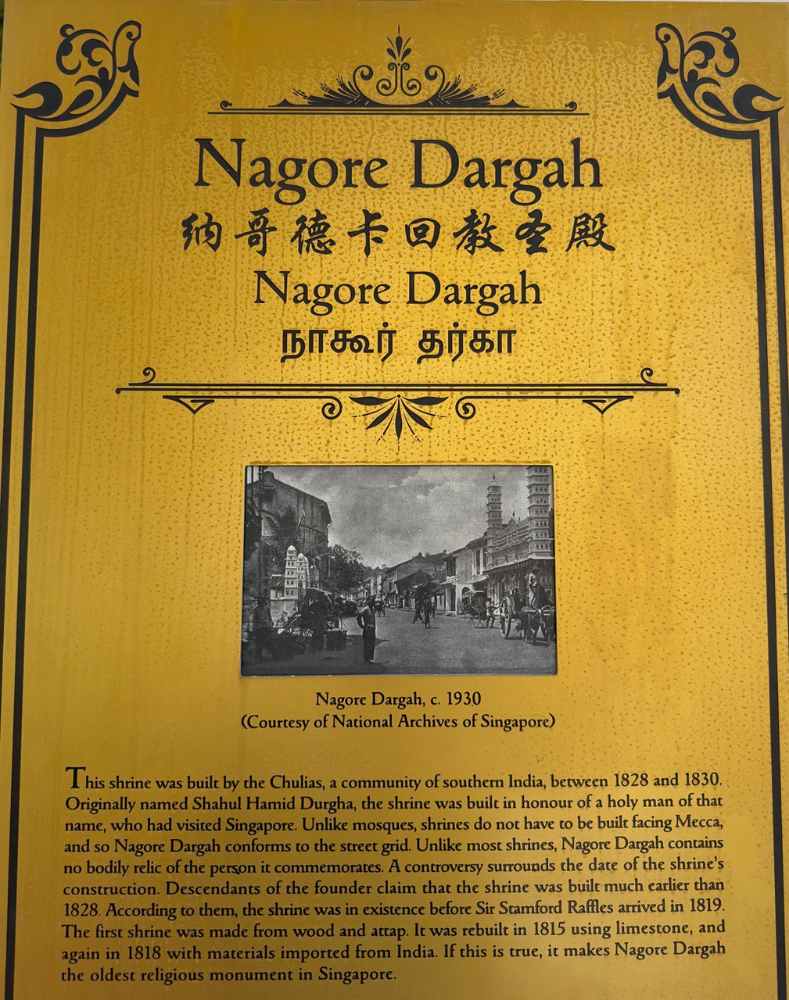 IMAGE: NG KAI
📜 History
Starting from the early 1820s, a minority of Indian Muslims from the Coromandel Coast in South India, known as the Chulias, began migrating to Singapore in significant numbers. Initially, their designated kampong was situated elsewhere along the Singapore River, as laid out in Sir Stamford Raffles's 1822 Town Plan. However, over time, a substantial Indian Muslim community also settled and worked around Telok Ayer Street, which was a crucial business and residential area for the Chinese.

Between 1828 and 1830, the Chulias constructed a shrine at the intersection of Telok Ayer Street and Boon Tat Street in memory of a revered holy man named Shahul Hamid of Nagore. Originally known as Shahul Hamid Dargah, it later became known as Nagore Dargah. This shrine is a replica of the original shrine in India and does not contain any bodily relics of the holy man it is dedicated to. The shrine's construction is attributed to two brothers, Mohammed and Haja Mohideen, who transported limestone and other building materials to build it.

The shrine was situated on land initially granted to a man named Kaderpillai, with the condition that it not be used for constructing wooden or attap structures.
On 15 Jun 1893, new trustees (including Mana Mohamed, Vavena Hameed, Sayna Saiboo Ghanny, Kavena Mohamed Ismail, and Tana Chinny Tamby) took over the Nagore Dargah properties through a court order.
By 1910, these trustees had either passed away or left Singapore, leading to the appointment of new trustees, namely K. Mohamed Eusope, Thambyappa Rarooter, S. Kanisah Maricayar, V. M. Kader Bux, and J. Sultan Abdul Kader, by another court order issued on 21 Nov 1910.
These trustees also oversaw the nearby Al-Abrar Mosque on Telok Ayer Street and the Jamae Mosque on South Bridge Road.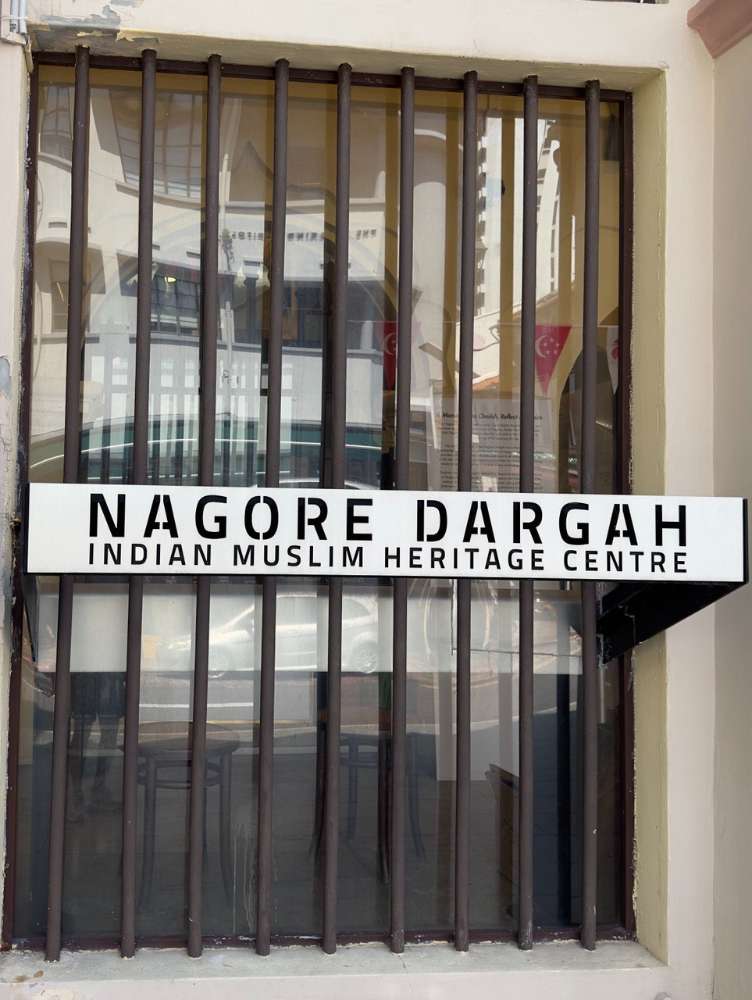 IMAGE: NG KAI
Nagore Dargah is currently managed by the Majlis Ugama Islam Singapura (MUIS). Reflecting the religious and cultural diversity of early Singapore, Nagore Dargah is located on the same street as Thian Hock Keng Temple (Singapore's oldest Hokkien temple) and Al-Abrar Mosque, both gazetted National Monuments.

In the 1990s, the shrine was boarded up and closed to the public due to concerns about its structural integrity. Major restoration work was carried out in 2007, after which the building remained closed to visitors. In Dec 2010, MUIS announced that the building would be converted into the Nagore Dargah Indian Muslim Heritage Centre, and would feature exhibits and artefacts from the Indian Muslim community.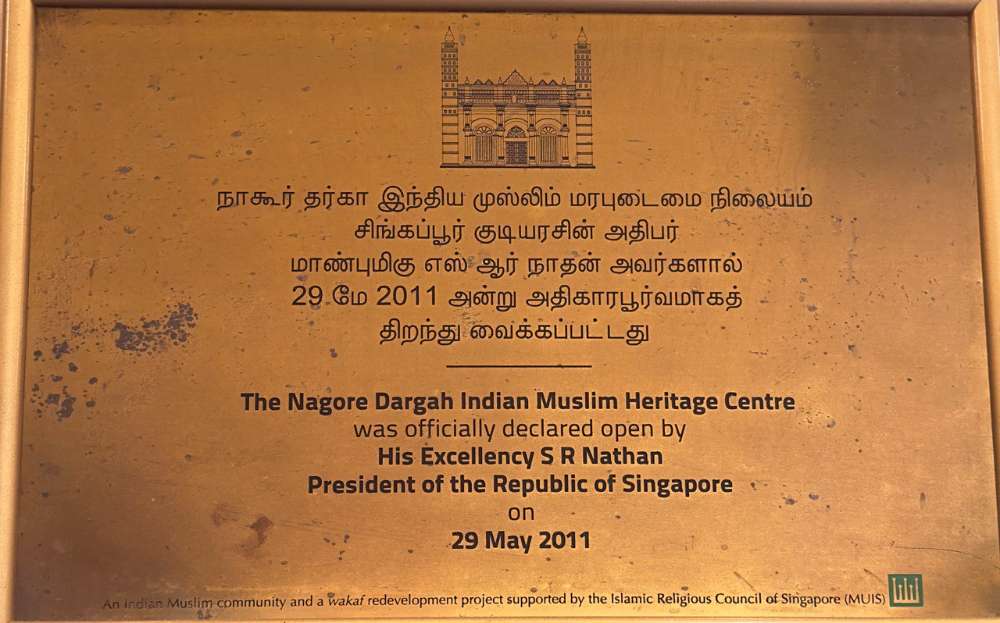 IMAGE: NG KAI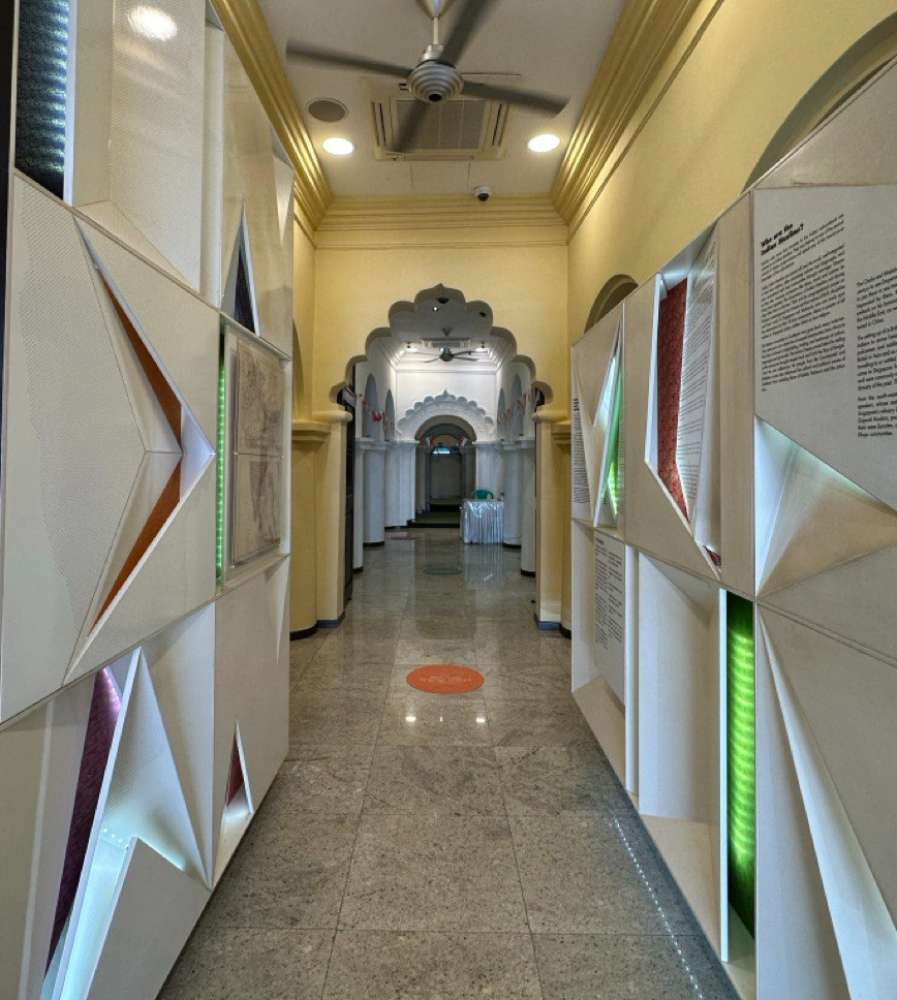 IMAGE: NG KAI
On 29 May 2011, the Nagore Dargah Indian Muslim Heritage Centre was officially inaugurated by then-President S R Nathan. However, the centre had to close again in 2013 for renovations and restoration work to address issues like disintegrated wall paint due to dampness.
The centre reopened in Nov 2014 and introduced a new gallery in Jan 2015, featuring a multimedia exhibit and storyboard showcasing pioneers of the Indian Muslim community in Singapore.
---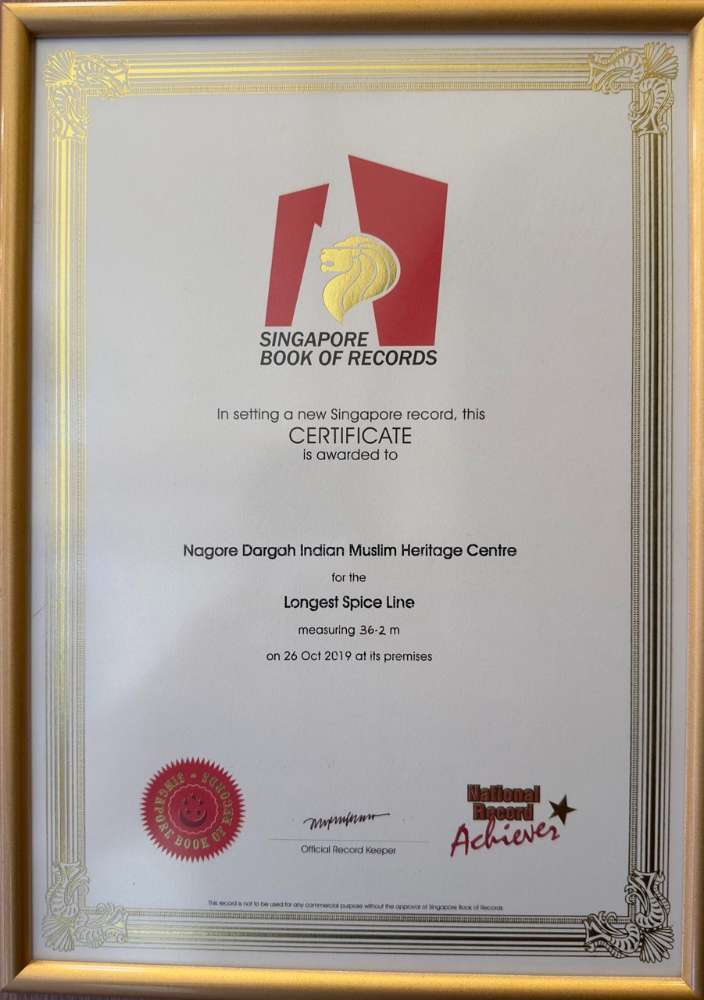 IMAGE: NG KAI
According to the Singapore Book of Records, a 36.2m long spice line was unveiled on 26 Oct 2019 at the Former Nagore Dargah. This was due to Singapore's past as a vital entrepôt:

About 200 years ago, Singapore became an important entrepot largely because of the demand for spices from western countries. Many of the early Indian Muslims were spice traders. Hence Nagore Dargah Indian Muslim Heritage Centre decided to display a collection of 80 different spices forming a 36.2m spice line on its wall. About 410 bottles were used for the line. It was officially opened on 26 Oct 2019.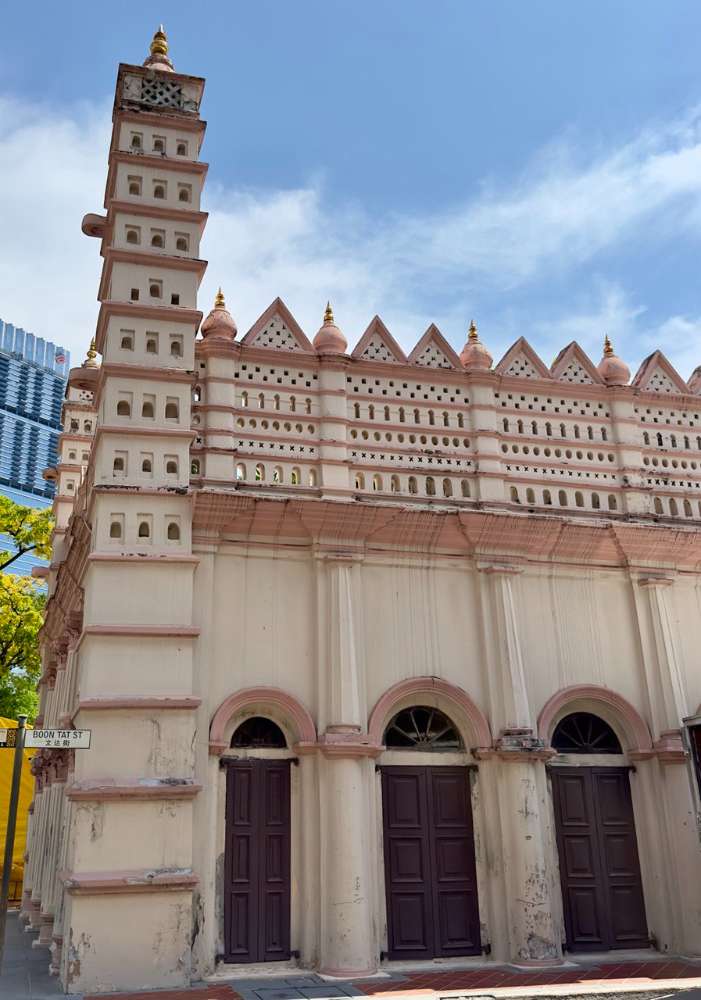 IMAGE: NG KAI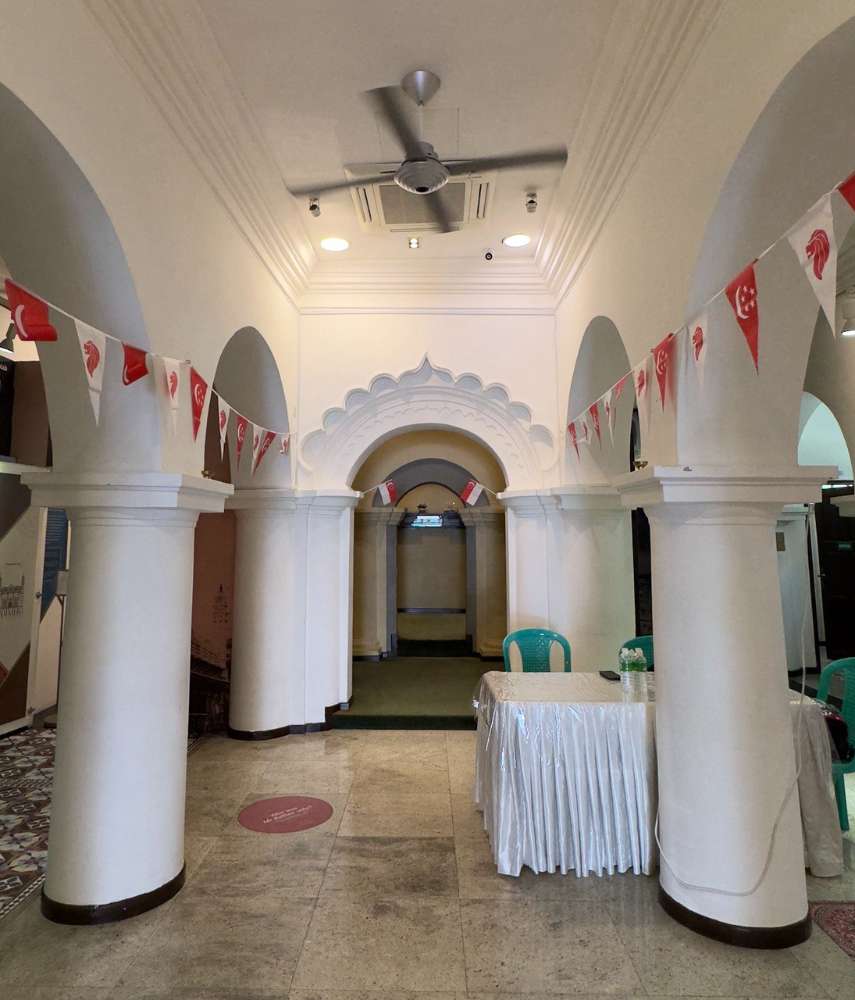 IMAGE: NG KAI
📐 Design and architecture
The Former Nagore Dargah is designed in an eclectic architectural style that incorporates elements from various traditions. In addition to the minarets (the tower from which the faithful are called to prayer five times each day by a muezzin, or crier) and crescent-and-star motifs commonly found in mosques, the building features fluted (ridged) Corinthian and Doric pilasters (rectangular columns) on its façades, along with Doric columns and arches in the interior. Large French-style windows with semi-circular fanlights grace the wall facing Boon Tat Street, ensuring effective ventilation and a comfortable interior climate.
Much like Al-Abrar Mosque, Jamae Mosque, and the memorial shrines in Nagore and Penang, the most distinctive feature of the Former Nagore Dargah's front façade is its two square minaret-like towers that extend above the building's flat roof. These towers are adorned with niches (cavities in the wall), which were originally used to hold oil lamps during certain religious festivals. A complex miniature palace façade, featuring numerous perforations with various designs representing doorways and windows, connects these towers.
The main entrance of the building is distinguished by a Moorish multi-foliated arch, and decorative mouldings of flowers and leaves adorn the façade wall.
🕖 Opening hours

Regular visiting hours are:
10am to 5.30pm, Monday to Friday
9am to 1pm, Saturdays
The building is closed on Sundays.
🎟️ Admission
Entry is free.
For the latest updates on Wonderwall.sg, be sure to follow us on TikTok, Telegram, Instagram, and Facebook. If you have a story idea for us, email us at