National Monuments Of Singapore: Lian Shan Shuang Lin Monastery
What is a National Monument? Who gazettes them? How many national monuments are there in Singapore? To date, the Preservation of Sites and Monuments, a division of National Heritage Board, has identified and gazetted 75 buildings, structures and sites of national significance as an integral part of Singapore's built heritage.
And we're here to tell you all about them - one National Monument at a time!
Here they all are on a Google Map we specially created. Every Wonderwall.sg logo, or "W", indicates a spot where a National Monument of Singapore is located:
You've probably passed by or stepped into more than a few of them without realising they were National Monuments: Al-Abrar Mosque, Asian Civilisations Museum (ACM), the Civilian War Memorial, Saint Andrew's Cathedral, the Esplanade Park Memorials, Fort Siloso on Sentosa - no need to plan an itinerary for friends visiting from overseas; just show them this article ✌️
In this edition, we throw the spotlight on the oldest Buddhist monastery on our Little Red Dot, Lian Shan Shuang Lin Monastery (莲山双林寺).
📍 Location
The monastery was the 19th building to be gazetted as a National Monument, and is located near SAFRA Toa Payoh. The quickest way to get there is taking bus 230, 235, 238 from Toa Payoh Interchange (located right above Toa Payoh MRT).
📅 Significant dates
Dates built:
1902: Construction began
1903: The first structure completed was the rear hall, which became known as Dharma Hall
1904: The main hall (Mahavira Hall) was built
1905: The entrance hall (Hall of Celestial Kings) was finished
1907: Construction of the monastery concluded with the addition of the Drum Tower and Bell Tower
Milestones:
1918-1919: First round of major restoration works
1950-1954: Second round of major restoration works
1991-2001: Final restoration done
Date gazetted: 14 Oct 1980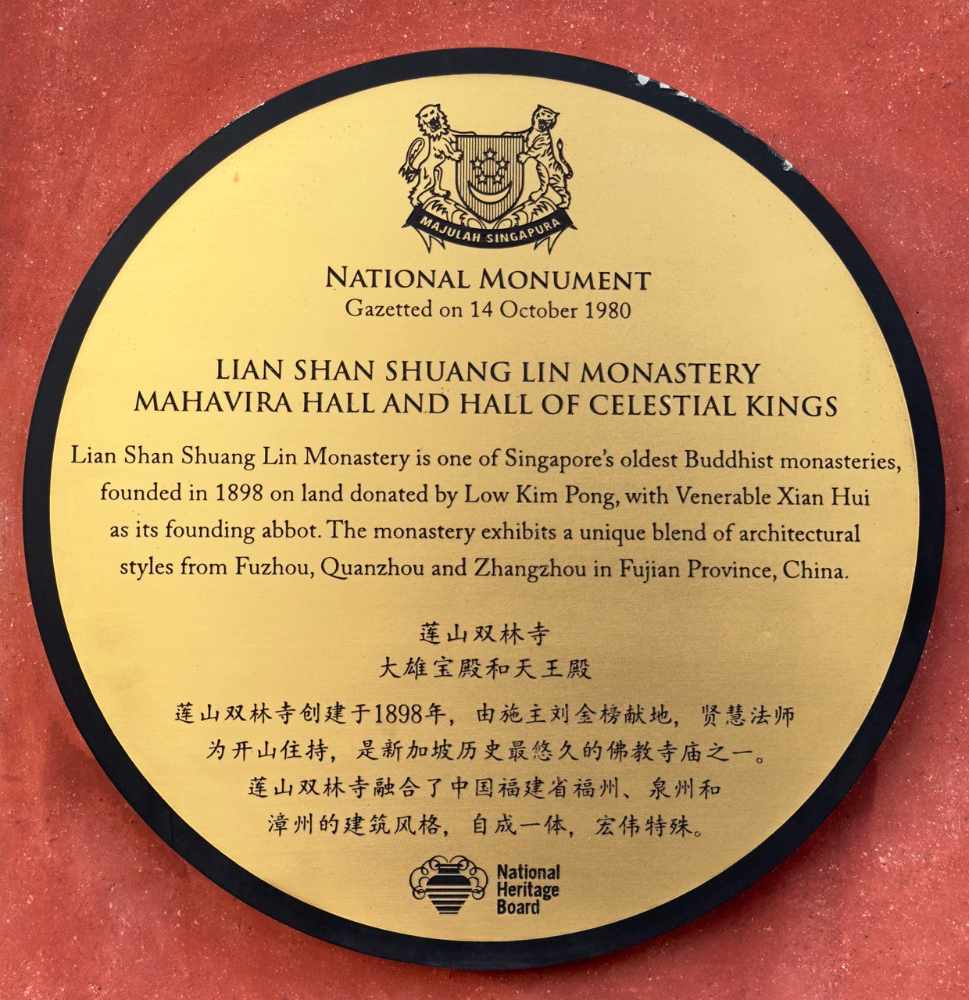 IMAGE: NG KAI
📜 History
Lian Shan Shuang Lin Monastery owes its establishment to Low Kim Pong (刘金榜), a prosperous merchant hailing from Fujian Province, China, who amassed wealth in Singapore through his herbal and private banking ventures. In 1898, Low experienced a vivid dream in which a radiant golden light emanated from the western sea. Astonishingly, he discovered that his son had a strikingly similar dream that same night. Interpreting this as a divine sign, Low and his son spent the following day waiting by the waterfront.
Shortly before sunset, a boat approached the shore carrying 12 Buddhist monks and nuns. These monastics were returning to China after embarking on a six-year pilgrimage to India, Ceylon (now Sri Lanka), and Burma (now Myanmar). Low perceived this event as a realisation of his dream. Filled with inspiration, he implored the clergy to remain in Singapore and even pledged to construct a Buddhist monastery for their residence.

Low generously donated 12 acres of his land in Toa Payoh to Venerable Xian Hui (贤慧), one of the monks from the arriving vessel, and extended an invitation for him to become the monastery's inaugural abbot. Low contributed significantly to the construction expenses, but he also welcomed donations from the general public to support the endeavour. Once the authorities sanctioned the building plans, construction promptly commenced in 1902.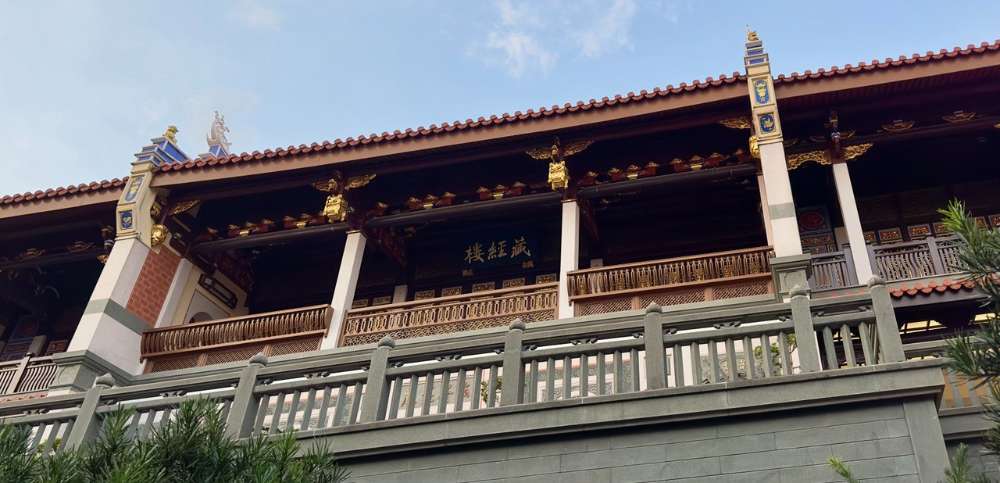 IMAGE: NG KAI
Dharma Hall
The original Dharma Hall, constructed in 1903, was the first building to be completed. Located at the rear of the monastery complex, its primary function was to provide a space for disseminating Buddhist teachings. However, due to the deterioration of the timber structure and structural instability, the hall underwent reconstruction in the 1970s. This renovation was necessary to address the issues caused by wood rot, and ensure the safety and longevity of the building.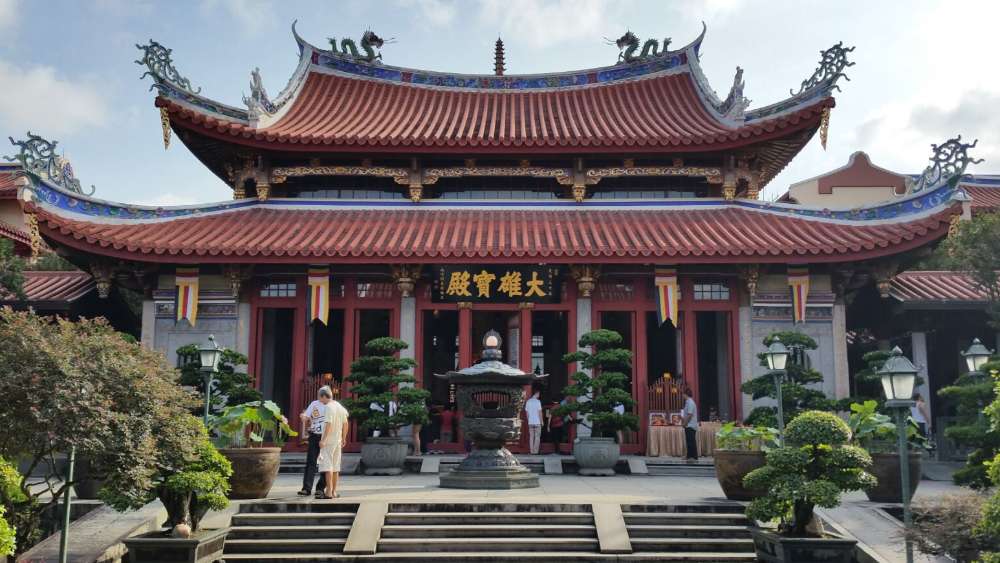 IMAGE: PRESERVATION OF SITES AND MONUMENTS
Mahavira Hall
The Mahavira Hall, or Da Xiong Bao Dian (大雄宝殿) was built in 1904 and is the main prayer hall of Lian Shan Shuang Lin Monastery. It houses statues of the buddhas Amitabha, Bhaisajyaguru and Sakyamuni, with the latter flanked by his disciples Ananda and Mahakasyapa on the left and right respectively. At the back of the hall is the statute of the Avalokitesvara bodhisattva, better known as Guanyin.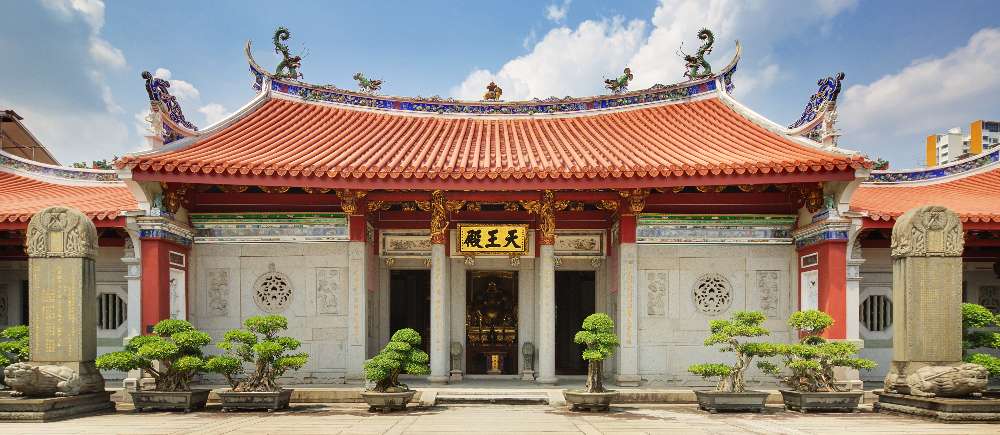 IMAGE: PRESERVATION OF SITES AND MONUMENTS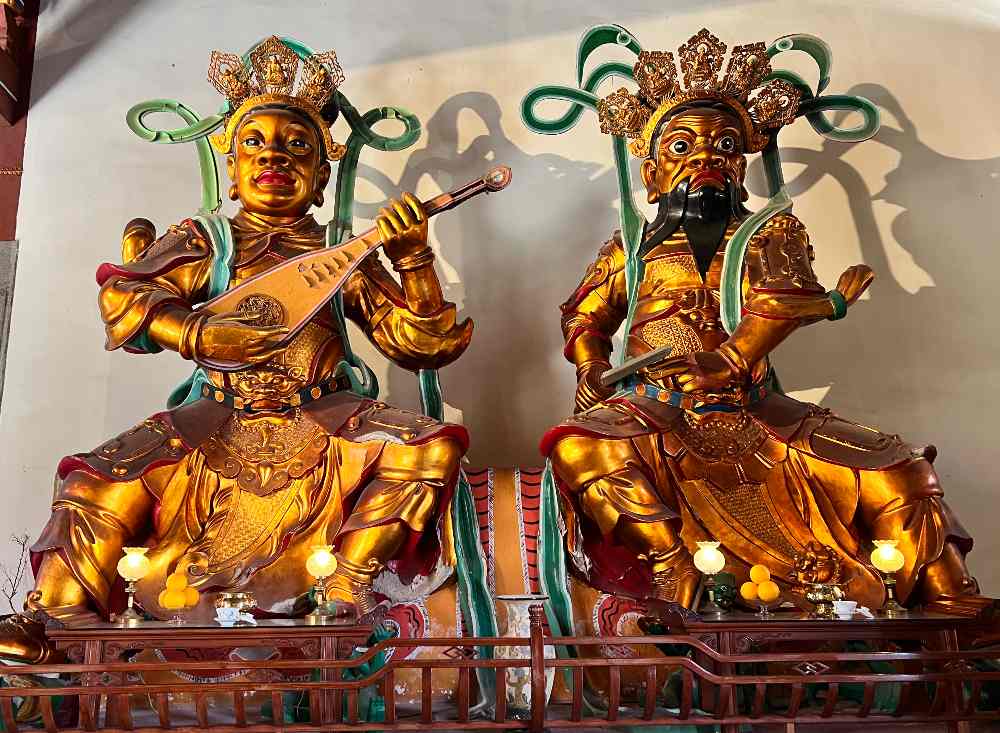 Two out of four of the Celestial Kings, Dhrtarastra (left) and Virulhaka. | IMAGE: HANDOUT
Hall of Celestial Kings

A year later, the entrance hall was constructed. The entrance hall is named Hall of Celestial Kings, or Tian Wang Dian (天王殿) for its four imposing statues of the Celestial Kings, namely Dhrtarastra, who carries a pipa (琵琶, Chinese lute); Virulhaka, who wields a sword; Virupakkha, who has a serpentine creature in his right hand; and Vaisravana, who holds an umbrella. These statues flank the well known Maitreya (弥勒菩萨, commonly known as the "Laughing Buddha"). The courtyard behind the entrance hall is flanked by the Gu Lou (Drum Tower) on the left and Zhong Lou (Bell Tower) on the right.
---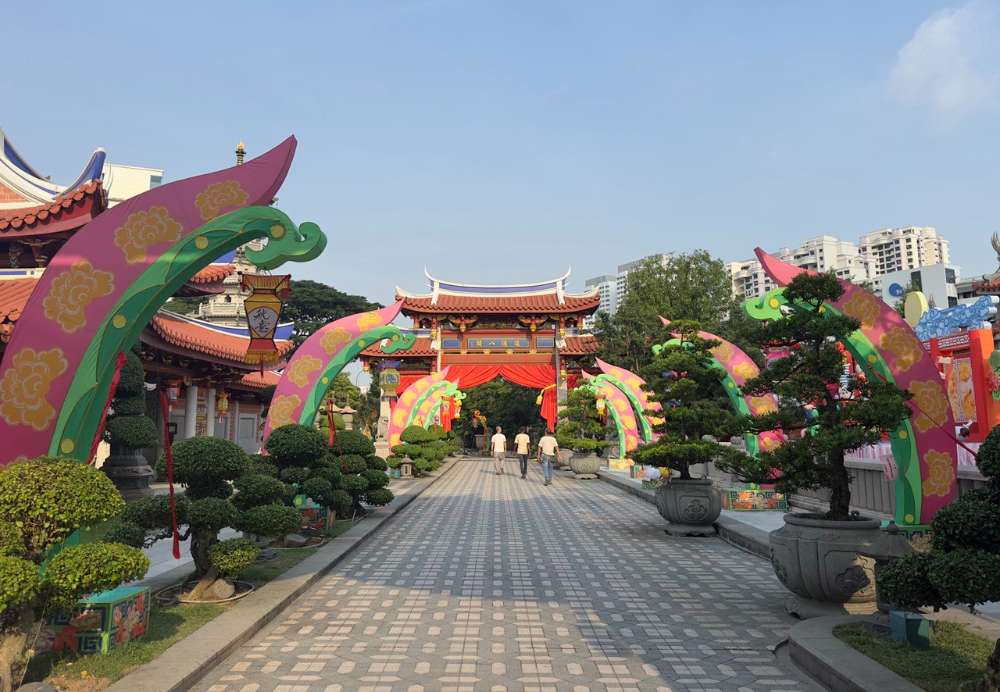 Props representing the theme of Mid-Autumn Festival adorn the monastery's grounds till 1 Oct 2023. | IMAGE: NG KAI
Special Mid-Autumn Festival guided tour
In celebration of the Mid-Autumn Festival this year, the monastery has organised a paid guided tour in collaboration with NHB:
Dates available: 29 Sep, 30 Sep, 1 Oct
Time: 5.30pm to 6.30pm
Tickets: $5 (special concession rates of $3 for students and senior citizens)

Stay after the tour ends to enjoy the festivities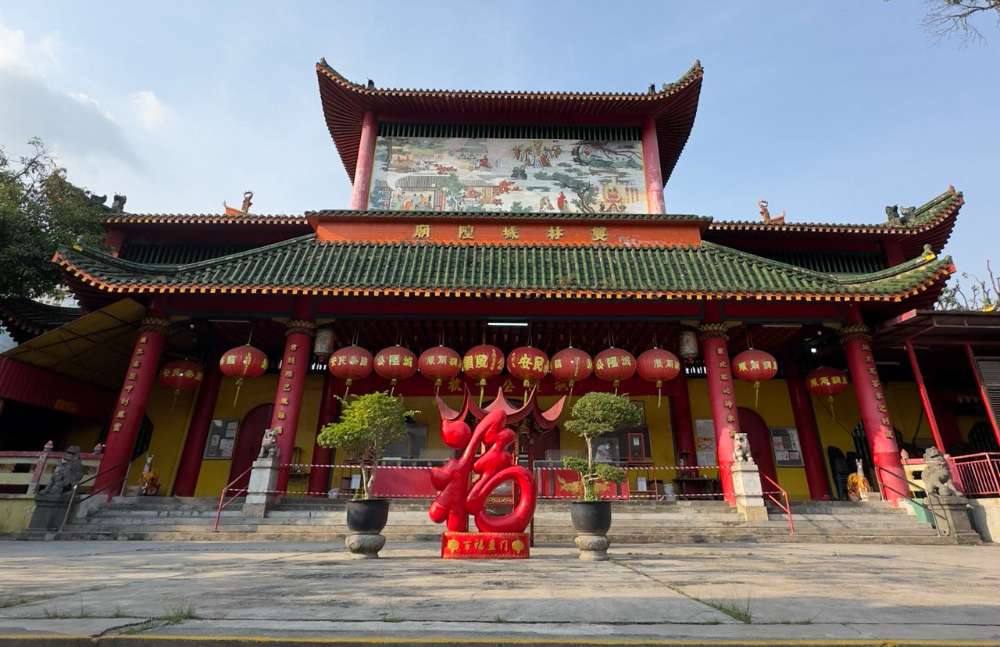 IMAGE: NG KAI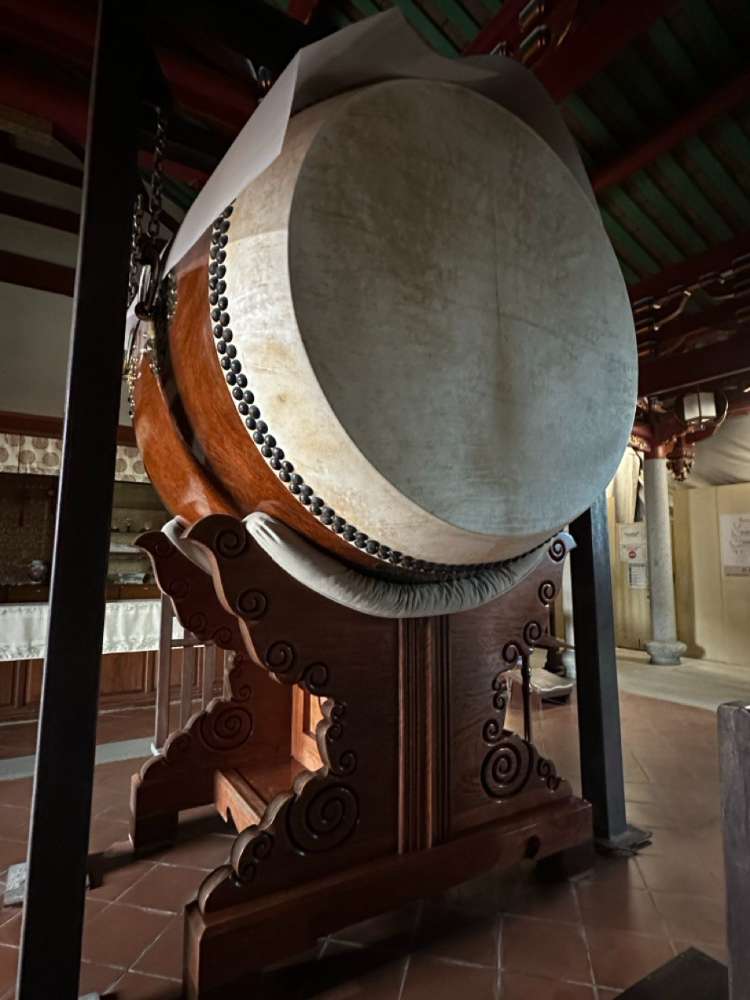 IMAGE: NG KAI
📐 Design and architecture
Although the architect of the temple is unknown, the temple is modelled after Xi Chan Monastery in Fuzhou, China. Both Lian Shan Shuang Lin Monastery and Xi Chan Monastery are examples of temples built in the style of cong lin (丛林, literally "layers of forest"), where a standardised layout of the buildings within the premises of the temple is adopted, and the monks lead an ordered way of life practising Buddhist scriptures and following a strict daily routine.
Within Lian Shan Shung Lin Monastery itself, ritual instruments in the Drum Tower and Bell Tower announce the daily routine. The complex also comprises three main halls separated by two courtyards, and arranged along a central north-south axis, with the main entrance facing south, according to the Chinese principles of feng shui.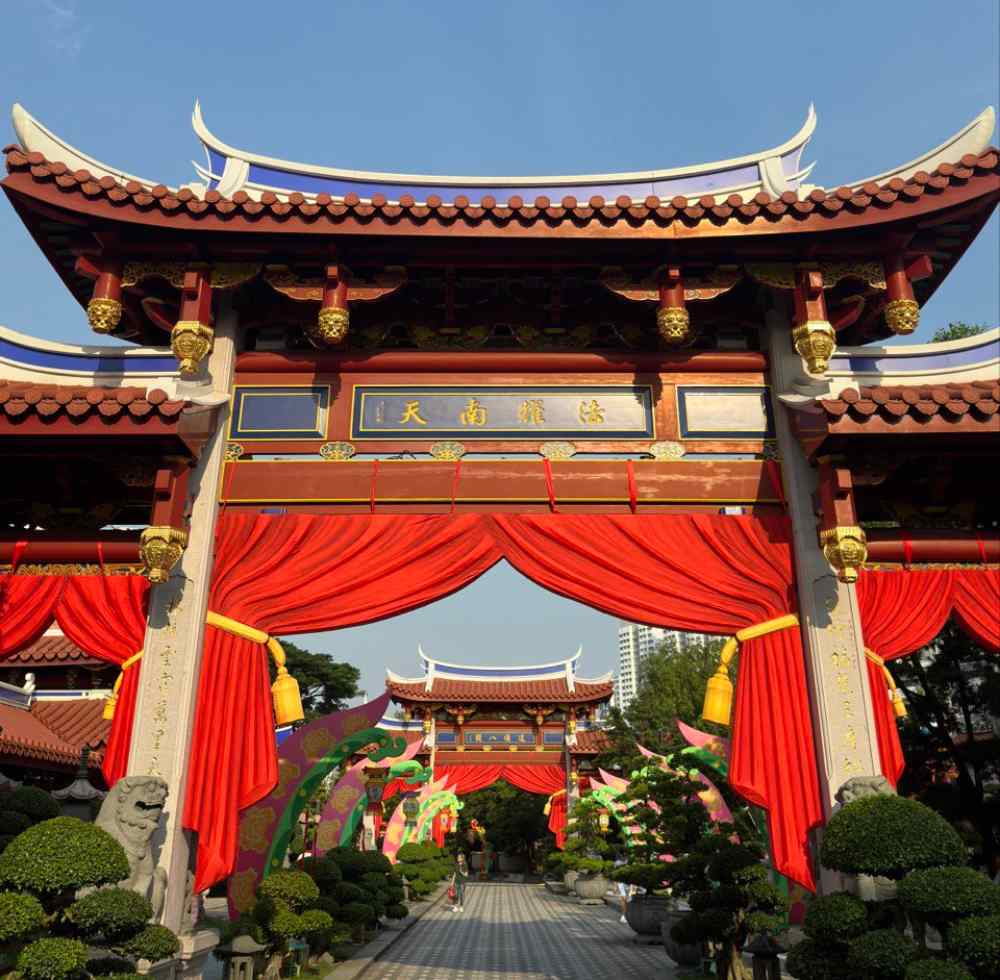 IMAGE: NG KAI
The monastery showcases traditional Hokkien architecture with the usual upturned "swallow-tail" end sweeps on either side of the roof ridges. Its extravagant roof decorations employ a special technique called jian nian (剪粘) or "cut and paste", creating intricate mosaics from colourful ceramics. This craftwork is reminiscent of that found on other Chinese temples in Singapore, such as Thian Hock Keng, Hong San See, Tan Si Chong Su, and Yueh Hai Ching Temple.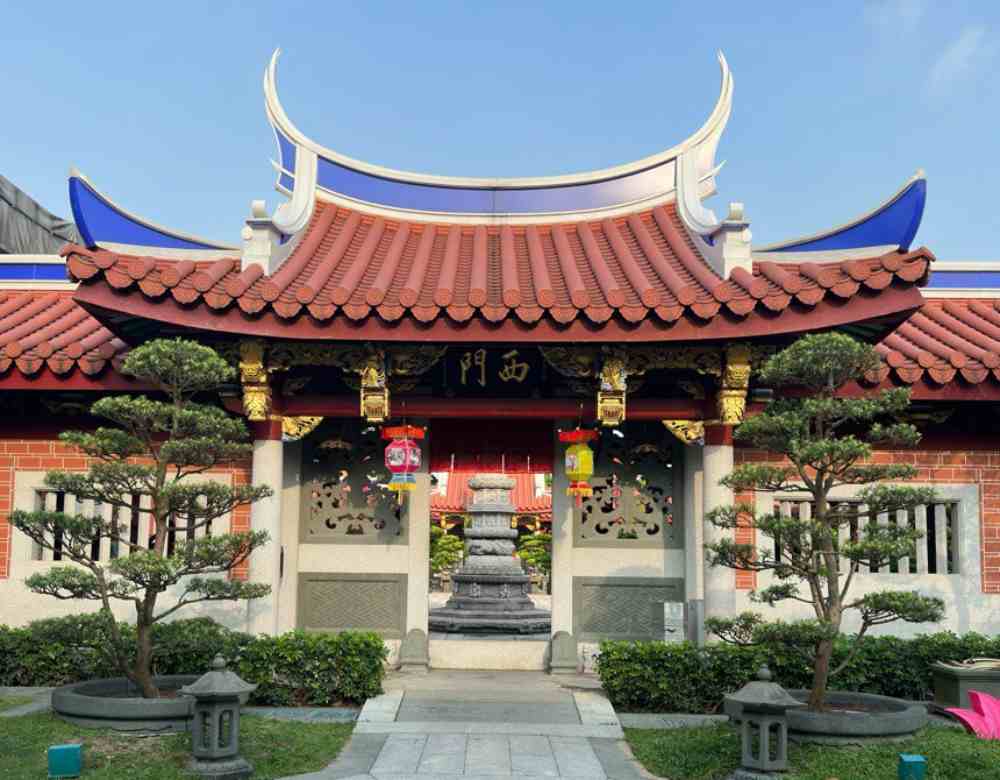 IMAGE: NG KAI
Upon closer examination, you can discern three distinct Hokkien architectural styles integrated into the monastery's design, originating from Fuzhou, Quanzhou, and Zhangzhou in Fujian Province. These styles are evident in the monastery's roofscape.
Typically, Fuzhou style features sharply curved corners on the roof while Quanzhou style showcases larger and sturdier roofs with gentle curves. However, both styles are evident in the double-tier roof of the Mahavira Hall - the upper tier is Fuzhou style, whereas the lower tier is Quanzhou style.
The roofs of Tian Wang Dian exhibit the Zhangzhou style - very similar to the Quanzhou design - and consist of steeper roof slopes, as well as a more extravagant roof truss system.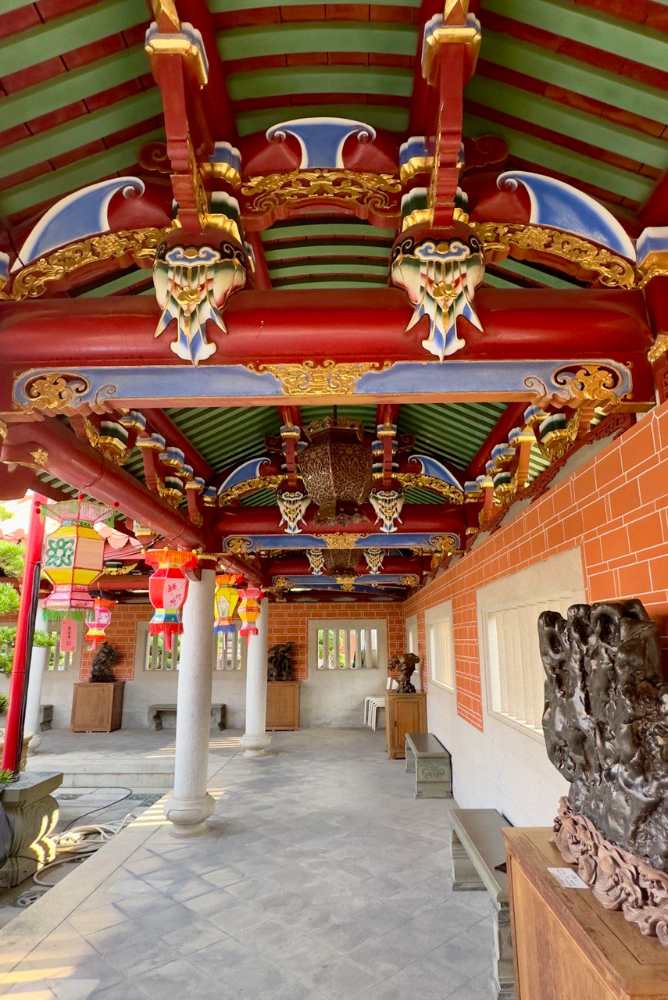 IMAGE: NG KAI
This blend of architectural styles reflects the support the monastery has received over the years from members of the Chinese communities hailing from these areas in Fujian Province. Numerous intricate carvings adorn the entire monastery, adding to its cultural richness.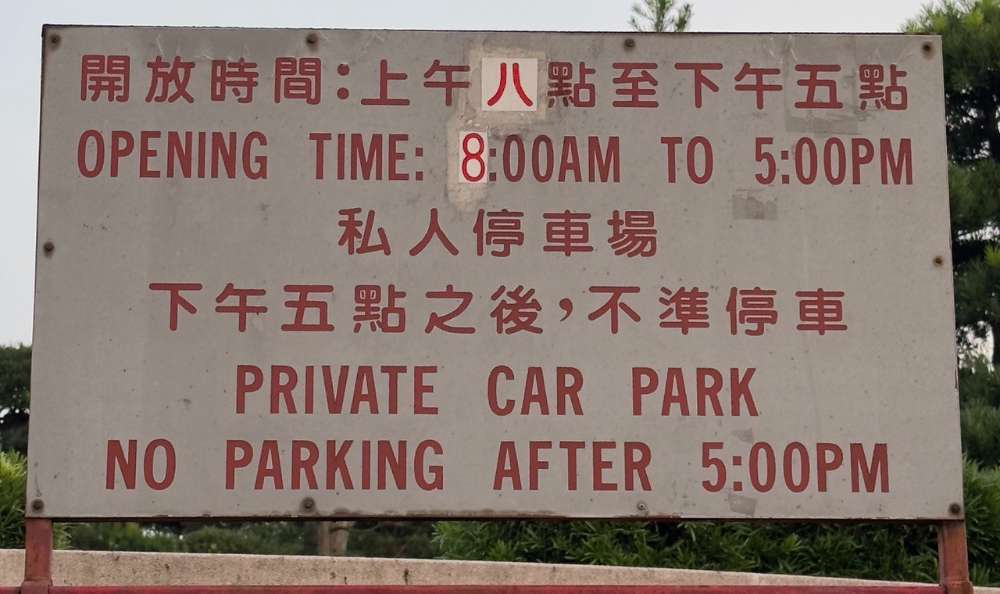 IMAGE: NG KAI
🕖 Opening hours

Regular visiting hours are from 8am to 5pm daily.
🎟️ Admission
Entry is free.
For the latest updates on Wonderwall.sg, be sure to follow us on TikTok, Telegram, Instagram, and Facebook. If you have a story idea for us, email us at