National Monuments Of Singapore: Yueh Hai Ching Temple
What is a National Monument? Who gazettes them? How many national monuments are there in Singapore? To date, the Preservation of Sites and Monuments, a division of National Heritage Board, has identified and gazetted 75 buildings, structures and sites of national significance as an integral part of Singapore's built heritage.
And we're here to tell you all about them - one National Monument at a time!
Here they all are on a Google Map we specially created. Every Wonderwall.sg logo, or "W", indicates a spot where a National Monument of Singapore is located:
You've probably passed by or stepped into more than a few of them without realising they were National Monuments: Al-Abrar Mosque, Asian Civilisations Museum (ACM), the Civilian War Memorial, Saint Andrew's Cathedral, the Esplanade Park Memorials, Fort Siloso on Sentosa - no need to plan an itinerary for friends visiting from overseas; just show them this article ✌️
In this edition, we take a look at one of Singapore's oldest Chinese temples, Yueh Hai Ching Temple.
📍 Location
The 34th building to be gazetted as a National Monument is located right in the heart of the Central Business District (CBD), with the nearest MRT stations being Raffles Place MRT or Telok Ayer MRT.
📅 Significant dates
Dates built:
1820: Simple wood-and-attap shrine
1826: Proper temple built
1852-1855: Present-day temple
Dates unveiled:
1859-1896: Several rounds of renovation
1 Nov 1994-9 Apr 1997: First restoration
9 Feb 2012-31 Mar 2014: Second restoration
Date gazetted: 28 Jun 1996

IMAGE: NG KAI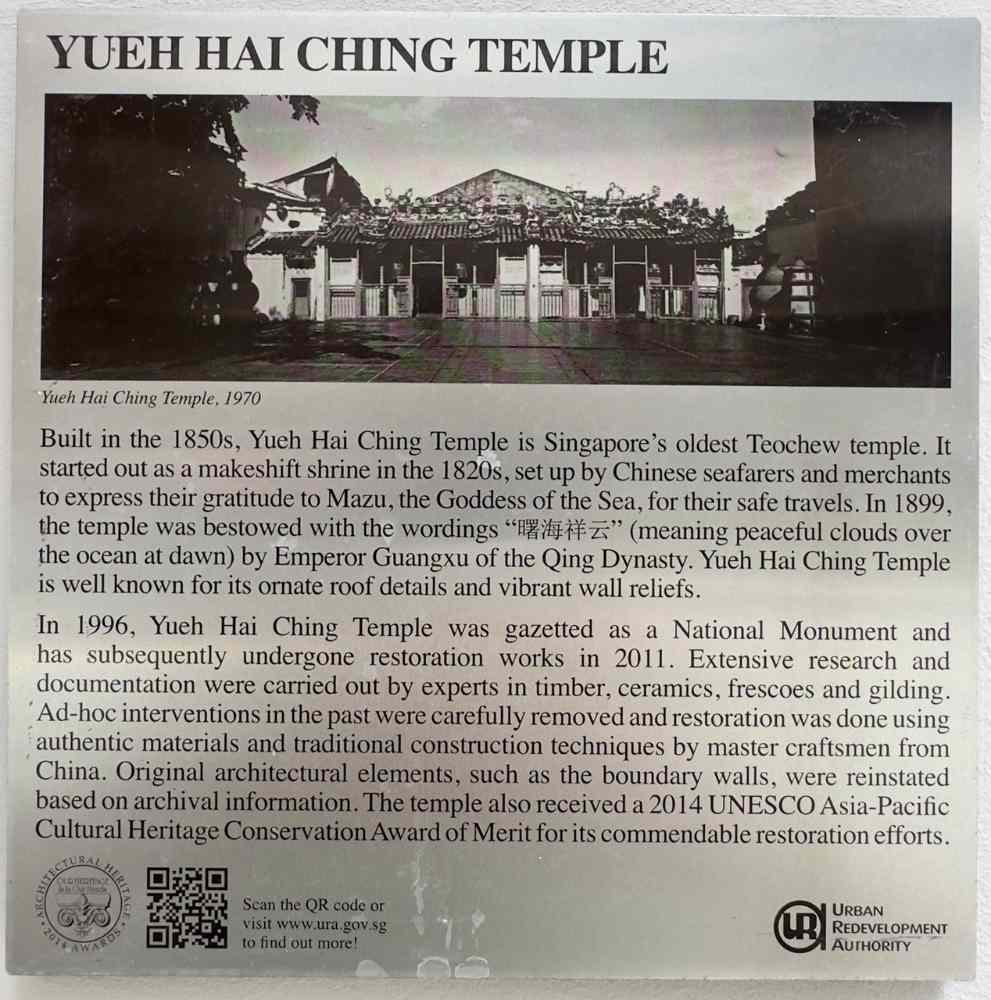 IMAGE: NG KAI
📜 History
Nobody can pinpoint the exact date the temple was built. However, it started out as a simple wood-and-attap shrine located on what is known as Philip Street today. Teochew immigrants hailing from the Chaoshan region in South China first erected it. They offered prayers in thanksgiving to Mazu (妈祖), Goddess of the Seas, for her protection and blessings during the treacherous sea voyages from China.
In English, the name of the temple means "Safe Voyage for the Guangdong People", and the Teochew name of the temple is "Wak Hai Cheng Bio".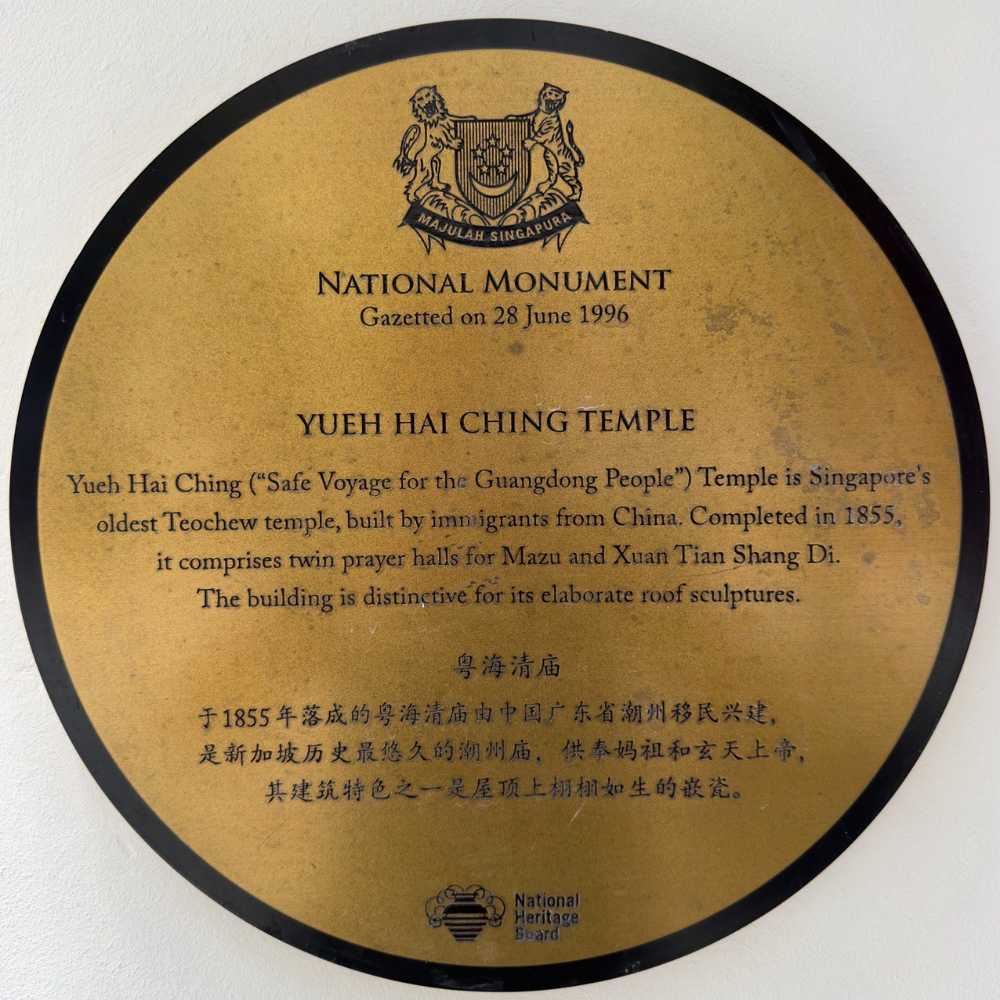 IMAGE: NG KAI

It is believed that a man named Lin Pan (林泮) then built a proper temple on the site of the makeshift shrine in 1826. Like other places of worship in Singapore, the temple also functioned as a social centre for immigrants.
Ngee Ann Kongsi (义安公司), which was established in 1845 to look after the religious needs and welfare of the Teochew community in Singapore, took over the management of the temple the same year. At the start, the Kongsi was led by Seah Eu Chin (佘有进), a wealthy Teochew pepper and gambier merchant. Yueh Hai Ching Temple was subsequently rebuilt between 1852 and 1855 with funds collected from the growing Teochew community in Singapore.
After the temple's last restoration in 2014, it was conferred the "2014 Unesco Asia Pacific Awards for Cultural Heritage Conservation – Award of Merit" on 3rd Sep 2014. The awards programme recognises the effort of private individuals and organisations that have successfully restored and conserved structures and buildings of heritage value in the region.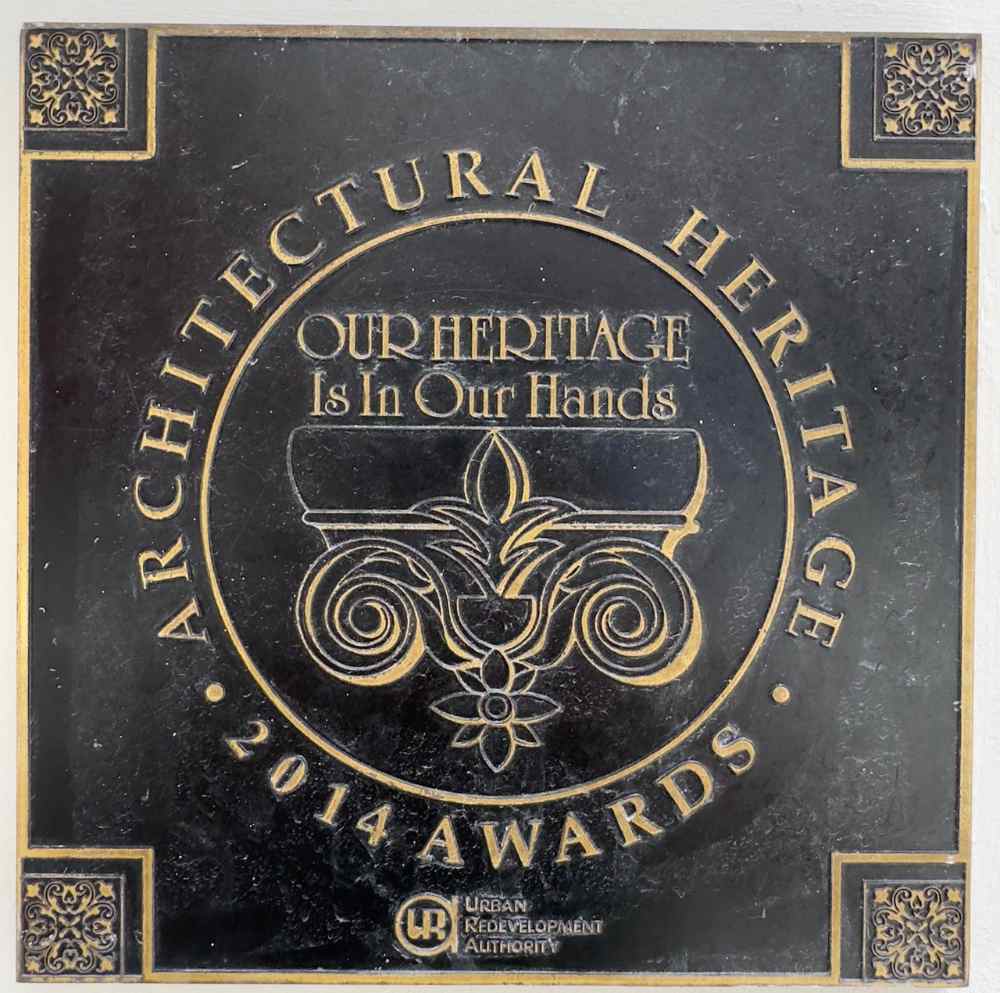 IMAGE: NG KAI
Yueh Hai Ching Temple also received the Urban Redevelopment Authority Architectural Heritage Award (Category A – Full restoration) that recognises owners and professionals in the restoration of monuments to their former glory.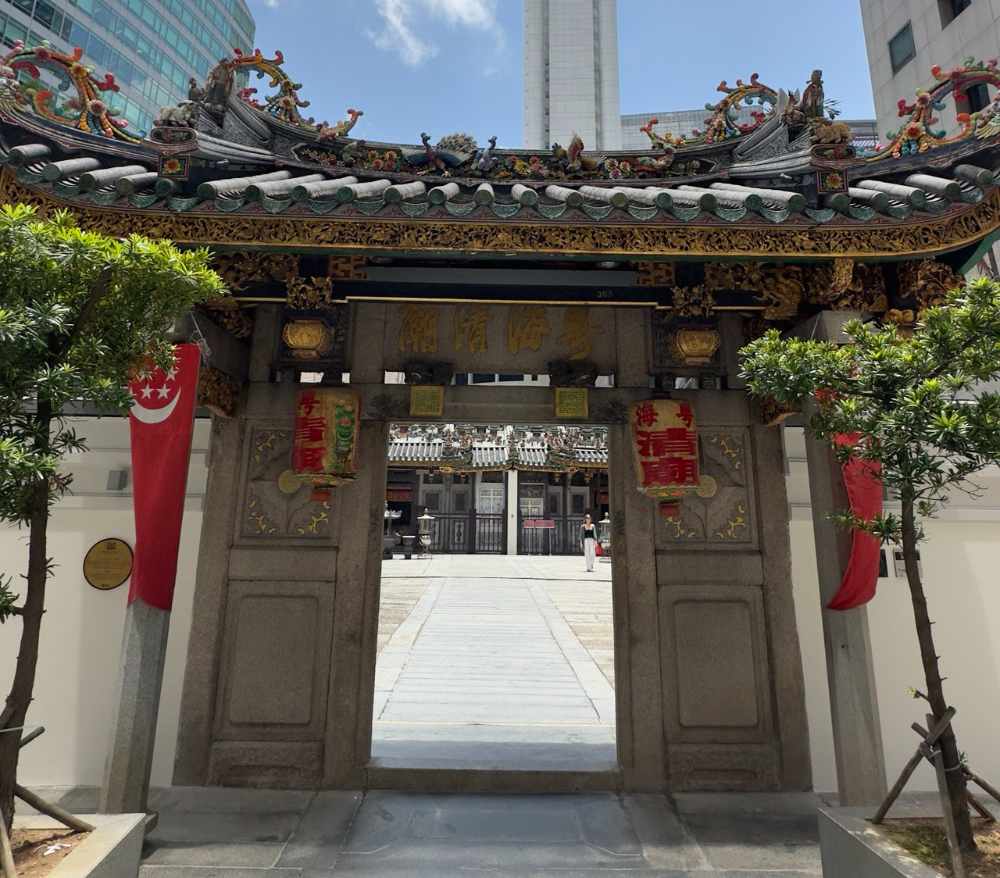 IMAGE: NG KAI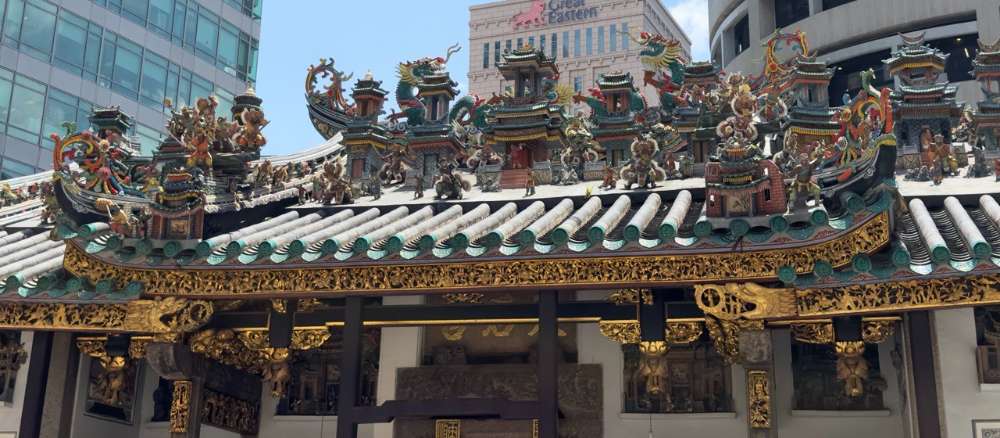 IMAGE: NG KAI
📐 Design and architecture
Yueh Hai Ching Temple was built in the standard three-hall layout of traditional Chinese temples, with covered courtyards between the entrance and main halls. Its Teochew-style roof has a relatively straight ridge. An outstanding feature is the set of delightful three-dimensional sculptures on its roof, which depict scenes of towns in China, as well as mythical flora and fauna that represent longevity, posterity, and strength.
The exquisite images of dragons and other ornamentation on the temple's roofscape are crafted using a special method known in Guangdong as qian ci (嵌瓷). This technique is commonly called jian nian (剪粘), which literally means "cut and paste". Colourful ceramics were carefully cut and trimmed into smaller pieces, and then pasted to create beautiful mosaic figures. Such decorations can also be found on the roofscapes of the Former House of Tan Yeok Nee, Thian Hock Keng, the Former Keng Teck Whay Building, Hong San See, and Lian Shan Shuang Lin Monastery.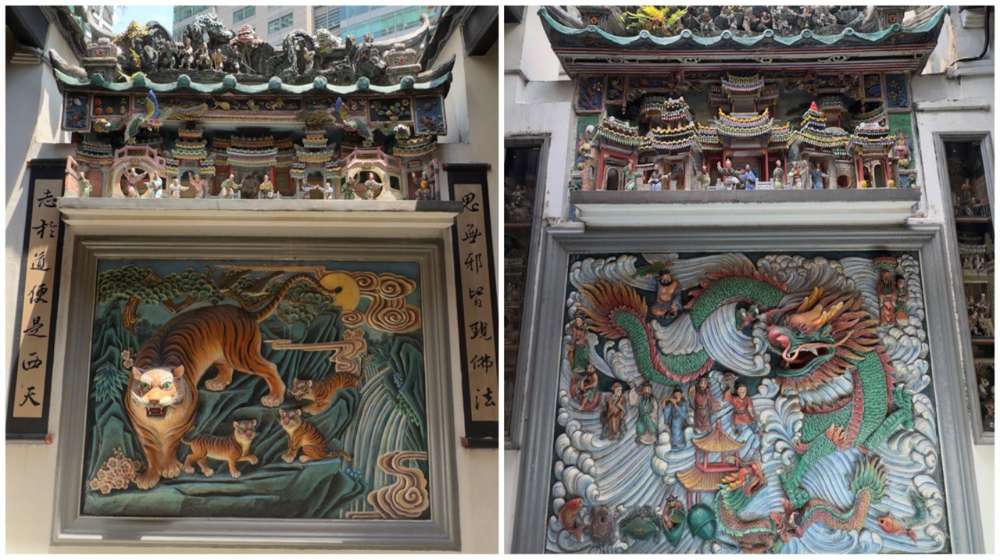 IMAGES: NG KAI
Inside the temple, the interior is adorned with elaborate carvings that portray scenes from well-known Chinese legends and folklore, including "Eight Immortals Crossing the Seas" (八仙过海), "Ruse of the Empty City" (空城计), and "Madam White Snake Steals Lingzhi Grass to Save Xu Xian" (白素贞偷灵芝草救许仙).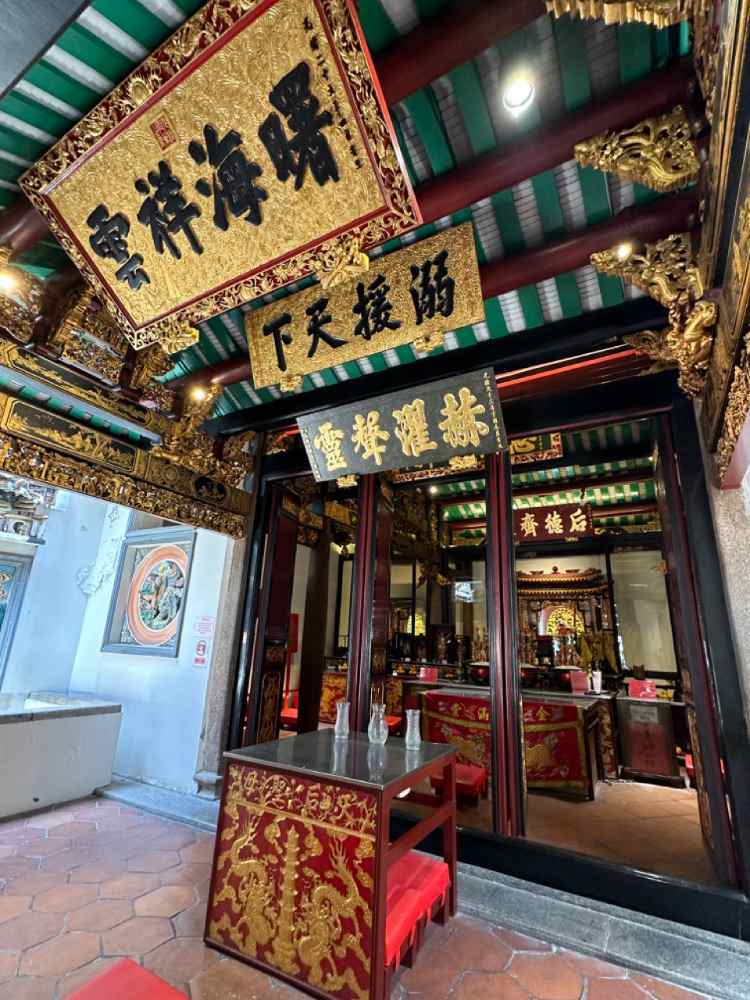 The words on the topmost plaque were blessings from an emperor of China! | IMAGE: NG KAI
In 1899, Emperor Guangxu of Qing China bestowed Yueh Hai Ching Temple with a scroll on which four calligraphic characters – shu hai xiang yun (曙海祥云) – were elegantly written in his own hand. The phrase can be translated as "moving seas with peaceful clouds above"; it conveyed the Emperor's blessings to the local Chinese community, in return for the temple's financial contribution to the flood relief efforts in Shandong, China.
The four characters were carved on a large wooden plaque, which is now prominently displayed in the temple. Besides Yueh Hai Ching Temple, the only other temple in Singapore to have received a similar imperial favour is Thian Hock Keng.
💌 Finding love
In addition to paying homage to the primary deities, the sea goddess Mazu, and Xuan Tian Shang Di (the Mysterious Supreme Emperor of Heaven), worshippers also gather at the temple to show reverence to Yue Lao, the Chinese deity of love and marriage. Devotees who manage to find love in their place of worship? Now, that's a match made in heaven!
🕖 Opening hours

Open daily from 8am to 5pm, including public holidays.
🎟️ Admission
Entry is free, but do respect the rules (such as no photography within certain areas) written on notices around the temple.
For the latest updates on Wonderwall.sg, be sure to follow us on TikTok, Telegram, Instagram, and Facebook. If you have a story idea for us, email us at