Tourist Attractions In Singapore That Are Singaporean-Approved
ICYMI, Singapore's DORSCON level was adjusted from Yellow to Green on 13 Feb 2023. And on 5 May 2023, the World Health Organisation (WHO) officially declared an end to COVID-19 as a public health emergency of international concern.
It's no surprise then that visitor numbers are climbing steadily: According to the Singapore Tourism Board (STB), the first quarter of 2023 saw more than 2.9 million visitors, roughly two-thirds of pre-Covid-19 numbers and 62 per cent of 2019's first quarter figure of 4.7 million visitors. STB also predicts an estimated $18 billion to $21 billion in tourism receipts for 2023. Hooray to the revival of our tourism sector!
If you have friends who plan to visit sunny Singapore, they should check these places out. After all, they're our fave tourist spots!
Bird Paradise
The newly-opened Bird Paradise has got everyone raven and tweetin' 🦆🦅🦉🦚🦩🦜🦢 You can expect to have a fly experience as you walk through eight stunning aviaries where colourful birds of all shapes and sizes soar freely. More adventurous and friendly birds may even venture to perch atop your head or shoulders! From live-feeding sessions, to a mesmerising dining experience while observing penguins in their habitat, and even play areas for children (there's one with trampolines!), there are activities galore for a most enjoyable day at Bird Paradise.
If you get hungry, there are myriad food options available. Think: a buffet-style restaurant at Penguin Cove, a menu at Crimson Restaurant curated by local celebrity chef Eric Teo, fast food options like A&W, and refreshing gelato by Birds of Paradise.
What locals do: Snap lots of pics and vids and "live" streams as some try to siam swooping birds; walk around with mini fans to beat the heat; or simply be enthralled by our winged friends.
Local rating: ★★★★★
Located at: 20 Mandai Lake Rd, Singapore 729825 ( map)
Gardens by the Bay
A national garden and premier horticultural attraction for local and international visitors alike, Gardens by the Bay is a showpiece of horticulture and garden artistry. Our Little Red Dot's green jewel is famous for the awe-inspiring Supertree Groves, SkyWay, Flower Dome, and hypnotic Garden Rhapsody (a light and sound show).
With three distinctive waterfront gardens (Bay South, Bay East, and Bay Central) and almost 400,000 plants, the outdoor component allows visitors to truly immerse themselves in the kingdom of plants.
The Gardens' calendar is chock full of signature festivals, music concerts and movie screenings, sports and community events as well as educational workshops and school programmes – all of which draw a wide spectrum of visitors that total more than 50 million to date.
What locals do: See flowers lor, really! Our fave displays: the sakura, dahlias and tulips. Oh ya, and enjoy aircon in the domes.
Local rating: ★★★★★
Located at: 18 Marina Gardens Drive, Singapore 018953 (map)
Sentosa
A tiny resort-island off the southern coast of Singapore, Sentosa is home to themed attractions, sun-washed beaches, lush rainforests, amazing spas and some popular resort hotels.
A must-see on Sentosa Island is the Merlion, Singapore's famous statue that has the head of a lion and the body of a fish. You can take an escalator to the top of the statue and enjoy panoramic views of the surrounding area.
If you're really craving some fun in the sun, Siloso Beach is a good spot for showing off your beach body, and visitors can play volleyball on free courts or go kayaking and skimboarding. There are several other beach attractions as well, plus an Underwater World aquarium, where you can swim with dolphins.
What locals do: Picnic or suntan at the beaches, take the family out for an entire day of fun, or just explore the many attractions. Aiya, you name it they have it!
Local rating: ★★★★★
Located at: Sentosa Island (map)
ArtScience Museum
Both art and science in a museum? You get the best of both worlds here – kids and adults will have a whirl of a time. Visitors can enjoy immersive exhibitions that excite their senses; hands-on programmes and workshops that make learning fun. This museum is so versatile that it caters to all sorts of groups: families, couples, and even friends. Psst… Take loads of photos because it's super #IGworthy both outside and inside the museum!
One of the quirkiest buildings and things to see in Singapore, ArtScience Museum houses ever-changing themes and displays across its 21 gallery spaces.
What locals do: It's a very cool building with cooler exhibitions so go there to take many photos lah (and also expand our knowledge with the ongoing displays).
Local rating: ★★★★★
Located at: 6 Bayfront Ave, Singapore 018974 (map)

S.E.A. Aquarium
When it first opened in November 2012, The South East Asia Aquarium AKA S.E.A. Aquarium at Resorts World Sentosa was the world's largest aquarium, until Chimelong Ocean Kingdom was unveiled two years later. Today, the aquarium continues to be in list of the world's largest and most impressive aquariums, and is now home to more than 100,000 marine animals representing 1,000 species - all housed in beautifully aqua-scaped exhibits that replicate the animals' natural environments. The main attraction is the Open Ocean Tank – the world's largest viewing panel and the only aquarium in the world to house the giant oceanic manta ray. It draws huge crowds and there's always a commocean with everyone pointing in wonder at the exotic marine biodiversity surrounding them.
What locals do: All crowd around and squeeze inside the Open Ocean Tank to admire the rich marine life swimming around. We all feel like we're inside a NatGeo documentary, on fleek AF.
Local rating: ★★★★★
Located at: 8 Sentosa Gateway, Sentosa Island, 098269 (map)
Botanic Gardens
Another garden? Ups or not, our garden city-state really living up to its name. The Botanic Gardens, located at Orchard Road, is the only tropical garden to feature as a UNESCO World Heritage Site. The 82-hectare green space boasts of more than 10,000 species of flowering plants and trees. The prime attractions are the National Orchid Garden, and Jacob Ballas Children's Garden – the world's first garden dedicated exclusively to children.

Singapore Botanic Gardens also features the Learning Forest interactive rainforest exhibit, many museums, herbariums, attractive statues, gurgling fountains, a Botany Centre, and many more family-friendly locations. A stunning lake attracts tropical birds and turtles, while butterflies and other insects frequent the sweet-smelling blooms. The Botanic Gardens is also the venue of performances, recitals, and educational programs at Palm Valley.
What locals do: Go for a jog, family picnic, or just a leisurely walk. It's definitely not as crowded as Gardens by the Bay but hotter lorh because no fancy air-conditioned domes.
Local rating: ★★★★
Located at: 1 Cluny Rd, Singapore 259569 (map)
Night Safari
Say hello to the world's first nocturnal zoo. The Singapore Night Safari houses more than 130 species of animals and uses an open-concept enclosure take the visitors on a 45 minute narrated tram tour of its nocturnal animals and habitats. The park's habitats are divided into four sections, each with its own trail that lets you observe these elusive creatures as they go about their "day."
For the little ones in tow, the night safari park has a 20 minute Creatures of the Night show. Also, cultural performances are a regular part of the Singapore Night Safari - don't miss out on high-energy, fire-spinning Thumbuakar performances held daily at the entrance courtyard. Private tours, buggy rides, and educational sessions are available, as well as once-in-a-lifetime experiences, such as an Asian elephant feeding session. Damn cool lah!
Be sure to stop by and say hi to the Night Safari's newest stars, a quartet of Tasmanian Devils making their debut appearance in Singapore.
What locals do: Take the family there or go with bae.
Local rating: ★★★★★
Located at: 80 Mandai Lake Rd, Singapore 729826 (map)
Jewel Changi Airport
Sigh, so close yet so far. While we might not go Changi Airport to travel overseas anymore, but at least got the "travel feels" if we visit Jewel Changi right. Not many airports can boast of being a must-see tourist destination in their own right. But Jewel Changi certainly deserves the title. An unparalleled fusion of design, architecture and lush nature, it is truly a world-class lifestyle hub.
A must-see is the HSBC Rain Vortex – the centrepiece attraction of Jewel Changi. The world's tallest indoor waterfall soars up to 40 metres, and many people stop to gaze in wonder or snap pictures with it. There's even a Changi Experience Studio where visitors can take part in a simulated race between a Porsche and a Boeing 747 jet. Jewel Changi has a plethora of food choices also, and so many shops that you can shop till you drop. Got food, retail therapy, and immersive technology – get there stat lah!
What locals do: When the usual Orchard Rd shopping malls just don't make the cut anymore, Jewel Changi has everything and more.
Local rating: ★★★★★
Located at: 78 Airport Blvd., Singapore 819666 (map)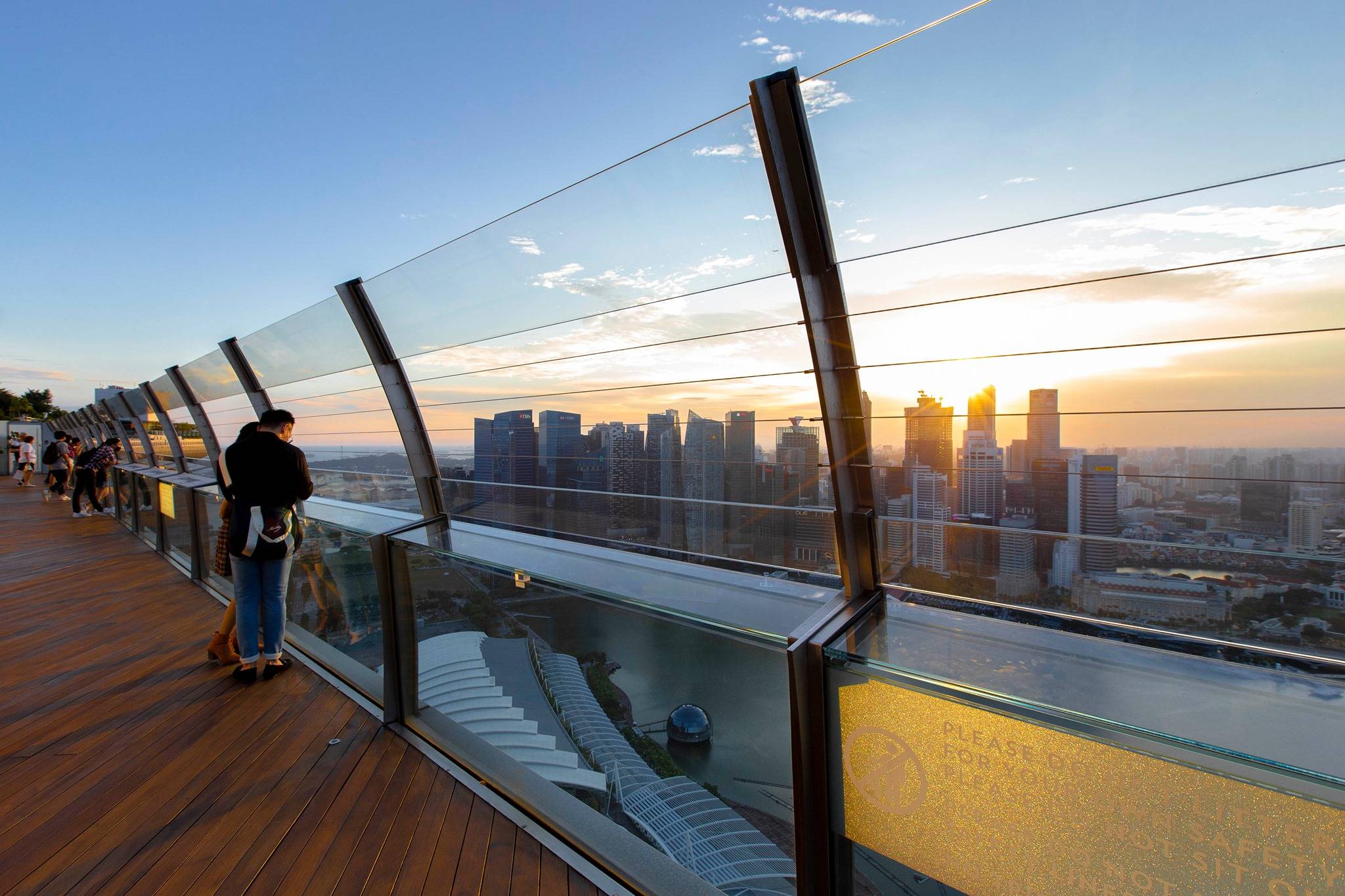 MBS Skypark
If you're afraid of heights, still must try go because the view is to die for hor. Located 57 storeys up from the heart of the Marina Bay area, the SkyPark Observation Deck boasts scenic views of the panoramic vistas of Marina Bay and Singapore's world-class cityscape. Take in a bird's-eye view of Gardens by the Bay and the impressive Supertree Grove, or admire the sea view that stretches from Marina South Pier to the Singapore Strait.
This is one of the best places to spot many of Singapore's iconic landmarks. Look out for the capsules on the Singapore Flyer and the durian-shaped domes of the Esplanade – or the Merlion statue. Be sure to also keep an eye out for the orange-tiled roofs of the shophouses along the Singapore River.
In the evening, head down to the Event Plaza to catch Spectra, the free outdoor light and water show that takes place nightly on the Waterfront Promenade.
What locals do: Singapore so hot, sometimes we lazy to walk here and there to see this and that. Here, we can see multiple iconic landmarks from this spot and enjoy the cooling breeze at that height.
Local rating: ★★★★
Located at: 10 Bayfront Ave, Singapore 018956 (map)
Singapore Zoo
Set in a rainforest environment, Singapore Zoo's world-famous "open concept" offers the opportunity to experience and be inspired by the wonders of nature. Animals here live in spacious and landscaped environments, simulating that of their natural habitats. Visitors can expect educational programmes and tours, and even have breakfast with our iconic orangutans.
Home to more than 2,400 specimens of over 300 species, 34 per cent of which are threatened, the Zoo has attained a strong reputation internationally for its conservation initiatives and breeding programmes. Ever the over-achievers, we even have a purpose-built Wildlife Healthcare and Research Centre set up in March 2006. The centre was built to become a leading global centre of excellence for veterinary healthcare and research.
What locals do: We have iconic animals like the adorable giant pandas, so it's worth making the trip down to snap some cute photos of our furry friends.
Local rating: ★★★★★
Located at: 80 Mandai Lake Rd, 729826 (map)
Universal Studios Singapore
Want to scream your lungs out? Then drop by Southeast Asia's first and only Universal Studios theme park, featuring 24 rides, shows and attractions in seven themed zones. It's also perfect for a family day out with all sorts of activities to keep everyone entertained. The little ones will be delighted to catch their favourite characters IRL. Get ready to meet Elmo, say hi to the cast from Madagascar, and see the lovable Minions. Don't miss the world's tallest duelling roller coasters and even an indoors roller coaster.
What locals do: Thrill-seekers will head straight for the rollercoasters while families take their time to pose for a photo with every costumed mascot there.

Local rating: ★★★★
Located at: 8 Sentosa Gateway, 098269 (map)
Singapore Flyer
Put a spin on things (literally) and go for a breath-taking view of Singapore. Officially launched in 2008, the Singapore Flyer stands at 165 metres making it one of the largest Giant Observation Wheels in the world. Did you know that the Singapore Flyer is 150 metres in diameter? It's about the length of 87 Singaporean men lying down head-to-toe. The average Singaporean man is 1.72m tall.

What locals do: Again, we just like to sit down, and get away from the heat while still having enjoying ourselves. And what better way than to slowly go high up and take in Singapore's beautiful cityscape?
Local rating: ★★★★★
Located at: 30 Raffles Ave, Singapore 039803 (map)
For the latest updates on Wonderwall.sg, be sure to follow us on TikTok, Telegram, Instagram, and Facebook. If you have a story idea for us, email us at [email protected].