My First Time Using Cycling Directions By Google Maps
I purchased my Riverside 500 from Decathlon back in 2021 when the borders were closed and the pandemic was still raging. With more cycling routes opening up around the island, it's been a great way to explore Singapore while working up a sweat.
From trying out the scenic Eastern Coastal Loop to enjoying a night cycle session to the city, my hybrid bike and I have become fast friends.
Not too long ago (on 8 Nov 2021), Google Maps launched a new cycling navigation feature in Singapore, the first of its kind in Southeast Asia - and, in commemoration of World Bicycle Day (3 Jun 2022), I knew I had to take my two-wheeled BFF out for a spin using this feature.
Available on both desktop and mobile (Android and iOS) platforms, the function covers more than 6,800km of cycling trails and biking directions in Singapore.
It was developed to cater to the huge spike in searches on Google for cycling routes - in fact, there was a jump of 75 per cent from 2020, and an increase of 400 per cent from 2019.
Here's my experience using the feature: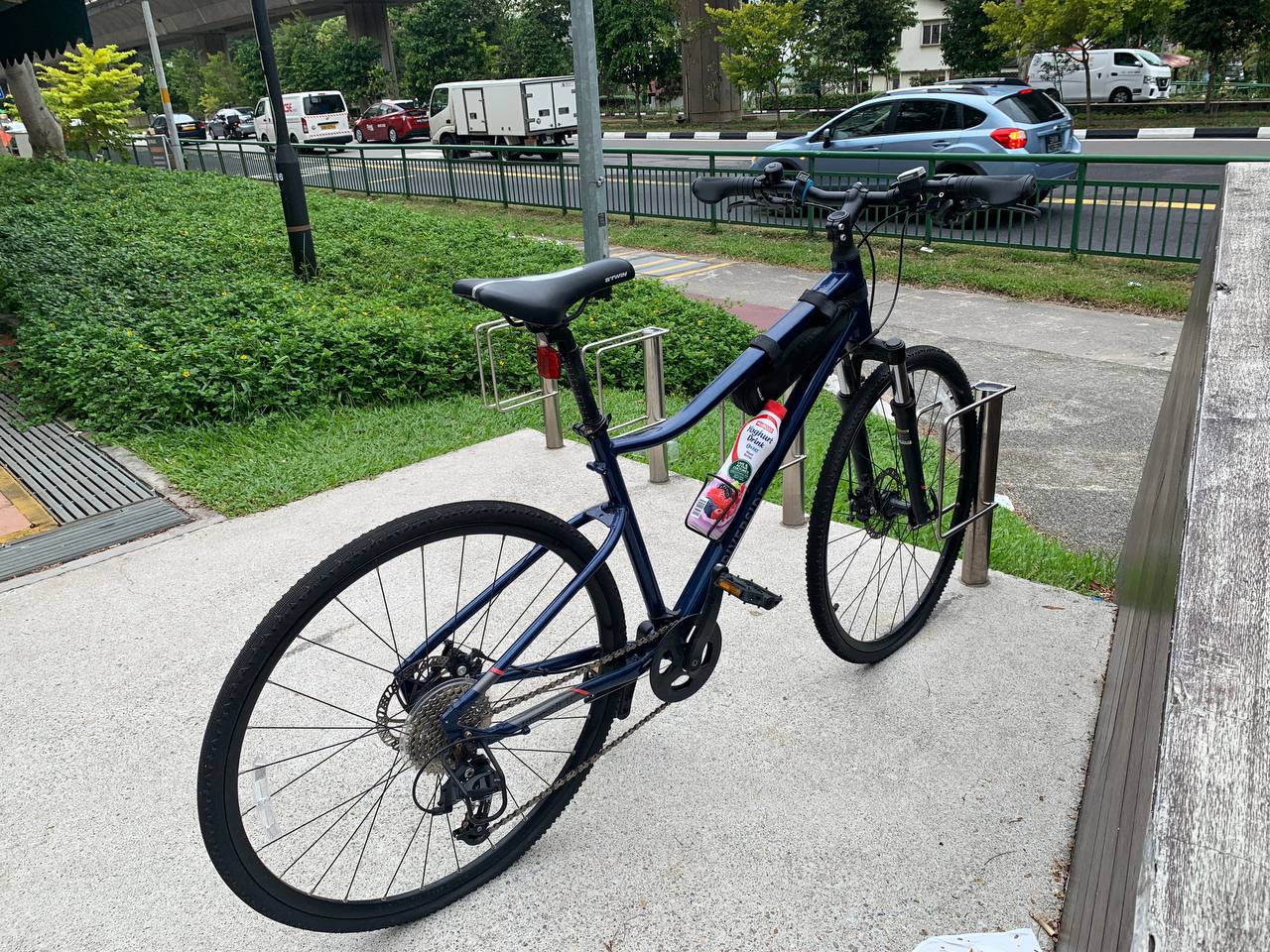 Planning the route
My initial plan was to do an early morning ride from my home in Bedok to the UFC Gym in City Hall where I usually work out. Yes, I was going to cycle 13km back and forth with a gym session sandwhiched in between. #Fitspo or #bodoh, you decide. But alas, the weather wasn't co-operating as it started to pour as soon as I woke up. So it became a mid-day session instead.
Once I launched the Google Maps app on the phone, I enter my destination and tapped on the "Directions" options, like you normally would. But if you've updated the app to its latest version, you'll notice a new bicycle icon at the top alongside the usual car, public transport and walking options.
I selected cycling as my preferred mode of transportation, and, voila, this screen showed up: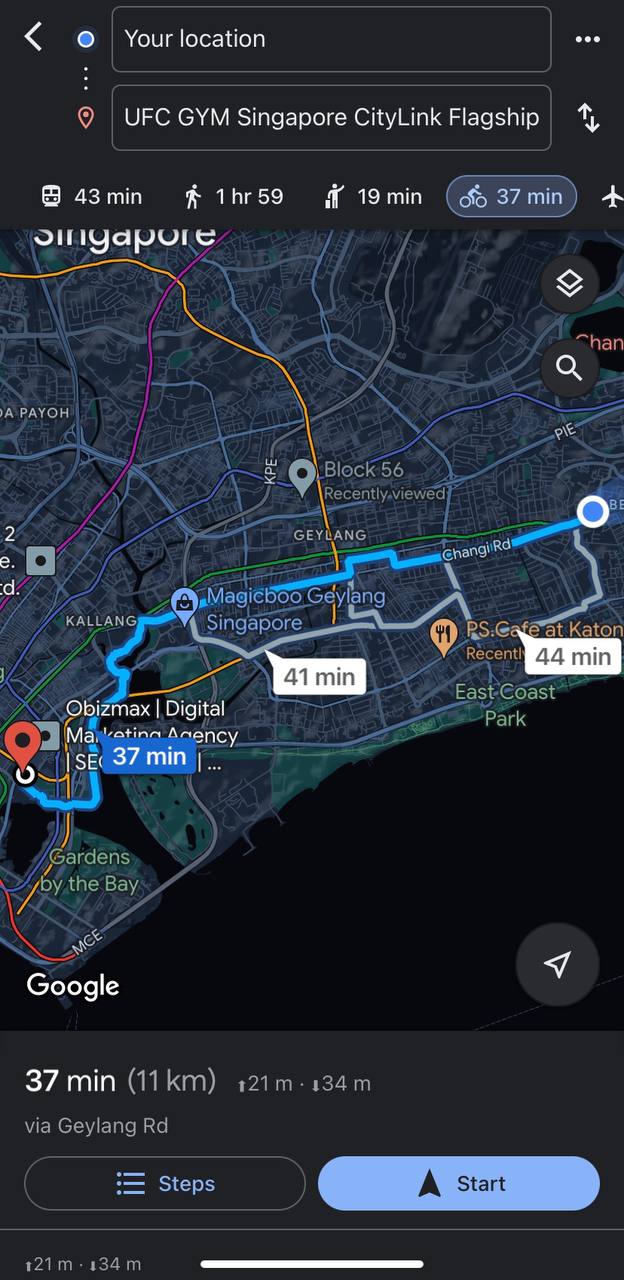 Normally, the route I would take to the city would be through East Coast Park and Tanjong Rhu. It might be slightly longer but there are dedicated cycling paths which ensure a smoother journey.
Interestingly, the Google bike-route map offered a more direct course straight across Kembangan, Geylang and Kallang, essentially how the MRT stations on the East-West line are laid out.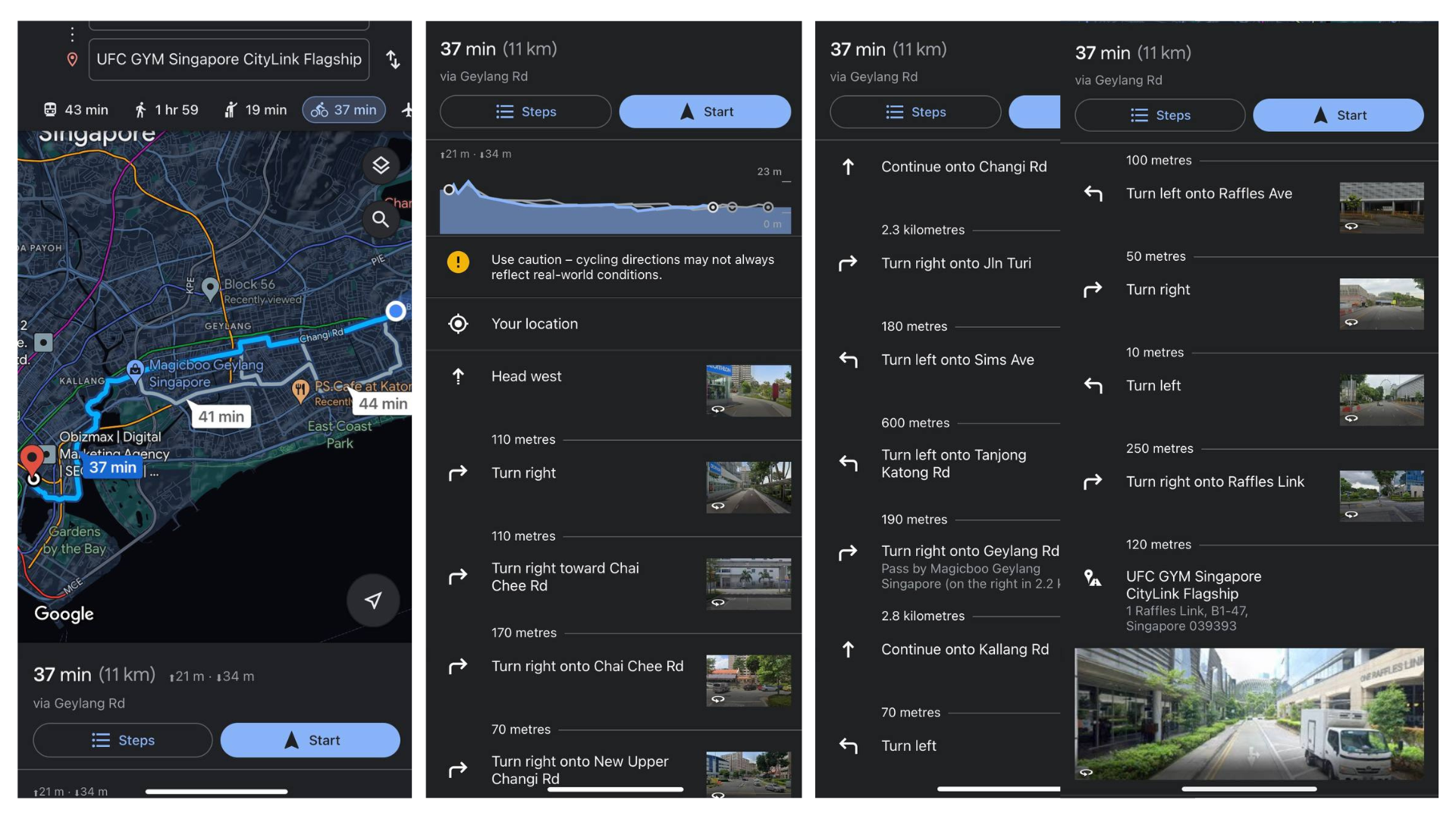 By clicking on the "Steps" option at the bottom-left corner of the screen, I could take a more in-depth look at the route, and the accompanying visual guides that would help me avoid divided highways and roads that do not permit bicyclists.

Alternative directions
Another cool feature on Google Maps is that you have the option of creating your own cycling route if the suggested one is not up to your liking.
Click anywhere on the blue path suggested by Google to set a point, and you can drag that point to a new location to change the route. When you do this, other suggested alternate routes disappear from the map, and the cycling directions change.
The estimated cycling time and distance change as you adjust the route, which is helpful if you're trying to stay within a certain time frame. In the destination panel, there is a comment on whether the route is flat. You wouldn't want to encounter unexpected uphill terrain halfway through your ride, so this is super useful.
After you complete your alternate route, the app locks it in. While I was tempted to plan my own cycling path, I decided to follow Google's recommendation instead. You can never go wrong with trusting Google, right?
Problems with the feature
Well, I spoke too soon. Google Maps might have given me a seemingly straightforward route but not necessarily the best one. The inital phase of the journey through Kembangan was pretty smooth sailing. While it was set along Changi Road, the sidewalk offered enough space for me to share it with fellow pedestrians.
It was when I reached the Geylang area that trouble started brewing. I immediately realised that there was no dedicated cycling path for me to ride on. It was one huge, congested road snaking through the many lorongs. While I tried to cycle carefully on the narrow pavement, it was just impossible as there were too many obstacles in the way. Dustbins, bus stops, throngs of people milling about - take your pick.
I briefly considered cycling on the side of the road on the bus lane but honking buses approaching from behind put a swift end to that. I ultimately gave up my hopeless endeavour, got off my bike and pushed it all the way through the Geylang stretch instead. This caused me to lose about about half an hour of travel time.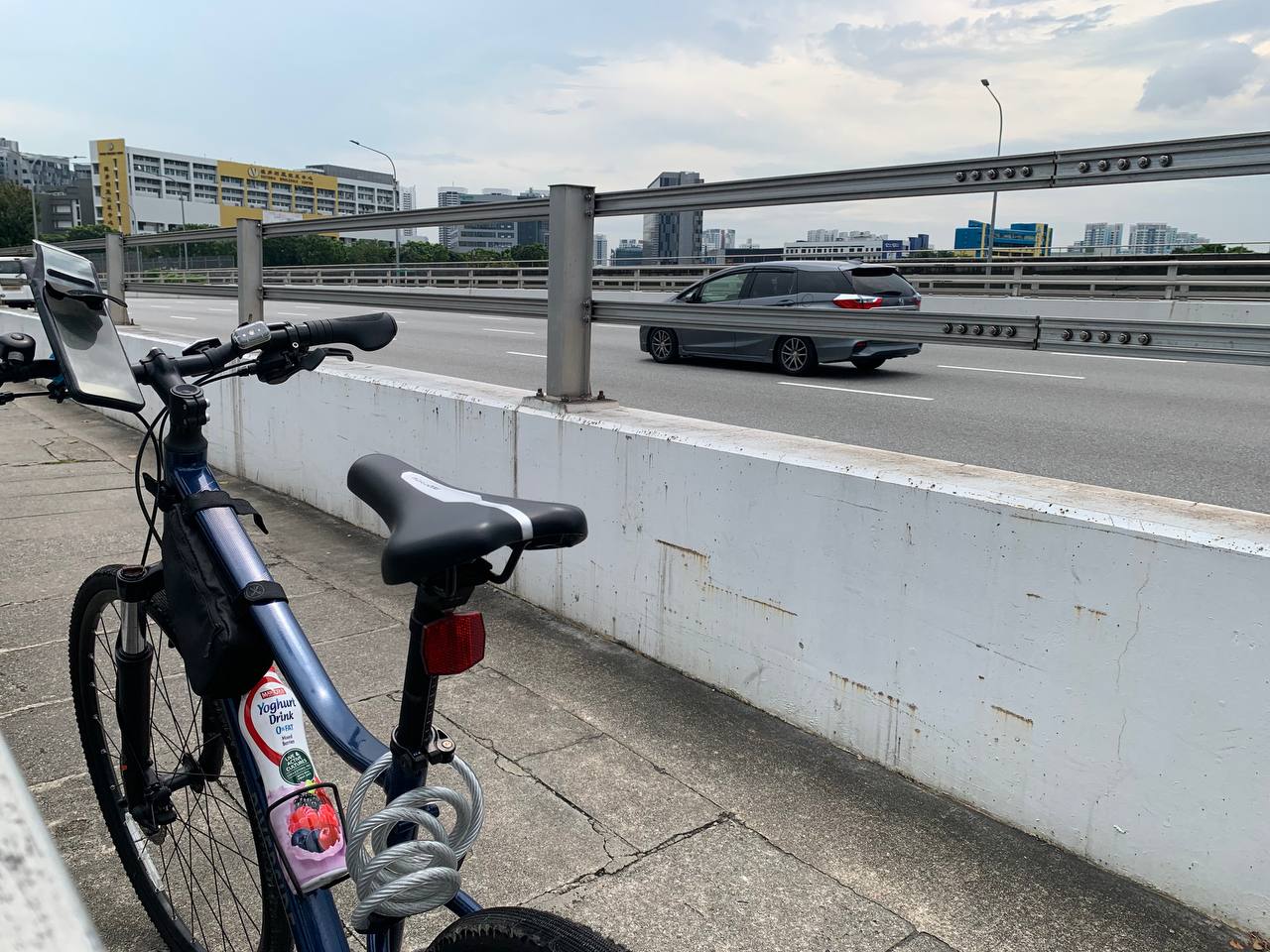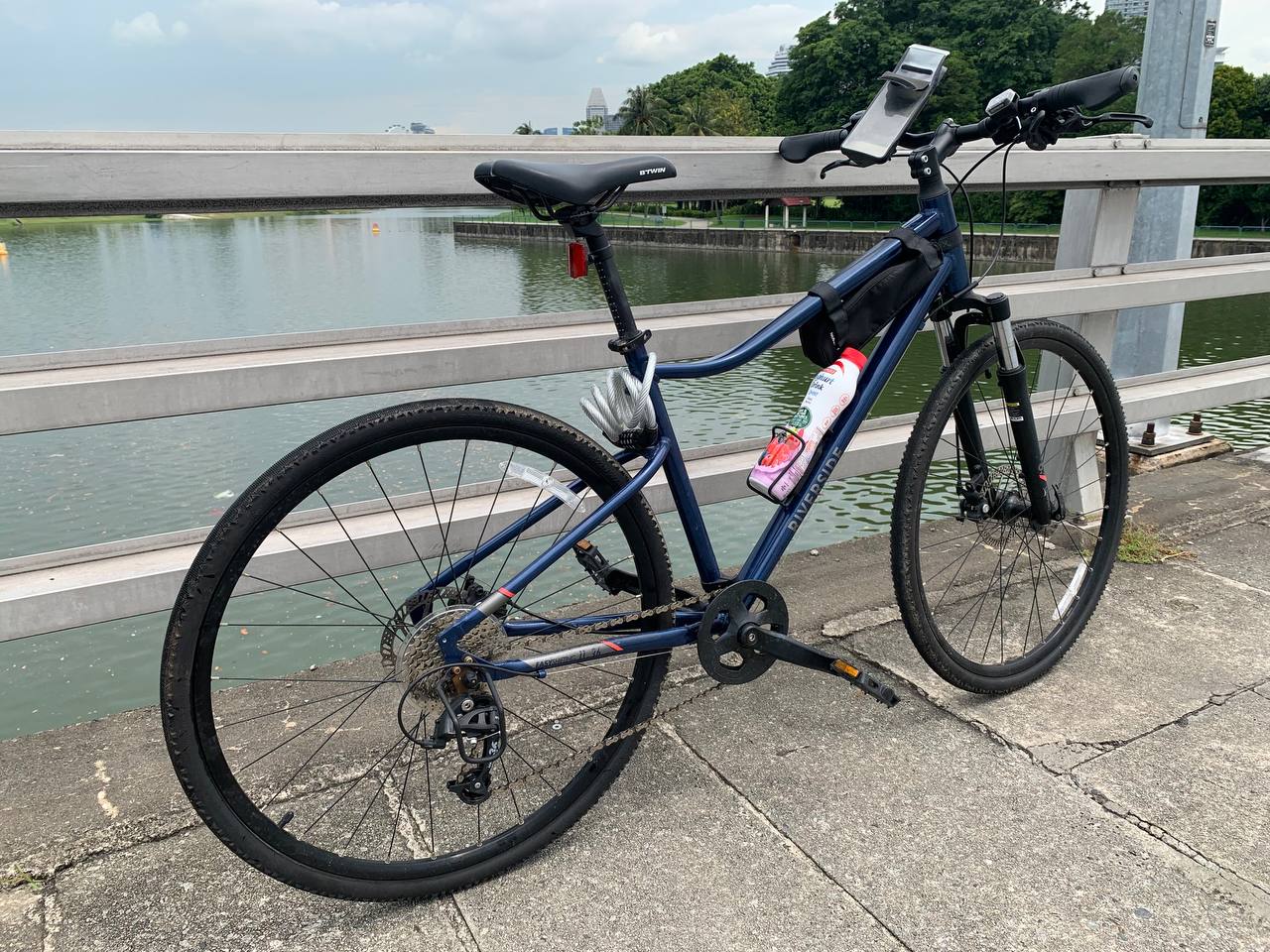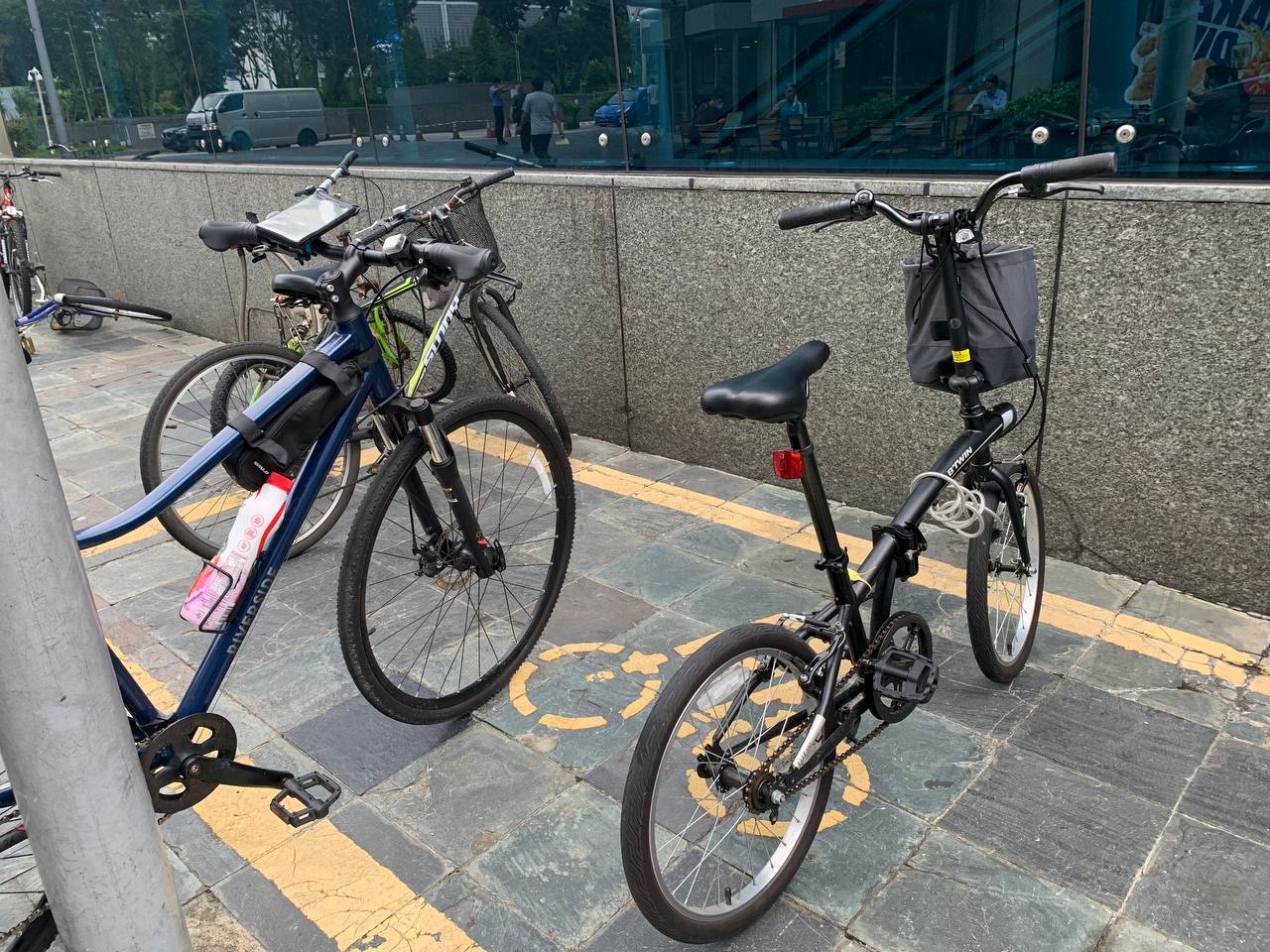 No bicycle parking suggestions on Google Maps
The situation eased up massively once I hit Kallang. I took a breather at Sir Arthur's Bridge and even managed to snap a quick picture of the Kallang River, before completing the final lap of the ride through Lavender, Bugis and finally City Hall.
I finally reached my destination an hour later than what Google Maps estimated but at least I was safe and sound. I managed to find a bicyle parking spot pretty near to the City Hall MRT station without much hassle, but that was purely by coincidence. Google Maps doesn't offer information about parking spots for bicycles, unfortunately. Therefore, it's better to have that figured out before you embark on your ride.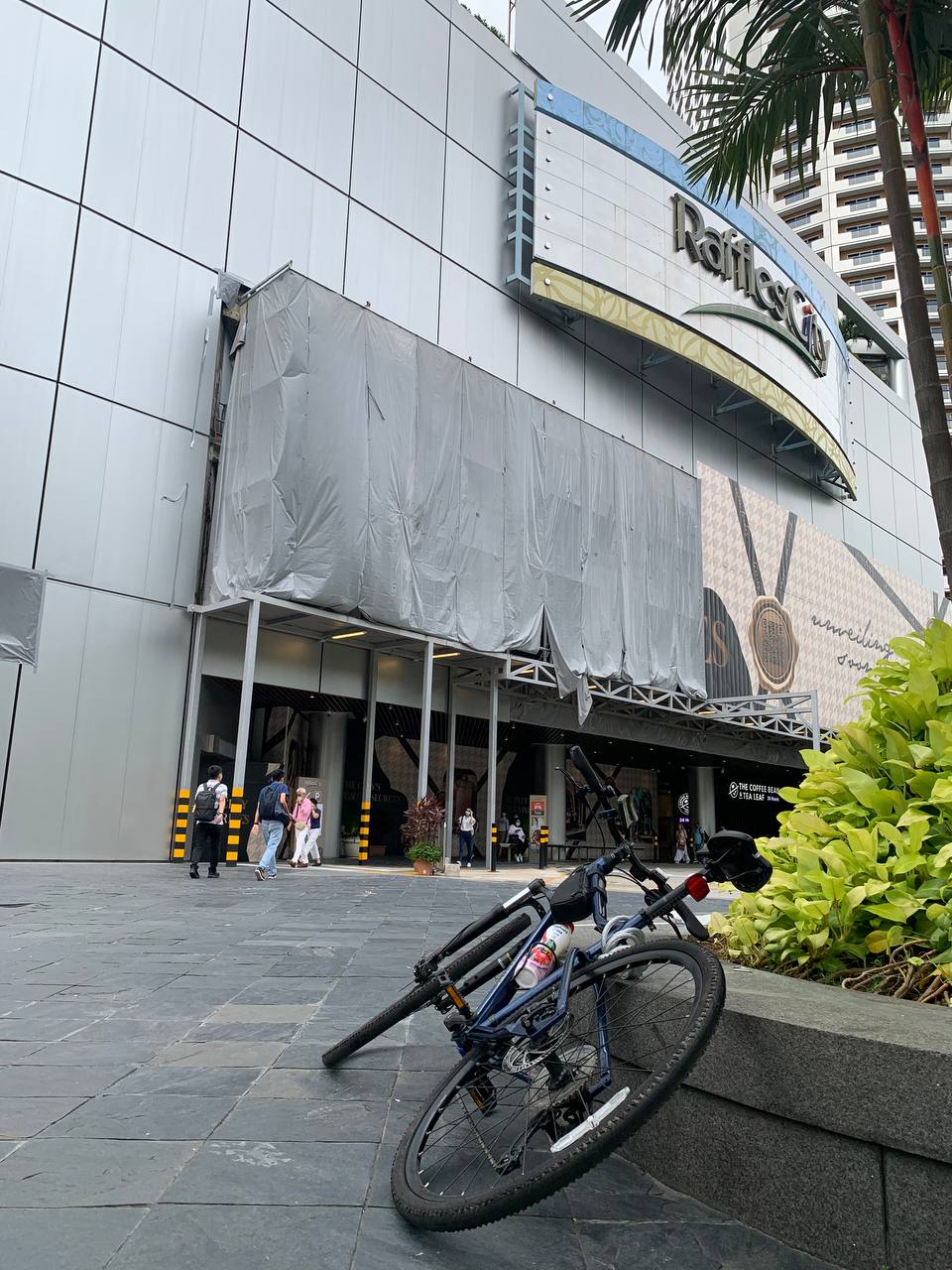 Final thoughts on the Google Maps cycling navigation feature
Overall, my riding experience with Google Maps was a bit of a mixed bag of opinions. The route that it suggested was definitely a good way to reach my destination, one that I hadn't considered. I had reservations trying this route, but decided to give it a try (because my editor said so). But sian, my gut instinct was proven right - the route was not cycling-friendly (unless I cycled on the main road, which I didn't want to), and was was fraught with too many obstructions to make it a smooth ride.
If I had wanted a quieter bike route or one that was more scenic but not necessarily the fastest, I would have stuck to the East Coast park connector instead.
When preparing a bicycle route with Google Maps, you might end up needing to do some research on your own to customise the route to suit your preferences.
The app could have put me on a safe route that helped me avoid traffic. While it might have taken longer, I wouldn't have had to compromise on safety. I experienced the exact opposite, unfortunately.
Google Maps should totally have a feedback community for experienced riders to share their suggestions which would help beginners like me a lot.
---
Cycling in Singapore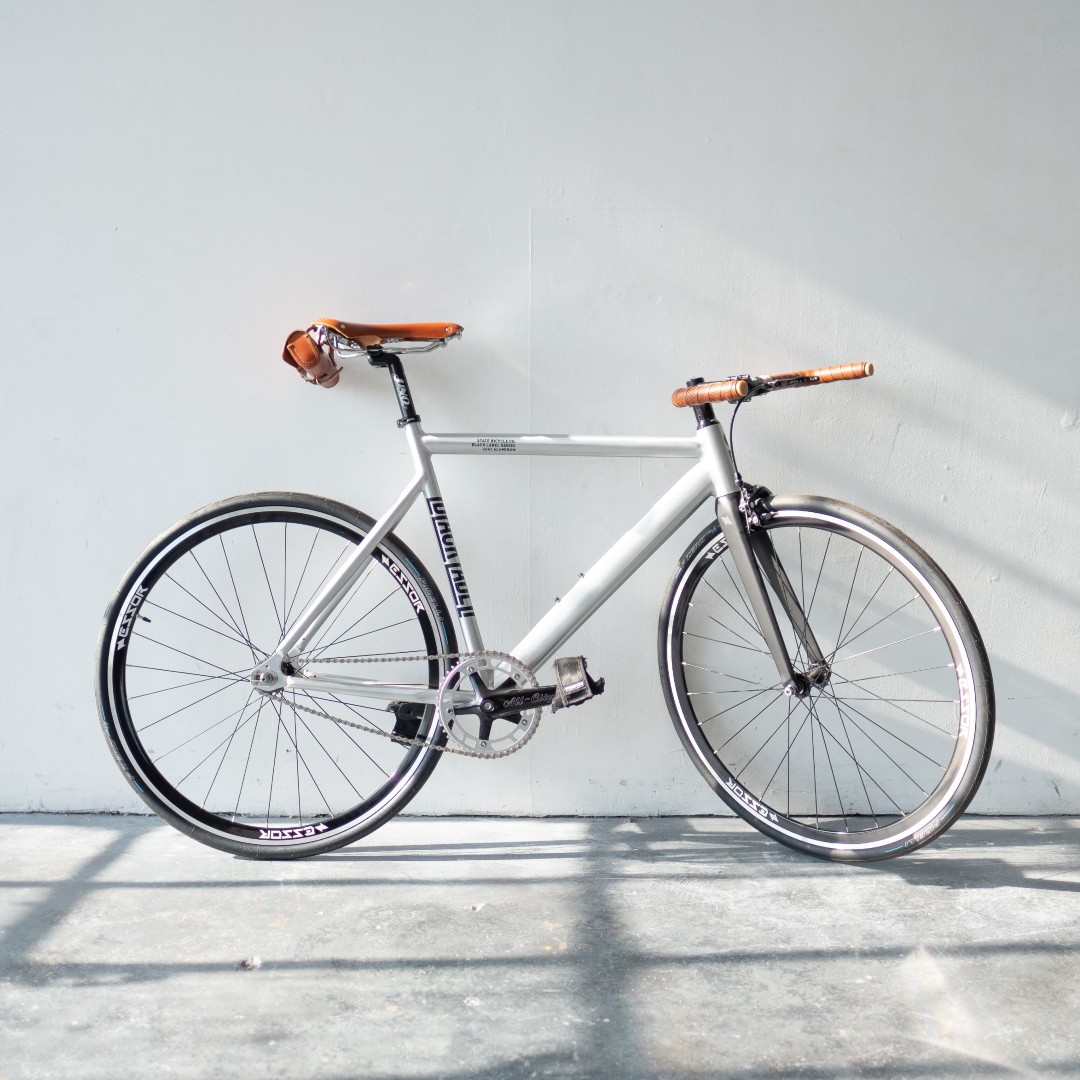 World Bicycle Day: Everything You Need To Know About Cycling In Singapore
World Bicycle Day is all about celebrating the uniqueness, longevity, and versatility of the bicycle. Thanks to the ongoing pandemic, more and more people are turning to cycling as a dual means of recreation and exercise.
Plans are also underway to convert underused road lanes into cycling lanes, to further boost Singapore's road infrastructure. Here's everything that you need to know about cycling in Singapore: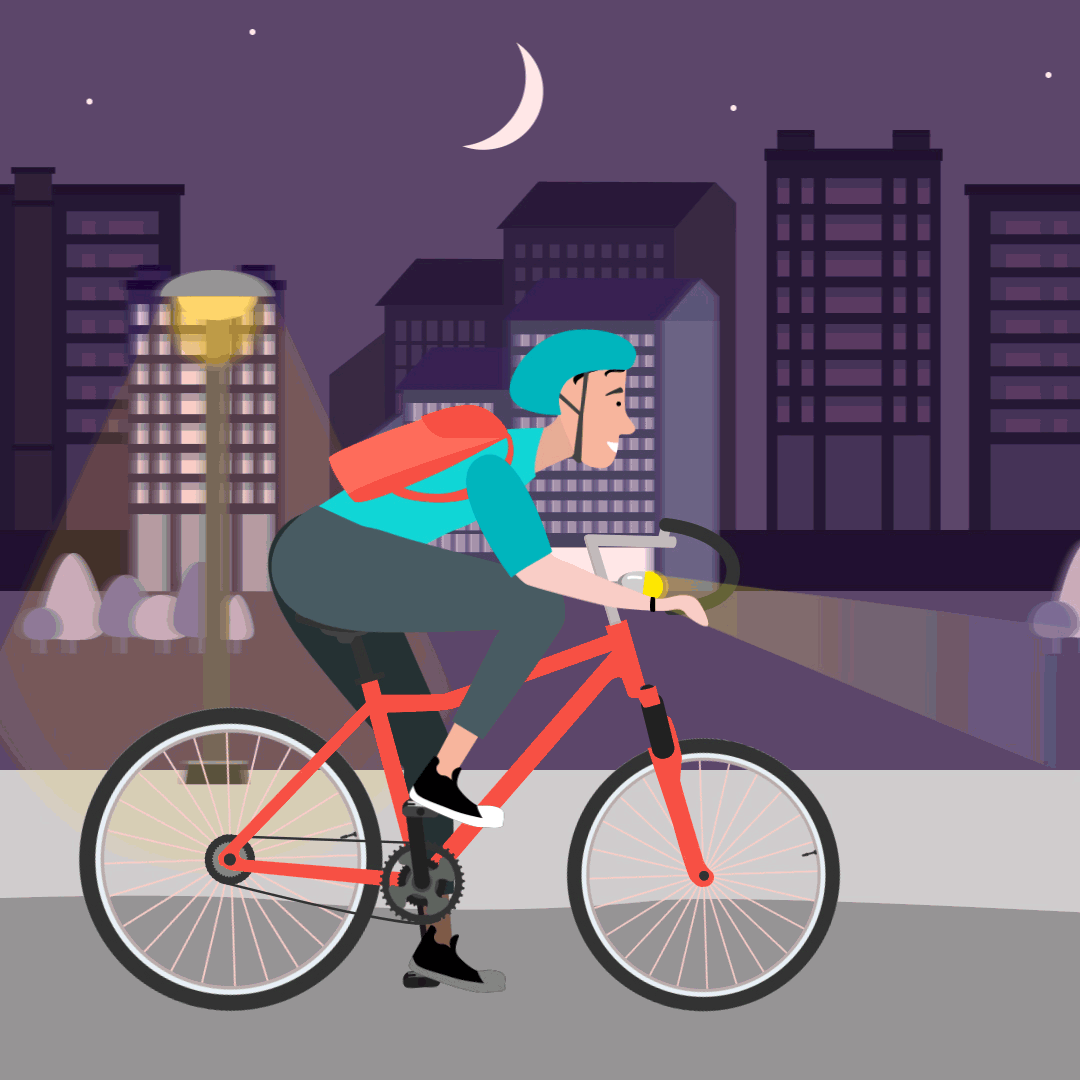 World Bicycle Day: Best Night Cycling Routes In Singapore
Whether it's coasting through the beating heart of the city centre or along the tranquil outskirts, explore Singapore on wheels after dark with these biking trails!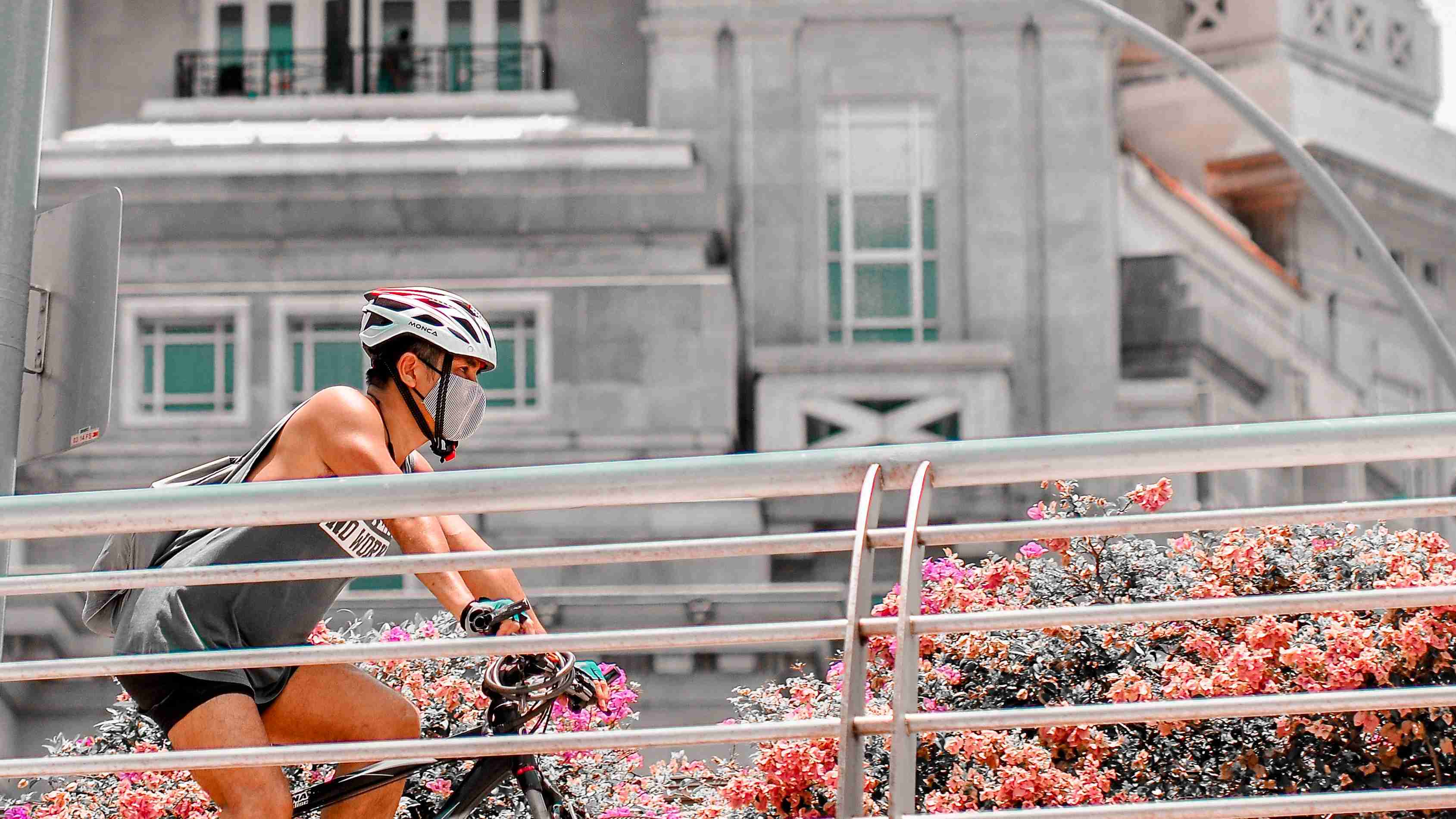 Helping You Get A Grip: Which Bicycle Is Best You
Rising petrol costs and climate change? Time to hop on a bike instead for your mode of commute!
For the latest updates on Wonderwall.sg, be sure to follow us on TikTok, Telegram, Instagram, and Facebook. If you have a story idea for us, email us at [email protected].