If You Were In The Same Unit: "Army Daze" Creative Trio Take BMT Quiz
Yes! ICYMI, veteran playwright Michael Chiang will be putting three of his hit plays on YouTube for your viewing pleasure - for free! - for a limited period.
Packaged as "Playtime With Michael Chiang", the trio of plays kicks off with "Army Daze" on 13 Jun 2020 (Sat), followed by "Army Daze 2" on 20 Jun 2020, and "Beauty World" on 27 Jun 2020. All three will be available on YouTube until 13 Jul 2020.
Before "Army Daze" premieres online at 8pm on 13 Jun 2020, we rounded up Michael, director Beatrice Chia-Richmond, and composer Don Richmond on WhatsApp, and asked them to imagine what life would be like if they were in the same BMT unit...
Who would be the "Malcolm Png"?
Michael: Oh gawd.
Beatrice: Michael. Only Michael. Michael all the way.
Don: Confirm Michael. Yup only Michael
Beatrice: I have never seen Michael do push ups before. He will wake all of us up. Soft spoken. So no one will hear him when he tries to wake us up.
Beatrice: He is on time. We are not
Don Richmond: Well first of all the good natured boyish charm... soft spoken... and yes no push ups...
Beatrice: WAHHHHH so nice DON RICHMOND!
Michael: Boyish. I accept
Don: I save one in the bank so Mike will say nice things about me
Beatrice: MICHAEL is AWESOME
Beatrice: He's responsible
Beatrice: He does not swear. Unlike Don Richmond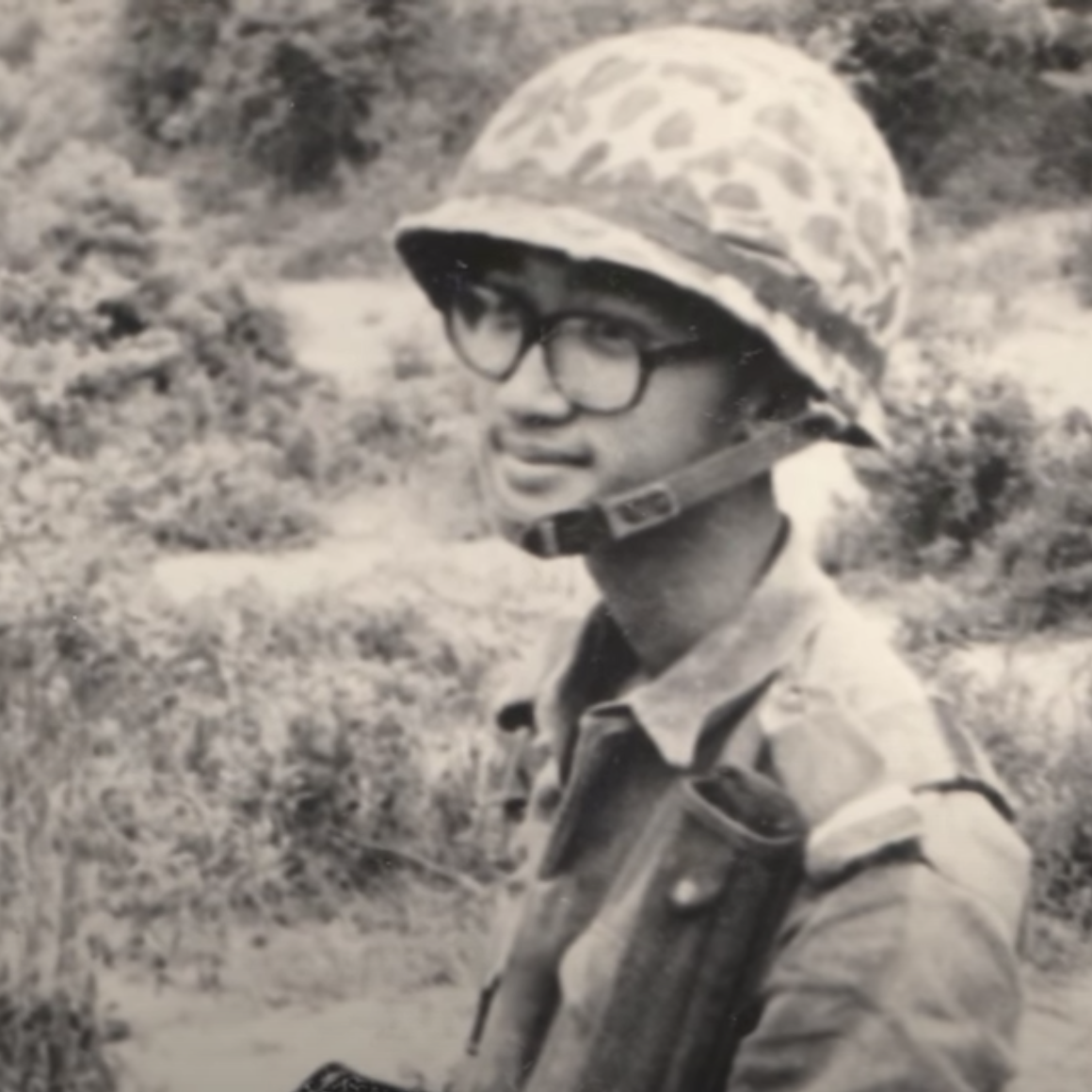 Who would be the chao keng one?
Beatrice: Don
Michael: Don
Don: Me. Seems like that's the motto to my entire life so far. I keng until I believe my own self made ailments...
Beatrice: I believe
Michael: Yes. Coming from someone who has not even known u for your entire life
Don: Spend a day with me and that's enough... there really isn't anything deeper to me.
Did you keng for the Army Daze songs?! You just slap samples together is it?
Beatrice: FFFFFFFFFFFFFFFFFFFFFFF FAI BEE AXE!
Don: I sat and meditated in my underwear... When I woke up... the songs were written... I think they paid the wrong guy.
Beatrice: Im afraid only Don Richmond is capable of such geniousity like that FFFFFFFF Fai Bee Axe. He definitely did THAT ONE!
Michael: Have to agree. His profundity is beyond words. No I did not misspell profanity.
Who would be the "siao on" one?
Don: Beatrice aka Siao Zha Bor
Michael: Beatrice
Beatrice: NOPE. I disagree. I would never voluntarily wake up at 5am
Michael: And sometimes me? When she's not looking
Beatrice: I agree. Michael is selectively siao on. In my head, I am chill. You all have wrong impression
Beatrice: Just cos I am tall
Michael: Oh. Ya hor
Who would end up going to OCS?
Beatrice: Michael
Michael: Me. I is clever like that
Don: Michael and Beatrice. I'm more of the LCP for life.
Michael: Oh ya. Maybe her oso. Height is over rated lor
Beatrice: I don't know man. I really can't do the ringworm
Michael:
Don: Height is good for NDP parade commander... plus she can shout
Beatrice: yah. But this ringworm and fungus problem how....
Don: Michael looks like the kind hearted S1 type of officer...
Michael:
Beatrice: Also, the pigmentation on my face. Cannot la
Don: Super Hiao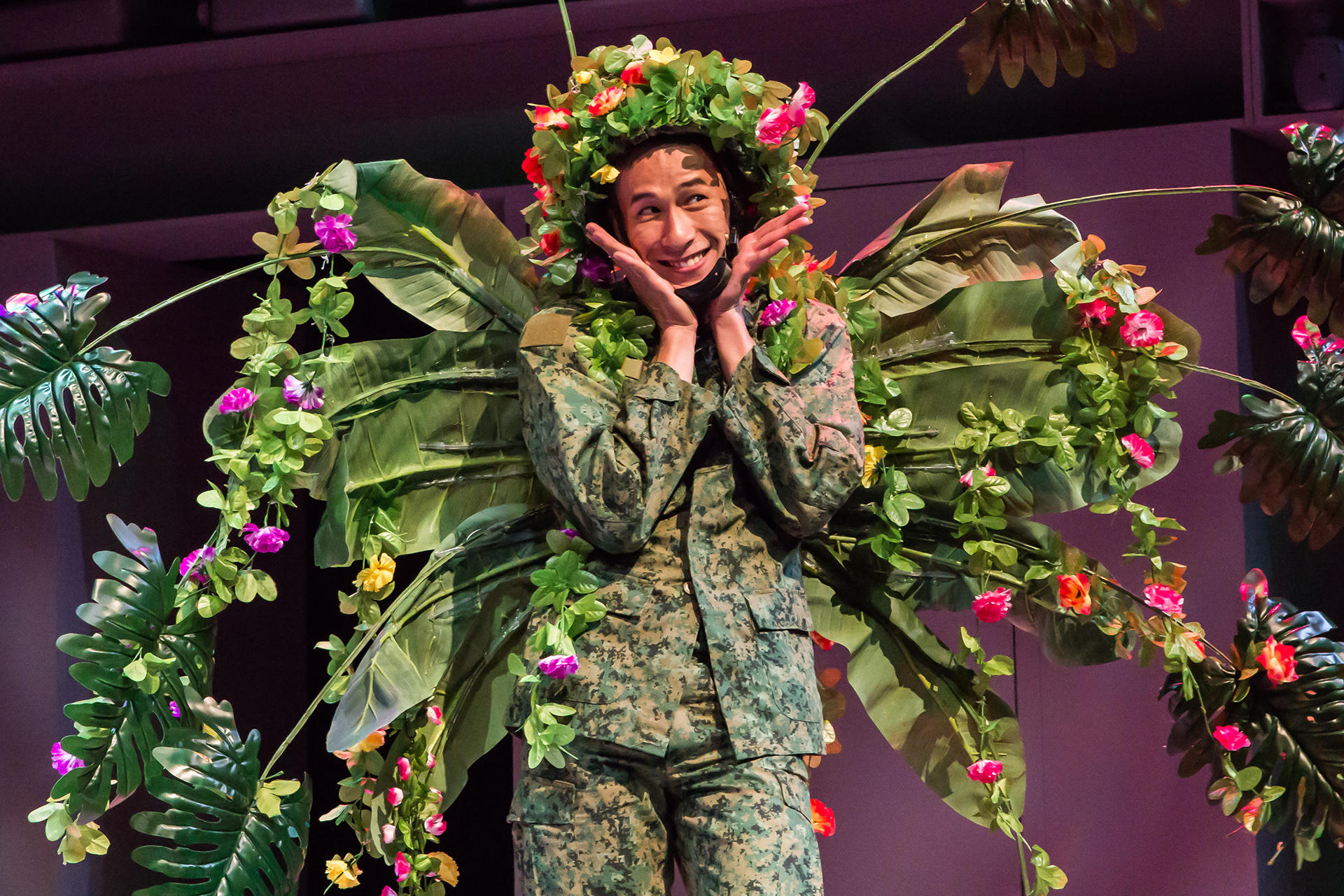 Beatrice: This chat is making me really miss Army Daze.
Don: Well more reason to re-watch it!
Beatrice: That play is a National Treasure
Don: So is Michael Chiang
Beatrice: Agree
Michael: Awww I blushing
Any wise words for the new batch of recruits enlisting administratively at the end of the month?
Beatrice: When the chicken cross the road, the duck will lay eggs
Don: Enjoy your time!! You'll never go through an experience like this ever again!! And don't keng like me!
Beatrice: Watch Army Daze!
Michael: If you go out to sea and cannot catch fish, you should be a washerwoman
Michael: Seriously: "One day you will grow up and then you will know what CB really means..."
Michael: More seriously, BMT will always be a very daunting experience, but I think it'll be something we all look back on fondly.
---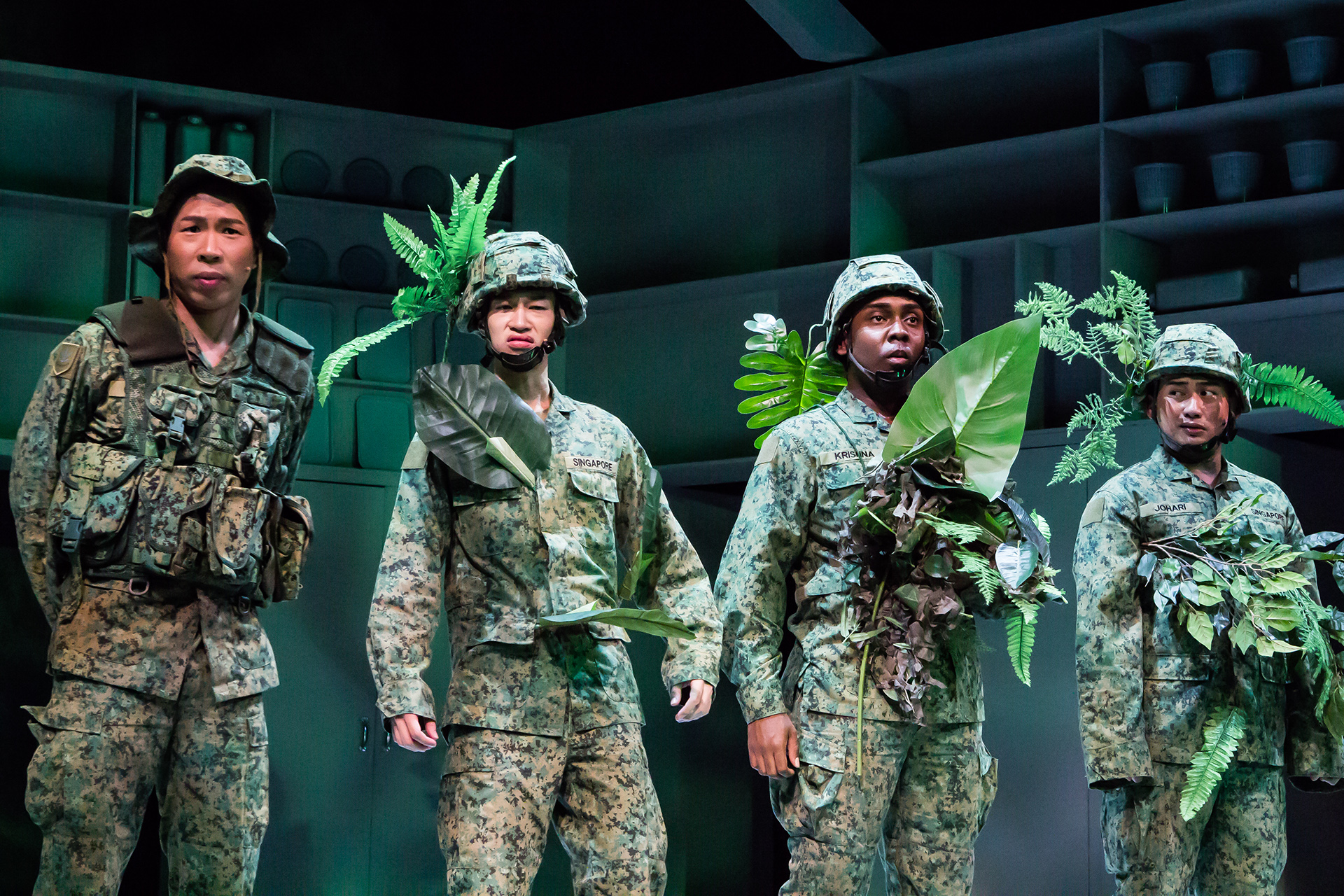 Army Daze (2012)
What: The 25th Anniversary production and fourth restaging of the play was also the first time hilarious songs composed by Don Richmond were introduced into the plot, which tells the story of five bumbling NS recruits making their way through BMT.
Who: Starring Dwayne Tan, Ebi Shankara, Joshua Lim, Shane Mardjuki and Adi Jamaludin as the five recruits. Directed by Beatrice Chia-Richmond.
When: 8pm, 13 Jun 2020 (Sat) to 13 Jul 2020
Where: Michael Chiang Playthings on YouTube. Click here and once the show is uploaded, click "Set Reminder" so that you wil receive a notification when the show is about to start.
For the latest updates on Wonderwall.sg, be sure to follow us on TikTok, Telegram, Instagram, and Facebook. If you have a story idea for us, email us at [email protected].