Thosai 10 Ways: "Indian Takoyaki" Corn Paniyaram And Broccoli-Miso Chutney
"Thosai 10 Ways" is a Wonderwall.sg series helmed by MasterChef Singapore Season 2 contestant Vasunthara Ramasamy aka Vasun, an amateur baker and cook, and the blogger behind Monsoon Table.
Japanese takoyaki, Dutch Poffertjes, Danish æbelskivers, Thai khnom khrok and South Indian kuzhi paniyaram (dumplings cooked in depressions) all have one thing in common - they are snacks cooked in a special stovetop pan with hemispherical moulds.
The story goes that Vikings wanted to make pancakes after a battle but only had their dented shields to cook from and that is how the unique pot-holed pans came about.
Nobody knows for sure if Vikings had an appetite for rounded pancakes or if they were battled-hardened chef extraordinaires. However, we do know that the special, pot-holed stovetop pans and variations of the sweet snack are popular in many parts of the world that the Europeans had come into contact with, are known by different names, and have sweet as well as savoury versions.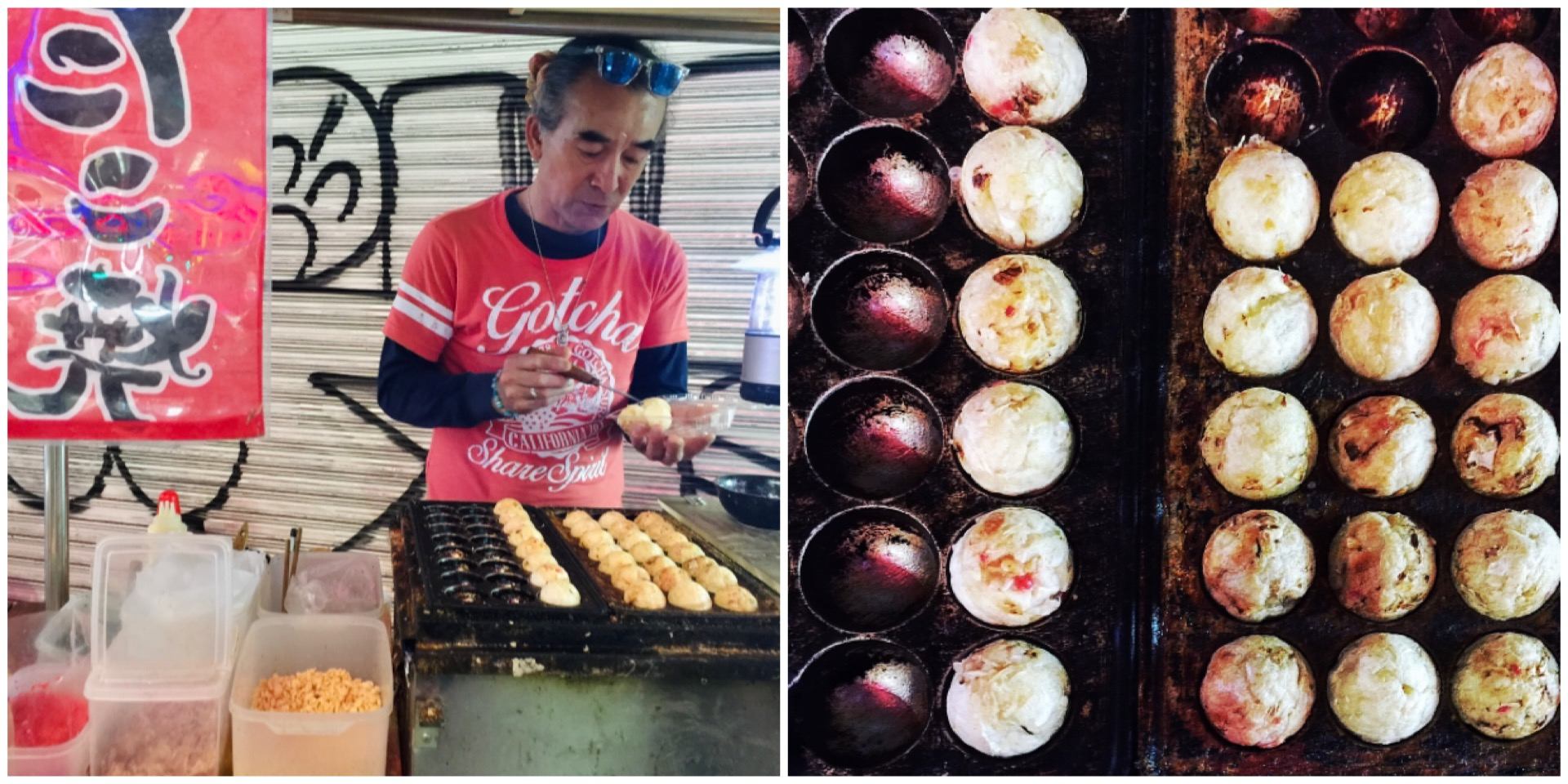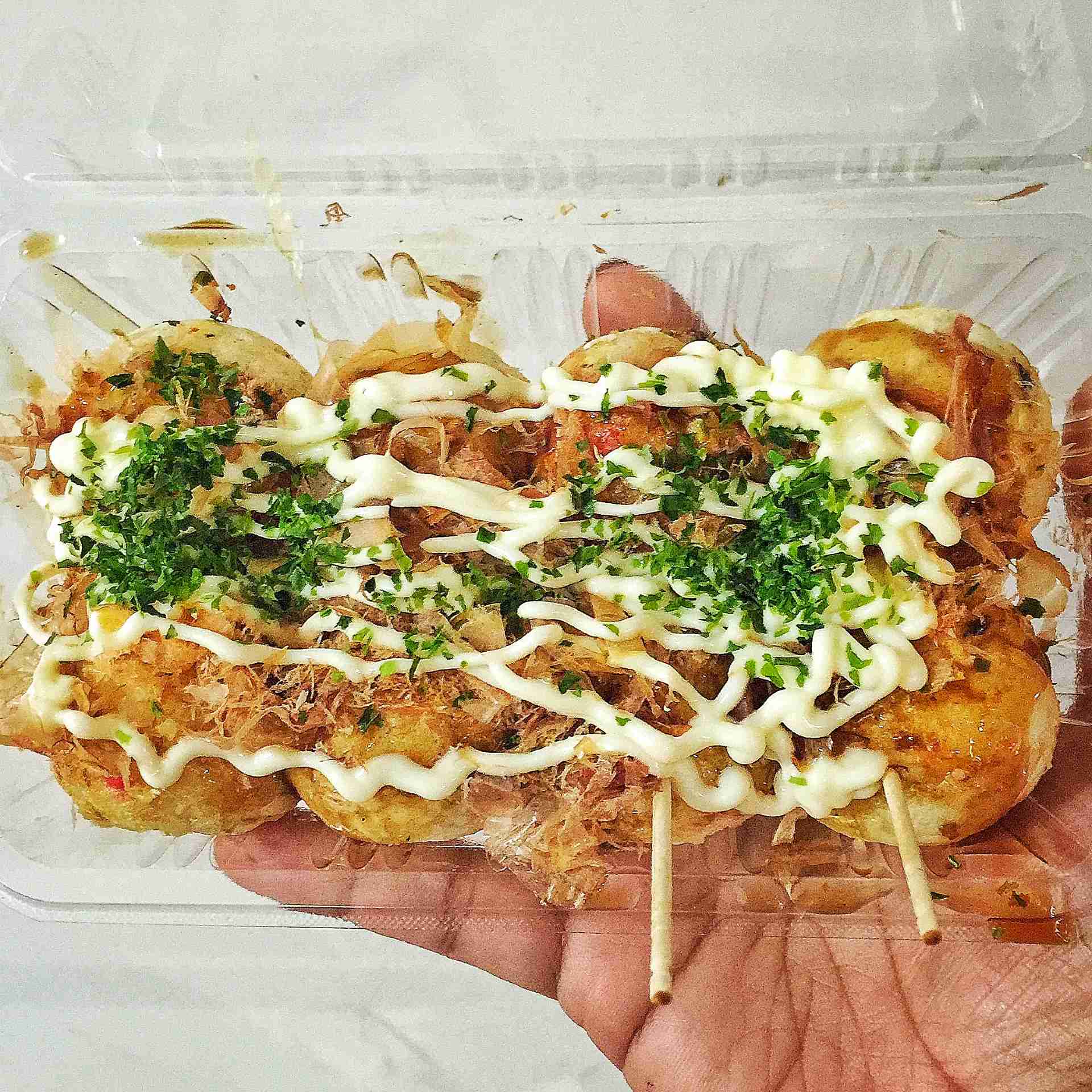 In South India, the kuzhi paniyaram uses a batter very similar to thosai. In some variations, finely chopped vegetables, herbs and a tempering of spices typical to South Indian cooking are added to thosai batter which is at least two days old, so it is more sour and thickened. The spiced batter is then poured into each depression and shallow-fried till crisp.
In Kerala, a special sweetened version, known as unniappam, is made with generous helpings of mashed Keralan bananas, jaggery, coconut and cardamom. This popular treat is served in some temples as prasadam to devotees or enjoyed in street stalls together with a cup of piping hot masala chai.
Well-made paniyarams are puffy, hot, crisp and very addictive, and made even better when paired with fresh chutneys. If you walk around any South Indian city, you're bound to see street-food carts and casual restaurants selling paniyarams because the smell of the savoury batter sizzling in oil would send any weary traveller into a tizzy.
So, if you have some thosai batter in the fridge and a takoyaki, æbelskiver or paniyaram pan, chop up some leftover vegetables and make yourself a snack or breakfast dish.
Alternatively, if corn is more your thing, then try out my fresh, modern take on the traditional snack - my Corn Kuzhi Paniyarams with Broccoli-Miso Chutney. There are so many creative ways to make chutneys and use up a batch of Thosai batter that there is never a dull moment in a South Indian kitchen!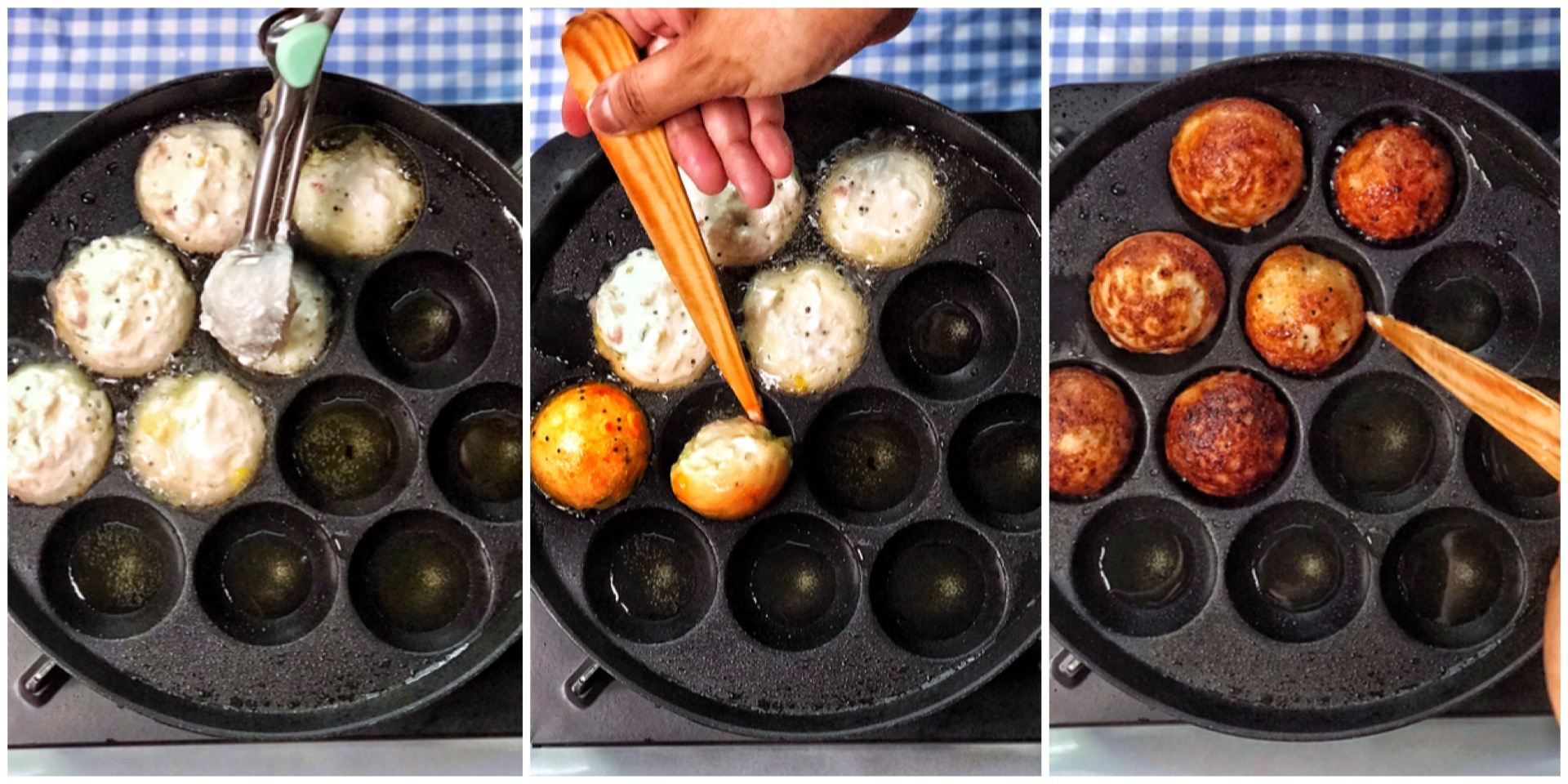 Corn Kuzhi Paniyaram
Makes 18-20 paniyarams
Ingredients
2 cups undiluted, No Grind Thosai batter
½ tsp baking soda
¾ tsp fine salt
2 tbsp fine semolina (rava)
3 tbsp gingelly or coconut oil
1 tsp black mustard seeds
½ tsp cumin seeds
1-2 tbsp green chilli, halved horizontally and finely sliced
2 medium red onion, peeled and finely diced
2 tbsp grated fresh coconut
¼ cup canned corn kernels, drained and pat dried
Method
1. In a medium bowl, using a whisk, mix No Grind Thosai batter, baking soda, salt and semolina until thoroughly mixed. Set aside.
2. Heat a medium pan over medium heat and add cooking oil. Once hot, add mustard seeds and wait for them to start popping.
3. Immediately add cumin seeds and then the sliced green chillies and diced onions. Add a pinch of salt and cook till onions soften.
4. Switch off the flame and add grated coconut and corn kernels.
5. Evenly mix all ingredients. Add all the corn mixture into the thosai batter mixture. Using a spatula, mix all ingredients until evenly mixed.
6. Heat a paniyaram, takoyaki or æbleskiver pan. Add ½ - 1 tsp of neutral cooking oil into each depression and heat pan till it is hot.
7. Using a small, 4cm ice-cream scoop or 2 spoons, add paniyaram batter into each depression.
8. Cook each paniyaram until it is browned. Using a cake tester or 2 wooden skewers, gently turn each paniyaram from the edges until all the browned surface is visible.
9. Cook each paniyaram until all the surfaces are evenly browned.
10. Insert the cake tester or skewer into each paniyaram and lift them to your serving tray.
11. Serve paniyarams with chutney while they are still hot.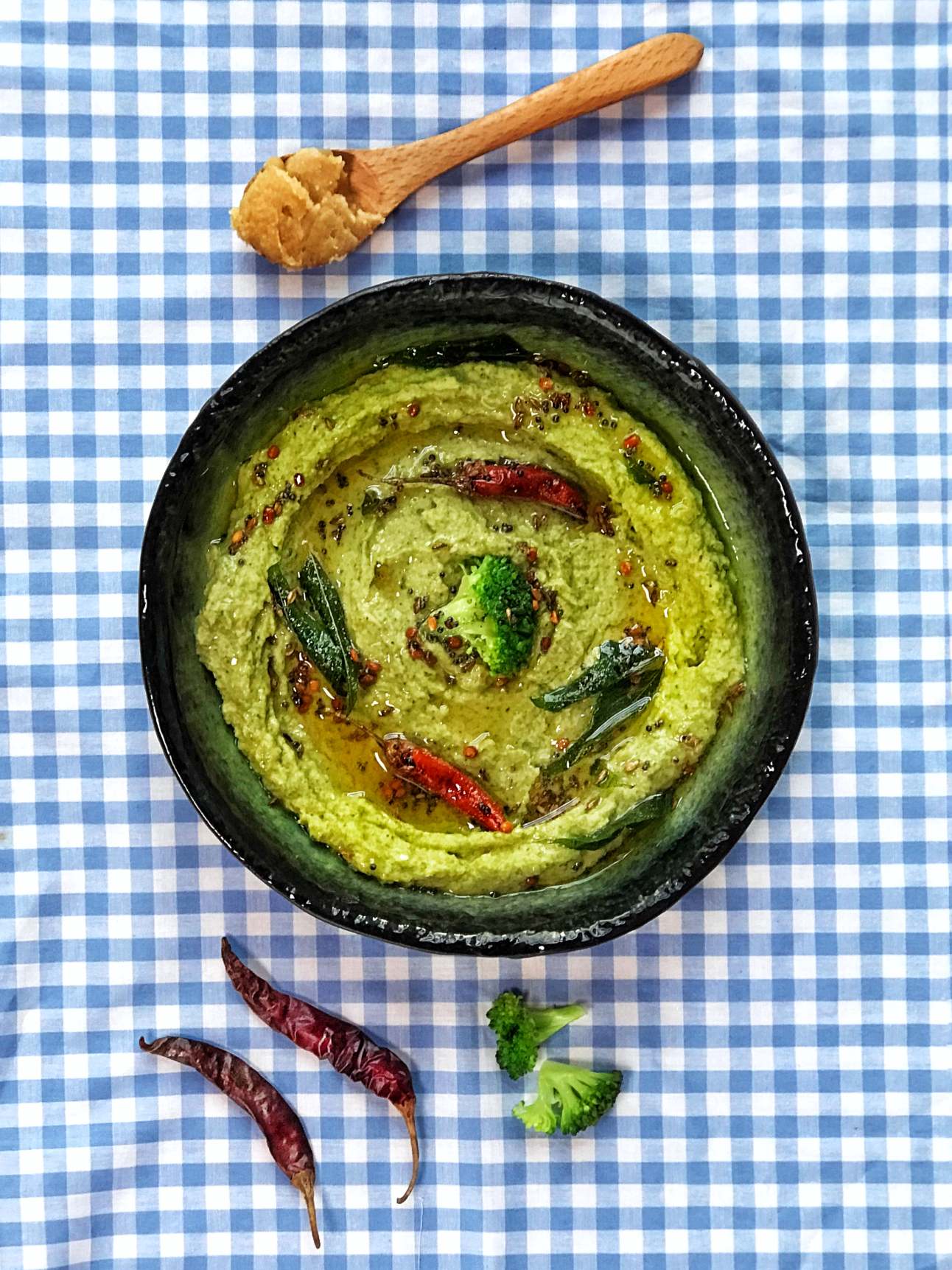 Broccoli-Miso Chutney
It may seem surprising that I use shiro miso, a fermented Japanese soy bean paste, for an Indian dish but the umami-laden, salty condiment blends beautifully with Indian flavours. Most Indian recipes for chutneys use some type of dried lentils or beans such as chickpeas (channa) or urad to add body and depth and as shiro miso is made from beans, it really isn't an absurd, thoughtless addition to the chutney.
Shiro (white) miso is the most neutral flavoured of all miso types and a teaspoon of it in this recipe adds a depth of flavour and mild sweetness which is a nice contrast to the herbaceous and earthy broccoli.
If shiro miso is unavailable, add and sauté 1 tablespoon of channa dal just before adding garlic. I used the leftover Broccoli-Miso chutney on my toast the following day and it was wonderful.
I hope you give this chutney a go as it is unique, tasty and keeps well. Just go easy on the salt as miso already has quite a lot of salt in it.
Ingredients
1½ cups broccoli florets, about 135 grams
¼ cup water
1 tbsp of neutral cooking oil, like grapeseed or rice bran
1 tsp cumin seeds
¼ - ½ cup green chillies, sliced, about 15-20g
1 tbsp minced garlic cloves
1 tbsp chopped coriander leaves and stems
½ -1 tbsp lime or lemon juice
1 heaped tsp shiro miso
Salt
Tempering
3 tbsp neutral cooking oil
¼ tsp mustard
¼ tsp split urud dal
Pinch of asafoetida
¼ tsp cumin
1 dried red chilli
10 fresh curry leaves, washed and thoroughly pat dried
Method
1. Heat a medium pan until hot on medium-low heat. Add ¼ cup water, pinch of salt and broccoli. Cover the pan with a lid and steam broccoli florets until bright green in colour.
2. Lift the lid and continue to cook broccoli until all the water has evaporated from the pan and the broccoli florets begin to brown a little. In the same pan, add 1 tablespoon of cooking oil to one side of the pan. When the oil is warm, add cumin seeds and then, green chillies.
3. Toss the contents of the pan until the chillies start to wilt a little. Add garlic and sauté until garlic softens and begins to brown.
4. Using a spatula, remove all contents of the pan into a bowl and leave to cool.
5. Once cool, add broccoli mix to a blender with coriander leaves, lime juice and shiro miso and blend until smooth. Check for seasoning and add more salt if needed. Scoop Broccoli-Miso Chutney into a serving bowl.
6. In a small tadka pan, heat the oil until it's hot. Add mustard seeds and immediately reduce the heat after they start popping.
7. Add split urud dal, asafoetida, cumin seeds and dried red chilli. Once the split urud dal is golden brown and the chilli has puffed up, remove from heat and add curry leaves. Be careful as the oil will sputter.
8. Add tempering to the Broccoli-Miso Chutney and enjoy with Corn Kuzhi Paniyarams or any thosai.
---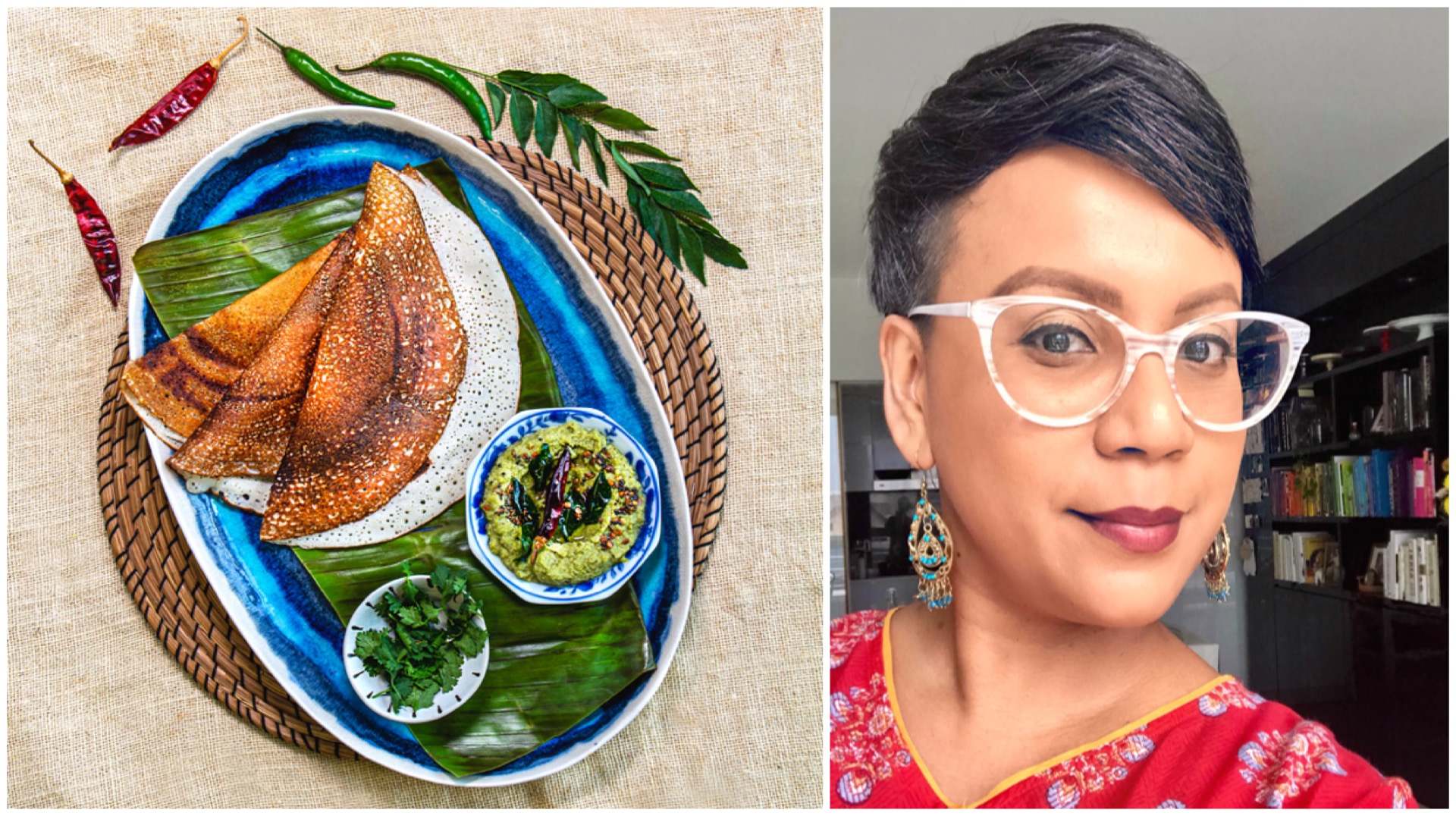 Vasun's thosai masterclass
Want to learn more? Vasun teaches the art of making thosai from scratch at her home. She's inspired by the nostalgia of her grandma's kitchen and the exacting science of thosai fermentation.
Thosai masterclass partipants will learn the basic science of thosai, how to soak and grind the batter from scratch, master the art of swirling and cooking thosais.
At the end of the 4-hour $180 class, they also get to enjoy a tiffin meal with two chutneys and gunpowder podi, bring home all the food and successfully ferment their first batch of thosai.
For now, the thosai masterclass is for a maximum of two partipants, and held every Wednesday and Sunday.
For enquiries or to book a class with Vasun, email [email protected] or drop her a DM via Instagram @vasunthara.r
For the latest updates on Wonderwall.sg, be sure to follow us on Facebook, Instagram and Telegram. If you have a story idea for us, email us at [email protected].