Thosai 10 Ways: A Crispy Instant Thosai With Red Chilli-Tomato Chutney
"Thosai 10 Ways" is a Wonderwall.sg series helmed by MasterChef Singapore Season 2 contestant Vasunthara Ramasamy aka Vasun, an amateur baker and cook, and the blogger behind Monsoon Table.
An instant thosai invariably means that you can enjoy thosais even when you have forgotten to soak and grind your thosai batter.
While this crispy instant thosai is not your traditionally fermented version, the use of wholewheat atta and yoghurt help it taste close to one. Even when I'm not time starved, I like to make this thosai as it is the crispiest thosai I have ever made!
I have experimented with several instant thosais using atta and other flours. Unfortunately, they almost always end up a little gummy even after resting the batter and taste more like pancakes rather than thosais.

This recipe, however, is anything like pancakes because it glides on the pan easily and so it is easy to make a very thin and crisp thosai.
The trick is to grind the semolina until it is a powder and then adding it to the batter; the semolina flour gives a crunchy, satisfying bite that is hard to resist.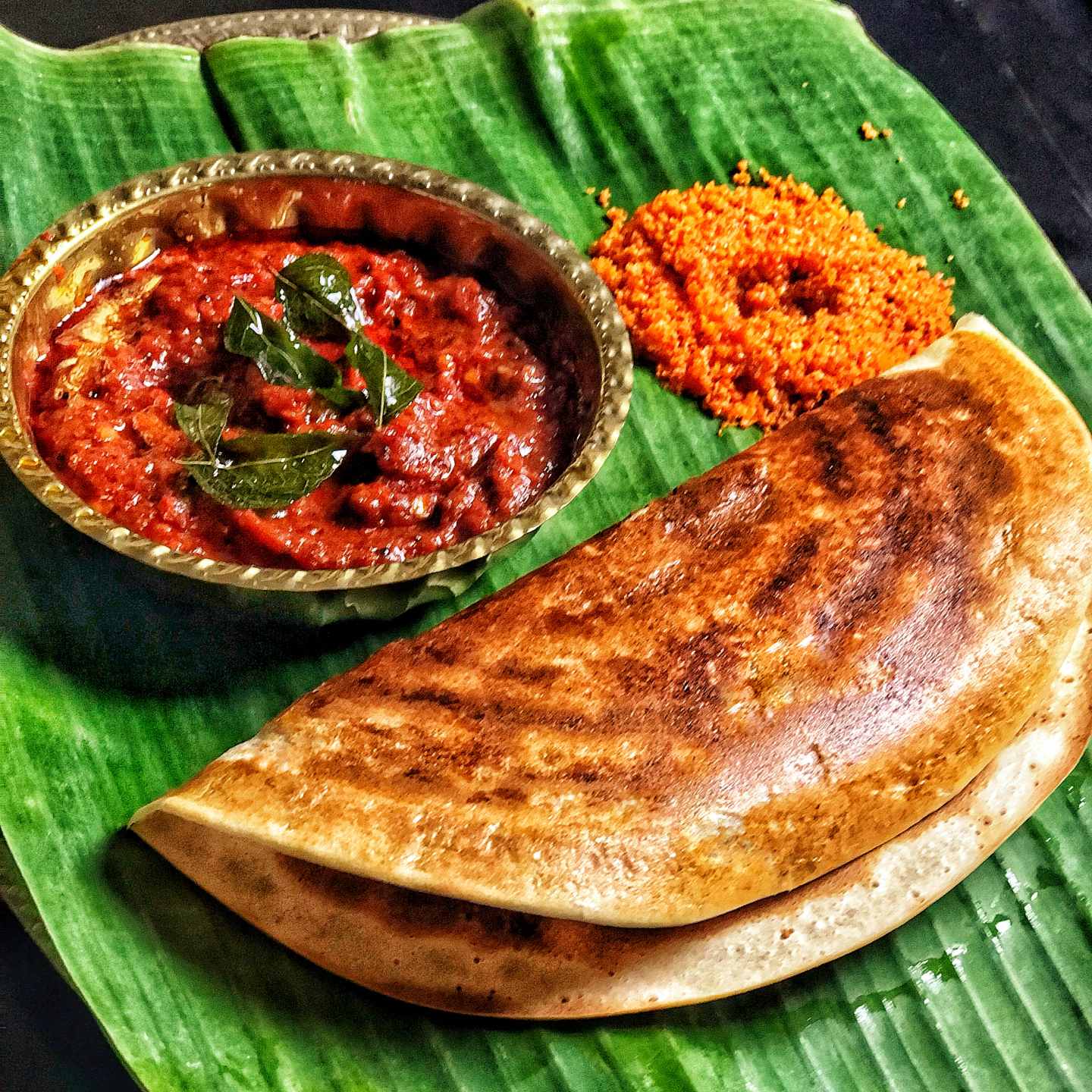 Crispy Instant Thosai
Ingredients

1 cup rava/fine semolina
1 cup natural yoghurt
2 tablespoon wholewheat atta flour
½ cup water
¼ tsp baking soda
¾ tsp fine sea salt
Method
1. In a blender, add all the semolina and pulse until it is finely ground.
2. Into the same blender, add all the yoghurt, atta, salt and ¼ cup of water. Blend until smooth. Add the remaining ¼ cup water if you have difficulty blending to a smooth consistency.
3. Transfer blended thosai mixture into a large bowl. The batter should be of a pouring consistency like a traditional plain thosai. Let the batter rest for 30 minutes.
4. Heat a flat cast iron tava or skillet on medium-low. When the pan is hot, use a halved onion to smear some gingelly oil or cooking oil pour a ladle full of batter onto the middle of the pan.
5. Using the back of your ladle, spread the thosai batter out in a swirling motion until it is of even thickness. Drizzle some peanut oil, ghee or cooking oil around the edges of the thosai.
6. Cook the thosai on the uncovered tava until it is evenly browned and cooked through.
7. Using a thin-edged spatula, lift the thosai from tava and serve immediately with chutney of your choice.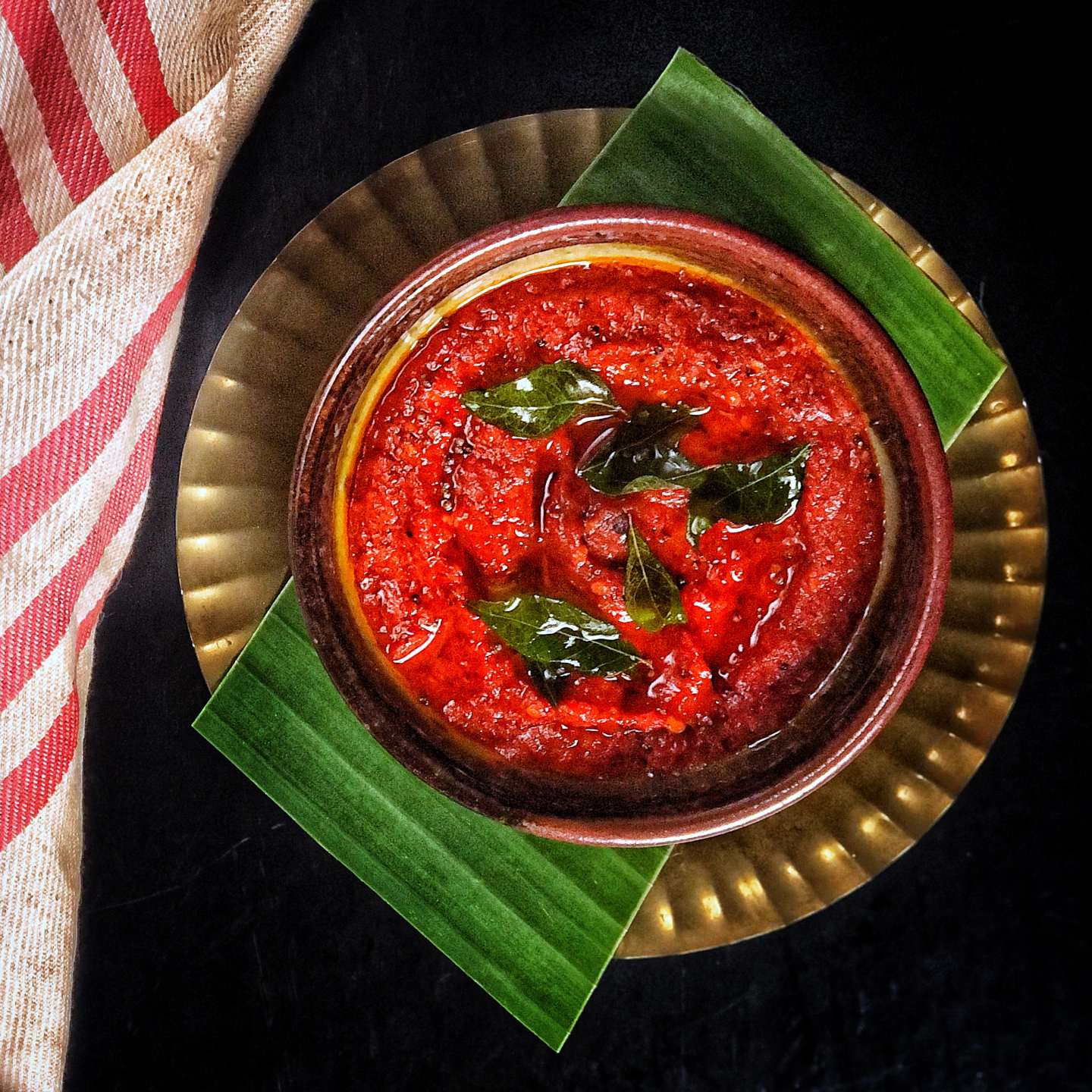 Red chilli-tomato chutney, or Kaara Chutney as it is known throughout South India, has been one of my favourite chutneys since I was 5! My grandmother used to make Kaara (Spicy) Chutney on a large and flat stone grinder called an ammi kal in Tamil, almost every day.
There is barely any water added to this chutney and so the result is a thick, luscious and extremely flavourful chutney that pairs well with any thosai or idli.
There are several variations of it throughout South India. Some households roast the chillies over an open fire and others add toasted fresh coconut to add a smokey dimension and make it even more robust.
I usually use byadgi chillies, the wrinkled curly ones found in wet markets, for this chutney as it gives it a beautiful red hue and fruity flavour. For a spicier chutney, increase the amount of chillies or use the flat, waxy-skinned Guntur Sannam chilli variety which packs more heat and pungency.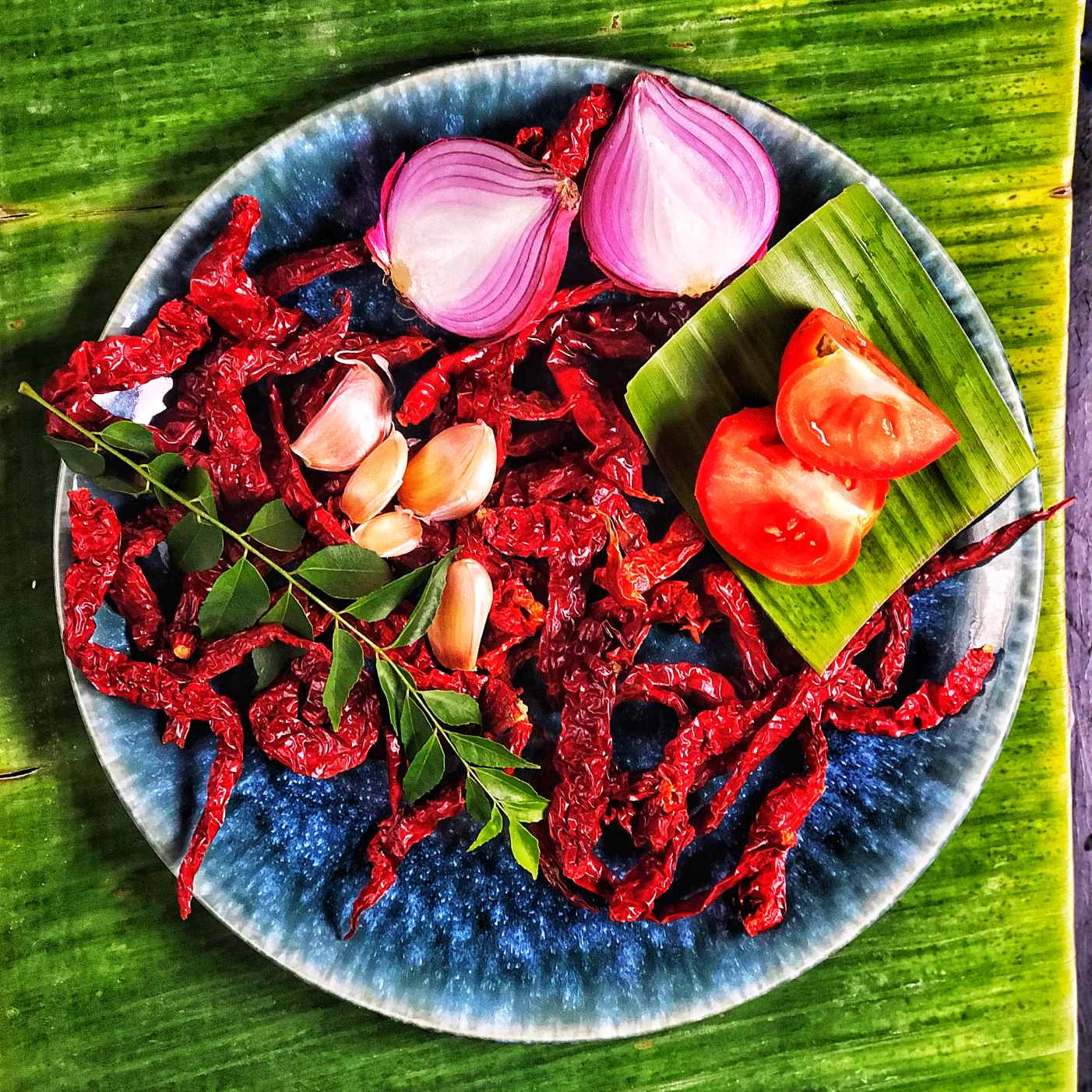 Red Chilli-Tomato Chutney
Ingredients

2 tbsp gingelly oil
1 tbsp split channa dal
1 tbsp whole urad dal
2 large, very ripe tomatoes, chopped
8-10 dried chillies
10 shallots or 1 large red onion, peeled and chopped
2 garlic cloves, peeled and roughly chopped
½-1 tsp sea salt
¼ tsp mustard seeds
Pinch of asafoetida powder
10 curry leaves
Method
1. In a medium pan, heat 1 tablespoon of gingelly oil till warm.
2. Add channa dal and urud dal and sauté until they are browned.
3. Add chopped tomatoes, dried chillies, onions and salt. Sauté till tomatoes have become mushy and onions have softened and very slightly browned. Reduce the flame if the mixture starts to become too dry. Do not add any water.
4. Remove mixture from heat and cool. Once cool, blend mixture until smooth.
5. In the same pan, add remaining gingelly oil and when hot, add mustard seeds and asafoetida powder.
6. Once mustard seeds pop, immediately add asafoetida and curry leaves. Then add the blended mixture and cook on medium heat until oil separates from the sides. Check for seasoning and add more salt if needed.
7. Remove from heat and serve with any thosai or kuzhi paniyaram.
---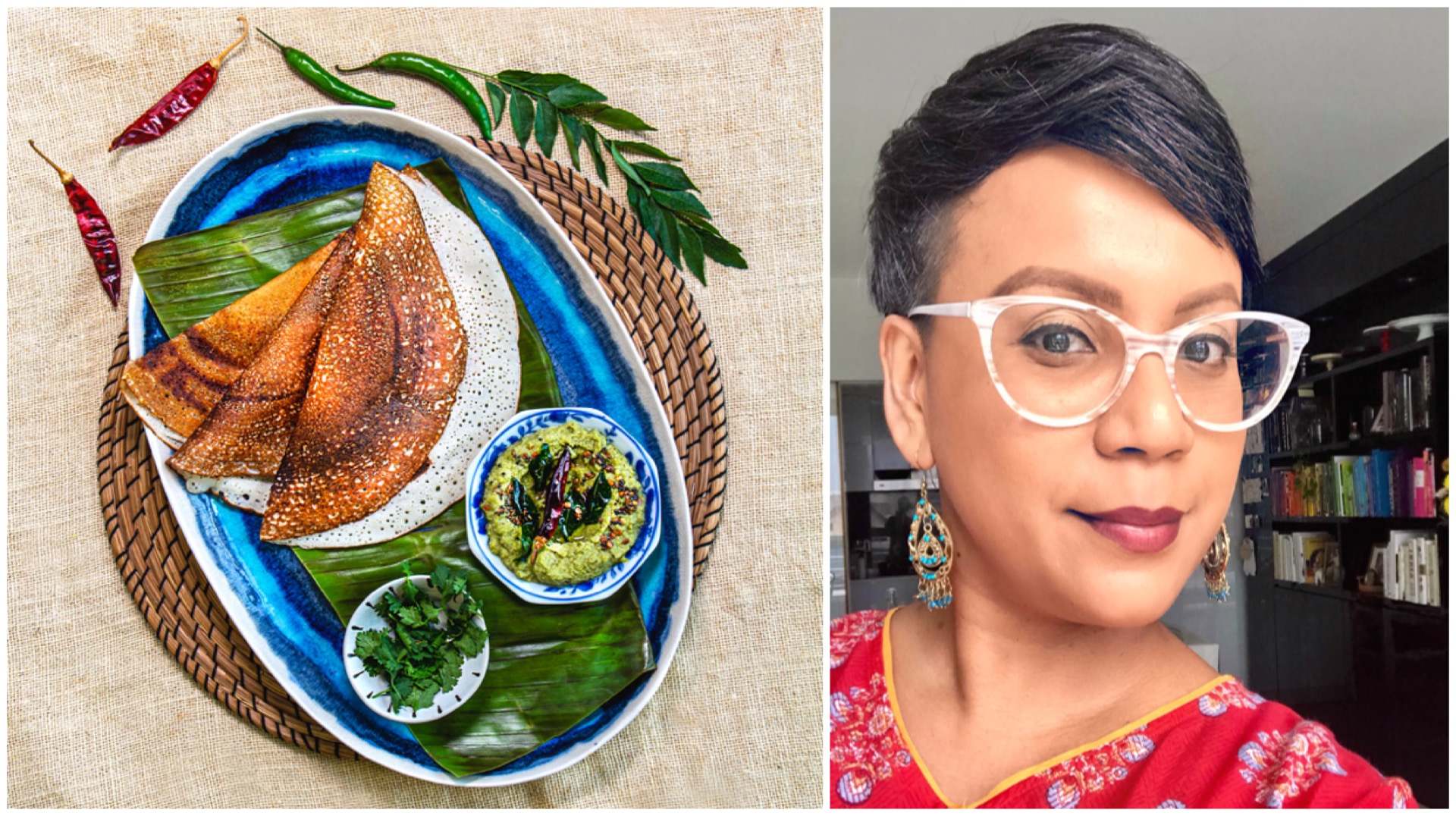 Vasun's thosai masterclass
Want to learn more? Vasun teaches the art of making thosai from scratch at her home. She's inspired by the nostalgia of her grandma's kitchen and the exacting science of thosai fermentation.
Thosai masterclass partipants will learn the basic science of thosai, how to soak and grind the batter from scratch, master the art of swirling and cooking thosais.
At the end of the 4-hour $180 class, they also get to enjoy a tiffin meal with two chutneys and gunpowder podi, bring home all the food and successfully ferment their first batch of thosai.
For now, the thosai masterclass is for a maximum of two partipants, and held every Wednesday and Sunday.
For enquiries or to book a class with Vasun, email [email protected] or drop her a DM via Instagram @vasunthara.r
For the latest updates on Wonderwall.sg, be sure to follow us on Facebook, Instagram and Telegram. If you have a story idea for us, email us at [email protected].