Hungry For A Celebration? Check Out These National Day-Inspired Makan Specials
It's National Day season, and you know what that means for fast food in Singapore – locally inspired burgers, pizzas, and snacks galore.
We'll always remember the legends that have come and gone, from McDonald's Nasi Lemak Burger and Ha Ha Cheong Gai Chicken Burger to Burger King's Hainanese Chicken Rice Burger (which should never ever return).

Here are what the top fast food joints have to offer to celebrate Singapore's 56th National Day this year - check 'em out!
Burger King's Double Ultimate Rendang Angus Beef Burger
While stocks last
Burger King's Rendang Burger is seriously good (and we're talking about both beef and Tendergrill chicken versions), and something to look forward to every year around National Day.
While that's still around, this year, they're taking it up a notch with the Double Ultimate Rendang Angus Beef Burger, which comes with crispy turkey bacon on its Angus flame-grilled beef patties drenched in rendang sauce.
That's not all. Along for the celebratory ride is the Rendang Shiok Shake Up, nuggets and fries also soaked in rendang sauce. Down them with a cup of Gula Melaka BBT Green Tea Float and/or Gula Melaka BBT Malty Float, and grab an Onde Boleh Pie for dessert.
There's also a Deliveroo "Taste of Singapore Indulgence Bundle" collab where you can get the Double Rendang Beef Burger, nuggets, Hershey Sundae Pie and Sjora Mango Peach drink for $15.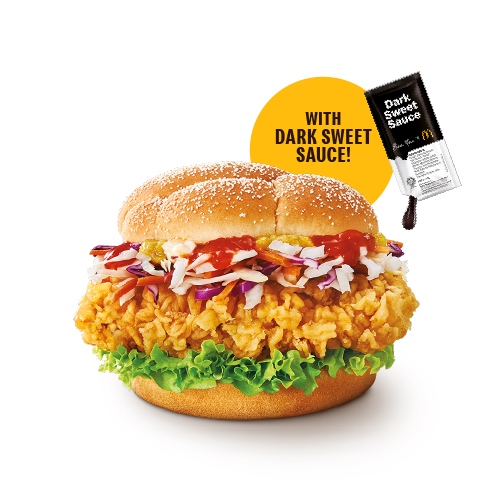 McDonald's Crispy "Hainanese Chicken" Burger
While stocks last
What's the first dish you think of when someone says "Singapore"? Evidently, to McDonald's, it's Hainanese Chicken Rice.
Presenting… the Crispy "Hainanese Chicken" Burger with ginger sauce, garlic chili sauce, and dark sweet sauce – the "holy trinity" of Hainanese Chicken Rice sauces. The dark sweet sauce comes served on the side so you can drizzle as much as you want – just like when you eat chicken rice.
Fun fact: this burger was created in collaboration with local celebrity Ben Yeo, who wanted to incorporate local flavour and taste with a McDonald's chicken twist. Crisscut fries and banana pie also make a comeback.
The Crispy "Hainanese Chicken" Burger is available from 5 Aug 2021.
KFC Cereal Chicken
While stocks last
Another fast-food meal that's back for National Day is KFC's Cereal Chicken, but new to the menu is KFC's Ondeh Ondeh Egg Tart and Cereal Fries.
The Cereal Chicken is just like the sweet-spicy zi char-style version with Nestum cereal, and the Cereal Fries is topped with all that Nestum crispy crumbly goodness. The Ondeh-Ondeh Egg Tart is filled with pandan custard and covered in shredded dried coconut.
Texas Chicken REAL Salted Egg Chicken
Until 8 Sep 2021
First appearing on Texas Chicken menus during National Day 2019, this item has been making a comeback the same time every year since.
Why "REAL" in all caps? It's because Texas Chicken said the salted egg comes from real fresh salted duck egg yolks, not the powdered stuff, ok! If it's anything like before, expect super crispy chicken and zi char stall-style salted egg flavours throughout.
Subway Rendang Sub & Pandan Cookie
Until 28 Sep 2021
Subway is usually quiet when it comes to rolling out locally-infused offerings. This year however, Subway is unveiling the Rendang Sub, in chicken or beef.
Order this along with their new Pandan Cookie. Plus, for every Rendang Sub ordered (applicable to the first 10,000 Rendang Subs), Subway will also donate another for vaccination and testing centre staff and volunteers.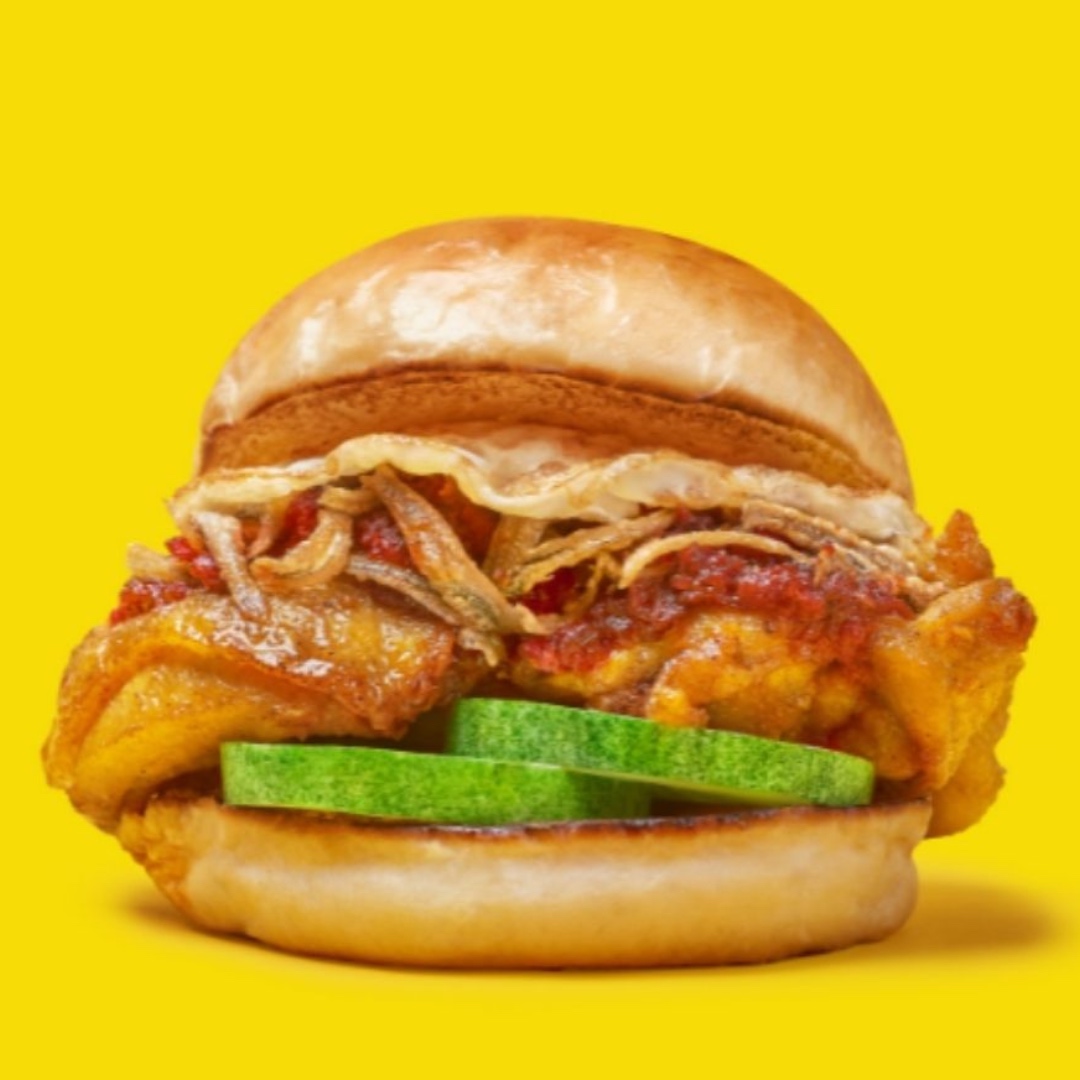 Burgs' Nasi Lemak Burger
While stocks last
No Nasi Lemak Burger at McDonald's anymore? Burgs to the rescue! If you've haven't heard of them before, Burgs by Project Warung is helmed by two SG chefs from Michelin restaurants.
Their take has a thick turmeric chicken with all the nasi lemak works – ikan bilis, cucumber, homemade sambal, and fried egg. They have four outlets: Bukit Batok, Chai Chee, Punggol, and at Timbre+.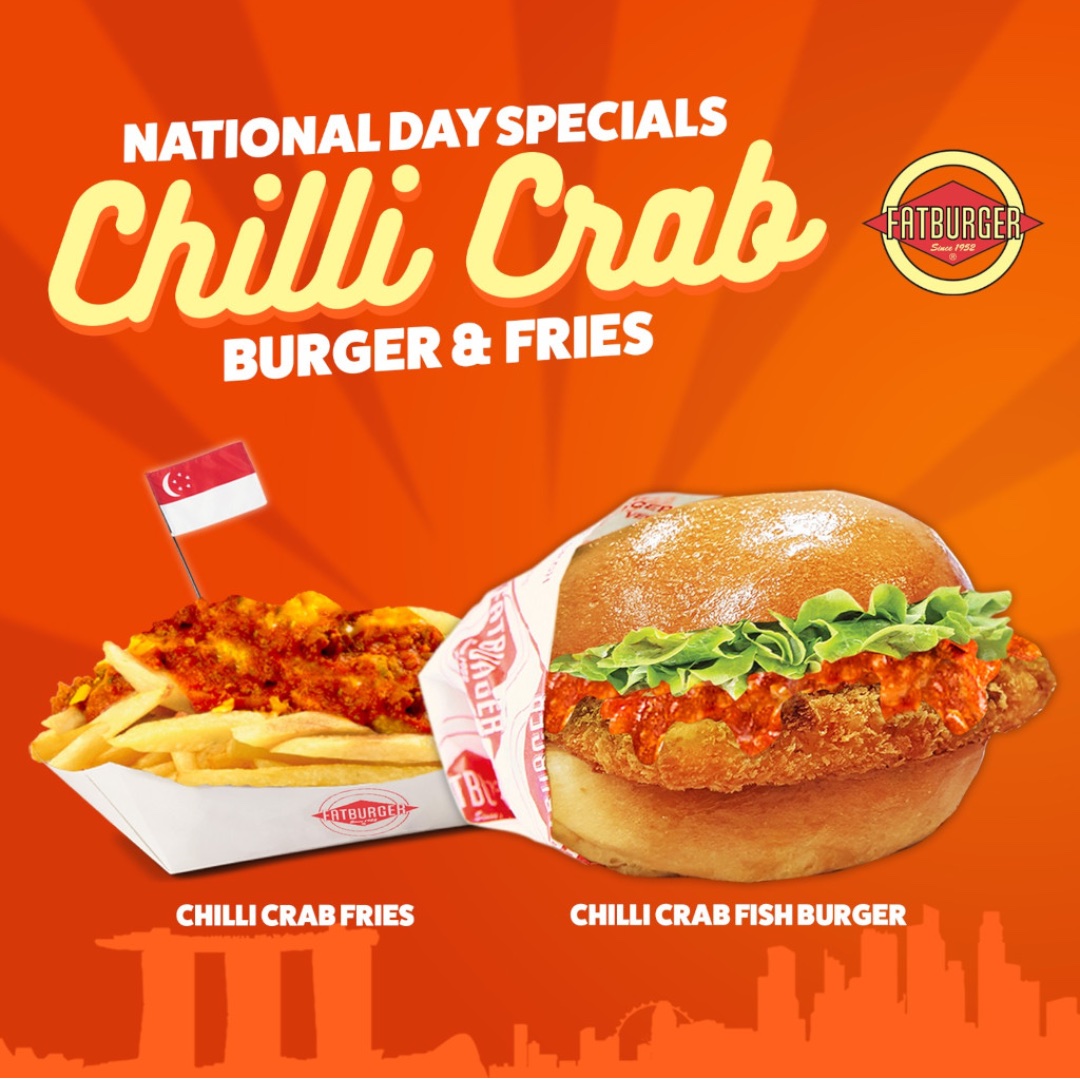 Fatburger's Chilli Crab Fish Burger
Until 31 Aug 2021
There's not a lot of talk in Singapore about this made-to-order American fast food joint compared to the coverage given to Shake Shack or Five Guys, although the juicy hamburgers here are really good!
What do you get when you mix Fatburger with one of Singapore's national dishes? You get the Chilli Crab Fish Burger with Chilli Crab Fries, both slathered with plenty of chilli crab sauce.
Tip: Enter promo code PICKUP10 to enjoy 10% off your pick-up order at order.fatburgersg.com.
Swensen's Nasi Lemak Burger and Nasi Lemak Pizza
Until 31 Aug 2021
Probably not the first thing that comes to mind when you think "fast food", but Swensen's take on the Nasi Lemak Burger and Nasi Lemak Pizza definitely makes them qualify to be on this list.
All the nasi lemak elements are on both dishes, and the pizza even has chicken wings - right on it, not on the side ya. Other National Day additions include the So Shiok Platter with Laksa & Chilli Crab Dip, and Seafood Laksa Baked Rice.
The So Shiok! Set lets you choose between two Swensen's National Day dishes, and comes with soft drinks, soups, the So Shiok Platter, and a Goreng Pisang Split.
For awesome food deals to celebrate our nation's 56th birthday, click here.
For the latest updates on Wonderwall.sg, be sure to follow us on Facebook, Instagram and Telegram. If you have a story idea for us, email us at [email protected].